22nd - 26th June 2003
Deltic Preservation Society
DPS Freedom of Scotland
(To boldly go where no Deltics have gone before) !!
| | |
| --- | --- |
| Locos Used | D9009 & 55019 |
| Stock Used | 3136+99121+99317+1981+99723+99328+99371 |
Route:
1Z60 : Preston to Georgemas Junction
1Z61 : Georgemas Junction to Aviemore
1Z62 : Aviemore to Helensburgh Upper
1Z63 : Helensburgh Upper to Fort William
1Z64 : Fort William to Preston
| | | |
| --- | --- | --- |
| Date | Loco | Route |
| 22/06 | D9009 (1) | Preston - (via WCML) - Carstairs South Jn - Carstairs East Jn - Midcalder Jn - Haymarket - Edinburgh Waverley |
| 22/06 | 55019 (2) | Edinburgh Waverley - Haymarket - Dalmeny - Inverkeithing - Kirkaldy - Cupar - Dundee - Arbroath - Aberdeen (6) - Dyce - Keith - Forres - Millburn Jn |
| 23/06 | 55019 (2) | Millburn Jn - Rose Street Jn - Dingwall - Invergordon - Georgemas Junction |
| 23/06 | D9009 (1) | Georgemas Junction - Thurso |
| 23/06 | 55019 (2) | Thurso - Georgemas Junction (3) - Wick |
| 23/06 | D9009 (1) | Wick - Georgemas Junction - Forsinard (4) - Invergordon - Dingwall |
| 23/06 | 55019 (2) | Dingwall - Kyle of Lochalsh |
| 23/06 | D9009 (1) | Kyle of Lochalsh - Dingwall - Rose Street Jn - Millburn Jn - Aviemore |
| 24/06 | D9009 (1) | Aviemore - Pitlochry - Perth - Dunblane - Stirling - Carmuirs West Jn - Greenhill Lower Jn - Croy - Cowlairs West Jn - Springburn - High Street Jn - Shields Jn - Arkleston Jn - Paisley Gilmour Street - Kilwinning - Irvine - Ayr - Girvan - Stranraer |
| 24/06 | 55019 (2) | Stranraer - (reverse of outward route) - Cowlairs West Jn - Cowlairs North Jn - Westerton - Dalmuir - Dumbarton Central - Garelochhead |
| 25/06 | 55019 (2) | Garelochhead - Crianlarich - Rannoch - Fort William |
| 25/06 | D9009 (1) | Fort William - Mallaig |
| 25/06 | 55019 (2) | Mallaig - Fort William |
| 25/06 | D9009 (1) | Fort William - Rannoch - Crianlarich |
| 25/06 | 55019 (2) | Crianlarich - Dalmally - Oban |
| 25/06 | D9009 (1) | Oban - Dalmally - Crianlarich (5) |
| 25/06 | 55019 (2) | Crianlarich - Rannoch - Fort William |
| 26/06 | D9009 (1) | Fort William - Rannoch - Crianlarich - Garelochhead - Dumbarton Central - Dalmuir - Westerton - Cowlairs West Jn - Springburn - Stepps - Gartcosh Jn - Gartsherrie South Jn - Whifflet - Mossend - Motherwell - (via WCML) - Preston |
Notes :
(1) 55019 on rear.
(2) D9009 on rear.
(3) During a layover at Georgemas Junction the train was shunted from the main Wick/Thurso platform to the other less well used one. Anyone asleep at the time were allowed to stay on. 55019 took the train out on to the single line to Wick (approx 10ch) and D9009 drew it back into the station (also approx 10ch).
(4) A shunt was made at Forsinard to cross two trains (a class 66-hauled freight and a service train) as the loop was too short for our train. D9009 drew the train south onto the single line (approx 15ch), 55019 pulled through the station and out on to the single line on the north side (approx 15ch out of station) for D9009 to draw the train back in. Total shunt distance approx 60ch.
(5) Train shunted from one platform the the other. D9009 used to draw train south out of station on to the single line (approx 15ch) then propel back into the other platform.
(6) Train ran into platform 5, a bay platform. Prior to leaving Aberdeen the train was shunted (with some passengers on) out to MP240¾ by D9009 then back into (through) platform 6 by 55019.
Andrew Laing has calculated the mileages for the tour and each loco to be as follows;
Total : 2012 miles 4 chains
(includes the various shunt moves with passengers)
D9009 : 1169 miles 9 chains
55019 : 842 miles 75 chains
Source : Gary Thornton (on the train throughout)



Tour Review
(by Gary Thornton)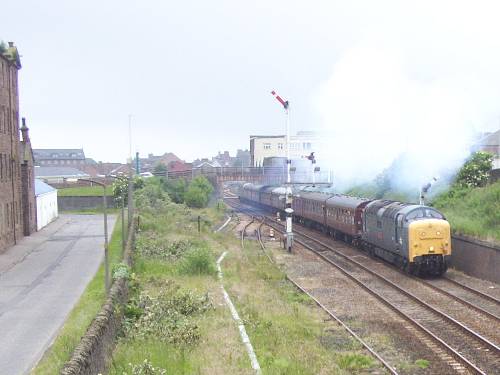 55019 blasts out of Arbroath, bound for Aberdeen (photo: Jim Ramsay)
More Photos:
How on earth do I begin to describe what is without doubt probably the most ambitious (and outrageous) railtour of all time? Sunday 22nd June saw the start of the Deltic Preservation Society "Freedom of Scotland" five-day tour of Scotland using two of the societies Deltics - D9009 "Alycidon" & 55019 "Royal Highland Fusilier". The five days were to take us all over Scotland visiting many places that had never seen a Deltic before.
I had travelled up to Preston on the Saturday and stayed in local hotel. Walking on to Preston station just after nine o'clock on Sunday morning date soon saw lots of familiar faces. With my chosen hotel charging £12 for breakfast I chose the cheaper option of a roll and coffee at the station (£2.85). Being a pleasant warm morning it was nice to sit and watch the world go by whilst waiting for our train to arrive. The stock arrived shortly after 11.30 from Carnforth, Deltic 55019 led into the station which meant D9009 would have the honour of leading the train out of Preston at the start of the 5-day extravaganza. There were about 90 passengers and seating was arranged such that we were all allocated into the leading two coaches away from Preston. After reversal at Edinburgh we were free to sit anywhere, allowing front coach thrash all the time for those who wanted it. The seven coach consist was;
FO + FO + TSO + RU + BSK + TS + FO
The two FO's and TSO/FO at the outer ends being primarily for the bulk of the journey with the RU/TSO in the middle being used for the on-train meals.
Departure was bang on time and spirits were high as we powered northwards towards Scotland. A delay at Carnforth ensued owing to single line working past some engineering works. When our time came we trundled cautiously through the single line stretch however on reaching the end of it there was a rather rapid stop as we exploded a detonator. Various stories did the rounds but the common theme was that we had overshot a hand signalman at the trackside and thus we had technically "SPADed" (i.e. had passed a signal at danger). A further delay whilst this was sorted and once we were back on our way we realised we'd managed to achieve "RST" (i.e. 1 hour late) within an hour of leaving Preston! I understand the driver involved was relieved at Carlisle.
We continued northwards via the Carstairs avoider to Edinburgh Waverley. We were due a 20 minute break here (much needed as I had no beer supply) but in the event we turned round in about 10 so a beer shop move was too risky. Our departure from Waverley station was to the strains of a bagpiper which added nicely to the atmosphere on board.
As I was born in Dundee and have spent quite a bit of time in the area I was looking forward to the run over the Forth & Tay Bridges to Aberdeen. Deltic 19 didn't disappoint. Arrival into Aberdeen was on time and we had two hours to explore. A group of us found a local hostelry (Wagleys Bar Lounge) and the two hours soon went. We were amused to see a large "what's on" blackboard which was completely blank - a reflection on Aberdeen life? The blackboard was suitably altered to show our schedule for the five days and a couple of seminar photos duly taken.
21.14 and we were off again, now bound for Inverness and the Far North line. The advantage of running the tour near the longest day was obvious with "usable" daylight for photography extending well beyond 10pm this far north, as a pathing stop at Huntly demonstrated.
Somewhere around the Inverness avoider I fell asleep, only to wake up and find ourselves still on the avoiding line. Seems our pilotman had been sent to Dingwall so we had to wait until he returned to Inverness to meet our train. My next recollection was somewhere around Tain after 2am. From then on I enjoyed the thrash up to Georgemas Junction from a window at the front of the second coach in the formation. It was a little damp which was a shame but enjoyable nonetheless. We reversed at Georgemas Junction and arrived at Thurso, most northerly railway station in the UK, a little after 5.30am - taking photos was no problem as daylight had long since arrived!
Back at Georgemas Junction and there was a pause for service trains before we headed for Wick. On leaving Wick a full cooked breakfast was served. Oh, I haven't mentioned the catering facilities yet, have I? The £800 ticket price had bought an all-inclusive package which included two nights in hotels and two nights on board. All food and soft drinks were included. The catering staff and DPS volunteer servers deserve a real big round of applause and thanks for their efforts, the food was absolutely fantastic and they dealt with the 90-odd passengers in one sitting with apparent ease.
As we returned south there was a bit of a farce at Forsinard where we were booked to cross two trains - a freight and a passenger working. One slight problem, we were too long for the loop! The class 66-hauled freight arrived and we were then shunted out south onto the single line. Once it departed we then headed back through the station and out on to the single line to the north before dropping back into the platform. Once the sprinter had arrived we were then free to go on our way, somewhat behind time!
To be honest no one much bothered how we were keeping to the schedule, that wasn't the point of the trip and it was obvious any lost time could soon be recovered. A reversal at Dingwall was made and 55019 led into the station at Kyle of Lochalsh. Our evening meal was served as we avoided Inverness again and I'd finished in time to enjoy the thrash up to the summit at Slochd which was quite impressive on the part of D9009. Arrival into Aviemore was pretty well on time a little before 10pm. After a couple of photos we retired to the Aviemore Hilton for a de-rance and good nights sleep. My room-mate later told me I was making a very good impression of a pair of Tractors tackling the Lickey within five minutes of lights out! Me, I never heard a thing :-)
Tuesday morning and time to get on our way again after a decent breakfast in the hotel. Delays getting the train loaded on the adjacent Strathspey Railway meant a late departure and thus crossings on the single line were not as booked. It did however mean a couple of nice unexpected photo-stops, Blair Atholl being particularly memorable. During a stop in Perth under the canopy there were smiles all round as D9009's engines were left running - I think this was the point people began to realise we really were taking a pair of Deltics on a tour of Scotland!!
A long run now through the Glasgow suburbs (via High Street Jn to Shields Jn which was required track for me) to Stranraer. I rate the gradients between Ayr and Stranraer and D9009 certainly made a good show of getting over them for us, again all enjoyed from "up front" in the leading coaches. After half an hour at the terminus we then retraced our steps to Glasgow. There was a brief unexpected pause en-route for an inspection of Deltic 19's wheelsets as it was reported as having gained wheelflats somewhere along the way. Thankfully all seemed to be within acceptable limits so there was no need to consider leaving RHF behind and continuing with a class 37 (as had been rumoured at one point).
We were running well early by Craigendoran Jn but a track circuit failure cost us some of the gained time. With a mixture of sleep and thrash I was awake to witness our arrival into Fort William at 2.40am on the Wednesday. With a 5.05am booked departure any hopes to go exploring were however dashed as the station was completely locked up - we had no way to get out!
Whilst many slept on a handful of us got some photos of the two Deltics, including some with a West Highland Terrier motif attached (temporarily) in various locations on each loco! 5am and we were off to Mallaig. Stunning scenery was becoming the norm, though still much appreciated. My phone was going at 6am as a colleague was out chasing us taking trackside photos and he was after updates on our progress! We were piped into Mallaig at 6.45am and the good people of Mallaig had arranged for many of their shops to be open on our arrival - another much appreciated move. Many were seen writing postcards and getting them off in the mornings post!
From Mallaig we retraced our steps to Fort William. A pause at the junction waiting for a platform, vacated by steam loco 61264 on "The Jacobite" steam-hauled service to Oban. 37418 was in the other platform with the beds (overnight sleeper from London).
Down now to Crianlarich and one of my colleagues succeeded in missing the run over Rannoch Moor for a second time as he was asleep! Oban next stop and about three hours to explore. I included 30 minutes in the library on an Internet connection to clear out my inbox which had been filled by e-mails in my absence! Some people chose the offered option of a bus to Fort William, resulting in an evening there rather than on the train. A 53 seater was booked...but only 9 passengers took the option, the rest of us preferring the Deltic mileage (and thrash!). One passenger, as he settled back onto the train, had a shock to realise he'd lost his wallet - he quickly retraced his steps to the shop where he last knew he had it - the shop was closed but a note on the door confirmed it was safe and could be retrieved after 6.45pm...but we left at 6.23pm! He rang the given phone number and arranged that his wallet would be sent by taxi to our hotel in Fort William - the £38 taxi ride got his wallet to the hotel many hours earlier than us!
Back to Fort William and a bed for the night in the hotel adjacent to the station. I had to wash my hair three times before the water stopped running black/dark grey!
Last day was pretty well a straight run home back to Preston. Having got to the hotel post-11pm on Wednesday evening the late start (10.47am) was much appreciated. A good run south was had and after Glasgow we were "allowed to run" which resulted in a 75 minute early arrival into Preston which well pleased a lot of people. Although I could then have got a train home an offer of a lift was duly taken up and I was home a little after 11pm, tired but very very happy! The final good memory of the many on this trip was a "seminar" photo next to D9009 - most of the tour participants participated much to the bemusement of other passengers and staff on the station. A "three cheers" for Guy Middleton (main organiser of the tour) & everyone else involved went up and finished with a round of applause.
Will we ever see a tour like this again? Somehow I doubt it, yes, it could be repeated (and for sure I'd sign up for it if it was) but I don't think any re-run would approach the atmosphere of this time round - in this case we certainly went "boldly where no Deltics have gone before"!! Maybe in a few years time something similar will be attempted, who knows....
My personal thanks go to Guy Middleton and all the others involved with the planning and running of this railtour. So, Guy, where to next year then ... (only joking)?
Gary Thornton.
...and here's Foghorn's review of the same tour....
...and finally....
Some "useful facts" from Andrew Laing :
| | | |
| --- | --- | --- |
| Loco | Height Climbed (feet) | Height Decended (feet) |
| D9009 | 22,650 | 21,495 |
| 55009 | 16,254 | 17,409 |
| Total | 38,904 | 38,904 |
Between them the locos climbed the height of Mount Everest plus 2 Ben Nevises.
(Counting every up & down gradient on the route).



Timings (Booked & Actual)
(from Gary Thornton, David Russell & Nigel Benning)
| | | |
| --- | --- | --- |
| Location | Booked (out) | Actual (out) |
| Preston | 11.50d | 11.50 |
| Lancaster | 12/09 | 12/10 |
| Morecambe South Jn | 12/10 | ??/?? |
| Carnforth North Jn | 12/13 | 12.21a ~ 12.45d |
| Oxenholme Lake District | 12/39 | 13/41 |
| Tebay | 12/52 | 13/52 |
| Penrith | 13/09 | 14/08 |
| Carlisle | 13.23a ~ 13.34d | 14.24 ~ 14.28 |
| Gretna Jn | 13/44 | 14/37 |
| Signal MC863 | 13/48 | ??/?? |
| Lockerbie | 14/00 | 14/51 |
| Beattock | 14/13 | 15/03 |
| Beattock Summit | 14/29 | 15/12 |
| Abington | 14/36 | 15/19 |
| Carstairs South Jn | 14/54 | 15/33 |
| Carstairs East Jn | 14/56 | 15/35 |
| Midcalder Jn | 15/13 | 15/50 |
| Slateford Jn | 15/21 | 15/58 |
| Haymarket | 15/27 | 16/00 |
| Edinburgh Waverley | 15.40a ~ 16.05d | 16.05 ~ 16.16 |
| Haymarket | 16/11 | 16/20 |
| Haymarket West Jn | 16/13 | 16/22 |
| Dalmeny Jn | 16/20 | 16/29 |
| Inverkeithing | 16/29 | 16/35 |
| Burntisland | 16/38 | 16/43 |
| Kirkaldy | 16/46 | 16/51 |
| Thornton South Jn | 16/52 | 16/55 |
| Thornton North Jn | 16/53 | 16/56 |
| Ladybank | 17/03 | 17/04 |
| Cupar | 17/17 | 17.11a ~ 17.14d |
| Leuchars | 17/24 | 17/21 |
| Dundee Central Jn | 17/38 | 17/36 |
| Dundee | 17.40a ~ 17.42d | 17/38 |
| Camperdown Jn | 17/45 | 17/41 |
| Carnoustie | 17/55 | 17/50 |
| Arbroath | 18/01 | 17.56a ~ 17.57d |
| Usan | 18/14 | 18/09 |
| Montrose | 18/17 | 18/12 |
| Laurencekirk | 18/28 | 18/21 |
| Carmont | 18/36 | 18/29 |
| Stonehaven | 18/41 | 18/34 |
| Aberdeen | 19.00a ~ 21.14d | 19.00 ~ 21.14 |
| Dyce | 21/23 | 21/26 |
| Inveruruie | 21/35 | 21/37 |
| Insch | 21/47 | 21/49 |
| Kennethmont | 21/55 | 21/56 |
| Huntly | 22.04a ~ 22.17d | 22.06 ~ 22.19 |
| Keith Loop | 22.32a ~ 22.46d | 22.37 ~ 22.43 |
| Elgin | 23/13 | 23/07 |
| Elgin SB | 23.14a ~ 23.15d | 23.08 ~ 23.09 |
| Forres Loop | 23.29a ~ 23.30d | 23.25 ~ 23.25 |
| Forres | 23/31 | 23/26 |
| Nairn | 23.43a ~ 23.44d | 23.37 ~ 23.38 |
| Millburn Jn | 00/02 | ??/?? |
| Rose Street | 00.05a ~ 00.25d | 23.56 ~ 01.01 |
| Clachnaharry | 00/29 | ??/?? |
| Muir of Ord | 00.48a ~ 00.50d | 01.26 ~ 01.27 |
| Dingwall | 00.59a ~ 01.01d | 01.39 ~ 01.40 |
| Invergordon | 01.17a ~ 01.19d | 01.59 ~ 02.00 |
| Tain | 01.35a ~ 01.37d | 02.21 ~ 02.22 |
| Ardgay | 01.55a ~ 01.57d | 02/42 |
| Lairg | 02.15a ~ 02.17d | 03.01 ~ 03.05 |
| Rogart | 02.32a ~ 02.34d | 03.22 ~ 03.23 |
| Brora | 02.54a ~ 02.56d | 03/44 |
| Helmsdale | 03.11a ~ 03.13d | 04.02 ~ 04.03 |
| Forsinard | 03.51a ~ 03.53d | 04.40 ~ 04.41 |
| Georgemas Junction | 04.24a ~ 04.54d | 05.10 ~ 05.23 |
| Thurso | 05.05a ~ 05.35d | 05.35 ~ 05.52 |
| Georgemas Junction | 05.54a ~ 07.35d | 06.04 ~ 07.32 |
| Wick | 07.54a ~ 08.24d | 07.56 ~ 08.24 |
| Georgemas Junction | 08.43a ~ 08.45d | 08.43 ~ 08.47 |
| Forsinard | 09.17a ~ 10.22d | 09.16 ~ 11.04 |
| Helmsdale | 10.56a ~ 11.24d | 11.45 ~ 11.48 |
| Brora | 11.39a ~ 11.40d | 12.06 ~ 12.07 |
| Rogart | 11.59a ~ 12.00d | 12/29 |
| Lairg | 12.20a ~ 12.22d | 12.45 ~ 12.56 |
| Ardgay | 12.37a ~ 12.43d | 13/20 |
| Tain | 13.01a ~ 13.02d | 13.37 ~ 13.39 |
| Invergordon | 13.18a ~ 13.54d | 13.55 ~ 13.57 |
| Dingwall | 14.11a ~ 14.41d | 14.13 ~ 14.47 |
| Garve | 15.07a ~ 15.08d | 15.17 ~ 15.19 |
| Achnasheen | 15.40a ~ 15.41d | 15.51 ~ 15.53 |
| Strathcarron | 16.11a ~ 16.12d | 16.23 ~ 16.29 |
| Kyle of Lochalsh | 16.55a ~ 18.02d | 17.11 ~ 18.08 |
| Strathcarron | 18.44a ~ 18.45d | 18.53 ~ 18.55 |
| Achnasheen | 19.17a ~ 19.22d | 19.24 ~ 19.29 |
| Garve | 19.51a ~ 19.52d | 19.57 ~ 19.59 |
| Dingwall | 20.18a ~ 20.20d | 20.24 ~ 20.26 |
| Muir of Ord | 20.30a ~ 20.31d | 20.36 ~ 20.38 |
| Clachnaharry | 20/48 | 20/56 |
| Rose Street | 20.52a ~ 20.57d | 21.01 ~ 21.08 |
| Millburn Jn | 21/00 | 21/11 |
| Slochd | 21/36 | 21/36 |
| Carrbridge | 21/42 | 21/42 |
| Aviemore | 21.51a ~ 08.57d | 21.52 ~ 09.24 |
| Kincraig | 09/05 | 09.35a ~ 09.42d |
| Kingussie | 09.13a ~ 09.31d | 09/48 |
| Dalwhinnie | 09/47 | 10/00 |
| Blair Atholl | 10/11 | 10.23a ~ 10.35d |
| Pitlochry | 10.22a ~ 10.41d | 10/47 |
| Dunkeld & Birnam | 10/54 | 11/00 |
| Stanley | 11/03 | 11/09 |
| Perth | 11.14a ~ 11.45d | 11.17 ~ 11.44 |
| Hilton Jn | 11/50 | 11/49 |
| Blackford | 12/07 | 12/02 |
| Dunblane | 12/15 | 12/09 |
| Stirling | 12/25 | 12/14 |
| Larbert Jn | 12/35 | 12/37 |
| Carmuirs West Jn | 12/37 | 12/38 |
| Greenhill Lower Jn | 12/41 | 12/41 |
| Greenhill Upper Jn | 12/43 | 12/42 |
| Croy | 12/47 | 12/49 |
| Gartshore | 12.49a ~ 13.26d | 12.52 ~ 13.28 |
| Lenzie | 13/32 | 13/33 |
| Bishopbriggs | 13/35 | 13/36 |
| Eastfield Passenger Loop | 13.39a ~ 13.42d | 13/38 |
| Cowlairs West Jn | 13/43 | 13/39 |
| Springburn | 13/45 | 13.46a ~ 13.48d |
| Bellgrove | 14/02 | 14/02 |
| High Street Jn | 14/04 | 14/03 |
| Shields Jn | 14/16 | 14/12 |
| Arklston Jn | 14/21 | 14/20 |
| Paisley Gilmuir Street | 14/22 | 14/22 |
| Elderslie | 14/25 | ??/?? |
| Johnstone | 14/26 | 14/26 |
| Lochwinnoch | 14/34 | 14/30 |
| Kilwinning | 14/47 | 14/39 |
| Irvine | 14/52 | 14/42 |
| Barassie Jn | 14/59 | 14/46 |
| Prestwick | 15/04 | 14/50 |
| Ayr | 15.12a ~ 15.14d | 14.58 ~ 15.04 |
| Dalrymple Jn | 15/20 | 15/11 |
| Maybole | 15/28 | 15/17 |
| Kilkerran | 15.36a ~ 15.42d | 15.25 ~ 15.40 |
| Girvan | 15.55a ~ 15.56d | 15.52 ~ 15.55 |
| Barrhill | 16.25a ~ 16.25d | 16.16 ~ 16.18 |
| Glenwhilly | 16.42a ~ 16.42d | 16.31 ~ 16.31 |
| Dunragit | 16.59a ~ 16.59d | 16.46 ~ 16.47 |
| Stranraer | 17.13a ~ 17.28d | 16.58 ~ 17.27 |
| Dunragit | 17.41a ~ 17.47d | 17.38 ~ 17.50 |
| Glenwhilly | 18.06a ~ 18.06d | 18/06 |
| Barrhill | 18.22a ~ 18.44d | 18.19 ~ 18.27 |
| Girvan | 19.12a ~ 19.12d | 18/54 |
| Kilkerran | 19.27a ~ 19.50d | 19.07 ~ 19.09 |
| Maybole | 19/59 | ??/?? |
| Dalrymple Jn | 20/07 | ??/?? |
| Ayr | 20.13a ~ 20.18d | 19.32 ~ 19.35 |
| Prestwick | 20/22 | 19/40 |
| Barassie Jn | 20/30 | 19/44 |
| Irvine | 20/36 | 19/47 |
| Kilwinning | 20/47 | 19/57 |
| Dalry Loop (Brownhill) | ??/?? | 20.04a ~ 20.11d |
| Lochwinnoch | 21/00 | 20/18 |
| Johnstone | 21/10 | 20/22 |
| Elderslie UPL | 21.14a ~ 21.24d | 20/23 |
| Paisley Gilmour Street | 21/30 | 20/26 |
| Arkleston Jn | 21/32 | 20/28 |
| Shields Jn | 21/41 | 20/33 |
| High Street Jn | 21/48 | 20.43a ~ 20.47d |
| Bellgrove | 21/50 | 20/48 |
| Springburn | 22/17 | 20/57 |
| Cowlairs West Jn | 22/19 | 20.59a ~ 21.01d |
| Cowlairs North Jn | 22/21 | 21/03 |
| Ashfield | ??/?? | 21.04a ~ 21.15d |
| Westerton | 22/33 | 21/22 |
| Dalmuir | 22/45 | 21/28 |
| Dumbarton Central | 22/52 | 21/37 |
| Dalreoch | 22/53 | 21/38 |
| Craigendoran Jn | 23.04a ~ 23.30d | 21.48 ~ 22.23 |
| Helensburgh Upper | 23.36a ~ 23.56d | 22.30 ~ 22.34 |
| Garelochhead | 00.08a ~ 00.10d | 22.51 ~ 23.07 |
| Glen Douglas | 00/24 | 23/25 |
| Arrochar & Tarbet | 00.32a ~ 00.34d | 23.37 ~ 23.39 |
| Ardlui | 00.48a ~ 00.50d | 23/52 |
| Crianlarich | 01.11a ~ 01.14d | 00.19 ~ 00.23 |
| Upper Tyndrum | 01.26a ~ 01.29d | 01.35 ~ 01.37 |
| Bridge of Orchy | 01.43a ~ 01.45d | 00.51 ~ 00.55 |
| Rannoch | 02.13a ~ 02.39d | 01.19 ~ ??.?? |
| Corrour | 02.55a ~ 02.57d | ??.?? ~ ??.?? |
| Tulloch | 03.16a ~ 03.18d | 01.56 ~ 02.05 |
| Roy Bridge | 03.28a ~ 03.30d | ??.?? ~ ??.?? |
| Spean Bridge | 03.36a ~ 03.38d | 02.20 ~ 02.23 |
| Fort William Jn | 03/54 | 02/38 |
| Fort William | 03.57a ~ 05.05d | 02.40 ~ 05.08 |
| Fort William Jn | 05/08 | 05/11 |
| Banavie | 05/12 | 05/16 |
| Loch Eil Outward Bound | 05.24a ~ 05.25d | (05/20) |
| Glenfinnan | 05.44a ~ 05.45d | 05.45 ~ 05.50 |
| Arisaig | 06.24a ~ 06.27d | 06.26 ~ 06.29 |
| Mallaig | 06.44a ~ 08.04d | 06.46 ~ 08.04 |
| Arisaig | 08.22a ~ 08.23d | 08/24 |
| Glenfinnan | 09/01 | 09.00a ~ 09.04d |
| Loch Eil Outward Bound | 09.25a ~ 09.26d | 09.26 ~ 09.28 |
| Banavie | 09/39 | 09.38a ~ 09.42d |
| Fort William Jn | 09.46a ~ 10.26d | 09.50 ~ 10.25 |
| Fort William | 10.29a ~ 10.47d | 10.29 ~ 10.54 |
| Fort William Jn | 10/50 | 10/56 |
| Spean Bridge | 11.03a ~ 11.04d | 11.08 ~ 11.10 |
| Roy Bridge | 11.10a ~ 11.11d | 11/16 |
| Tulloch | 11.24a ~ 11.27d | 11.25 ~ 11.27 |
| Corrour | 11.49a ~ 11.50d | 11.56 ~ 11.58 |
| Rannoch | 12.02a ~ 12.03d | ??.?? ~ ??.?? |
| Bridge of Orchy | 12.26a ~ 12.32d | 12.23 ~ 12.26 |
| Upper Tyndrum | 12.49a ~ 13.02d | 12.40 ~ 12.53 |
| Crianlarich | 13.12a ~ 13.30d | 13.08 ~ 13.27 |
| Tyndrum Lower | 13.39a ~ 13.42d | 13.38 ~ 13.40 |
| Dalmally | 14.01a ~ 14.03d | 14.02 ~ 14.05 |
| Taynuilt | 14.22a ~ 14.24d | 14.25 ~ 14.29 |
| Connel Ferry | 14.37a ~ 14.39d | 14/46 |
| Oban | 14.59a ~ 18.23d | 15.10 ~ 18.25 |
| Connel Ferry | 18.43a ~ 18.44d | 18.49 ~ 18.50 |
| Taynuilt | 18.55a ~ 18.56d | 19.06 ~ 19.08 |
| Dalmally | 19.16a ~ 19.17d | 19.28 ~ 19.30 |
| Tyndrum Lower | 19.43a ~ 20.52d | 19.54 ~ 19.55 |
| Crianlarich | 21.00a ~ 21.30d | 20.07 ~ 20.45 |
| Upper Tyndrum | 21.42a ~ 21.51d | 20.57 ~ 20.59 |
| Bridge of Orchy | 22.05a ~ 22.06d | 21.13 ~ 21.33 |
| Rannoch | 22.34a ~ 22.35d | 21.57 ~ 22.13 |
| Corrour | 22.50a ~ 22.51d | ??.?? ~ ??.?? |
| Tulloch | 23.10a ~ 23.11d | 22.45 ~ 22.47 |
| Roy Bridge | 23.21a ~ 23.22d | ??.?? ~ ??.?? |
| Spean Bridge | 23.28a ~ 23.29d | 23.03 ~ 23.05 |
| Fort William Jn | 23.46a ~ 23.47d | 23/18 |
| Fort William | 23.51a ~ 10.47d | 23.21 ~ 10.51 |
| Fort William Jn | 10/50 | 10/54 |
| Spean Bridge | 11.03a ~ 11.04d | 11.05 ~ 11.07 |
| Roy Bridge | 11.10a ~ 11.11d | 11/13 |
| Tulloch | 11.24a ~ 11.27d | 11.22 ~ 11.31 |
| Corrour | 11.49a ~ 11.50d | 11/50 |
| Bridge of Orchy | 12.26a ~ 12.32d | 12.25 ~ 12.31 |
| Upper Tyndrum | 12.49a ~ 13.02d | 12.46 ~ 12.55 |
| Crianlarich | 13.12a ~ 13.15d | 13.05 ~ 13.11 |
| Ardlui | 13.33a ~ 13.34d | 13.29 ~ 13.31 |
| Arrochar & Tarbet | 13.48a ~ 13.56d | 13.48 ~ 13.59 |
| Glen Douglas | 14/08 | 14/11 |
| Garelochhead | 14.16a ~ 14.17d | 14.23 ~ 14.24 |
| Helensburgh Upper | 14.29a ~ 14.34d | 14.37 ~ 14.39 |
| Craigendoran Jn | 14.38a ~ 16.02d | 14.46 ~ 16.07 |
| Dalreoch | 16/12 | 16/15 |
| Dumbarton Central | 16/13 | 16/16 |
| Dalmuir | 16/22 | 16/23 |
| Westerton | 16/33 | 16/31 |
| Cowlairs North Jn | 16/40 | 16/39 |
| Cowlairs West Jn | 16/42 | 16/41 |
| Springburn | 16/45 | 16/46 |
| Gartcosh Jn | 16/56 | 17/02 |
| Gartsherrie South Jn | 17/10 | 17/05 |
| Coatbridge Central | 17/13 | 17/07 |
| Whifflet South Jn | 17/21 | 17/08 |
| Mossend | 17/23 | 17/12 |
| Mossend North Jn | 17/25 | 17/13 |
| Mossend South Jn | 17/26 | 17/14 |
| Motherwell | 17/34 | 17/17 |
| Shieldmuir | 17/38 | 17/20 |
| Law Jn | 17/58 | 17/24 |
| Lanark Jn | 18/08 | 17/31 |
| Carstairs Up Loop | 18.13a ~ 18.40d | 17.35 ~ 17.41 |
| Carstairs South Jn | 18/42 | 17/43 |
| Abington | 18/57 | 17/55 |
| Beattock Summit | 19/08 | 18/02 |
| Beattock | 19/18 | 18/09 |
| Lockerbie | 19/34 | 18/20 |
| Signal MC862 | 19/51 | ??/?? |
| Quintinshill Loop | ??/?? | 18.34a ~ 18.39d |
| Gretna Jn | 19/56 | 18/44 |
| Carlisle | 20.07a ~ 20.09d | 18.58 ~ 19.00 |
| Penrith | 20/28 | 19/16 |
| Tebay | 20/49 | 19/31 |
| Oxenholme | 21/03 | 19/41 |
| Carnforth North Jn | 21/12 | 19/56 |
| Morecambe South Jn | 21/15 | 20/00 |
| Lancaster | 21/17 | 20/02 |
| Preston | 21.35a | 20.20 |