The Alternative Tour Review
(by "Foghorn")
The Skirl of the Napiers....
My interest for this tour began as soon as it was announced. "This just has to be done," was the general consensus in my head. With a great sense of anticipation I arrived at Preston to find the Napier Faithful well in evidence. Only as RHF arrived with the ecs from Carnforth did it sink in that this was actually going to happen.
As others have detailed elsewhere we were soon subject to RST and from here most tours tend to unravel. Two hours into a five day extravaganza, this was most ominous. All fears of farce were soon behind us after Alycidonís assault on the northern fells and generous pathing allowances soon had us about where we belonged. Credit also to the signaller who put us in front of the Fife Circle All Shacks at Haymarket West Jn. JH and I have happy memories of RHF opening up the second engine just as we entered the tunnel at Dundee. Only being held outside Aberdeen awaiting a platform prevented an early arrival.
Aberdeen greeted us with gloomy drizzle, so we adjourned to "The Moorings" in search of the glass that cheers. The handpumps offered Houston or Orkney products, both were in good nick, the former the better I thought. This pub had a jukebox with a hand written message on the front:
"Donít try looking for Oasis, Robbie Williams etc. etc. there isnít any."
Needless to say the pub had an informal dress code of all over black and a worrying amount of hair crimping was in evidence. Feeling decidedly out of place (but to be fair, not unwelcome) we quaffed awhile and made our way back to the station for our 21.14 departure for the northern extremities of the Network Rail empire.
At this point I made the happy ;-) acquaintance of a bunch of chaps from the north-west, who ended up being my companions for the next four days. Such important matters as Cane Toads and Pies were amongst the convivial conversation. Just a group of sad tossers trying to keep themselves amused really. Doss was remarkably sociable due to there being no more than one hundred people on board seven coaches. One bay each really. This also meant there was little pressure on the availability of suitable bellowing windows. Frequent trips were of course made to top up the two-stroke tan.
It soon became clear that we would not be experiencing darkness, as at 01.00 it was still light in the northern sky. There was actually a guy on board who lived at Thurso, so he was well made up to arrive "home" at around 05.30. More doss at Georgemas Jn as we waited for the first unit of the day to come down from Wick. Across to Scotlandís east coast, then back south again. We waited quite some time at Forsinard to pass a couple of northbound workings, so I went to look around the "Nature Reserve Information Centre" that occupies the station buildings. There I spied a sightings board; "Hen Harrier at Black Tree Moor", that sort of thing. I couldnít resist adding "Two Deltics on platform opposite. My Lords!!".
After another change of direction at Dingwall, we started on our quest to reach Scotlandís west coast at Kyle of Lochalsh. Only at this point did I become aware of our chasing pack of paparazzi photographers. I make no apologies for bellowing in such peopleís shots. No punters, no train. No train, no phot. No phot, no commission from Liar or whomever.
No trip to Kyle could be complete without a game of "throw pebbles through the jellyfish" off the harbour. A quick trip to the shop, a postcard home, replenish the cellar and off we go again. By this time I (and anyone nearby) was looking forward to my de-rance at Aviemore. One minor obstacle stood in our way though - Slochd. An eleven minute deficit at Milburn Jn was turned into even time at the top, even with a 20 TSR in the middle. It was a stunning climb, and having assumed the mandatory position, I savoured every hellfire moment. 50,000 engine revolutions to drag us up from sea level. Needless to say it was a well wound up Foghorn that left the train at Aviemore.
A few minutes later I was clambering into the shower for an eagerly awaited de-clag. As I washed my hair, the scene of filth around my feet served to remind me of footage of an oil tanker breaking up. I half expected to see a couple of guillemots floundering in the pool of oil. I decided that a complete rewash should put me about right. For some this preening operation might be an undertaking lasting half a day, for the average "Foghorn" a fifteen minute turn around is the booked allowance. And so it was only a few minutes later that I set forth with friends for a celebratory mouthwash at The Old Bridge Inn. According to the GBG, refreshment would be available until midnight. According to the Aussie behind the bar (thereís a crank on every train and an Aussie behind every bar) he had called time at 22.50 and it was now 22.53. Accordingly I stated my requirement as being two pints of London Pride @#!/+? (only real ale on the bar!!), and I would join some other Napier Nedís at the tables outside. "Iíll be locking the door at 23.15" said the Aussie. "Fine", I replied, "weíll leave the empties by the door and you can pick them up in the morning". Withered! Anyway, half way down the second pint, an urgent gen call suggests we get our collective arses back to the hotel, interesting developments have arisen.
Within five minutes we were back at the hotel for an impromptu cine-film viewing by Gary "Pies" Ormiston. For this outstanding show he had managed to blag the use of one of the conference rooms. The first film was one produced for the BTC in the early diesel years that promoted the advantages of modernisation, and may well have been used as a recruiting aid at the time. The second was Garyís own footage of Deltics in their later years. Various comments were passed regarding mullet hairdos and flared tailoring. I could have happily swum in this sea of indulgence all night long, but I was on the verge of being declared a failure, so I headed up to bed.
I woke at 06.30 to the sound of a boiling kettle, announcing the imminent availability of tea. Suitably livened, I indulged in another shower (long time Ďtil the next one), and headed downstairs to tie on the breakfast nosebag. Now it is quite a while since I acquainted myself with Scottish breakfast, not since the demise of tractors on the West Highland Iíd guess, so the appearance of haggis on the hot buffet selection was most welcome. We were all soon fully loaded at sallied forth to the station to rejoin the train.
The train had spent the night in the back platform at Aviemore which is operated by the Strathspey Railway. A tanker was there to fuel our two steeds (RHF had had less than eighty gallons left by the time we reached Kyle), and we all helped carry provisions over the footbridge to restock the kitchen. Some shunting was then required to get the train out of the back platform, onto the mainline heading south, back through the station on the northbound platform to reverse direction again to arrive in the mainline station facing in the correct direction. Alycidon duly applied herself to the task at hand and knocked our arrears of 27 minutes ex-Aviemore down to only 4 late at Perth. Another trip for cellar replenishment was scooped in the book, and on returning to the station it was nearly impossible to breathe on top of the footbridge. She did look superb though.
The run to Glasgow and on to Stranraer (Scotlandís south coast?) was pretty much as booked, although the gradient profile showed that some stiff climbing would be called for. The gen from the footplate was that the driver was quite looking forward to it too. This makes it all the sadder for me to report that I missed it due to being dossed. This power nap did set me up for later heroics though. I didnít get off the platform at Stranraer, couldnít see the point, but just settled down for the journey back. There was plenty of thrash in this direction too, but I was still miffed at missing the 1 in 47 bank outward from Girvan. A very slack schedule saw us about an hour early back at Glasgow (after dropping the DPS chairman off at Ayr) and we presented ourselves at Craigendoran Jn nearer two hours up. After we had been held for some time we were allowed up onto the West Highland line an hour early. Let the serious fun begin.
Your average Foghorn is very partial to a bit of English Electric on the West Highland, but this was going to be something else. Progress was good at first, with plenty of solid thrash up to Helensburgh Upper, but things did get a bit tottery in the cutting at Garelochhead. Oh yes, and the train had been invaded by midges! I produced my aerosol of repellent, and proceeded to poison everybody in my half of the coach. After the loop at Glen Douglas (not required for changing service trains ;-) ), things were easy until Ardlui. It is then a thrash up the hill to Crianlarich, mainly at 1 in 60. For me the real joy of the West Highland lies in the two summits at County March and Corrour. With most of the train asleep, it was time to get the dreadometer wound up to "totally baldheaded" levels, with flailing and bellowing a plenty. The sight of the dramatic peaks through the pass, the never fading twilight, and the sound of a 40 year old loco heaving her guts out just made this an awesome event. Itís just a really personal thing. Your favourite engine taking on your favourite line. Photos are great, but only memories really capture the moment.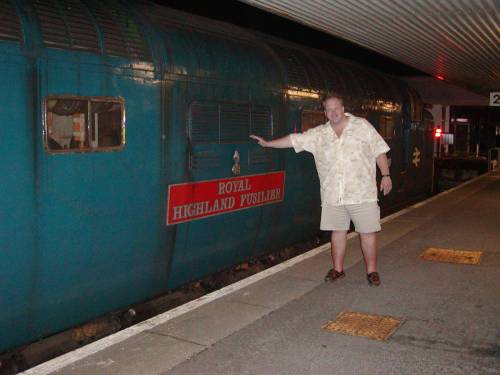 Large, loud, dirty and streaked with oil...and 55019 wasn't in that good a shape either!
Arrival at Fort William was shortly after 0230 but the last thing I could do was sleep. I thanked the star of the show in customary style then spent the next two and a half hours chatting, drinking coffee and just generally just waiting for the sun to crawl back up above the horizon. Eventually it was time for Alycidon to wake up the surrounding streets in time for our departure along the branch to Mallaig. Off we went, over the Caledonian Canal at Banavie and then on past the Outward Bound school I attended back in 1985. With Drum Fada on one side and a tranquil Loch Eil on the other it was certainly picture postcard stuff. The climb up from Glennfinan was entertaining, but the inevitable doss soon dragged me away from the action. Only for an hour though, as we were soon at Mallaig. I once left the harbour here in a kayak, heading up Loch Nevis. By the time we got back a couple of days later the swell was about three feet. Not so good! Anyway, having plied trade at the local shops, it was back on board to retrace our path. I was sat near RHF, so there was plenty to enjoy once again.
Back at Fort William, we set off in fine style for the big hill back over to Oban via Crianlarich. The paparazzi were in full pursuit mode by this time. This was mainly due to the much improved light. Iím sure many an unsuspecting highlander was shocked to see a silver Calibra bearing down on them whilst pulling off some dubious overtaking move. Different system of traffic regulation on the public highway. Only kills 10 people a day on average. Obviously no need for tabloid outrage there then! Rant over.
We adjourned to the Oban Inn for refreshment where most of the entertainment was provided by the local drunk. Oban seems to be stuck in something of a 1970's timewarp when it comes to omnibuses. I don't do buses, but I know heritage traction when I see it. In need of fodder, I found a cracking seafood stall back at the station, where I was delighted to encounter further timewarp motive power...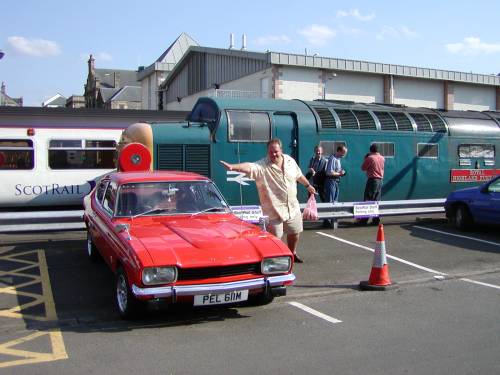 Traction worth a bellow!
After a stop-start departure, Alycidon had to attack the 1 in 50 from a stand. No problem! More doss then ensued and I was awoken by the beast just behind me stirring into life. We were at Crianlarich and I should have been in the dining car half an hour ago. Most of my travelling companions were on the bus (how sad is that?) back to Fort William. Perhaps I was in greater need of a shower than I had realised. Anyway, the informed opinion was in favour of flagging the meal and caning in more thrash at the sharp end particularly as this would be the final effort from RHF. Only 9 people did the bus, I wonder why?
We arrived back at Fort William at 2320ish and adjourned to the Milton Hotel just through the underpass. Now the Milton is not a big hotel, in fact the foyer area is decidedly small. Soon a queue of gricers is winding itsí way across the car park. At this point the entire midge population of Loch Linnhe gets a gen call to inform them of a Sasenach Sacrificial Supper to be had in town tonight. Clouds of the dirty buggers. Although it didnít seem so at the time, we were soon inside and having a Heavy General De-Clag. Down to the bar for a minor mouthwash and yet more convivial conversation. I looked down at my watch to find that I had already overshot 0230 and thought it best to retire to the depot. I arrived at the room fully expecting Mike to be in full flow with the sleeping acoustics, only to find him emerging from the bathroom. "Only a touch of cramp," he assured me. I made my own hasty performance in that smallest room, washed my hands, and emerged less than a full minute later to find the bloke clean away, snoring in that fashion that only Deltic bashing brings you. Top Man!
Another morning, another breakfast, then a walk into town for presents etc. with plenty of time before our 1045 departure. Very sociable. I noticed the local War Memorial on the way into town. Lots of familiar names of regiments next to the names of their fallen. A chap from the KOSB was lost in the Gulf in 1991. One entire side was devoted to names from the Cameron Highlanders. With RHF pulling up at the blocks across the road with the ecs, this would surely have been enough to keep Adrian Curtis in an advanced state of apoplexy for weeks had he been there.
At this point the DPS chairman returned to our happy fold, having been to his sonís graduation in London the previous day via a dose of the beds each way. Once again, Alycidon made excellent progress, this time though we were heading home. Not before we had enjoyed?? an hour in the loop at Craigendoran unit spotting (Mr Thornton) in the sun. This was specially arranged to time our passage through Glasgow to coincide with the evening peak. When we did get underway again, Alycidon cleared her throat in quite stunning style. I fear the good folk of Craigendoran may still be struggling to see across the Clyde.
Contrary to our misgivings, we made good time all the way home. We were held for a few minutes at Carstairs, but otherwise were pretty much allowed to get on with it. We stormed over Beattock in glorious fashion and went on to clear Shap, 1 in 125 up the back, at over 80mph. With an effective load 10 on, this seemed a more than fair endeavour. I availed myself of a window to be best able to savour the flavour.
Anyway, all this general hurtling led to us pretty much getting a clear road home. We were looped only once, at Quintinshill, on the entire Carstairs - Preston finale. Once again, thank you control. Thus our triumphant return to Preston was a full 75 minutes ahead of schedule. Needless to say, your correspondent was suitably impressed. A full seminar shot was duly arranged in front of the hero of the hour, Alycidon (where is that phot Guy?). The old girl had been shut down, but there was a hefty lick of black smoke emerging from the exhaust port of the leading engine. This prompted a hasty visit to the engine room by Mr Hartshorne to investigate. She had obviously got very hot after her recent exertions. After a while the smoke diminished. The three cheers that went up were a mark of the gratitude from all those who had enjoyed to all those who had enabled it to go ahead.
Only when I got back to work the next day did the enormity of the whole enterprise hit me. What a way to spend five days!
Foghorn.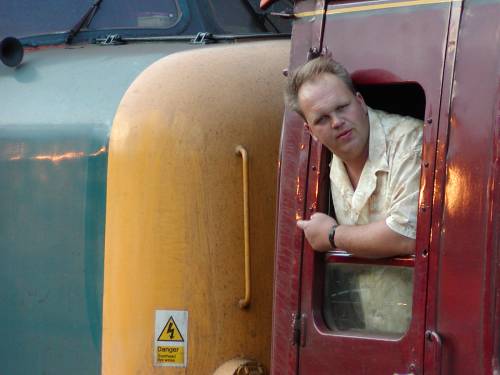 Is this what's being making me so dirty then?
(please use your back button to return to the main review Page)