GM v. EE
or.....
what's with all the white stuff?
The end of the year 2000 would bring with it the end of diesel locomotive haulage in areas of two "local" countries - England and Eire. In England, 30th December would see the last booked day of Class 37's on the North Wales Coast whilst the following day would see the likely end of many loco-hauled suburban services around Dublin as the latest tranche of foreign built DMU's were introduced. Happily however the two events were linked - by a number of ferry and Seacat sailings between Holyhead and Eire.
A friend of mine formulated a plan to take in a day around Dublin then returning on the overnight ferry to (conveniently) fall onto the last booked overnight Class 37 working to Birmingham. And so it was that, on Thursday 28th December, I set out to pay my last respects in both countries.....
Thursday - 07.00 : Wake-up, peer out bedroom window....oh dear, a good covering of snow (it was forecast).
Thursday - 07.30 : Get-up, peer out kitchen window....still the same? No, now it was also snowing quite heavily!
Thursday - 08.05 : Leave home and head to local bus-stop (snow still falling heavily). The first bus didn't turn up. The second did....eventually, about 15 minutes late. Not to worry, it still got me to the railway station in plenty of time for the 09.15ish Silverlink County service for Birmingham.
Thursday - 09.05 : I only bought a Saver ticket to Coventry as I intended getting a "Daytripper" there to get me round Birmingham for the day. I was meeting Pete an his son, Jonathan, later in the day at Birmingham New Street. Pete had already been and purchased the all-inclusive rail/ferry ticket (quite good value at £34 from Birmingham to Dublin, return).
Thursday - 10.10 : Still hanging around Northampton station awaiting the 09-whatever (or anything for that matter) heading north. Southbound passengers weren't getting on much better - they had mega-late runners and a cancelled train to cope with. Amusing however to watch a 12-car Class 321 rake pull out of the sidings just as they were announcing the cancellation of the 09.57 to Euston. It ran into the platform, picked up several Silverlink staff, then headed off southwards. You'd have thought they could have made this available for paying passengers at least as far as Milton Keynes where alternative trains were available....? Presumably getting your customers to their destinations now takes second place when the weather is bad...??
So, over two hours since leaving home...and I'm still just 2 miles from home (and in the wrong direction too compared to where I was headed that evening!).And Cold. And Bored.
Thursday - 10.20 : Hurray! The heavily delayed 09.xx arrived (a 4-car unit only) and was duly wedged out with two-trains worth of passengers. Top marks (not) Silverlink for your handling of the situation - little effort made to keep us informed of the delay, too short a train to cope with passenger numbers and, to cap it all, due to the late running it would now terminate at Coventry. All the more impressive too when you consider that Silverlink had, just the day before, announced that they would be increasing their train fares by over 4% at the end of the year!!
321417 took me, plus two other Northampton cranks who had also appeared, to Coventry where it terminated. Time enough to buy my other ticket before 321417 appeared (this was the Silverlink service supposedly an hour behind the one we'd been on!). This was taken to get us to Birmingham New Street. Normally we wouldn't have caught anything that wasn't loco-hauled but our priority was to get to New Street in time for the 12.07 to Holyhead - the fNW service due for Class 37 haulage. In such circumstances exceptions are made!
We arrived to a Birmingham New Street in complete chaos. The departure boards were of no use as they were full of heavily delayed trains, some already between two and three hours late. The train announcer also seemed to only be announcing Centro (local) services and (for reasons I cannot possibly begin to imagine) not a single member of staff could be found anywhere. Add to this the fact that several platforms were "out of use" because of failed trains, or ones without a crew, and you can probably start to understand the level of chaos I'm describing. Basically completely "belly-up".
The 12.07 finally arrived about 12.35 with 37421 in charge. Seats were located in the leading coach and I enjoyed the brief thrash northwards to Wolverhampton - the limit of my "Daytripper ticket. Time for a quick photo of 37421 before heading back to the chaos that was Birmingham New Street. I was somewhat bewildered to catch the 13.15 Stansted Airport service - formed of EMU 323218. Like to see that get forward from New Street under its on power! Seriously though, credit to Central Trains for being able to run something - the booked DMU presumably not having got to the starting point they at least put something alternative on instead, rather than just simply cancelling the service (Silverlink please take note!).
I thought it was bad before I had left an hour earlier.....That was nothing to what I returned to. At least one train I heard had stood outside the station for over an hour waiting an available platform. 323218 was, as expected, terminated. Passengers were pointed to the 11.36 New Street to Stansted Airport service to continue their journey. It was about 2pm by his time by the way. Then I heard a most amazing announcement - it was something along the lines of "We wish to apologise to all passengers awaiting information on todays heavily delayed train services. We currently have no information on any of the train services running through the station. Please listen for further announcements". I think the plot had been well and truly lost to come out with such an announcement!
A moment of disappointment next - the last Virgin 47 I need for haulage, 47844, appeared, towing a dead HST. Apparently said train (the 11.45 ex-Birmingham to Newcastle) had failed at Bromsgrove and 47844 had been sent out as rescue loco. Unfortunately (for me) the 47 was removed and the HST, formed of power cars 43180/43067, carried on unaided :-(
The remainder of the afternoon was spent wandering about the West Midlands area aimlessly, mainly in an attempt to keep warm...I failed). I sampled a fair mixture of trains - classes 47 (47845 & 47847), 158, 175 & 323. I had also called Pete and suggested we meet up as early as possible to attempt our journey to Holyhead. Our chances of success were not looking too rosy!
We met up just before 7pm. Our plan had been to catch the (additional) 20.19 Virgin service which was direct to Holyhead. No sign of it on the board....and I had little confidence it would run after all I'd seen during the day. Change of plan then - just catch the first thing we could find heading for Crewe. Here would be our "V1" (for those not into aircraft, "V1" is decision time - the point on the runway after which a pilot must go through with the take-off, no matter what problems he may have). At Crewe then we would either decide to go for Holyhead, else back out altogether and head back to Pete's home in Birmingham, trip caped.
The first thing heading to Crewe was a scud (158756) timed to leave New Street at 19.07 - in the event it left nearer to half-past, but still leaving us plenty of time to get to Crewe with a reasonable choice of trains to Holyhead. Last resort would be the 23.46 fNW with 35 minutes from booked arrival time at Holyhead to ferry departure time, though it was the "suggested" train on our tickets. Very dodgy if it ran late with such a close connection to the ferry....
The driver of 158756 gave us a guided tour of the Birmingham area - via Soho, Perry Barr and Bescot to get to Wolverhampton. Then, on the approach to Penkridge, we stopped at a red signal. After a while the Senior Conductor walked through the train to inform us "we'll probably be here at least half an hour, there's a big problem ahead at Stafford and the line is blocked". Groan. Maybe "V1" would have to be at Stafford.
We finally crawled into Stafford at a few minutes to 9pm. The additional train was due off at 21.01 but there was no sign of it on the departure boards. We stayed with 158756 to get us to Crewe - we finally arrived approaching 9.15pm, after the two hour stagger from Birmingham (normally about an hours run). Finally some good news - two lines saying "Holyhead" on the departures screen - a 20.36 - expected 21.35 - and 21.17 - on time - but...a BUS!! Seems this is all that existed of the Virgin train - it (the train) is normally booked off Crewe at 21.17 each weekday. We opted for the rail option and Wales & West 158828 whisked us along to Holyhead. We finally got there just before midnight! But at least we had made it :-)
Time was duly killed photographing anything and everything about - including the "spotting snowmen" on one of the platforms (if you don't view any other photo in this review, at least look at this one - I think it's brilliant!).
Another friend of Pete's joined us (Dave) and he arrived just before 37421 pulled in with the stock for the 01.50 departure for Birmingham. Time for a few photos then off to the ferry we went. Irish Ferries' "Isle of Inishmore" was to be our home for the 3.5 hour sailing to Dublin Ferryport. Time for some food then we settled down for a couple of hours kip. It had been a loooong day!
On arrival into Dublin we could see it was just as snowy as in England.
The morning was spent on various "short leaps" during which we succeeded in travelling behind 071 class members 072, 074 & 081, plus 201 class no. 229. Only 072 was "dud" for me, all the others being required haulages. The furthest we reached was Greystones where we swapped trains from 074 to 072.
A unit move then to Castleknock where a short wait scored me 086 back to Dublin Connolly on the 11.50 from Enfield. Any plans we had on our return were thrown into the bin however as 077 was on the 13.25 to Sligo. This particular 071 is the favourite of Pete and his son Jonathan and they had said if it "produced" then a longer journey would be made. They have had 077 or haulage every year since 1996, but not in 2000. A longer journey was duly made - we spent a pleasant 90 or so minutes heading "up country" to Mostrim (otherwise known as Edgeworthstown). This is the crossing point for the incoming and outgoing Sligo turns (two trains make up the diagram). By going that far would also make 077 Pete and Jonathans highest mileage 071. On arrival at Mostrim was no sign of the other train so there was an opportunity to snap off some more photos in the snow! It was really quite deep around the station and the surrounding area.
085 soon arrived and we enjoyed a superb performance southwards (well, more eastwards actually) to Dublin. and all too soon we were back in Connolly station. Dark O-Clock by now and time beginning to run out before the ferry home. 088 was scored on our return (short leap to Drumcondra) then a final bash to Bray with 074 again for a DART unit back, then it was (sadly) time for the bus back to the Ferryport and the trip home. A profitable day for me - six 071's scored plus one 201. Only one loco that was out working in the Dublin area during the day escaped me (228), so all-in-all a good way to have paid our respects to the suburban diesel-fest around Dublin that will soon come to an end. Same ferry as outward but no sleep this time, just a long conversation about the preservation scene in the UK, all washed down with a couple of pints of Guinness (well, I couldn't "do" Eire without at least one!).
30th December - The last overnight.... We were expecting the last booked overnight class 37 working to be wedged with enthusiasts but, surprisingly, it was actually very empty! Maybe the weather was to blame, or stories about how the lunatic fringe associated with tractors on the North Wales Coast (NWC) might spoil the journey put off many? 37429 was already in and waiting when we got off the ferry. The last day of booked class 37 haulage on fNW services was about to begin.....starting with the 02.09 to Birmingham New Street.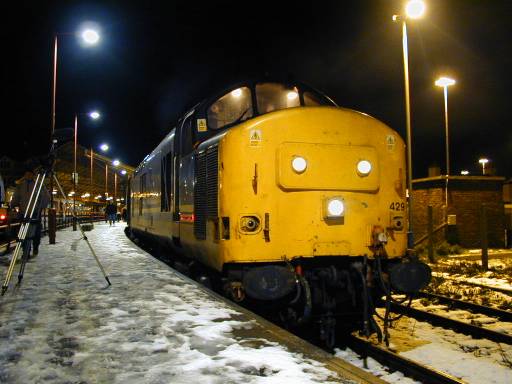 The beginning of the end - the 02.09 at Holyhead, 37429 having the honours.
I guess I should go on at great lengths about the journey - but can't really as I was dozing or asleep most of the way! Loads of thrash to be heard though whenever I was conscious. I did the train to New Street, baled to get a "Daytripper" ticket and then leapt back on to continue back to Wolverhampton. I was also too knackered by now to consider hanging around in the cold waiting for 429's return working (Oh, didn't I mention - I have been in a semi-frozen state since Thursday morning! I'm just starting to feel my toes again as I write this review in my nice warm living room). Bashing dud stuff or units for the morning also didn't appeal, so instead I headed home (43160/184 to New Street, 86233 to Coventry and 321426 home, walking through my front door about 9.15am). Tired and cold.....but happy I'd done what I'd done.
On the final day, 37429 was due to work to Holyhead, then do a full round trip to Birmingham and back to Holyhead and finish of with a run to Crewe. Once the day is over, will the NWC ever experience anything like this again?