14th October 1972
Locomotive Club of Great Britain
Welsh Borderer
| | |
| --- | --- |
| Locos Used | 1583 & steam: 6000 'King George V' & 45596 'Bahamas' |
| Stock Used | 9 coaches (?including W9135E?) |
Route : 1Z55 throughout
| | |
| --- | --- |
| Loco | Route |
| 1583 | London Paddington - Southall - Slough - Maidenhead - Twyford - Reading - Didcot - Swindon - Stroud - Standish Jn - Gloucester Yard Jn - Horton Road Jn - Gloucester Central - Awre - Chepstow - Severn Tunnel Junction - Newport |
| 6000 | Newport - Maindee North Jn - Abergavenny - Pontrilas - Hereford Barr Court |
| 5596 | Hereford Barr Court - Shelwick Jn - Leominster - Craven Arms - Shrewsbury |
| 1583 | Shrewsbury - Wellington - Cosford - Wolverhampton - Dudley Port - Birmingham New Street - Proof House Jn - Bordesley Jn - Tyseley - Hatton - Leamington Spa - Banbury - Oxford - Didcot North Jn - Didcot East Jn - Reading - Maidenhead - Slough - London Paddington |
Notes :
(1) Reported as 6000's third mainline run after returning to the mainline. A stop was made at Didcot to visit the GWS open day.
Sources : Peter Gomm (from contemporary sources), John Broderick & Dick Franklin



Photo Review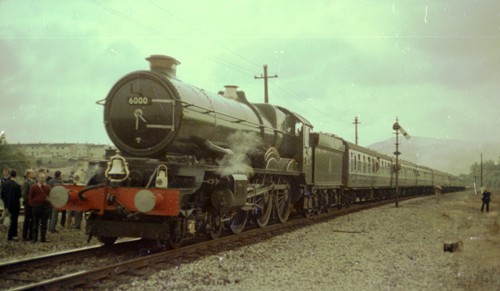 6000 paused at Pontypool Road for photos (photo: Bruce Nathan)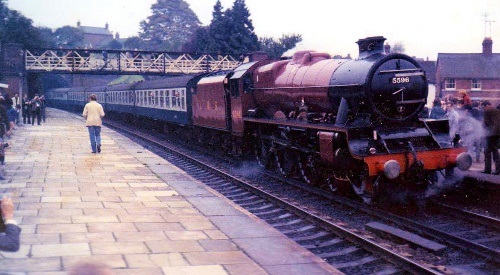 5596 seen here during the photo-stop at Ludow (photo: Bruce Nathan)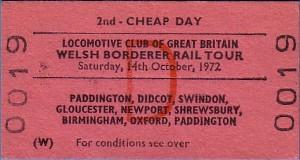 From Andrew Fairholm's ticket collection.


Timings (Booked & Actual)
(from John Broderick, Dick Franklin & Bruce Nathan)
| | | | |
| --- | --- | --- | --- |
| M.C | Location | Booked | Actual |
| 0.00 | Paddington | 08.35d | 08.34½ |
| 9.06 | Southall | 08/46 | 08/44 |
| 18.36 | Slough | 08/53 | 08/50½ |
| 24.19 | Maidenhead | 08/57 | 08/54½ |
| 29.51 | Ruscombe | [RL] | ? |
| 31.01 | Twyford | 09/04 | 09/00 |
| 35.78 | Reading | 09.10a ~ 09.15d | 09.06½ ~ 09.15 |
| 53.10 | Didcot | 09.35a ~ 11.00d ML | 09.32½ ~ 10.59 |
| 63.30 | Challow | 11/12 | 11/10 |
| 77.23 | Swindon | 11c25a ~ 11c30d | 11.21½ ~ 11.23 |
| 78.20 | Loco Yard | 11/32 | ? |
| 90.79 | Kemble | 11/45 | 11/36½ |
| 102.13 | Stroud | 12/00 | 11/53½ |
| 106.67 | Standish Jn | 12/07 | 12/00 |
| 112.01 | Tuffley Jn | 12/12 | 12/06 |
| 113.03 | Gloucester Yard Jn | 12/13 | ? |
| 113.61 | Horton Road Jn | 12/14 | ? |
| 114.03 | Gloucester Central | 12c15 ~ 12c17 | 12/13 |
| 129.00 | Awre | 12/31 | 12/30 |
| 133.36 | Lydney | 12/36 | 12/36 |
| 141.35 | Chepstow | 12p45a ~ 13p00d | 12/45 |
| 148.61 | Severn Tunnel Junction | 13/08 | 13/02 |
| 158.45 | Newport | 13L20a ~ 14L00d | 13.18 ~ 14.00 |
| 159.30 | Maindee North Jn | 14/03 | 14/04 |
| 164.36 | Llantarnam Jn | 14/12 | 14/14½ |
| 168.41 | Pontypool Road | 14p20a ~ 14p35d | 14.24½ ~ 14.35 |
| 177.77 | Abergavenny | 14/49 | 14/48½ |
| 189.36 | Pontrilas | 15/09 | 15/03½ |
| 201.75 | Hereford Barrs Court | 15L25a ~ 15L35d | 15.20 ~ 15.34½ |
| 203.52 | Shelwick Jn | 15/40 | 15/40 |
| 214.42 | Leominster | 15/54 | 15/54 |
| 220.67 | Wooferton | 16/01 | ? |
| 225.35 | Ludlow | 16p08a ~ 16p23d | 16.07 ~ 16.21 |
| 233.02 | Craven Arms | 16/38 | 16/31½ |
| 240.24 | Church Stretton | 16/52 | 16/40½ |
| 252.13 | Sutton Bridge Jn | 17.00a ~ 17.06d | 16/56 |
| 252.78 | Shrewsbury | 17L09a ~ 17L29d | 16.59 ~ 17.27½ |
| 263.56 | Wellington | 17/42½ | 17/39½ |
| 274.12 | Cosford | 17/55½ | 17/52 |
| 283.07 | Wolverhampton High Level | 18/06 | 18/05 |
| 288.54 | Dudley Port | 18/14 | 18/11½ |
| 292.18 | Galton Jn | 18/19 | ? |
| 293.77 | Soho South Jn | 18/22½ | ? |
| 296.01 | Birmingham New Street | 18.27a ~ 18.29d | 18.23 ~ 18.27½ |
| 296.76 | Proof House Jn | 18/31 | ? |
| 298.03 | St Andrews Jn | 18/35 | 18/36 |
| 298.37 | Bordesley Jn | 18/37 | 18/37½ |
| 300.45 | Tyseley | 18/41 | 18/40 |
| 307.55 | Knowle | 18/48 | 18/48 |
| 314.36 | Hatton | 18/58 | 18/59 |
| 320.44 | Leamington Spa | 19/07½ | 19/06½ |
| 340.34 | Banbury | 19/26 | 19/28½ |
| 345.39 | Aynho Jn | 19/36 | 19/33 |
| 351.29 | Heyford | 19/41 | 19/39 |
| 360.18 | Wolvercot Jn | 19/48 | 19/45½ |
| 363.10 | Oxford | 19/52 | 19/50 |
| 372.56 | Didcot North Jn | 20/00 | 19/58½ |
| 373.52 | Didcot East Jn | 20/01 [ML] | 19/59 |
| 390.42 | Reading | 20.18a ~ 20.20d | 20.15 ~ 20.17 |
| 395.39 | Twyford | 20/27 | 20/22 |
| 402.21 | Maidenhead | 20/32 | 20/26½ |
| 408.04 | Slough | 20/36 | 20/30½ |
| 417.34 | Southall | 20/43 | 20/39½ |
| 426.40 | Paddington | 20.55a | 20.54 |