16th April 1972
L.C.G.B.
The Somerset Quarryman
| | |
| --- | --- |
| DMU Used | set L713 (W52105/W59821/W59237/W52093) |
Route : 1Z90 (?throughout?)
| | |
| --- | --- |
| DMU | Route |
| L713 | London Paddington - Ealing Broadway - Slough - Reading General - Didcot - Swindon - Swindon Town |
| L713 | Swindon Town - Swindon |
| L713 | Swindon - Chippenham - Thingley Jn - Melksham - Trowbridge - Westbury - Frome North Box - Radstock West |
| L713 | Radstock West - Radstock North - Writhlington |
| L713 | Writhlington - Radstock North - Radstock West |
| L713 | Radstock West - Frome North Box |
| L713 | Frome North Box - Frome - Witham (1) - Merehead - Cranmore |
| L713 | Cranmore - Merehead Quarry Siding |
| L713 | Merehead Quarry Siding - Merehead |
| L713 | Merehead - Witham |
| L713 | Witham - Castle Cary - Yeovil Pen Mill - Yeovil Junction |
| L713 | Yeovil Junction - Gillingham - Salisbury - Andover Jn |
| L713 | Andover Jn - Ludgershall |
| L713 | Ludgershall - Andover Jn - Basingstoke - Reading General - (reverse of outward route) - London Paddington |
Notes :
(1) From Witham the booked route should have been: Witham - Merehead (Rev) - Merehead Quarry Siding (Rev) - Merehead - Cranmore (Rev) - Witham (Rev) but it was done in reverse order as detailed above. Merehead refers to the old station.
Sources : John Clifford (on the train throughout) & Chris Harley



Photo Review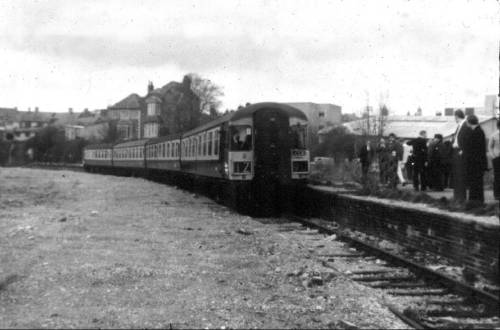 The tour is captured at the old Swindon Town station (photo : John Law)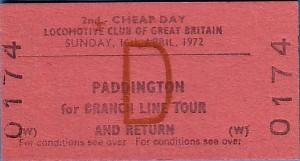 From the Andrew Fairholm ticket collection.


Timings (Booked & Actual)
(from John Clifford)
| | | |
| --- | --- | --- |
| Location | Booked | Actual |
| Paddington | 09.00d | 09.10 |
| Southall | 09/13 | 09/22 |
| Slough | 09/25 | 09/32 |
| Maidenhead | 09/31 | 09/38 |
| Twyford | 09/38 | 09/48 |
| Reading General | 09.44a ~ 09.45d | 09.54 ~ 09.56 |
| Didcot | 10/04 | 10/15 |
| Challow | 10/13 | 10/28 |
| Swindon | 10.29a ~ 10.31d | 10.54 ~ 11.11 |
| Swindon Town | 10.45a ~ 11.00d | 11.31 ~ 11.39 |
| Swindon | 11.15a ~ 11.27d | 11.54 ~ 12.03 |
| Wootton Bassett | 11/35 | 12/12 |
| Chippenham | 11/53 | 12.28a ~ 12.36d |
| Thingley Jn | 11/57 | 12/42 |
| Bradford North Jn | 12/09 | 12/54 |
| Hawkeridge | 12.18a ~ 12.19d | 13.03 ~ 13.04 |
| Heywood Road Jn | 12.21a ~ 12.27d | 13.07 ~ 13.09 |
| Westbury | 12/31 | 13.12a ~ 13.13d |
| Fairwood Jn | 12/34 | 13/17 |
| Clink Road Jn | 12/38 | 13/21 |
| Frome North 'Box | 12.40a ~ 12.45d | 13.23 ~ 13.24 |
| Mells Road | 13/05 | 13.39a ~ 13.40d |
| Radstock West | 13.19a ~ 13.25d | 13.54 ~ 14.00 |
| Writhlington | 13.35a ~ 13.43d | 14.09 ~ 14.16 |
| Radstock West | 13.53a ~ 13.59d | 14.24 ~ 14.30 |
| Mells Road | 14/13 | 14.42a ~ 14.44d |
| Frome North 'Box | 14.33a ~ 14.39d | 14.59 ~ 15.02 |
| Blatchbridge Jn | 14/41 | 15.06a ~ 15.07d |
| Witham | 14.48a ~ 14.50d | 15.19 ~ 15.20 |
| Merehead | 15.06a ~ 15.12d | 15.35 ~ 15.36 |
| Merehead Quarry Siding | 15.18a ~ 15.27d | DIV |
| Merehead | 15/33 | DIV |
| Cranmore | 15.40a ~ 15.46d | 15.39 ~ 15.46 |
| Merehead Quarry Siding | Not booked | 15.56a ~ 16.02d |
| Merehead | 15/53 | 16.08a ~ 16.11d |
| Witham | 16.09a ~ 16.16d | 16.23 ~ 16.30 |
| Castle Cary | 16/26 | 16.42a ~ 16.42d |
| Yeovil Pen Mill | 16/40 | 16.56a ~ 16.56d |
| Yeovil Junction | 16.45a ~ 16.51d | 17.03 ~ 17.08 |
| Templecombe | 17/09 | 17/23 |
| Gilingham | 17/16 | 17/29 |
| Wilton South | 17/40 | 17/47 |
| Salisbury | 17.45a ~ 17.49d | 17.52 ~ 18.00 |
| Andover Jn | 18.10a ~ 18.15d | 18.22 ~ 18.26 |
| Ludgershall | 18.40a ~ 18.50d | 18.51 ~ 18.58 |
| Andover Jn | 19.15a ~ 19.17d | 19/22 |
| Worting Jn | 19/34 | 19/42 |
| Basingstoke | 19.37a ~ 19.39d | 19.46 ~ 19.47 |
| Southcote Jn | 20/00 | 20/02 |
| Reading General | 20.04a ~ 20.05d | 20.07 ~ 20.17 |
| Twyford | 20/11 | 20/24 |
| Maidenhead | 20/17 | 20/30 |
| Slough | 20/23 | 20/36 |
| Southall | 20/32 | 20/43 |
| Paddington | 20.44a | 20.55 |