26th & 27th September 1964
Talyllyn Railway Preservation Society
Talyllyn Railway Special Train
(A.G.M. Special)
| | |
| --- | --- |
| Locos Used | 1011 'County of Chester', 4555, 7029 'Clun Castle' & 7827 'Lydham Manor' |
| Stock Used | ??? (plus sleeping cars on the return leg) |
Route : ?1X83? (throughout?) (4)
| | | |
| --- | --- | --- |
| Date(s) | Loco(s) | Route |
| 26/09 | 7029 | London Paddington - Birmingham Snow Hill - Wolverhampton LL |
| 26/09 | 1011 | Wolverhampton LL - Shrewsbury - Ruabon |
| 26/09 | 7827 + 4555 | Ruabon - Llangollen - Corwen - Bala Junction - Dolgellau - Arthog - Morfa Mawddach |
| 26/09 | 7827 + 4555 | Morfa Mawddach - Fairbourne - Towyn |
| 26/09-27/09 | 7827 + 4555 | Towyn - Welshpool - Shrewsbury |
| 26/09-27/09 | 7029 | Shrewsbury - ?Wolverhampton LL? - London Paddington |
Notes :
(1) Originally uploaded with the tour name 'Ian Allan Limited'. This was the first year bookings for the train were handled by Ian Allan (this remained the case for all future steam-hauled AGM specials).
(2) 4555 was already in preservation.
(3) The book: 'Talyllyn Railway A.G.M. Specials' shows two photos reportedly from this date which appear contradictory; the first shows 4555 'on arrival at Morfa Mawddach' then the another photo shows two Manors with headcode 1Z85 and the caption '7827 & 7823 arrive at Morfa Mawddach 26/09/1964'. The Webmasters suspicion is that this is in fact 7827 & 7822 arriving on the previous years tour, on 28/09/1963.
(4) Although 1011 carried a large '1X83' chalked on the smokebox door, it is noted that the same loco was used throughout on the SLS 'Last County Special' that ran six days earlier and had the headcode 1X83. It may therefore be that this was not in fact the headcode for this TRPS special, but had simply been left chalked on from the SLS tour. Richard Maund however points out that photographic evidence shows the previous week's tour used a 'proper' headcode frame so this may be confirmation that 1X83 was also the headcode used on this date.
Sources : Terry Dorrity, David Whittaker, Bill Armstrong, John Debens & book: 'Talyllyn Railway A.G.M. Specials'



Photo Review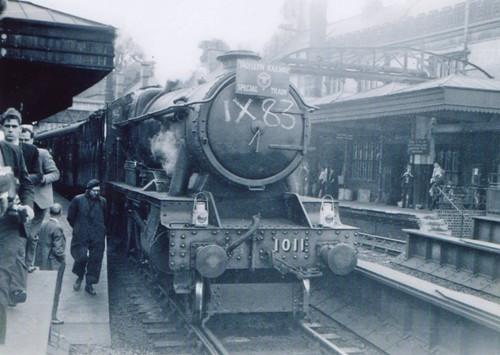 1011 paused at Shrewsbury (photo: The John Debens Collection)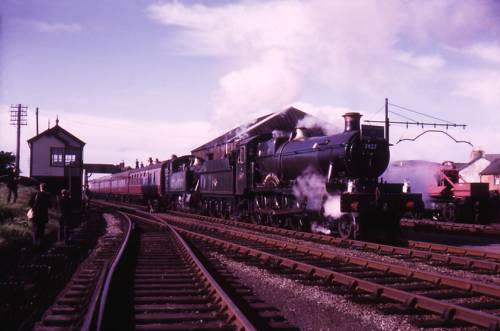 7827 'Lydham Manor' & 4555 wait to leave Towyn (photo: Terry Dorrity)
The photo below is from Mike Morant's collection has been uploaded
against the previous week's SLS outing which also used 1011 however
Richard Maund points out that a 'proper' headcode frame was used on
that occasion so is this photo in fact from this trip? If correct then this is
presumably at Ruabon (as it doesn't look like Wolverhampton LL)?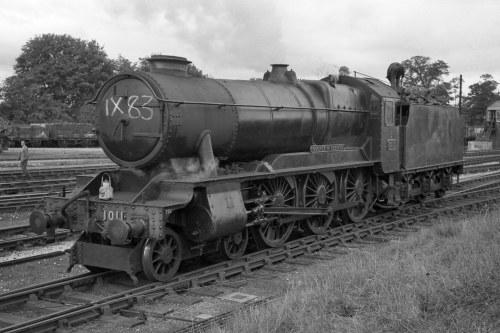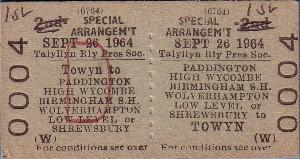 From the Andrew Fairholm ticket collection.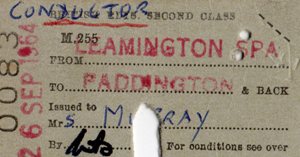 From The John Debens Ticket Collection.