20th September 1964
Stephenson Locomotive Society (Midland Area)
Farewell to the G.W.R. 'County Class'
| | |
| --- | --- |
| Loco Used | 1011 'County of Chester' |
Route : 1X83 throughout
| | |
| --- | --- |
| Loco | Route |
| 1011 | Birmingham Snow Hill - Stourbridge Junction - Gloucester South Jn - Standish Jn - Stroud - Kemble - Swindon |
| 1011 | Swindon - Swindon Works Rodbourne Lane Siding |
| 1011 | Swindon Works Rodbourne Lane Siding - Swindon - Didcot North Jn - Oxford - Banbury - Leamington Spa - Birmingham Snow Hill |
Notes :
(1) Passengers from Leamington Spa were able to travel on the 08:45 Leamington Spa General to Birmingham Snow Hill service train at no extra cost to join the tour; similarly passengers who were joining at Worcester were able to return to Worcester using the 19.40 Birmingham Snow Hill to Worcester Foregate Street or 21.30 Birmingham New Street to Worcester Shrub Hill service trains, also at no extra charge. Tour paperwork did however state that connection with the 19.40 train was not guaranteed (and, based on the actual arrival time it would appear was in fact missed).
Sources : Brian Burrows, Terry Dorrity & Roger Geach



Photo Review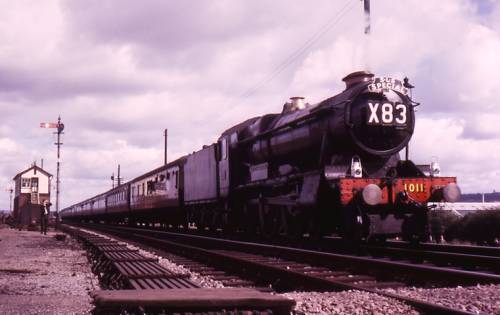 1011 is captured on film passing Gloucester South Jn (photo : Terry Dorrity)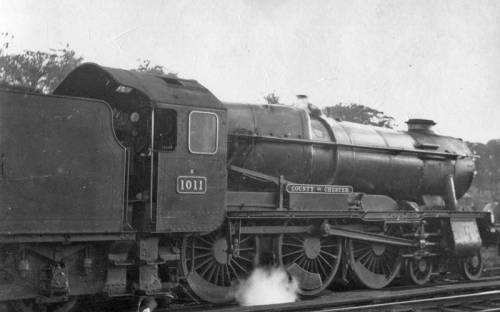 1011 'County of Chester' at Leamington Spa (photo : Brian Burrows)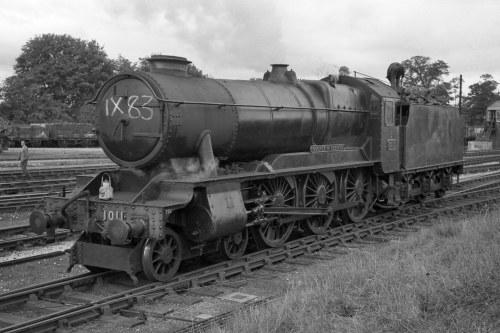 Another view of 1011 (photo: Mike Morant collection)
[Webmasters note: it has been suggested by a contributor that this photo is
actually from a week later (26/09) on the TRPS outing as photographic
evidence on that date shows 1011 with a chalked-on headcode ratehr than
use of a 'proper' headcode frame per the first photo on this page?]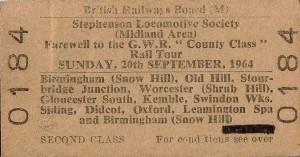 From The John Debens Ticket Collection.


Timings (Booked & Actual)
(from The MLS Library Collection courtesy of Ian Clark (SLS))
Location
Booked
Actual
Birmingham Snow Hill
09.50d
09.58
Stourbridge Junction
10.16a ~ 10.22d
10.28 ~ 10.34
Worcester Shrub Hill
11.10a ~ 11.15d
11.33 ~ 11.35
Abbotswood Jn
11/21
11/43
Gloucester South
11.59 ~ 12.09
12.27 ~ 12.34
Kemble
12/42
13/12
Swindon
13.00 ~ 13.14
13.28 ~ 13.46
Rodbourne Lane
13/18
13/52
Works Siding
13.28a ~ 17.00d
13.57 ~ ??.??
Swindon
17.10 ~ 17.12
17.05 ~ 17.07
?
Didcot North
17/47
17/49
Oxford
18/02
18.02 ~ 18.03
Banbury
18/32
18/41
Leamington Spa General
18.52a ~ 18.58d
19.07 ~ 19.09
Birmingham Snow Hill
19.39a
19.45