8th April 2017
UK Railtours
The Andover Fist
| | |
| --- | --- |
| Locos Used | 66005 & 66165 |
| Stock Used | 35469+3123+3068+1651+3120+3121+3149+1832+4927+4946+4991+4949+4959 |
Route :
1Z91 : London Waterloo to Fawley
1Z92 : Fawley to Salisbury
1Z93 : Salisbury to London Waterloo
| | |
| --- | --- |
| Loco(s) | Route |
| 66165 (1) | London Waterloo - Clapham Junction - Wimbledon - Surbiton - Hampton Court Jn - Weybridge - Woking - Farnborough Main - Basingstoke - Worting Jn - Winchester - Eastleigh - St Denys - Northam Jn - Southampton Eastern Docks |
| 66005 (2) | Southampton Eastern Docks - Northam Jn |
| 66165 (1) | Northam Jn - Southampton Central - Redbridge - Totton - Marchwood - Fawley ESSO [NR Limit] |
| 66005 (2) | Fawley ESSO [NR Limit] - Marchwood - Totton - Redbridge - Southampton Central - Northam Jn - St Denys - Eastleigh - Chandlers Ford - Romsey - Dean - Salisbury |
| 66165 (1) | Salisbury - Andover |
| 66005 (2) | Andover - Ludgershall |
| 66165 (1) | Ludgershall - Andover - Worting Jn - Basingstoke - Farnborough Main - Woking - Byfleet & New Haw - Virginia Water - Staines - Feltham - Twickenham - Richmond - Barnes - Clapham Junction - London Waterloo |
Notes :
(1) 66005 on rear.
(2) 66165 on rear.
(3) This was a re-run of the ill-fated Andover Fist tour of 05/11/16.
(4) 34046 'Braunton' T&T 57314 on the 'Royal Wessex' tour was overtaken at Mount Pleasant LC.
(5) Our tour was held at Red Post Jn, to watch 5043 'Earl of Mount Edgcumbe' pass by with the 'Moonraker' tour.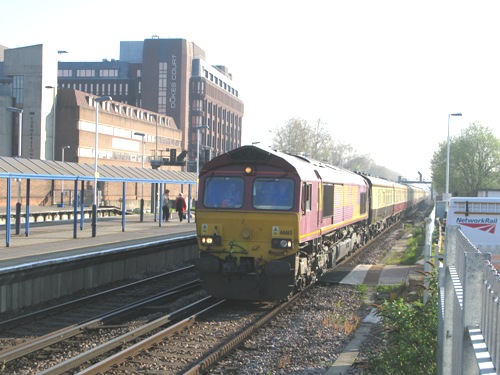 66165 arrives at Woking on the outward leg of the tour (photo: Nick Bartlett)
Source : Nick Bartlett (on the tour from Woking)



Timings (Booked & Actual)
(from Nick Bartlett, David Lodwick & Realtime Trains)
| | | | |
| --- | --- | --- | --- |
| M.C | Location | Booked | Actual |
| 0.00 | London Waterloo | 08.00d [P19] [WFL] | ? |
| ? | Nine Elms Jn | 08/06 [WL] | 08/07 |
| 2.50 | Queenstown Road | 08/07½ [WL-DMF] | 08/08 |
| 3.74 | Clapham Junction | 08/10 [P9] [DF] | 08/12 |
| 7.19 | Wimbledon | 08/14½ [P7] [DF] | 08/16 |
| 9.62 | New Malden | 08/17½ [P3] [DS] | 08/19 |
| 12.03 | Surbiton | 08/21 [P3] [DS] | 08/23 |
| 13.27 | Hampton Court Jn | 08/23 [DS] | 08/24 |
| 19.12 | Weybridge | 08/31 [P3] [DS] | 08/31 |
| 20.32 | Byfleet & New Haw | 08/34 [DS] | 08/34 |
| 24.27 | Woking | 08.41a ~ 08.45d [P5] [DS] | 08.40 ~ 08.46 [P5] [DS] |
| 24.62 | Woking Jn | 08/47 [DS] | 08/47 [DS] |
| 29.39 | Pirbright Jn | 08/52 [DS] | 08/53 [DS] |
| 33.17 | Farnborough Main | 08/56 [P2] [DS] | 08/57 [P2] [DS] |
| 36.38 | Fleet | 08/59 [P2] [DS] | 09/00 [P2] [DS] |
| 47.61 | Basingstoke | 09/13 [P1] [DS] | 09/13 [P1] [DS] |
| 50.21 | Worting Jn | 09/28 | 09.18 ~ 09.26 |
| 66.39 | Winchester | 09/44 [P2] | 09/43 [P2] |
| 69.10 | Shawford Jn | 09/47 [DS] | 09/46 [DF] |
| ? | Allbrook Jn | 09/53 | 09/50 [DF-DS] |
| 73.35 | Eastleigh | 09c55 ~ 09c58 [P3] | 09c53 ~ 10c14 [P3] |
| 77.10 | St Denys | 10/06 [P2] [DS] | 10/23 [P2] [DF] |
| 78.15 | Northam Jn | 10/08 | 10/24 |
| 79.02 | Canute Road LC | 10.13 ~ 10.15 | 10.27 ~ 10.32 |
| 79.71 | Southampton Eastern Docks | 10.23 ~ 10.45 | 10.50 ~ 11.12 |
| 80.60 | Canute Road LC | 10.53 ~ 10.55 | 11/25 |
| ? | Northam Jn | 11/00 [SL] | 11/31 |
| 81.47 | Northam Depot Reception Line | 11.02 ~ 11.27 | 11.34 ~ 11.53 [No.1 Reception Line] |
| ? | Northam Jn | 11/29 | 11/54 |
| 82.51 | Southampton Central | 11.32 ~ 11.54 [P4] [DF] | 11.59 ~ 12.00 [P4] [DF] |
| 85.22 | Redbridge | 11/58 [P2] | 12/04 [P2] |
| 86.14 | Totton Yard | 12.02 ~ 12.03 [DGL] | 12/08 [Fawley Line] |
| 89.40 | Marchwood | 12t13 ~ 12t14 | 12t15 ~ 12t16 [Up Loop] |
| 94.74 | Fawley ESSO Gates | 12.28a ~ 12.48d | 12.30 ~ 12.44 [Gates] |
| 100.28 | Marchwood | 13t03 ~ 13t05 | 13t01 ~ 13t02 [Down Loop] |
| 103.54 | Totton Yard | 13/15 | 13.10 ~ 13.14 [Fawley Line] |
| 104.46 | Redbridge | 13/18 [P1] | 13/18 [P1] |
| 107.17 | Southampton Central | 13/21½ [UF] [P1] | 13/22 |
| 108.21 | Northam Jn | 13/24 [UF] | 13/25 [UF] |
| 109.26 | St Denys | 13/26 [P1] | 13/26 [P1] |
| ? | Southampton Airport Parkway | 13/28½ [P1] [US] | 13/29 [P1] [US] |
| ? | Eastleigh Sig.E85 | 13*30 ~ 13*30 | 13/30 |
| 113.01 | Eastleigh | 13C32 ~ 13C33 [P1] | 13.32 ~ 13.34 [P1] |
| ? | Eastleigh East Jn | 13/35 | 13/37 |
| ? | Chandlers Ford | ? | 13/39 |
| ? | Romsey Sig.E883 | 13*50 ~ 13*54 | 13.47 ~ 13.57 |
| 120.13 | Romsey | 13/56 [P2] | 13.59 ~ 14.02 [P2] |
| 127.56 | Dean | 14/08 [P2] | 14/12 [P2] |
| 135.47 | Tunnel Jn | 14/19 | 14/24 |
| 136.54 | Salisbury | 14.22a [P4] ~ 15.52d [P2] | 14.28 [P4] ~ 15.52 [P2] |
| 137.61 | Tunnel Jn | 15/55 | 15/55 |
| 153.78 | Andover | 16.12 ~ 16.30 [P1] | 16.15 ~ 16.22 [P1] |
| 154.28 | Ludgershall Branch Stop Board | 16.32 ~ 16.37 | 16.26 ~ 16.31 |
| ? | Red Post Jn | ? | ? ~ 16.53 |
| 161.24 | Ludgershall M.O.D. | 16.57a ~ 17.21d | 17.13 ~ 17.20 |
| 168.20 | Ludgershall Branch Stop Board | 17.41 ~ 17.46 | 17.41 ~ 17.44 |
| 168.50 | Andover | 17/48 [P1] | 17/47 [P1] |
| 184.48 | Worting Jn | 18/03 [UF] | 18/02 [UF] |
| 187.08 | Basingstoke | 18/05 [P3] [UF] | 18/05 [P3] [UF] |
| 201.52 | Farnborough Main | 18/19 [UF] | 18/17 [UF] |
| ? | Pirbright Jn | 18/23½ [UF] | 18/20 [UF] |
| 210.07 | Woking Jn | 18/29 [UF] | 18/24 [UF] |
| 210.42 | Woking | 18.30a ~ 18.35d [P2] [US] | 18.25 ~ 18.29 [P2] [UF] |
| 214.46 | Byfleet & New Haw | 18/43 [US] | 18/36 |
| 215.37 | Addlestone Jn | 18/45 | 18/37 |
| 220.28 | Virginia Water | 18/57 [P3] | 18/58 [P3] |
| 224.41 | Staines | 19/11 [P1] | 19/10 [P1] |
| ? | Feltham | 19/19 [P1] | 19/19 [P1] |
| 230.08 | Feltham Jn | 19/21 | 19/21 |
| ? | Whitton Jn | 19/24 | 19/22 |
| ? | Twickenham Jn | 19/29 [FL] | 19/26 |
| 232.21 | Twickenham | 19/31½ [P4] [FL] | 19/27 [P4] |
| ? | St Margarets | 19/33 [P2] | 19/29 [P2] |
| 233.66 | Richmond | 19/37 [P2] | 19/33 [P2] |
| 236.36 | Barnes | 19/45 [P1] [US] | 19/41 [P1] [US] |
| 239.49 | Clapham Junction | 19/54 [P3] [WSL] | 19/48 [P3] [WSL] |
| ? | West London Jn | 19/58 [RVL] | 19/50 [RVL] |
| 240.73 | Queenstown Road | 19/59 [RVL] | 19/52 [P1] |
| ? | Nine Elms Jn | 20/01 [RVL] | 19/53 |
| ? | Vauxhall | 20/02½ [P1] | 19/55 [P1] |
| 243.43 | London Waterloo | 20.07a [P19] | 20.08 [P19] |


Associated E.C.S. Workings
5Z91 : (66005 with 66165 on rear) : Eastleigh Arlington to London Waterloo
5Z93 : (66005 with 66165 on rear) : London Waterloo to Eastleigh Arlington
| | | |
| --- | --- | --- |
| Location | Booked (out) | Booked (rtn) |
| Eastleigh Arlington | 05.05d | 22.51a |
| Eastleigh | 05/10 | 22/46 |
| Winchester | 05/18 | 22/37 |
| Worting Jn | 05/33 | 22/23 |
| Basingstoke | 05/35 | 22/14 |
| Farnborough Main | 05/49 | 21/49 |
| Woking Jn | 06/00 | 21/35 |
| Woking | 06/05 | 21/34 |
| Byfleet & New Haw | 06/13 | 21/22 |
| Addlestone Jn | 06/21 | 21/13 |
| Virginia Water | 06/29 | 21/06 |
| Staines | 06/42 | 20/58 |
| Feltham | 06/50 | 20/54 |
| Feltham Jn | 06/55 | 20/52 |
| Twickenham | 06/58 | - |
| Richmond | 07/01 | - |
| Hounslow | - | 20/50 |
| Brentford | - | 20/46 |
| Barnes | 07/08 | 20/40 |
| Clapham Junction | 07/17 | 20/35 |
| West London Jn | 07/19 | ? |
| Queenstown Road | 07/20 | 20/32 |
| Nine Elms Jn | 07/21 | 20/31 |
| London Waterloo | 07.26a [P19] | 20.25d [P19] |
5Z92 : (66165 with 66005 on rear) : Salisbury to Salisbury East Yard
5Z92 : (66005 with 66165 on rear) : Salisbury East Yard to Wilton
5Z92 : (66165 with 66005 on rear) : Wilton to Salisbury
| | |
| --- | --- |
| Location | Booked |
| Salisbury | 14.37d [P4] |
| Salisbury East Yard | 14.42 ~ 15.00 |
| Salisbury | 15/04 [P3] |
| Wilton Jn | 15/12 |
| Wilton | 15.14 ~ 15.34 |
| Wilton Jn | 15/37 |
| Salisbury | 15.41a [P2] |