5th November 2016
UK Railtours
The Andover Fist
| | |
| --- | --- |
| Locos Used | 66079 'James Nighthall G.C.' & 66086 |
| Stock Used (2) | (35469+3098)+3121+1651+3147+3149+3066+1832+4927+4949+4959+4991+4998 |
Route :
1Z91 : London Waterloo to Fawley
1Z92 : Fawley to London Waterloo
| | |
| --- | --- |
| Loco(s) | Route |
| 66079 (1) | London Waterloo - Clapham Junction - Wimbledon - Surbiton - Hampton Court Jn - Weybridge - Woking - Farnborough Main - Basingstoke - Worting Jn - Winchester - Eastleigh - St Denys - Northam Jn - Canute Road LC (3) |
| 66086 | Canute Road LC - Northam Jn - St Denys - Eastleigh |
Notes :
(1) 66086 on rear.
(2) 35469+3098 were only in the consist when 66079 was on the train.
(3) John Clifford comments: The train left slightly late, but this was not a problem. After Hampton Court Jn we caught up the 07.50 Waterloo - Woking stopper, but this was allowed for in the schedule. At Worting Jn we were held to let the 08.35 Waterloo - Weymouth and the 05.05 Lawley Street - Southampton M.C.T to go ahead, but again, the schedule allowed for this. After leaving the main line at Northam Jn we were proceeding slowly when disaster struck. The front coach (35469) derailed as did the leading bogie on the second (3098). We waited there until the relevant investigations had been carried out and after 3¾ hours 66086 returned the train to Eastleigh without the derailed coaches. The train terminated at Eastleigh and passengers return home by South West Trains from there or from Southampton Airport where there had been an extra stop. Once the two empty coaches had been re-railed they were taken into Southampton Eastern Docks by 66079, then on 06/11/16, taken to Eastleigh Arlington. The train is scheduled to be re-run on 08/04/17.
(4) Nick Bartlett comments: The Rail Accident Investigation Board's report, put the cause of the derailment, as due to track spreading.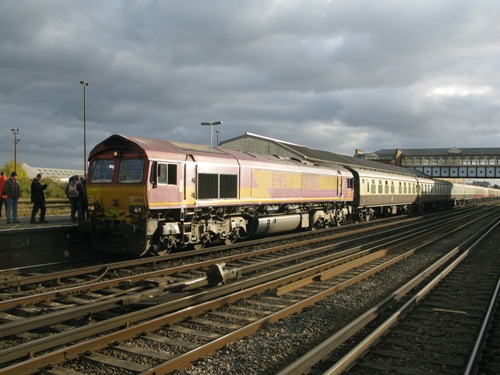 66086 on arrival back at Eastleigh, tour terminated (photo: Nick Bartlett)
Source : John Clifford & Nick Bartlett (both on the tour)



Timings (Booked & actual)
(from John Clifford & David Lodwick)
| | | | |
| --- | --- | --- | --- |
| M.C | Location | Booked | Actual |
| 0.00 | London Waterloo | 08.00d [P19] [WFL] | 08.02 [P19 [WFL] |
| ? | Nine Elms Jn | 08/06 [WL] | 08/08 [WL] |
| 2.50 | Queenstown Road | 08/07½ [WL-DMF] | 08/09½ [P2] [DMF] |
| 3.74 | Clapham Junction | 08/10 [P9] [DF] | 08/12½ [P9] [DF] |
| 7.19 | Wimbledon | 08/14½ [P7] [DF] | 08/16 [P7] [DF] |
| 9.62 | New Malden | 08/17 [P3] [DF] | 08/18 [P3] [DF] |
| 12.03 | Surbiton | 08/19 [P3] [DS] | 08/20 [DF] |
| 13.27 | Hampton Court Jn | 08/21 [DS] | 08/21 [DS] |
| 19.12 | Weybridge | 08/31 [P3] [DS] | 08/31 [P3] [DS] |
| 20.32 | Byfleet & New Haw | 08/33 [DS] | 08/34 [P2] [DS] |
| 24.27 | Woking | 08.41a ~ 08.45d [P5] [DS] | 08.42½ ~ 08.46 [P5] [DS] |
| 24.62 | Woking Jn | 08/47 [DS] | 08/48 [DS] |
| 29.39 | Pirbright Jn | 08/52 [DS] | 08/54 [DS] |
| 33.17 | Farnborough Main | 08/56 [P2] [DS] | 08/57 [P2] [DS] |
| 36.38 | Fleet | 08/59 [P2] [DS] | 08/59½ [P2] [DS] |
| 47.61 | Basingstoke | 09/13 [P1] [DS] | 09/14 [P1] [DS] |
| 50.21 | Worting Jn | 09/28 | 09.19 ~ 09.28½ |
| 66.39 | Winchester | 09/43 [P2] | 09/46 [P2] |
| 69.10 | Shawford Jn | 09/46 [DS] | 09/48½ [DS] |
| 73.35 | Eastleigh | 09C55 ~ 09C57 [P3] | 09.56 ~ 09.58 [P3] |
| 77.10 | St Denys | 10/06 [P2] [DS] | 10/05½ [P2] [DF] |
| 78.15 | Northam Jn | 10/08 | 10/07½ |
| ? | Canute Road LC (near) | - | 10.10½ ~ 13.58 |
| 79.02 | Southampton Docks Gate | 10.13 ~ 10.15 | CANC |
| 79.71 | Southampton Eastern Docks | 10.23 ~ 10.45 | CANC |
| 80.60 | Southampton Docks Gate | 10.53 ~ 10.55 | CANC |
| ? | Chapel Road LC | - | 13.59½ ~ 14.04 |
| ? | Northam Jn | 11/00 [SL] | 14.08½ ~ 14.10½ [UF] |
| 81.47 | Northam Depot Reception Line | 11.02 ~ 11.27 | CANC |
| ? | Northam Jn | 11/29 | CANC |
| 82.51 | Southampton Central | 11.32 ~ 11.54 [P4] [DF] | CANC |
| 85.22 | Redbridge | 11/58 [P2] | CANC |
| 86.14 | Totton Yard | 12.02 ~ 12.03 [DGL] | CANC |
| 89.40 | Marchwood | 12t13 ~ 12t14 | CANC |
| 94.74 | Fawley ESSO Gates | 12.28a ~ 12.48d | CANC |
| 100.28 | Marchwood | 13t03 ~ 13t05 | CANC |
| 103.54 | Totton Yard | 13/15 | CANC |
| 104.46 | Redbridge | 13/18 [P1] | CANC |
| 107.17 | Southampton Central | 13/22 [UF] [P1] | CANC |
| 108.21 | Northam Jn | 13/25 [UF] | - |
| 109.26 | St Denys | 13/27 [P1] | 14/13½ [P1] |
| ? | Southampton Airport Parkway | 13/29½ [P1] | 14.18 ~ 14.21½ [P1] |
| 113.01 | Eastleigh | 13C32 ~ 13C33 [P1] | 14.24a [P2] |
| ? | Eastleigh East Jn | 13/35 | CANC |
| ? | Chandlers Ford | ? | CANC |
| ? | Romsey Sig.E883 | 13*50 ~ 13*54 | CANC |
| 120.13 | Romsey | 13/56 [P2] | CANC |
| 127.56 | Dean | 14/08 [P2] | CANC |
| 135.47 | Tunnel Jn | 14/20 | CANC |
| 136.54 | Salisbury | 14.23a ~ 14.53d [P4] | CANC |
| 137.61 | Tunnel Jn | 14/56 | CANC |
| 153.78 | Andover | 15.12 ~ 15.30 [P1] | CANC |
| 154.28 | Ludgershall Branch Stop Board | 15.32 ~ 15.37 | CANC |
| 161.24 | Ludgershall M.O.D. | 15.57a ~ 16.21d | CANC |
| 168.20 | Ludgershall Branch Stop Board | 16.41 ~ 16.46 | CANC |
| 168.50 | Andover | 16/48 [P1] | CANC |
| 184.48 | Worting Jn | 17/03 [UF] | CANC |
| 187.08 | Basingstoke | 17/05 [P3] [UF] | CANC |
| 201.52 | Farnborough Main | 17/19 [UF] | CANC |
| 210.07 | Woking Jn | 17/29 [UF] | CANC |
| 210.42 | Woking | 17.30a ~ 17.35d [P2] [US] | CANC |
| 214.46 | Byfleet & New Haw | 17/43 [US] | CANC |
| 215.37 | Addlestone Jn | 17/45 | CANC |
| 220.28 | Virginia Water | 17/57 [P3] | CANC |
| 224.41 | Staines | 18/11 [P1] | CANC |
| ? | Feltham | 18/19 [P1] | CANC |
| 230.08 | Feltham Jn | 18/21 | CANC |
| 230.37 | Hounslow | 18/24 [P1] | CANC |
| 233.74 | Brentford | 18/30 [P1] | CANC |
| 237.39 | Barnes | 18/45 [P1] [US] | CANC |
| 240.52 | Clapham Junction | 18/54 [P3] [WSL] | CANC |
| ? | West London Jn | 18/56 [WL] | CANC |
| 241.76 | Queenstown Road | 18/59 [RVL] | CANC |
| ? | Nine Elms Jn | 19/01 [RVL] | CANC |
| 244.46 | London Waterloo | 19.07a [P19] | CANC |


Associated E.C.S. Workings
5Z91 : (66086 with 66079 on rear) : Eastleigh T&RSMD to London Waterloo
5Z92 : (66086 with 66079 on rear) : London Waterloo to Eastleigh T&RSMD (cancelled)
| | | |
| --- | --- | --- |
| Location | Booked (out) | Booked (rtn) |
| Eastleigh T&RSMD | 05.03d | 22.00a |
| Eastleigh South Jn | - | 21/52 |
| Eastleigh | 05/11 | 21/50 |
| Winchester | 05/19 | 21/37 |
| Worting Jn | 05/34 | 21/23 |
| Basingstoke | 05/36 | 21/13 |
| Farnborough Main | 05/50 | 20/49 |
| Woking Jn | 06/00 | 20/35 |
| Woking | 06/05 | 20/34 |
| Byfleet & New Haw | 06/13 | 20/22 |
| Addlestone Jn | 06/21 | 20/15 |
| Virginia Water | 06/29 | 20/08 |
| Staines | 06/42 | 20/00 |
| Feltham | 06/50 | 19/56 |
| Feltham Jn | 06/52 | 19/54 |
| Hounslow | 06/54 | 19/52 |
| Brentford | 07/01 | 19/48 |
| Barnes | 07/15 | 19/40 |
| Clapham Junction | 07/24 | 19/35 |
| West London Jn | 07/26 | ? |
| Queenstown Road | 07/30 | 19/32 |
| Nine Elms Jn | 07/31 | 19/31 |
| London Waterloo | 07.37a [P19] | 19.25d [P19] |