7th May 2016
Pathfinder Tours
The Western Challenger
| | |
| --- | --- |
| Loco Used | D1015 'Western Champion' (2) |
| Stock Used | 4959+4949+4946+4998+1813+3098+3120+3123+1671+3097+35469 |
Route :
1Z52 : London Paddington to Okehampton
1Z53 : Okehampton to London Waterloo
| | |
| --- | --- |
| Loco | Route |
| D1015 | London Paddington - Acton Main Line - Southall - Slough - Maidenhead - Twyford - Reading - Southcote Jn - Newbury - Bedwyn - Heywood Road Jn - [Westbury avoiding line] - Fairwood Jn - Clink Road Jn - [Frome avoiding line] - Blatchbridge Jn - Castle Cary - Cogload Jn - Taunton - Exeter St Davids - Dawlish - Teignmouth - Newton Abbot - Totnes - Plymouth |
| D1015 | Plymouth - Totnes - Newton Abbot - Teignmouth - Dawlish - Exeter St Davids - Cowley Bridge Jn - Crediton - Okehampton - Meldon Quarry |
| D1015 | Meldon Quarry - Okehampton - Crediton - Cowley Bridge Jn - Exeter St Davids - Exeter Central - Honiton - Axminster - Yeovil Junction - Sherborne - Gillingham - Tisbury - Salisbury - Andover - Worting Jn - Basingstoke - Farnborough Main - Woking - Byfleet & New Haw - Weybridge - Surbiton - Wimbledon - Clapham Junction - London Waterloo |
Notes :
(1) This tour marked the 50th anniversary of the 'Paddington to Penzance Non-Stop' special on 07/05/1966, with D1010 'Western Campaigner' & D823 'Hermes'.
(2) Running numbered / named as D1010 'Western Campaigner' / D1058 Western Nobleman' on either side.
(3) Guy Vincent comments: D1015 carried headcode display boards in leading cab windows '1A17/1B03'. Although these descriptions did not apply to the original 1966 non- stop Paddington-Penzance run that this 2016 train was commemorating (that train ran as 1Z40).
(4) Route confirmation required - above is from booked timings.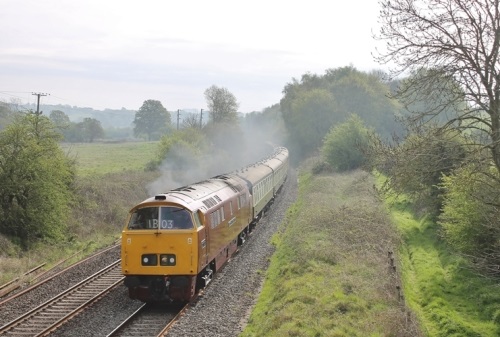 D1015 racing through Great Cheverell, on the outward leg of the tour
(photo: Stephen Moore)
Sources : Steve Thomas (on the tour) & Guy Vincent



Timings (Booked Only)
(from Realtime Trains)
| | | |
| --- | --- | --- |
| Location | Booked | Actual |
| London Paddington | 07.37d [P1] | [P1] |
| Ladbroke Grove | 07/40 [DM] | |
| Acton West | 07/44 [DM] | |
| Southall | 07/48 [DM] | |
| Heathrow Airport Jn | 07/51 [DM] | |
| Slough | 07/56 [P2] [DM] | |
| Maidenhead | 08/01 [P1] [DM] | |
| Twyford | 08/07 [P1] | |
| Kennet Bridge Jn | 08/11 [DM] | |
| Reading | 08/13 [P7] [WL] | |
| Oxford Road Jn | 08/14 | |
| Southcote Jn | 08/16 | |
| Newbury | 08/30 | |
| Bedwyn | 08/42 [P1] | |
| Woodborough | 08/53 | |
| Lavington | 08/59 | |
| Heywood Road Jn | 09/05 | |
| Fairwood Jn | 09/07 | |
| Clink Road Jn | 09/10 | |
| Blatchbridge Jn | 09/13 | |
| East Somerset Jn | 09/18 | |
| Castle Cary | 09/26 [P2] | [P2] |
| Somerton GF | 09/33 | |
| Athelney LC | 09/39 | |
| Cogload Jn | 09/42 | |
| Taunton | 09/46 [P3] | |
| Norton Fitzwarren | 09/47 | |
| Whiteball | 09/55 | |
| Tiverton Parkway | 09/58 [P1] | |
| Tiverton Loop | 09/59 | |
| Cowley Bridge Jn | 10/09 | |
| Exeter St Davids | 10/12 [P4] | |
| Dawlish Warren | 10/22 | |
| Dawlish | 10/24 | |
| Teignmouth | 10/27 | |
| Newton Abbot | 10/34 [P2] | |
| Newton Abbot West Jn | 10/34½ | |
| Dainton Tunnel | 10/39 | |
| Totnes | 10/45 | |
| Aish Crossover | 10/54 | |
| Ivybridge | 10/59 [P1] | |
| Hemerdon | 11/04 | |
| Lipson Jn | 11/09 | |
| Plymouth | 11.13a ~ 12.35d [P7] | |
| Lipson Jn | 12/38 | |
| Hemerdon | 12/47 | |
| Ivybridge | 12/51 [P2] | |
| Aish Crossover | 12/56 | |
| Totnes | 13/04 | |
| Dainton Tunnel | 13/11 | |
| Newton Abbot West Jn | 13/16 | |
| Newton Abbot | 13/16½ [P3] | |
| Teignmouth | 13/22 | |
| Dawlish | 13/25 | |
| Dawlish Warren | 13/28 | |
| Exeter St Davids | 13.41a ~ 13.45d [P5] | |
| Cowley Bridge Jn | 13/48 | |
| Crediton | 13t59 ~ 14t01 | |
| Okehampton | 14.35a ~ ?d | |
| Meldon Quarry | ? ~ ? | |
| Okehampton | ?a ~ 16.50d | |
| Crediton | 17t22 ~ 17t24 | |
| Cowley Bridge Jn | 17/33 | |
| Exeter St Davids | 17.36a ~ 17.39d [P1] | |
| Exeter Central | 17/42 [P3] | [P3] |
| Exmouth Jn | 17/44 | |
| Pinhoe | 17/51 | |
| Honiton | 18.06a ~ 18.17d [P2] | |
| Axminster West Jn | 18/28 | |
| Axminster | 18/29 [P1] | |
| Axminster East Jn | 18/31 | |
| Chard Junction | 18*36 ~ 18*59 | |
| Crewkerne | 19/08 | |
| Yeovil Junction | 19/16 [P1] | |
| Sherborne | 19/22 [P1] | |
| Templecombe | 19/29 | |
| Gillingham | 19/36 [P1] | |
| Tisbury Loop | 19/44 | |
| Wilton | 19/53 | |
| Wilton Jn | 19/54 | |
| Salisbury | 20.01a ~ 20.14d [P2] | [P4] |
| Tunnel Jn | 20/17 | |
| Andover | 20/31 [P1] | |
| Worting Jn | 20/46 [UF] | |
| Basingstoke | 20.49a ~ 20.52d [P3] [UF] | |
| Farnborough Main | 21/06 | |
| Woking Jn | 21/13 | |
| Woking | 21/14 [P2] | |
| Hampton Court Jn | 21/23 | |
| Surbiton | 21/24 [P2] [UF] | |
| New Malden | 21/26 | |
| Wimbledon | 21/29 [P6] | |
| Clapham Junction | 21/33 [P8] [UMF] | |
| London Waterloo | 21.43a [P19] | |


Associated E.C.S. Moves
5Z52? : (66174) : Eastleigh T&RSMD to London Paddington
| | |
| --- | --- |
| Location | Booked |
| Eastleigh T&RSMD | 05.03d |
| Eastleigh | 05/13 |
| Winchester | 05/28 |
| Worting Jn | 05/43 |
| Basingstoke | 05/46 |
| Bramley | 05/53 |
| Southcote Jn | 06/02 |
| Oxford Road Jn | 06/06 |
| Reading | 06.08 ~ 06.17 |
| Kennet Bridge Jn | 06/19 |
| Twyford | 06/24 |
| Maidenhead | 06/29 |
| Slough | 06/34 |
| Heathrow Airport Jn | 06/41 |
| Southall | 06/43 |
| West Ealing | 06/45 |
| Ealing Broadway | 06.47 ~ 06.49 |
| Acton Main Line | 06/52 |
| Ladbroke Grove | 06/55 |
| London Paddington | 06.59a [P1] |
5Z53? : (Cl.66?) : London Waterloo to Eastleigh T&RSMD
| | |
| --- | --- |
| Location | Booked |
| London Waterloo | 22.22d [P19] |
| Clapham Junction | 22/33 |
| Wimbledon | 22/39 |
| Surbiton | 22/47 |
| Hampton Court Jn | 22/52 |
| Weybridge | 22/58 |
| Byfleet & New Haw | 22/59 |
| Woking | 23/03 |
| Farnborough Main | 23/19 |
| Basingstoke | 23/38 |
| Worting Jn | 23/42 |
| Winchester | 23/57 |
| Eastleigh | 00.07 ~ 00.12 |
| Eastleigh South Jn | 00/15 |
| Eastleigh T&RSMD | 00.27a |