7th May 1966
Ian Allan
(Paddington to Penzance Non-Stop and Penzance to Waterloo)
| | |
| --- | --- |
| Locos Used | D823 'Hermes' & D1010 'Western Campaigner' |
| Stock Used | load 6 |
Route :
| | |
| --- | --- |
| Loco | Route |
| D1010 | London Paddington - Slough - Reading - Southcote Jn - (via Berks & Hants) - Cogload Jn - Taunton - Exeter St Davids - Newton Abbot - Plymouth - Par - Penzance |
| D1010 | Penzance - Par - Plymouth |
| D823 | Plymouth - St Budeaux - Bere Ferrers - Bere Alston - Tavistock North - Lydford - Okehampton - Crediton - Exeter St Davids - Exeter Central - Honiton - Salisbury - Basingstoke - Fleet - Woking - Weybridge - Surbiton - Wimbledon - Clapham Junction - Vauxhall - London Waterloo |
Notes :
(1) Originally uploaded as having run on 7th June 1966 in error.
(2) Gordon Jakes comments: the outward journey was non stop albeit a very slow crawl was required approaching the Royal Albert Bridge due to a late running up train. The non-stop run Paddington to Penzance was achieved in 5hours 13½ minutes. The return journey achieved a non-stop journey from Plymouth to Waterloo albeit with a short signal stop at Keyham. The time between Plymouth and Waterloo was recorded (by me) as 3 hours 53½ minutes which beat the Ocean Liner Express of 1904 (see below) by just under 10 minutes!
(3) During the time at Penzance a special helicopter charter was available which provided about 90minutes on St Marys in the Scilly Isles.
(4) The following is quoted from the train handout:
" It is just two years ago on the corresponding Saturday of 1964, that the epic 'Great Western' ran from Paddington to Plymouth and back. It was recognized at the time that this would really be the swan song of steam, and so it proved to be. Nothing of comparable performance could be or has been, attempted since. Whether we like it or not, the age of the electric and the diesel is upon us and we felt sure that a special could be run, utilizing modern power, which would in some measure compensate for what we have lost with the passing of steam.
Penzance non-stop was, in fact, contemplated by the Great Western between the wars, when it was planned to put water troughs west of Plymouth, but this never materialized and today's is the first non-stop run ever attempted by any train over this entire route. The point-to-point timings promise some stimulating running over all sections, particularly the 98 minutes from Penzance to Plymouth. Between Plymouth and Waterloo, the fastest time ever recorded appears to have been 4 hours 3minutes 11seconds, by an Ocean Liner Special on April 23rd 1904, with stops at Exeter and Templecombe. No non-stop run has ever been made between Plymouth and Waterloo due to lack of water facilities in former days."
Source : Gordon Jakes



Photo Review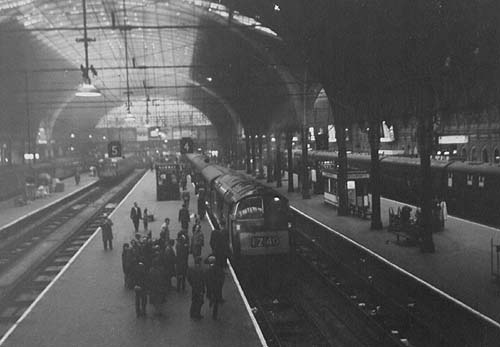 D1010 waits to leave Paddington (photo: Gordon Jakes)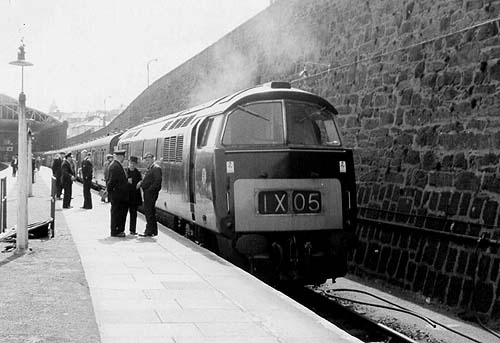 D1010 waits to leave Penzance on the return leg (photo: Gordon Jakes)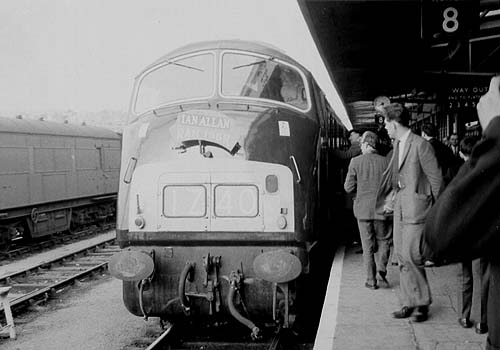 D823 at Plymouth after taking over from D1010 (photo: Gordon Jakes)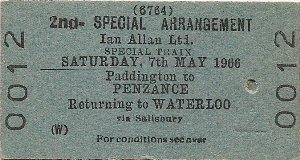 From The John Debens Ticket Collection.


Timings (Booked & Actual)
(from Gordon Jakes)
M.C
Location
Booked
Actual
Speed (mph)
0.00
Paddington
07.35d
07/35 [P4]
1.20
Westbourne Park
?
07/38
5.60
Ealing Broadway
?
07/42
80
9.10
Southall
07/45
07/45
85
13.20
West Drayton
?
07/47½
90 constant
18.40
Slough
07/51½
07/51
83; 90; 90
24.20
Maidenhead
07/55½
07/55
85; 90; 85
31.00
Twyford
08/00
07/59¼
90; brakes at mp33
36.00
Reading General
08/04
08/03½
37.70
Southcote Jn
?
08/06
69; 75
41.25
Theale
?
08/09
81; 75
44.65
Aldermaston
?
08/12
75
46.60
Midgham
?
08/13½
72
49.45
Thatcham
?
08/16
80
53.10
Newbury
08/18½
08/18½
85; 80
58.40
Kintbury
?
08/22½
75 → 66
61.45
Hungerford
?
08/25
78; 81 → 69
66.30
Bedwyn
08/29
08/29
69; 72; 65
70.10
Severnake
?
08/32
78; 78; 90; 90; 90
75.30
Pewsey
?
08/36
90 constant; 85
81.10
Patney
?
08/40½
81; brake → 45
86.70
Lavington
08/44
08/45½
81; 90
94.45
Heywood Road Jn
08/49
08/51
97.00
Fairwood Jn
08/51
08/52½
90
100.20
Clink Road Jn
08/53½
08/55
90
102.25
Blatchbridge Jn
08/55
08/56½
78; 85; 90
106.30
Witham
?
08/59½
90 brake → 72
111.55
Bruton
?
09/03½
brake → 60
115.10
Castle Cary
09/05
09/06½
72; 81; 88
120.05
Keinton Madeville
?
09/10
90
122.15
Charlton Mackrell
?
09/11½
90; 85
125.45
Somerton
?
09/14
90
130.65
Curry Rivel Jn
?
?
brake → 75
134.60
Athelney
?
09/20½
80; 85
138.00
Cogload Jn
?
09/23
85
140.25
Creech Jn
?
09/24½
80; 80
142.60
Taunton
09/24½
09/27
144.55
Norton Fitzwarren
?
09/29
72; 75
149.70
Wellington
?
09/33½
78 → 68
153.50
Whiteball
?
09/37½
90 brake → 30
158.55
Tiverton Junction
?
09/43
75; 80; 90
160.70
Cullompton
?
09/45
brake → 66; 75
170.10
Stoke Canon
?
09/51½
brake hard PSR
173.40
Exeter St Davids
09/51½
09/56
81; 90; 95
178.25
Exminster
?
10/00
70
182.00
Starcross
?
10/03
64
184.05
Dawlish Warren
10/03
10/05
brake → 53
188.45
Teignmouth
?
10/11
62; 66; 69; ease
193.55
Newton Abbot
10/16
10/17
194.65
Aller Jn
10/17½
10/18½
197.50
Dainton
?
?
202.30
Totnes
10/29½
10/28
53; 42; 56
207.00
Rattery
?
?
209.20
Brent
10/38
10/36
50 constant; 56
211.35
Wrangaton
?
?
56
214.60
Ivybridge
?
10/4
56; 52; 60; 64
218.70
Hemerdon
10/49
10/45
72; 85 - brake hard
221.40
Plympton
?
?
224.05
Lipson Jn
?
10/54
225.45
Plymouth
11/01
10/55
slow PSR
226.65
Devonport Albert Road
?
10/58
227.05
Dockyard Halt
?
?
30
227.65
Keyham
?
11/00
228.45
St Budeaux
?
11/01
slow
?
Royal Albert Bridge
?
11/03
229.65
Saltash
11/11½
11/04
62
234.65
St Germans
11/18
11/10
53; 57
240.05
Menheniot
?
11/17
48
243.25
Liskeard
11/27½
11/20½
40
246.45
Doublebois
?
11/25
40; 47; 33
252.45
Bodmin Road
11/38½
11/34
38; 42
255.65
Lostwithiel
11/43
11/39
260.25
Par
11/47½
11/46
265.00
St Austell
11/52½
11/52
271.50
Grampound Road
?
12/06
60; 55; 64
279.25
Truro
12/11
12/13½
50
284.25
Chacewater
?
12/21
286.05
Scorrier
?
12/23
56
288.25
Redruth
12/25
12/25
43
291.65
Cambourne
12/30
12/30
52
294.05
Gwinear Road
?
12/34
56
297.65
Hayle
?
12/38
299.25
St Erth
12/38½
12/40
60; 70
303.05
Marazion
?
12/44
305.05
0.00
Penzance
12.50a ~ 16.00d
12.48½ ~ 16.00½
2.00
Marazion
?
16/04
5.60
St Erth
16/06½
16/08
48
7.20
Hayle
16/08
16/10
10.60
Gwinear Road
?
16/14
13.20
Cambourne
16/15
16/17
16.60
Redruth
16/19
16/21½
54
19.00
Scorrier
?
16/24
20.60
Chacewater
?
16/26
25.60
Truro
16/29
16/31
33.40
Grampound Road
?
16/40
62
40.20
St Austell
16/45½
16/47½
44.60
Par
16/50
16/52
49.20
Lostwithiel
16/55
16/57½
52.40
Bodmin Road
?
17/01
58.40
Doublebois
?
17/08½
61.60
Liskeard
17/12½
17/12
65.00
Menheniot
17/15½
17/15
70.20
St Germans
?
17/20½
75.20
Saltash
17/28
17/28
77.20
Keyham
?
17/32
78.20
Devonport Albert Road
?
17/33
79.40
Plymouth
17.38 ~ 17.49
17.36 ~ 17.49 [P8]
80.60
Devonport Albert Road
17/52
17/53½
81.00
Dockyard Halt
?
?
81.60
Keyham
?
?
signal stop
83.20
St Budeaux
?
17/58
87.40
Bere Ferrers
?
18/03
89.40
Bere Alston
18/08
18/06½
96.60
Tavistock North
18/18
18/14
101.60
Brentor
?
18/21
103.20
Lydford
18/27½
18/23
106.40
Bridestowe
?
18/27
113.00
Okehampton
18/44
18/39
116.60
Sampford Courtenay
?
18/43
70; 75
119.40
North Tawton
18/50½
18/45½
75
122.60
Bow
?
18/48
127.40
Yeoford
19/02
18/54
131.20
Crediton
19/05½
18/58
133.6
Newton St Cyres
19/11
19/01
138.00
Exeter St Davids
19/17
19/11
138.60
Exeter Central
19/18½
19/12½
139.20
St James Park Halt
?
19/13½
140.40
Pinhoe
?
19/17
64; 69
142.40
Broad Clyst
?
19/18½
146.20
Whimple
?
19/21½
150.20
Sidmouth Junction
19/30½
19/25½
154.40
Honiton
?
19/30
70; 75; 79
161.40
Seaton Junction
19/40
19/36½
75
164.60
Axminster
19/43
19/39
75; 80; 80
169.60
Chard Junction
?
19/43
80 constant
177.60
Crewekerne
?
19/49½
80; 85
186.40
Yeovil Junction
19/59½
19/56
80; 85; 85
191.00
Sherbourne
20/03
19/59
85
195.00
Milborne Pot halt
?
20/02½
197.20
Templecombe
20/07½
20/04½
90; 85; 90
204.00
Gillingham
?
20/10
208.00
Semley
?
20/14
75
213.00
Tisbury
?
20/19
217.40
Dinton
?
20/22
90 constant
223.20
Wilton South
20/32
20/27
90
225.60
Salisbury
20/36
20/32
231.20
Porton
?
20/37
231.60
Idmiston Halt
?
20/37½
90
236.60
Grateley
?
20/41
100 constant; 85
243.00
Andover Junction
?
20/45½
248.20
Hurstbourne
?
20/49¾
250.20
Whitchurch North
?
20/51
253.60
Overton
?
20/54
80; 85
261.40
Basingstoke
?
20/59
267.00
Hook
?
21/05
269.20
Winchfield
?
21/06½
272.60
Fleet
?
21/09
276.00
Farnborough
?
21/11
281.20
Brookwood
?
21/15
285.00
Woking
?
21/17½
287.40
West Byfleet
?
21/19
290.20
Weybridge
?
21/21
292.20
Walton-on-Thames
?
21/23½
293.20
Hersham
?
21/26
294.60
Esher
?
21/27¼
297.20
Surbiton
?
21/29½
299.40
New Malden
?
21/31
300.40
Raynes Park
?
21/32
302.00
Wimbledon
?
21/33½
303.60
Earlsfield
?
?
305.20
Clapham Junction
21/49½
21/36½
308.00
Vauxhall
?
21/40
309.20
Waterloo
21.56a
21.42½