25th October 2014
Railway Touring Company
The Jubilee Requiem
| | |
| --- | --- |
| Locos Used | 86259 'Les Ross' & steam: 60009 'Union of South Africa' |
| Stock Used (3) | (35486)+99304+4973+4984+1860+99348+99127+99125+99122+99712+99121+99371 |
Route :
1Z82 : London Kings Cross to Newcastle
1Z84 : Newcastle to London Kings Cross
| | |
| --- | --- |
| Loco | Route |
| 60009 | London Kings Cross - (via ECML) - Newcastle |
| 60009 | Newcastle - (via ECML) - York |
| 86259 | York - (via ECML) - London Kings Cross |
Notes :
(1) This tour celebrated the 50th anniversary of 'The Jubilee Requiem' railtour, which ran on 24/10/64, and the demise of A4 class 'Pacifics' on the route in normal service.
(2) 86259 'Les Ross' replaced advertised 55002 'The King's Own Yorkshire Light Infantry'.
(3) 35486 was only in the consist when 60009 was on the train.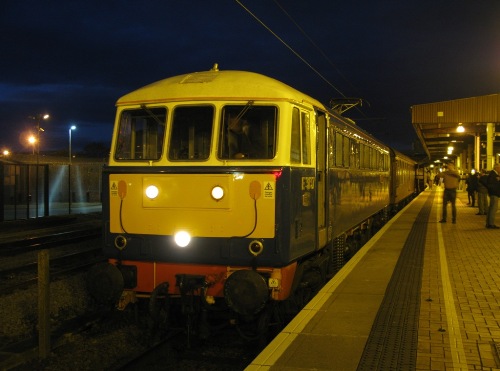 86259 waits to leave York on the return leg (photo: Nick Bartlett)
Source : Nick Bartlett



Timings (Booked & Actual)
(from Nick Bartlett & Realtime Trains)
| | | | | | |
| --- | --- | --- | --- | --- | --- |
| Location | Booked | Actual | | Booked | Actual |
| London Kings Cross | 07.08d [P1] [FL1] | 07.17 | | 22.08a [P1] | 22.02 |
| Belle Isle | 07/10 [DF] | 07/19 | | 22/05 [FL2] | 22/00 |
| Holloway South Jn | 07/12 | ? | | 22/03 | ? |
| Finsbury Park | 07/15 [P5] | 07/24 | | 22/01 [P4] | 21/57 |
| Alexandra Palace | 07/19 [DF] | 07/28 [DF] | | 21/58 [UF] | 21/55 |
| Potters Bar | 07.32a ~ 07.35d [P4] [DS] | 07.39 ~ 07.42 | | 21.46a ~ 21.52d [P1] [UF] | 21.46 ~ 21.48 |
| Welwyn Garden City | 07/47 [P3] | 07/52 | | 21/39 [P2] | 21/41 |
| Digswell Jn | 07/48½ | 07/53 | | 21/38 [US] | ? |
| Woolmer Green Jn | 07/51½ [DS] | 07/56 | | 21/36½ | 21/38 |
| Stevenage | 07.58a ~ 08.01d [P4] | 08.01 ~ 08.04 | | 21.30a ~ 21.32d [P2] | 21.32 ~ 21.34 |
| Hitchin | 08/09 [P2] [DS] | 08/10 | | 21/27 [UF] | 21/28 |
| Sandy | 08/22 [P2] [DS] | 08/21 | | 21/16½ [UF] | 21/20 |
| Huntingdon | 08/37 [P3] [DS] | 08/35 | | 21/07½ [UF] | 21/11 |
| Connington South Jn | 08/48 | ? | | 21/02 | 21/05 |
| Holme Jn | 08w51 ~ 09w12 [DS] | ? ~ 09.11 | | - | - |
| Fletton Jn | 09/23 | ? | | 20/55 [UF] | 20/58 |
| Peterborough | 09.26a ~ 09.31d [P4] [DS] | 09.24 ~ 09.31 [P4] | | 20.41a ~ 20.44d [P1] [US] | 20.44 ~ 20.47 |
| Helpston Jn | 09/40 | 09/41 | | 20/35½ | 20/39 |
| Tallington Jn | 09/45 | 09/46 | | 20/32½ | 20/37 |
| Stoke Jn | 09/59 | 10/06 | | 20/23½ [UF] | 20/27 |
| Grantham | 10/05 [P2] | 10/12 | | 20/18 [P1] | 20/23 |
| Claypole Loop | 10/12 | 10/19 | | 20/10½ | 20/13 |
| Newark North Gate | 10/16 [P1] | 10/24 | | 20/05½ [P2] | 20/11 |
| Newark Flat Crossing | 10/17 | 10/25 | | 20/05 | 20/10 |
| Retford | 10/37 [P2] | 10/47 | | 19/54½ | 19/58 |
| Babworth Loop | 10w39 ~ 11w22 [DS] | ? | | - | - |
| Loversall Carr Jn | 11/36 | 11/42 | | 19/46 | 19/48 |
| Black Carr Jn | - | - | | 19/38 | 19/40 |
| Potteric Carr Jn | - | - | | 19/37½ | ? |
| Doncaster | 11C41 ~ 11C45 [P4] | 11.52 ~ 11.52 | | 19/32 [P1] [ESL] | 19/33 |
| Shaftholme Jn | 11/52 | 11/57 | | 19/28 | 19/27 |
| Temple Hirst Jn | 12/00½ | 12/07 | | 19/22½ | 19/21 |
| Hambleton North Jn | 12/06½ | 12/12 | | 19/17 | 19/18 |
| Colton Jn | 12/14½ | 12/20 | | 19/12 | 19/13 |
| York | 12w26a ~ 12w40d [P10] | 12w26 ~ 12w43 [P11] | | 18L12a ~ 19L07d [P11] | 18L22 ~ 19L07 [P11] |
| Skelton Jn | 12/43 [DS] | 12/48 | | 18/08 | 17/59 |
| Skelton Bridge Jn | 12/45 | ? | | 18/05 [US] | ? |
| Tollerton Jn | 12/54 [DS] | 13/01 | | 17/55 [US] | 17/47 |
| Thirsk | 13/05 [DS] | 13/14 | | 17/42 [US] | 17/34 |
| Longlands Jn | 13/14 | ? | | 17/35 | ? |
| Northallerton | 13/15 | 13/21 | | 17/34 [US] | 17/27 |
| Darlington | 13/29 [DM] | 13/36 | | 17/20 [UM] | 17/15 |
| Ferryhill South Jn | 13/40 | 13/49 | | 16*43 ~ 17*05 [US] | ? ~ 17.00 |
| Tursdale Jn | 13/43 | 13/52 | | 16/36 [US] | 16/35 |
| Durham | 13/52 [P2] | 14/00 | | 16/28 [P1] | 16/28 |
| Birtley Jn | 14/04 | 14/09 | | 16/17 | 16/17 |
| King Edward Bridge South Jn | 14/09 | 14/14 | | 16/11 | 16/12 |
| Newcastle | 14.12a [P2] | 14.16 [P2] | | 16.06d [P3] [SL] | 16.09 [P2] |