24th October 1964
R.C.T.S. / Stephenson Locomotive Society
The Jubilee Requiem
| | |
| --- | --- |
| Loco Used | 60009 'Union of South Africa' |
| Stock Used | load 10 |
Route :
| | |
| --- | --- |
| Loco | Route |
| 60009 | London Kings Cross - (via ECML) - King Edward Bridge South Jn - Gateshead - High Level Bridge - Newcastle - King Edward Bridge South Jn - (via ECML) - London Kings Cross |
Notes :
(1) This was a simple out and back run, over the ECML, with a ten coach train in recognition of the demise of the A4 Pacific's over this route. The northbound run was marred by a broken rail at High Dyke (MP100), the return was more spirited with a thirty minute early arrival at Kings Cross.
(2) David Whittaker comments: I was on this tour southbound. By the time of the run some of the water troughs on the ECML at the southern end had been removed, hence the stops and the need for the engine crews to keep a wary eye on supplies. Even so some of the running was of remarkably good quality, with net times of around 79 minutes form Newcastle to York, schedule 85 minutes, 102 minutes from York to Peterborough schedule 116½ minutes and 71½ minutes Peterborough to King's Cross schedule 92 minutes. The train had been booked to run slow line Peterborough to Yaxley to allow a following Leeds express to overtake, but was running so well that Control allowed it up the main and this, aided by further good running, produced a very early arrival at King's Cross. Assessing maximum speed down Stoke was made difficult by signal checks approaching Grantham, preventing a real run at the bank, so important for a high speed descent and also by the combination of darkness and long welded rails, but the maximum, based on averages between points, is likely to have been around 95-97mph, certainly not 100 - mores the pity. Still a very enjoyable trip.
Sources : David Hills (compiled from contemporary reports) & Trevor Davis



Photo Review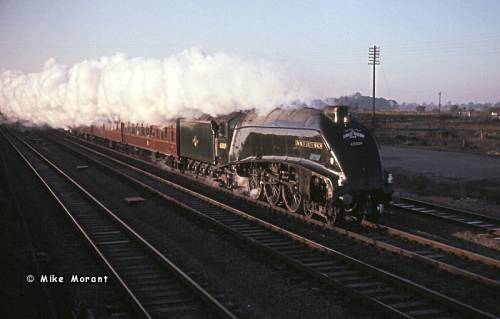 Mike Morant comments : 60009 'Union of South Africa' seen here viewed from an erstwhile signalbox near Sandy but the precise location isn't recalled. This shot very nearly didn't happen as the chime whistle has been heard from quite a distance but the entire track area was still in darkness. Mercifully, only seconds before the train arrived, the early morning sun broke over the top of the embankment and bathed the train in this lovely glow.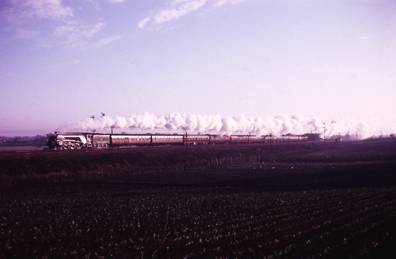 60009 heads north at Sandy (photo: Terry Dorrity)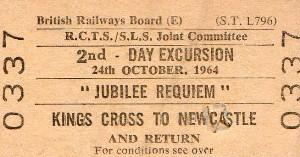 From The John Debens Ticket Collection.


Timings (Booked & Actual)
(from Terry Jackson & Dave Groves)
| | | | | | |
| --- | --- | --- | --- | --- | --- |
| Location | Booked | Actual | | Booked | Actual |
| Kings Cross | 07.55d | 07.58 | | 20.51a | 20.24 |
| Potters Bar | 08/12 | ? | | 20/36½ | ? |
| Hatfield | 08/17 | ? | | 20/31½ | ? |
| Hitchin | 08/30 | ? | | 20/18 | ? |
| Huntingdon | 08/51 | ? | | 19/52 | ? |
| Yaxley | ? | ? | | 19/35 | ? |
| Peterborough North | 09.10½a ~ 09.20½d | ? | | 19.09½a ~ 19.19d [SL] | ? |
| Grantham | 09/52 | ? | | 18/42½ | ? |
| Barkston South Jn | 09/56 | ? | | 18/38½ | ? |
| Newark | 10/04 | ? | | 18/28½ | ? |
| Retford | 10/23 | ? | | 18/12 | ? |
| Doncaster | 10/43 | ? | | 17/51½ | ? |
| Shaftholme Jn | 10/48 | ? | | 17/47 | ? |
| Selby | 11/01 | ? | | 17/29 | ? |
| York | 11/16½ | ? | | 17.11a ~ 17.13d | ? |
| Thirsk | 11/37½ | ? | | 16/50 | ? |
| Northallerton | 11/44 | ? | | 16/43 | ? |
| Darlington | 12/00 | ? | | 16/31[avoiding line] | ? |
| Durham | 12/22 | ? | | 16/04 | ? |
| Newcastle Central | 12.42a | 13.32 | | 15.46d | 15.49 |