16th August 1997
Hertfordshire Rail Tours
The Spin Doctor
| | |
| --- | --- |
| Locos Used | 31420, 31467, 56055, 58024, 73106 & 73138 |
| Stock Used | 4938+4915+5005+17015+4956+4939+4949+4998+4959+1679+3148+3150 |
Route : 1Z62 throughout
| | |
| --- | --- |
| Loco(s) | Route |
| 58024 | London Victoria - Stewarts Lane Jn - Longhedge Jn - Latchmere No.3 Jn - Kensington Olympia - Mitre Bridge Jn - Willesden WL Jn - (WCML) - Bletchley - Ridgmont - Bedford St Johns |
| 31467 + 31420 | Bedford St Johns - Bedford Midland - Sharnbrook Jn - Kettering - Market Harborough - Wigston South Jn - Hinckley - Nuneaton - Water Orton - Landor Street Jn - St Andrews Jn - Bordesley Jn - Tyseley - Shirley - Henley-in-Arden - Bearley Jn - Stratford-upon-Avon |
| 56055 | Stratford-upon-Avon - Bearley Jn - Hatton - Leamington Spa - Banbury - Aynho Jn - Princes Risborough - Gerrards Cross - South Ruislip - Greenford West Jn - Greenford East Jn - Hanwell - Southall - (GWML) - Reading |
| 73106 + 73138 | Reading - Reading Spur Jn - Earley - Ascot - Virginia Water - Staines - Feltham Jn - Twickenham - Barnes - Clapham Junction - Longhedge Jn - Stewarts Lane Jn - London Victoria |
Sources : Gary Thornton (on train throughout) & Alan Sheppard



Tour Review
(by Gary Thornton)
Maybe I'm getting old, but every time I have to get up pre-5am for a railtour these days I start to question my sanity! Saturday morning was no exception as off I set by car to London, arriving at Victoria just in time to see the tour stock arrive at platform 2 behind 47572 "Ely Cathedral". Bit of a wait before train loco 58024 rolled into view, but time enough for a few photo's before boarding the train. General disappointment in my coach (front one, coach A) as this 58 was not required haulage for most people (was by me though...).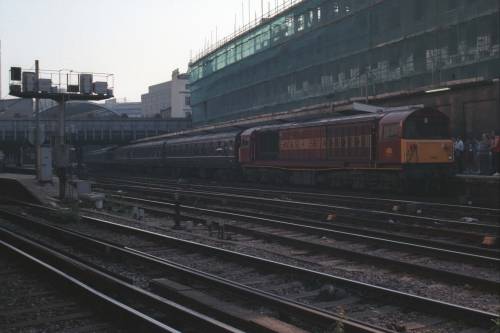 58024 waits to start the tour at London Victoria (photo: Gary Thornton)
Departure was a couple of minutes down at 08.27 and we ran via the Down Stewarts Lane and Battersea Reversible lines to Longhedge Jn and Latchmere No.3 Jn then passed through Kensington Olympia and Mitre Bridge Jn to join the WCML at Willesden. A few signal checks slowed us then we rolled to a halt at Wembley Central with a decidedly quiet "bone" on the front. What was the problem? Was it terminal? Would those joining at Watford be denied the haulage? Would they care? A few minutes later and the loco was restarted and our journey continued. Various rumours as to the cause of the problem circulated around our coach but I never find out exactly what it was (probably as I wasn't really bothered).
Watford came and went and we ran to Bletchley on the slow line. With "load 12" there was nothing much to tax the 58. After a crew change at Bletchley we set off for Bedford and our first loco change. This took place at Bedford St Johns when 58024 was removed in favour of 31420 and 31467 (both definitely not required). A track circuit problem delayed the change-over and departure was not until 10.58, 28 minutes down. The 31's performed well on the Sharnbrook climb which we took on the bi-directional slow line. Our route now took us via Kettering, Wigston South Curve, Nuneaton and Saltley (another crew change). Still nearly half an hour late, reasonable running through Tyseley and Henley-in-Arden coupled with slack timing gave an 11 minute early arrival at Stratford-upon-Avon.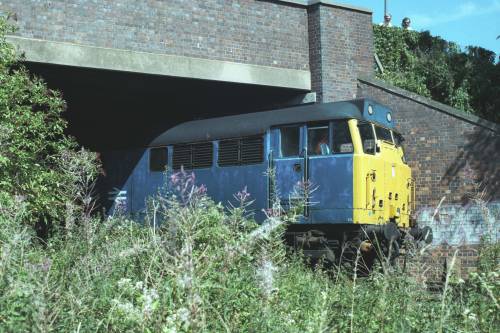 31467 pokes out from under the road bridge (photo: Gary Thornton)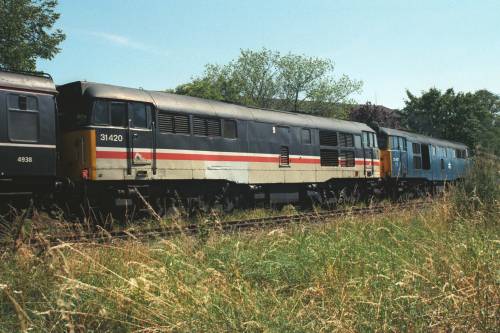 ...next stop Honeybourne? Sadly not... (photo: Gary Thornton)
A two-hour layover was planned here, chance for a culture-bash (or fish and chips plus pub visit....). Have to say it was not exactly a cool day and wandering about amongst all the foreign tourists was not my idea of fun! Still, did find a chippie selling fish and chips for 99p (and survived to tell the tale)!!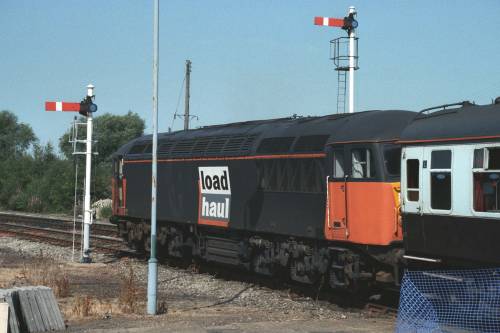 56055 off the platform at Stratford-upon-Avon (photo: Gary Thornton)
Departure from Stratford was at 15.50 with Loadhaul liveried 56055 (required by me) in charge. Booked route took us via Leamington Spa, Banbury and High Wycombe towards London. By now the drinks on board were distinctly warm and time spent at a window was being rationed out so everyone got a chance to cool down. As we were now the rearmost coach I can't really comment on the performance of the 56, though it was heard accelerating hard on a couple of occasions. In one or two places the speed was quite respectable too.
Timekeeping was reasonable until Greenford then things began to go wrong (don't they always on railtours....). First we stopped at Drayton Green Junction as the road was wrongly set for West Ealing. This corrected we set off, got about 1/4 mile, then stopped again as we approached Hanwell Junction. 20 minutes later and no further movement - time to start questioning if the "grid" had expired. Soon after however we found out a points failure at the junction ahead was the cause. By now the drinks had run out (or were too warm to be of any use) and we soon reached the "I want to go home" stage of the day (by now it was about 7pm and we still had to run to Reading for our last loco change and then return to Victoria). At least those near the front of the train could watch the passage of trains on the GWML. Those of us in the rear coach had the Plasser factory on one side (nothing to see, wall in the way) and houses on the other (nothing to see, trees too high). Sounded as though one household was having a lively party in the back garden though!
After about 40 minutes we were on the move again but an unscheduled stop was made at Slough to drop off some passengers for whom the day had become too much (something about missing last trains home was mentioned). Arrival at Reading (platform 4) where 73106 and 73138 were waiting to take over was 48 late. The onset of dehydration meant that many spent the 13 minutes loco change in a queue in the buffet, rather than photographing the E-D's! Another check in the book revealed both were required! Not bad, 4 out of 6 required haulages for the day.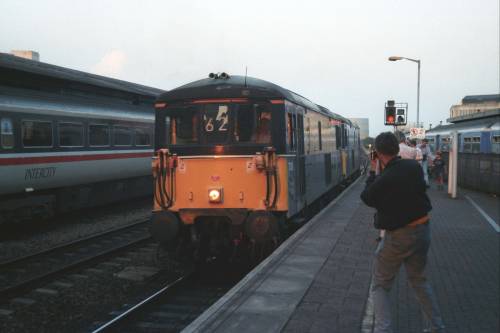 73138 & 73106 drop onto the tour stock at Reading (photo: Gary Thornton)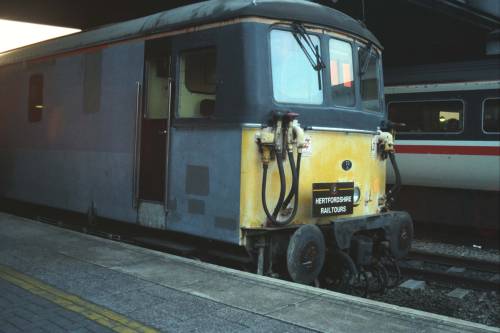 73106 complete with headboard, almost ready to go... (photo: Gary Thornton)
Departure (on diesel power) was at exactly 8pm and once over the Reading Spur line we changed to electric power for the remainder of the run home via Wokingham, Ascot, Staines and Barnes. Getting dark by now, and not much to report on this stage of the journey. From Clapham Junction we took the Up Ludgate and from Longhedge Junction our route to Victoria retraced that taken in the morning. A slack schedule from Reading resulted in only a 22 minute late arrival at Victoria (21.17 to be precise). total mileage for the day (taken from HRT booklet) was 340 miles and 14 chains.
Gary Thornton.



Timings (Booked & Actual)
| | | | |
| --- | --- | --- | --- |
| M.C | Location | Booked | Actual |
| 0.00 | London Victoria | 08.25d | 08.27 [P2] |
| 0.73 | Battersea Pier Jn | 08/27 | 08/30 |
| 1.36 | Stewarts Lane Jn | 08/30 | 08/31 |
| 1.66 | Longhedge Jn | 08/33 | 08/32 |
| 2.51 | Latchmere No.3 Jn | 08/38 | 08/35 |
| 5.34 | Kensington Olympia | 08/44 | 08/42 |
| 7.22 | North Pole Jn | 08/49 | 08/48 |
| 7.59 | Mitre Bridge Jn | 08/50 | 08/50 |
| 8.08 | Willesden WL Jn | 08/51 | 08/55 |
| 14.15 | Harrow & Wealdstone | 08/57 | 09/07 |
| 20.20 | Watford Junction | 09.04a ~ 09.06d | 09.13 ~ 09.13 [P8] |
| 34.38 | Tring | 09/27 | 09/36 |
| 41.01 | Ledburn Jn | 09/36 | 09/41 |
| 49.31 | Bletchley | 09c44 ~ 09c46 | 09.49 ~ 09.51 [P5] |
| 50.48 | Fenny Stratford | 09/49 | 09/56 |
| 51.40 | Bow Brickhill | 09/51 | 09/59 |
| 53.46 | Woburn Sands | 09/54 | 10/02 |
| 54.41 | Apsley Guise | 09/55 | 10/04 |
| 56.15 | Ridgmont | 09/57 | 10/06 |
| 58.07 | Lidlington | 09/59 | 10/09 |
| 59.37 | Millbrook | 10/01 | 10/12 |
| 60.53 | Stewartby | 10/03 | 10/14 |
| 62.31 | Kempston Hardwick | 10/05 | 10/17 |
| 65.38 | Bedford St Johns | 10L10 ~ 10L30 | 10.29 ~ 10.58 |
| 66.18 | Bedford | 10.35 ~10.37 | 11.05 ~ 11.05 [P2] |
| 66.31 | Bedford North Jn | 10/39 | 11/07 |
| 72.78 | Sharnbrook Jn | 10/45 | 11/15 |
| 81.44 | Wellingborough | 10/53 | 11/27 |
| 83.33 | Harrowden Jn | 11/01 | 11/31 |
| 88.34 | Kettering | 11/05 | 11/37 [P4] |
| 99.27 | Market Harborough | 11/19 | 11/48 |
| 109.73 | Kilby Bridge Jn | 11/31 | 11/58 |
| 111.74 | Wigston South Jn | 11/35 | 12/02 |
| 112.44 | Glen Parva Jn | 11/46 | 12/06 |
| 115.37 | Narborough | 11/52 | 12/11 |
| 123.21 | Hinckley | 12/00 | 12/23 |
| 127.40 | Nuneaton | 12/06 | 12/30 [P1] |
| 138.04 | Whitacre Jn | 12/21 | 12/46 |
| 140.69 | Water Orton | 12/26 | 12/50 |
| 146.75 | Landor Street Jn | 12c34a ~ 12c36d | 12.59 ~ 13.04 |
| 147.33 | St Andrews Jn | 12/38 | 13/06 |
| 147.59 | Bordesley Jn | 12/39 | 13/08 |
| 149.11 | Small Heath South Jn | 12/42 | 13/12 |
| 149.65 | Tyseley | 13/00 | 13/14 |
| 153.63 | Shirley | 13/10 | 13/21 |
| 163.31 | Henley-in-Arden | 13/20 | 13/30 |
| 167.74 | Bearley Jn | 13/37 | 13/34 |
| 171.55 | Stratford-upon-Avon | 13L50a ~ 15L50d | [P1] 13.39 ~ 15.51 [P2] |
| 175.36 | Bearley Jn | 15/56 | 15/58 |
| 180.40 | Hatton West Jn | 16/12 | 16/05 |
| 180.74 | Hatton | 16/16 | 16/06 |
| 186.63 | Leamington Spa | 16/24 | 16/15 |
| 198.12 | Fenny Compton | 16/37 | 16/26 |
| 206.72 | Banbury | 16c45a ~ 16c54d | 16.34 ~ 16.54 [P3] |
| 211.76 | Aynho Jn | 16/59 | 17/01 |
| 220.78 | Bicester North | 17/08 | 17/11 |
| 239.44 | Princes Risborough | 17/25 | 17/31 |
| 247.65 | High Wycombe | 17/35 | 17/40 |
| 256.76 | Gerrards Cross | 17/51 | 17/51 |
| 262.26 | West Ruislip | 17/57 | 17/59 |
| 264.07 | South Ruislip | 18/01 | 18/03 |
| 266.59 | Greenford West Jn | 18/05 | 18/11 |
| 267.10 | Greenford South Jn | 18/07 | 18/13 |
| 268.48 | Drayton Green | 18/14 | 18.19 ~ 18.24 |
| ? | Hanwell Jn | ? | 18.26 ~ 19.06 |
| 269.08 | Hanwell | 18/28 | 19/08 |
| 270.40 | Southall East Jn | 18/30 | 19/12 |
| 270.66 | Southall | 18/31 | 19/13 |
| 273.05 | Heathrow Airport Jn | 18/33 | 19/16 |
| 279.20 | Dolphin Jn | 18/40 | 19/20 |
| 280.16 | Slough | 18/42 | 19.22 ~ 19.27 |
| 285.79 | Maidenhead | 18/47 | 19/35 |
| 292.61 | Twyford | 18/53 | 19/41 |
| 297.58 | Reading | 18L59a ~ 19L11d | 19.47 ~ 20.00 [P4] |
| 298.16 | Reading New Jn | 19/13 | 20/02 |
| 298.55 | Reading Spur Jn | 19/16 | 20/03 |
| 300.50 | Earley | 19/19 | 20/06 |
| 304.43 | Wokingham | 19/27 | 20.11 ~ 20.13 |
| 312.15 | Ascot | 19/46 | 20/25 |
| 317.79 | Virginia Water | 19/54 | 20/34 |
| 322.12 | Staines | 20/04 | 20/42 |
| 327.59 | Feltham Jn | 20/11 | 20/52 |
| 329.45 | Twickenham Jn | 20/13 | 20/54 |
| 329.72 | Twickenham | 20/14 | 20/54 [P4] |
| 334.07 | Barnes | 20/24 | 21/03 [P1] |
| 337.20 | Clapham Junction | 20/30 | 21/07 |
| 338.28 | Longhedge Jn | 20/34 | 21/11 |
| 338.58 | Stewarts Lane Jn | 20/39 | 21/12 |
| 339.21 | Battersea Pier Jn | 20/50 | 21/14 |
| 340.14 | London Victoria | 20.55a | 21.17 [P2] |