25th June 1989
British Rail
(Merehead Depot Open Day)
Loco Used
56039
DMUs Used
B961 (54208+53608) + B970 (54207+53622) &
B964 (53620+54203) + B960 (53602+54197)
Route :
1Z60 : 10.05d Bristol Temple Meads to Westbury
1Z61 : 11.38d Westbury to Bristol Temple Meads
1Z?? : ??.??d Bristol Temple Meads to Westbury
1Z61 : 15.30d Westbury to Bristol Temple Meads
| | | |
| --- | --- | --- |
| Headcode | Loco(s) | Route |
| 1Z60 | 56039 | Bristol Temple Meads - Bath Spa - Westbury |
| 1Z61 | 56039 | Westbury - Bath Spa - Bristol Temple Meads |
| 1Z?? | 56039 | Bristol Temple Meads - Bath Spa - Westbury |
| 1Z?? | 56039 | Westbury - Bath Spa - Bristol Temple Meads |
Route : (multiple runs made)
| | |
| --- | --- |
| DMU(s) Used | Route |
| see note 2 | Westbury - Merehead Quarry temporary platform |
| see note 2 | Merehead Quarry temporary platform - Westbury |
Notes :
(1) Derek Thompson (who made a round trip, travelling back on the 15.30 departure from Westbury) comments: This was a relief train and was available to normal ticket holders. Steve Marshall has subsequently provided information on 1Z60/1Z61 which suggests there were at least two round trips on this date.
(2) John Cassey comments: In addition to the Class 56 hauled trains a DMU shuttle ran from Westbury to a temporary platform just north of Merehead Quarry Loop Junction East. I travelled out on Class 108ís B961 set 54208+53608 and B970 set 54207+53622 and returned on Class 108 B964 set 53620+54203 and B960 set 53602 + 54197 which arrived back at Westbury about 15.15. Also included in this ticket was a ride on the East Somerset Railway between Cranmore and Mendip Vale using ex LMS 0-6-0T 47493. A bus shuttle was provided between Merehead and Cranmore.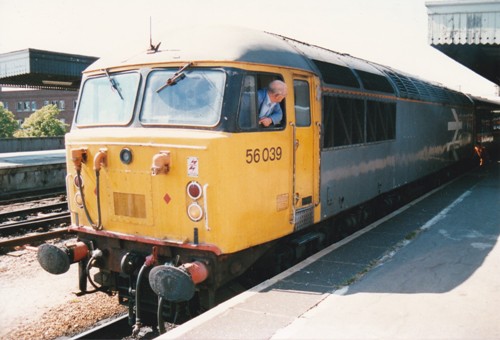 56039 at Bristol Temple Meads after arrival of the 15.30 from Westbury
(photo: John Cassey)
Sources : Mark Herriott, Kevin Driscoll, Derek Thompson & Steve Marshall



Back to "The Railtour Files"