11th June 1989
Hertfordshire Rail Tours
The Coalville Cobbler
| | |
| --- | --- |
| Locos Used | 31454, 33058, 37504 & 37511 |
| Stock Used | 4891 (4) +18728+4980+4975+7166+7219+4936+4951+4873+5039+35317 |
Route : 1Z38 throughout
| | |
| --- | --- |
| Loco(s) | Route |
| 33058 (1) | London Euston - (via WCML) - Northampton - Rugby - Coventry - Nuneaton |
| 31454 (2) | Nuneaton - Abbey Junction |
| 33058 | Abbey Junction - Nuneaton Flyover - Midland Jn - Narborough - Wigston North Jn - Knighton South Jn - Coalville (Mantle Lane Temporary Platform) (3) |
| 37504 + 37511 | Coalville (Mantle Lane Temporary Platform) - Leicester Jn - Burton-on-Trent - Stenson Jn - Sheet Stores Jn - Trent South Jn - Loughborough - Syston South Jn - Leicester (4) |
| 33058 | Leicester - Wigston North Jn - Narborough - Hinckley - Nuneaton |
| 33058 | Nuneaton - (via WCML, Weedon) - London Euston (5) |
Notes :
(1) Originally booked for 33053 and 33058 but 33053 failed at Euston sidings,
(2) 33058 on rear.
(3) Arrived at Coalville 1 hour 52mins late - booked stop for open day visit. Return departure time delayed for 2 hours.
(4) One coach (4891) removed at Leicester due to brake failure.
(5) To regain time return original route to Nottingham and reverse after Sheet Stores Jn was deleted, as well as return via Northampton. Arrival back was approx 1 hour late.
Sources : Alan Costello, David Champion, Mark Herriott & PRAR



Photo Review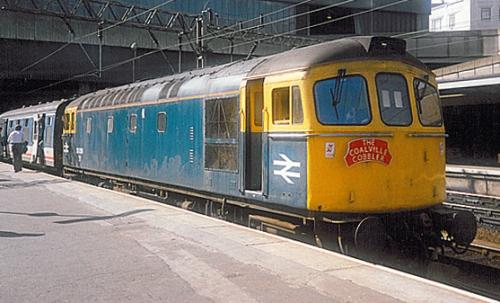 33058 waits to leave Euston, already running late (photo: Nick Blyth)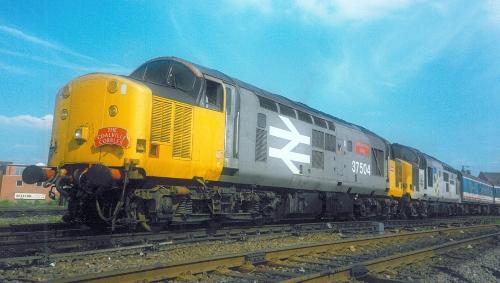 37504 & 37511 at Coalville (photo: Nick Blyth)