3rd June 1989
Hertfordshire Rail Tours
The Wigtownshire Wanderer
| | |
| --- | --- |
| Locos Used | 26015, 26024, 47340, 47459, 85028, 86236 & 86261 |
Route : 1Z11 throughout
Loco(s)
Route
85028

London Euston - Watford Junction – Rugby – Trent Valley – Crewe - (via WCML) – Carlisle

47340
Carlisle – Dumfries – Mauchline Jn – Newton-on-Ayr
26015 + 26024
Newton-on-Ayr – Stranraer Harbour
26015 + 26024
Stranraer Harbour - Ayr
47340

Ayr – Troon – Kilmarnock

47340

Kilmarnock – Muirhouse Central Jn – Terminus Jn – Paisley Gilmour Street – Gourock

47340

Gourock – Paisley Gilmour Street - Shields Jn – High St. Jn – Sunnyside Jn – Whifflet South Jn - Motherwell - Carlisle

86236

Carlisle – (via WCML) – Preston (1)

47459 (1)

Preston - Bolton - Manchester Piccadilly - Wilmslow - Crewe
86261

Crewe – Trent Valley – Rugby - Watford Junction –

Harrow & Wealdstone (2)
Notes:
(1) Originally shown as routed WCML from Preston to Crewe but route corrected by Mark Herriott.
(2) Terminated at Harrow & Wealdstone due to another train bringing down the overhead wires.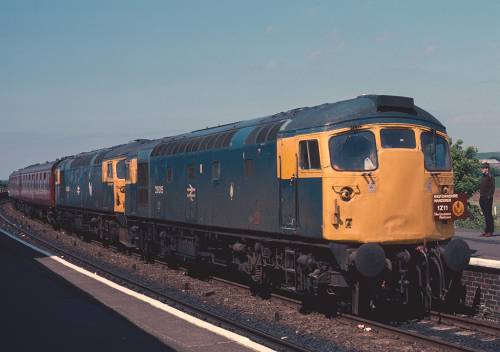 26015 & 26024 at Girvan (photo: Martin Pettit).

47340 at Newton-on-Ayr (photo: Ray Pettit)
Sources : Martin Pettit (joined/left the train at Watford Junction)
Les Drury (got back to Euston from Harrow & Wealdstone in 313006)
& Mark Herriott (also on 313006 to get back to Euston)



Back to "The Railtour Files"