3rd June 1989
British Rail
(Mystery Excursion)
| | |
| --- | --- |
| Locos Used | 33064, 47209, 47284, 47515, 85019 & 85025 |
| Connecting DMU's Used | 150207 out & 53964+54247 back |
| EMU's Used (service train) | ?3174, 3472 & 3473? (6) |
Route : 1Z36 throughout
Traction
Route
85019
Carlisle - (via WCML, Northampton) - Mitre Bridge Jn
47515
Mitre Bridge Jn - North Pole (3)
47209
North Pole - Grove Park (4)
33064
Grove Park - Faversham - Margate - Ramsgate - Canterbury West
EMU's as listed
(service train)
Margate - Ramsgate - Minster - Canterbury West - Ashford
47284
Ashford - Tonbridge - Beckenham Junction - Crystal Palace - Mitre Bridge Jn
85025
Mitre Bridge Jn - (via WCML) - Rugby - Coventry - Grand Jn - Bescot - Bushbury Jn - Stafford - Crewe - Stockport
47459 (5)
Stockport - Manchester - Preston
85025
Preston - (via WCML) - Carlisle
Notes :
(1) Simon Reed comments: this was a "Mystex" with planned stops at Margate, Ramsgate & Canterbury West, Tour was scheduled to return same route [across London via Lewisham & Nunhead] but due to stock defects and late running the tour restarted from Ashford. A 12 car VEP including 3473 "bridged the gap". Derek Thompson adds: After setting down at Canterbury West the train ran empty to Ashford for servicing and was then due to return ECS back to Margate and pick up at Ramsgate and Canterbury West, then return via Tonbridge. While at Ashford, however, 33064 failed and there was a coach defect so the train never made the empty stock move. As a result, a normal service train (units 3174 and 3472) was used to get the passengers to Ashford. On the return journey the train was booked via Warrington and Wigan but because of the late running the train was diverted via Manchester, but not before a 30min stop at Crewe to allow passengers to purchase food & beverages as the ob-board buffet had sold out of everything.
(2) Connecting DMU's ran from Barrow (06.15 dep) to Lancaster & back (05.12 dep!).
(3) 47515 failed at North Pole.
(4) 47209 failed at Grove Park!
(5) 85025 dead-in-tow.
(6) EMU confirmation required - Simon Reed reported a 12-car set including 3473 whereas Derek Thompson reported 3174+3472?
Sources : Simon Reed & Derek Thompson



Photo Review
(all photos: Derek Thompson)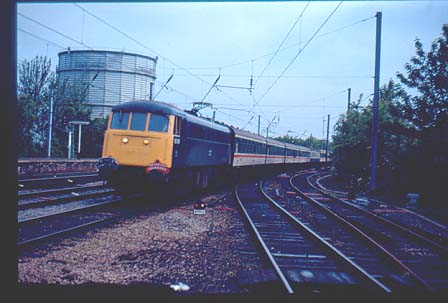 85019 on the outward train at Lancaster.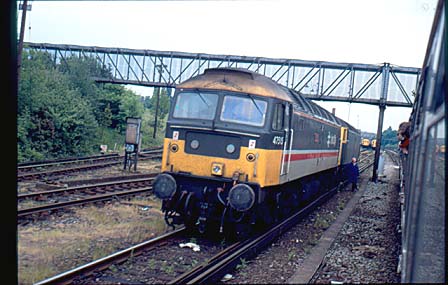 47515 and 47209 following detachment at Grove Park.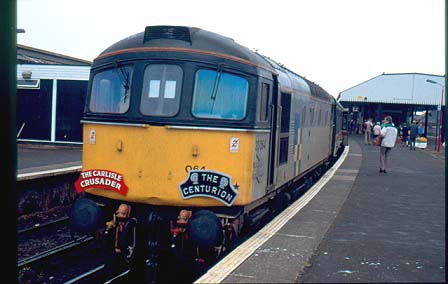 33064 on arrival at Ramsgate.


Timings (Booked & Actual)
(from Derek Thompson)
Location
Booked
Actual
Booked
Actual
Carlisle
06.38d
06.39
23.26a
03.15
Penrith
06.53a ~ 06.55d
06.55 ~ 06.59
23.02a ~ 23.04d
02.57 ~ 03.00
Oxenholme
07.19a ~ 07.21d
07.24 ~ 07.26
22.33a ~ 22.34d
02.30 ~ 02.32
Lancaster
07.35a ~ 07.37d
07.41 ~ 07.43
22.14a ~ 22.16d
02.11 ~ 02.14
Preston
07/57
08/09
21/58
01.54
Manchester Piccadilly
DIV
01/04
Wigan North Western
08/17
08/21
21/
DIV
Warrington Bank Quay
08/27
08/31
21/36
DIV
Weaver Jn
08/34
08/36
?
DIV
Crewe
08/49
08/49
21.08a ~ 21.10d
23.39 ~ 00.12
Stafford
09/08
09/08
20/43
23/20
Bushbury Jn
DIV
23/06
Colwich
09/18
09/12
20/35
DIV
Lichfield TV LL
09/20
09/22
20/28
DIV
Rugby
09/48
09/49
20/05
22/09
Hanslope Jn
10/15
10/15
19/45
21/46
Bletchley
10/22
10/22
19/36
21/37
Watford Junction
10/48
10/47
19/05
21/16
Harrow & Wealdstone
10/55
10/53
18/59
21/12
Willesden WL Jn
?
?
18.45L 18L55
20.55 ~ 21.05
Mitre Bridge Jn
11L01 ~ 11L11
11.17 ~ 12.26
?
?
Margate
12.53a ~ 12.54d
-
Canterbury West
13.21a
15.12
17.03a ~ 17.05d
?
Margate
16.35d
19.00