3rd June 1989
Flying Scotsman Services Ltd
Lincolnshire Poacher
| | |
| --- | --- |
| Locos Used | 47551 & steam: 80080 |
| Stock Used (1) | ?21256?+3x Pullmans+RMB+4x Pullmans+ Pullman BCK |
Route : 1Z43 throughout
| | |
| --- | --- |
| Loco | Route |
| 47551 | London St Pancras - (via MML) - Trent Jn - Spondon - Derby |
| 80080 | Derby - Spondon - Trent - Nottingham - Newark Castle - Lincoln Central |
| 80080 | Lincoln Central - (reverse of outward route) - Derby |
| 47551 | Derby - (reverse of outward route) - London St Pancras |
Notes :
(1) Support coach (believed to be 21256?) was moved to the other end of the formation for the return leg. Presumably this was only in the formation when 80080 was working the train?
Sources : Rob Wells, Pete Drury (joined/left train at Derby), Gordon Lacy & Dave Lodwick



Photo Review
(all photos: Gordon Lacy)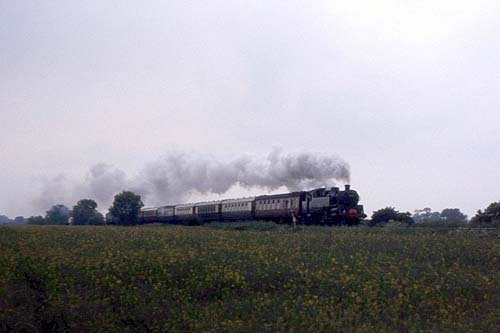 80080 on the outward leg at Winthorpe.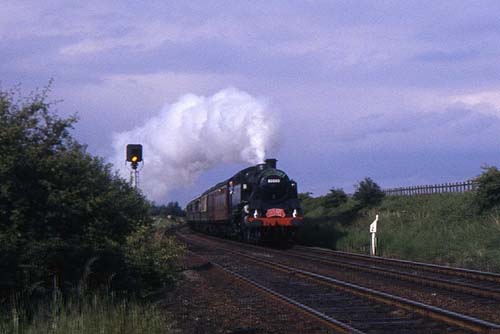 80080 approaching Cottage Lane Crossing near Collingham, on the return run.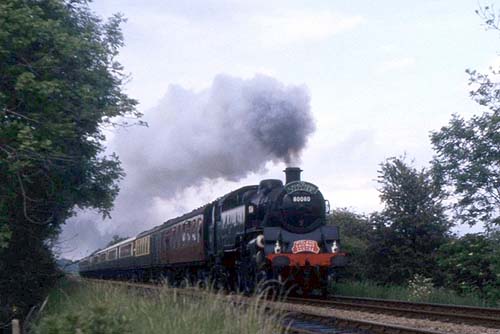 Again, on the return trip, 80080 approaches Rolleston Junction.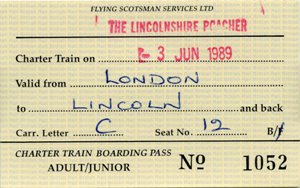 Ian McDonald's ticket for the tour.


Timings (Booked Only)
(from Rob Wells, Pete Drury & Ian McDonald)
| | | | | |
| --- | --- | --- | --- | --- |
| M.C | Location | Booked (out) | Booked (rtn) | M.C |
| 0.00 | St Pancras | 09.04d | 21.51a | 358.46 |
| 4.00 | West Hampstead Thameslink | 09/11 | 21/45 | 354.46 |
| 6.79 | Hendon | 09/14 | 21/42 | 351.47 |
| 19.71 | St Albans | 09.26a ~ 09.28d | 21.29a ~ 21.30d | 338.55 |
| 30.19 | Luton | 09/39 | 21/20 | 328.27 |
| 40.24 | Flitwick | 09/46 | 21/11 | 318.22 |
| 49.65 | Bedford North Jn | 09/52 | 21/03 | 308.61 |
| 56.45 | Sharnbrook | 09/57 | 20/50 | 302.01 |
| 65.11 | Wellingborough | 10/09 | 20/43 | 293.35 |
| 72.01 | Kettering | 10.16a ~ 10.18d | 20.34a ~ 20.36d | 286.45 |
| 82.74 | Market Harborough | 10/30 | 20/22 | 275.52 |
| 95.71 | Wigston North Jn | 10/42 | 20/10 | 262.55 |
| 99.07 | Leicester | 10.46a ~ 10.48d | 19.56a ~ 20.05d | 259.39 |
| 103.78 | Syston South Jn | 10/55 | 19/50 | 254.48 |
| 111.46 | Loughborough | 11/01 | 19/41 | 247.00 |
| 119.16 | Trent South Jn | 11/06 | 19/35 | 239.30 |
| 125.67 | Spondon | 11/13 | 19/21 | 232.59 |
| 128.37 | Derby | llL18a ~ 11L38d | 18L49a ~ 19L18d | 230.09 |
| 131.07 | Spondon | 11/44 | 18/43 | 227.39 |
| 137.16 | Sheet Stores Jn | 11/51 | 18/33 | 221.30 |
| 137.67 | Trent East Jn | 11/53 | 18/31 | 220.59 |
| 143.64 | Mansfield Jn | 12/01 | 18/22 | 214.72 |
| 144.47 | Nottingham | 12w03 ~ 12w34 | 18w00 ~ 18w20 | 213.79 |
| 144.63 | Nottingham East | 12/36 | 17/59 | 213.63 |
| 147.45 | Netherfield Jn | 12/42 | 17/53 | 211.01 |
| 161.61 | Newark Castle | 12/59 | 17.14 ~17.29 | 196.65 |
| 162.52 | Newark Crossing | 13/07 | 17/12 | 195.74 |
| 178.05 | Boultham Jn | 13/21 | 16/53 | 180.41 |
| 178.35 | West Holmes Jn | 13/25 | 16/52 | 180.11 |
| 179.23 | Lincoln Central | 13.28a | 16.50d | 179.23 |