6th May 1989
British Rail
(Merrymaker Excursion)
Route :
| | |
| --- | --- |
| Loco(s) | Route |
| 47436 | Carlisle – Lancaster – Preston – Hebden Bridge – Healey Mills – Wakefield Kirkgate – Doncaster – Lincoln – (via Sleaford Avoiding line) – Spalding – Peterborough |
| 47436 | Peterborough – (reverse of outward route) – Carlisle |
Notes :
(1) For visit to Spalding flower festival. Derek Thompson comments: The special train was uneventful but a group of enthusiasts who were desperate for new track decided it would be a good idea to visit Kings Lynn as this is particularly inaccessible from where the train had originated. On checking the timetable it was found that this was only possible using the bus link from Peterborough then return by train via Ely. This plan worked well until the train between Ely and Peterborough was late and this sat outside Peterborough waiting for the special train to depart. This meant that a fast HST was required to Doncaster while the special was going to longer route via Lincoln. A group of very embarrassed track bashers had then to explain their predicament to both the on-train staff and the staff at Doncaster. An additional stop was arranged at Doncaster and the train rejoined much to the amusement of the other passengers.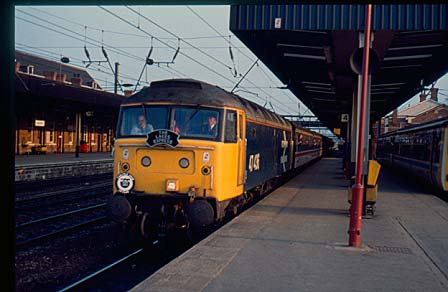 47436 makes its unscheduled stop at Doncaster (photo: Derek Thompson)