12th April 1986
Hertfordshire Railtours / Southern Electric Group
The Long Thin Drag
| | |
| --- | --- |
| DEMUs Used | 1032+1011+1001 (1001 was power cars only) (running as 6+6+2 formation) |
Route : 1Z25 throughout
| | |
| --- | --- |
| DEMUs | Route |
| 1032 leading | (1) Hastings - Tonbridge - Bromley South - London Victoria (1) |
| 1001 leading | London Victoria - Stewarts Lane Jn - Clapham Junction (Windsor Side) |
| 1032 leading | Clapham Junction - Kensington Olympia - Mitre Bridge Jn - (via WCML, Weedon) - Rugby - Nuneaton |
| 1001 leading | Nuneaton - Hinckley - Leicester - Loughborough - Toton - Pye Bridge Jn - Clay Cross South Jn - Chesterfield - Dore Station Jn - Sheffield - Rotherham - Aldwarke Jn - Cudworth - Normanton - Altofts Jn - Leeds (2) |
| 1032 leading | Leeds - Skipton - Settle Jn - (via S&C) - Carlisle |
| 1001 leading | Carlisle - (via WCML, Weedon) - Nuneaton - (reverse of outward route) - Clapham Junction |
| 1032 leading | Clapham Junction - (reverse of outward route) - London Victoria |
| 1001 leading | (1) London Victoria - (reverse of outward route) - Hastings (1) |
Notes :
(1) Passengers allowed to travel on ECS moves - Hastings to Victoria & return. LASERman comments: according to the drivers diagrams these workings were 04.50 from Hastings arriving at Victoria at 06.32 (crew stop at Orpington 06c08 for conductor driver) and 22.30 from Victoria arriving at Hastings 00.10 (with crew stop at Orpington 22c53 ~ 22c54). These working were also shown as 1Z25. A total of eight Southern Region drivers were diagrammed to work this tour throughout (2 each from Grove Park, St Leonards, Tonbridge and Victoria) with some working over two days making a total of 11 duties. I don't know how many other crews would also have been involved conducting them once off the Southern.
(2) Break taken at Leeds while units went to Neville Hill for re-fuelling.
Sources : PRAR, Mark Herriott, Kevin Law & LASERman



Photo Review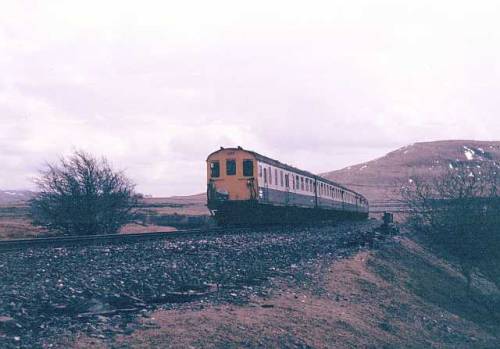 Two of Mark Harringtons photos, at Ribblehead.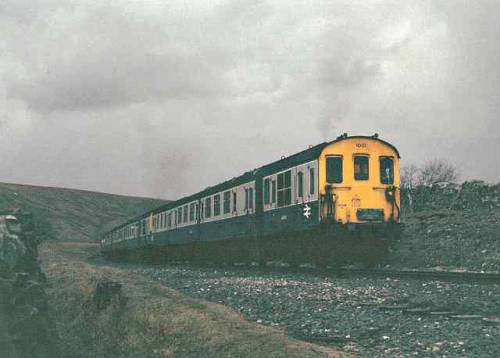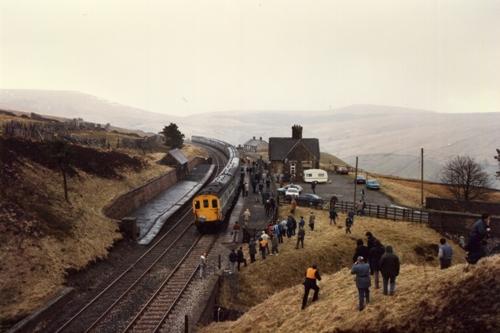 Dent - close to the highest point a Hastings unit has ever been (photo: LASERman)


Timings (Booked & Actual)
(from Greg Beecroft & LASERman)
| | | | | | |
| --- | --- | --- | --- | --- | --- |
| Location | Booked | Actual | | Booked | Actual |
| Victoria | 06.52d | 06.54½ [P7] | | 22.19a | ? |
| Stewarts Lane Jn | 06/58 | 07/00 | | 22/13 | ? |
| Longhedge Jn | 07/00 | 07/01½ | | 22/11 | ? |
| Clapham Junction | 07.03a ~ 07.13d | 07.07½ ~ 07.15 [P5] | | 21.58a ~ 22.08d | 22.02 ~ 22.08½ [P5] |
| Latchmere Jn | 07/16 | ? | | 21/55 | ? |
| Kensington Olympia | 07/22 | 07/24 | | 21/49 | 21/54½ |
| North Pole Jn | 07/24 | 07/28½ | | 21/46 | 21.47½ ~ 21.48 |
| Mitre Bridge Jn | 07.26 ~ 07.28 | 07.30½ ~ 07.37½ | | 21.41 ~ 21.43 | 21.43½ ~ 21.44½ |
| Willesden Junction | 07/30 | 07/39 [FL] | | 21/39 | 21/42½ |
| Harrow & Wealdstone South Jn | ? | [SL] | | ? | ? |
| Watford Junction | 07.42a ~ 07.44d | 07.56½ ~ 07.57½ | | 21.20a ~ 21.22d | 21.21½ ~ 21.28½ |
| Tring | 08/00 | 08/14½ | | 21/07 | ? |
| Bletchley | 08/13 | 08/27 | | 20/53 | ? |
| Milton Keynes Central | 08.18a ~ 08.20d | 08.31 ~ 08.33 | | 20.42a ~ 20.44d | 20.48½ ~ 20.49½ |
| Hanslope Jn | 08/33 | 08/42½ | | 20/37 | ? |
| Weedon | 08/45 | 08/54½ | | 20/25 | 20/30 |
| Rugby | 08/57 | 09/07½ | | 20/14 | 20/18 |
| Nuneaton | 09.12a ~ 09.23d | 09.23½ ~ 09.27½ [P5] | | 19.57a ~ 19.59d | 19.57½ ~ 20.01 |
| | | |
| --- | --- | --- |
| Location | Booked | Actual |
| Midland Jn | 09/25 | 09/35 |
| Wigston North Jn | 09/43 | 09/51½ |
| Leicester | 09.48a ~ 09.50d | 10.00½ ~ 10.03 |
| Syston South Jn | 09/56 | 10/08½ |
| Loughborough | 10/08 | 10/15 |
| Trent Jn | 10/10 | 10/21½ |
| Trent | 10/11 | 10/22½ |
| Trowell Jn | 10/18 | 10/28½ |
| Pye Bridge Jn | 10/27 | 10/37 |
| Morton | 10/32 | 10/43½ |
| Clay Cross South Jn | 10/37 | 10/48 |
| Chesterfield | 10/43 | 10/51½ |
| Dronfield | 10/49 | 10/56½ |
| Dore | 10/52 | 10/59½ |
| Sheffield | 10.59a ~ 11.01d | 11.06½ ~ 11.07½ [P2] |
| Wincobank Station Jn | 11/05 | 11/11½ |
| Rotherham | 11/08 | 11/14 |
| Aldwarke Jn | 11/12 | ? |
| Cudworth | 11/24 | 11/28 |
| Goose Hill Jn | 11/41 | 11/47 |
| Altofts Jn | 11/44 | ? |
| Leeds | 11.59a ~ 13.15d | [P5?] 12.01½ ~ 13.15½ [P8] |
| Wortley Jn | 13/19 | 13/19½ |
| Guiseley Jn | 13/30 | 13/29 |
| Keighley | 13/39 | 13/36½ |
| Skipton | 13.51a ~ 13.53d | 13.46½ ~ 13.47 |
| Hellifield | 14/06 | 13/59 |
| Settle Jn | 14/09 | 14/02 |
| Settle | 14/11 | 14/04½ |
| Blea Moor | 14/28 | 14/21 |
| Dent | 14.34a ~ 14.46d | 14.28 ~ 14.41½ |
| Ais Gill | ? | 14/49 |
| Appleby | 15/12 | 15.09½ ~ 15.19½ |
| Petteril Bridge Jn | 15/50 | 15/54 |
| Carlisle | 15.54a ~ 16.07d | 15.57 ~ 16.09 [P4] |
| Penrith | 16.28a ~ 16.35d | 16.30 ~ 16.37 |
| Shap Summit | ? | 16/53 |
| Tebay | 16/56 | 16/58 |
| Oxenholme | 17/08 | 17/08½ |
| Carnforth | 17/19 | 17/23½ |
| Carnforth Up Loop | ? | 17.25 ~ 17.27½ |
| Lancaster | 17.36a ~ 17.40d | 17/34½ |
| Fylde Jn | ? | [SL] |
| Preston | 17/57 | 17/53½ |
| Euxton Jn | 18/04 | 18/00 |
| Balshaw Lane | 18/06 | 18/03 |
| Wigan North Western | 18/13 | 18/11½ |
| Springs Branch Jn | 18/19 | 18/12½ |
| Winwick Jn | 18/20 | ? |
| Warrington Bank Quay | 18.21a ~ 18.23d | 18.22½ ~ 18.24 |
| Acton Grange Jn | 18/25 | 18/27½ |
| Weaver Jn | 18/31 | 18/33 |
| Winsford | 18/37 | ? |
| Crewe Coal Yard | 18/48 | 18/46 |
| Crewe | 18/53 | [UF] 18.48 ~ 18.51½ [US] |
| Madeley | 19/04 | 19/02 |
| Norton Bridge | 19/14 | 19/12 |
| Stafford | 19/19 | 19/17½ [FL] |
| Whitehouse Jn | 19/23 | 19/22 |
| Colwich | 19/26 | 19/25 |
| Armitage | 19/34 | 19/33 |
| Lichfield TV | 19/39 | 19/37 |
| Tamworth | 19/44 | 19.43 [SL] |