7th July 1985
British Rail (W.R.) / S.L.O.A.
The Great Western Limited
| | |
| --- | --- |
| Loco Used | 47484, 50007 'Sir Edward Elgar., 50045 'Achilles' & steam: 4930 'Hagley Hall' & 5051 |
Route : 1Z47 throughout
| | |
| --- | --- |
| Loco(s) | Route |
| 47484 | London Paddington - Slough - Twyford - Reading - Southcote Jn - Newbury - Heywood Road Jn - Trowbridge - Bathampton Jn - Bath Spa - North Somerset Jn - Bristol Temple Meads |
| 5051 + 4930 | Bristol Temple Meads - Worle Jn - Weston-super-Mare - Uphill Jn - Cogload Jn - Taunton - Exeter St Davids - Newton Abbot - mile post 217 |
| 5051 + 4930 (3) | mile post 217 - Dainton Tunnel SB (2) |
| 5051 + 4930 | Dainton Tunnel SB - Totnes |
| 50007 | Totnes - (reverse of outward route) (3) - Uphill Jn - Worle Jn - (reverse of outward route) (3) - London Paddington |
Notes :
(1) Part of the GW150 celebrations.
(2) Both steam locos stalled on Dainton Bank and had various attempts to get going without success. 50045 came on the rear and banked the train from m.p. 217 to 218 right by Dainton Tunnel box. 50045 was detached there then followed to Totnes where the train was terminated rather than running through to Plymouth as booked.
(3) 50045 assisting from rear. This was originally reported as 50007 but photographic evidence confirms this to have been incorrect info. The use of 50007 from Totnes forward is assumed correct.
(4) Booked route was: Cogload Jn - Castle Cary - Heywood Road Jn.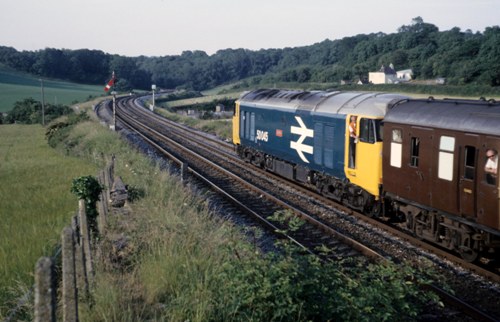 50045 'Achilles' assisting from the rear on Dainton (photo: Bernard Mills)
Sources : Dick Franklin (joined at Bristol Temple Meads, left at Paddington) & Roger Geach



Timings (Booked & Actual)
(from Dick Franklin)
Location
Booked
Actual
Booked
Actual
Paddington
09.02d
?
22.15a
00.26
Southall
09/13
?
22/03
00/17
Slough
09/20
?
21/57
00/11
Maidenhead
09/28
?
21/53
00/07
Twyford
09/35
?
21/48
00/02
Reading
09.43a ~ 09.48d
?
21.37a ~ 21.39d
23.54½ ~ 23.56
Southcote Jn
09/51
?
21/34
?
Newbury
10/05
?
21/17
23/39½
Bedwyn
10/15
?
21/07
23/30
Woodborough
10/25
?
20/56
?
Lavington
10/33
?
20/49
?
Heywood Road Jn
10/43
?
20/43
23/05½
Castle Cary
20/26
DIV
Bradford Jn
10/54
?
DIV
?
Bathampton Jn
11/06
?
DIV
22/42
North Somerset Jn
11/23
?
DIV
?
Bristol Temple Meads
11L25a ~ 11L45d
??.?? ~ 12.13
DIV
22.22½ ~ 22.25
Worle Jn
12/15
12/43
DIV
21/58½
Weston-super-Mare
12.20a ~ 12.46d
12.50 ~ 12.55
Uphill Jn
12/51
13/01
DIV
21/56½
Bridgwater
13.10a ~ 13.15d
13.21½ ~ 13.25
DIV
21/47
Taunton
13w36a ~ 14w16d
13.45 ~ 14.33½
20/06
21/36
Whiteball Tunnel
14/34
14/51½
19/58
21/28½
Cowley Bridge Jn
14/57
15/17½
19/41
21/11½
Exeter St Davids
15w00a ~ 15w30d
15.22 ~ 15.52
19.37a ~ 19.39d
21.05 ~ 21.09
Dawlish Warren
15p50a ~ 16p10d
16.12½ ~ 16.42½
19/20
20/55
Newton Abbot
16w30a ~ 17w00d
17.15 ~ 17.50½
19/10
20.43½ ~ 20.44
Aller Jn
17/03
17/55½
19/08
20/37
Dainton Tunnel
17/11
19.27 ~ 19.30½
19/05
?
Totnes
17/17
19.44½a
18/59
20.25½d
Brent
17/33
CANX
18/51
CANX
Hemerdon
17/50
CANX
18/40
CANX
Lipson Jn
17/56
CANX
18/33
CANX
Plymouth
18.00a
CANX
18.30d
CANX