17th October 1965
L.C.G.B.
The Derbyshire Rail Tour
Route : 1T25 throughout
| | |
| --- | --- |
| Loco | Route |
| 44113 | Derby - London Road Jn - Spondon Jn - Spondon |
| 44113 (1) | Spondon - Spondon Jn - Derby South Jn - Derby North Jn - Little Eaton Jn - Kilburn - Denby |
| 44113 (2) | Denby - Marehay Crossing |
| 44113 | Marehay Crossing - Denby - Kilburn - Little Eaton Jn |
| 44113 (1) | Little Eaton Jn - Duffield Jn - Wirksworth |
| 44113 | Wirksworth - Duffield - Derby - Melbourne Jn - Chellaston Jn - Worthington |
| 44113 (2) | Worthington - Chellaston Jn |
| 44113 | Chellaston Jn - Sheet Stores Jn - Trent - Beeston - Nottingham Midland |
Notes :
(1) Running tender-first.
(2) Loco propelling.
(3) Ed Grummitt comments: Although it's very difficult to identify the location as the area has changed considerably, I suggest that Alan Sainty's shot of the trip is not Marehay Crossing but Denby South. The tour notes indicate that the loco was to run round at Denby and the train was to be propelled to Marehay. As far as Denby the loco hauled the train tender first. Alan's shot appears to be of the loco again running round; I have a similar shot which shows 44113 a few minutes later, on the Derby end of the train. I suspect that the loco also ran tender first to Worthington, as it ran round there. Later, the train stopped at Chellaston Jn. for about 20 minutes while the engine ran round again at Stenson Jn. There were all sorts of problems previous to the tour; patronage was very poor and the LCGB didn't meet the required numbers. Therefore anyone cancelling didn't get a refund! Also, the timings had to be amended because of rationalisation in the area and other operating difficulties. In spite of all this several passengers travelled from St Pancras at special fares on a group ticket, there was a snacks service (tea 6d, Whitbread brown & pale ale 1/6d, Carlsberg 2 bob) and a tour of Derby Works. No full printed itinerary was sent out; instead we got some sheets of typed foolscap with timings etc. and a hand drawn map. I have kept all this for 46 years (oh dear), which is how I know about photo stops, run rounds and LCGB tea and beer prices. I'm certainly not able to remember this esoterica unaided, unlike some gricers of my acquaintance! I do remember though that the tour was extremely enjoyable, and cost under a fiver. In fact it was one of the best railtours I have ever patronised; I only wish today's were as laid back (and cheap) as that one. The poor old 4F went like the wind, particularly from Long Eaton to Nottingham Midland.
Sources : Terry Jackson, Vic Smith, Ed Grummitt & Paul Spencer



Photo Review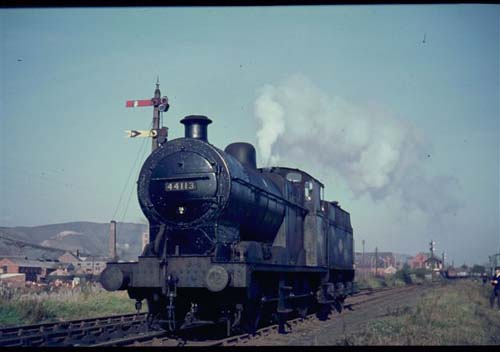 44113 running round at Denby South (photo : Alan Sainty)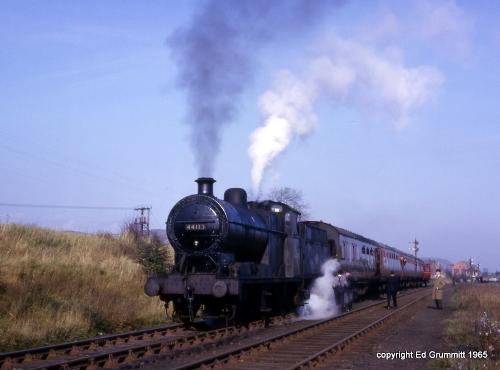 44113 on the train at Denby South (photo : Ed Grummitt)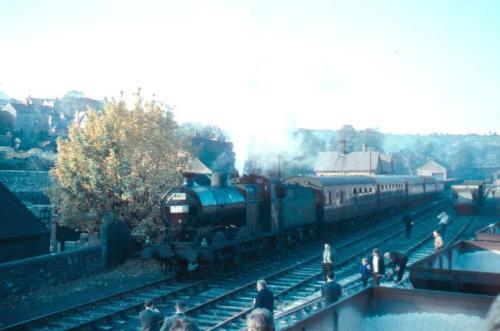 44113 at Wirksworth (photo : Graham T V Stacey - courtesy of www.30937.co.uk)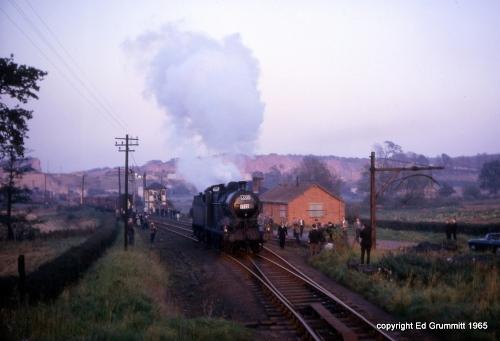 44113 running round at Worthington ((photo : Ed Grummitt)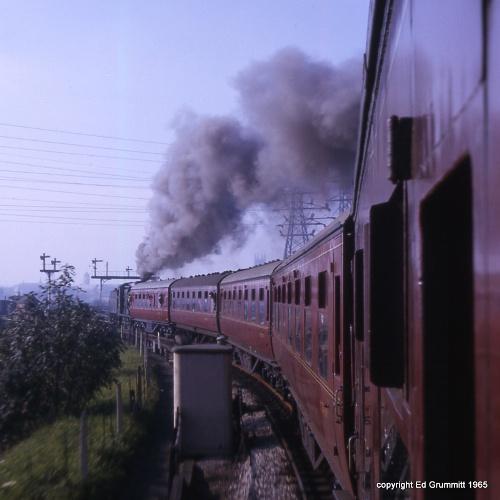 At Chellaston Jn (photo : Ed Grummitt)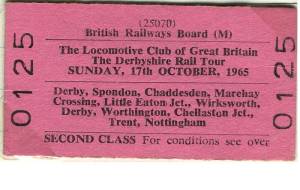 A tour ticket (courtesy: Rob Fraser)


Timings (Booked & Actual)
(from Terry Jackson & John Broderick)
| | | | |
| --- | --- | --- | --- |
| M.C | Location | Booked | Actual |
| 0.00 | Derby Midland | 13.35d | 13.46 |
| 0.13 | London Road Jn | 13/36 | ? |
| 2.07 | Spondon Jn | 13/40 | ? |
| 2.50 | Spondon | 13.42a ~ 13.57d | 13.53 ~ 14.01 |
| 3.13 | Spondon Jn | 13/59 | ? |
| 4.36 | Chaddesden South Jn | 14/02 | 14/05 |
| 5.59 | Derby North Jn | 14/07 | 14/08 |
| 8.33 | Little Eaton Jn | 14.12a ~ 14.25d | ? |
| 12.17 | Kilburn | 14/40 | ? |
| 14.09 | Marehay Crossing | 14.45a ~ 15.00d | 14.46 ~ 14.57 |
| 16.01 | Kilburn | 15/07 | ? |
| 19.65 | Little Eaton Jn | 15.20a ~ 15.35d | 15.16 ~ 15.27 |
| 21.66 | Duffield Jn | 15.41a ~ 15.43d | 15.33½ ~ 15.40 |
| 30.15 | Wirksworth | 16.00a ~ 16.15d | 16.03 ~ 16.17 |
| 38.44 | Duffield Jn | 16.32a ~ 16.34d | ??.?? ~ 16.36½ |
| 43.64 | Derby Midland | 16*45a ~ 16*48d | 16.44½ ~ 16.50½ |
| 45.27 | Melbourne Jn | 16/53 | 16/54 |
| 48.48 | Chellaston Jn | 17/01 | 17/00½ |
| 54.47 | Worthington | 17.21a ~ 17.36d | 17.17½ ~ 17.32 |
| 60.46 | Chellaston Jn | 17.56a ~ 18.06d | 17.50 ~ 18.13 |
| 68.57 | Sheet Stores Jn | 18/22 | 18/29 |
| 69.15 | Trent | 18/24 | 18/31½ |
| 75.78 | Nottingham Midland | 18.35a | 18.35 |