16th October 1965
R.C.T.S. (West Midlands Branch)
Midlands Locomotive Requiem Rail Tour
Route : 1X20 throughout
Loco(s)
Route
43953
Nuneaton Abbey Street - Market Bosworth - Donisthorpe - Gresley - Burton-on-Trent
43953

Burton-on-Trent - Burton-on-Trent South Box

43953
Burton-on-Trent

South Box - Burton - Dove Jn - Eggington Junction - Willington Jn - Stenson Jn - Castle Donington - Sheet Stores Jn - Trent - Beeston - Lenton South Jn - Lenton North Jn - Annesley - Mansfield Town - Elmton - Staveley Town - Barrow Hill & Staveley Works - Seymour Jn
43953 & D8613
Seymour Jn - Glapwell Colliery Sidings
43953

Glapwell Colliery - Seymour Jn - Hall Lane Jn - Barrow Hill Jn - Chesterfield Midland - Riddings Jn - Butterley - Crich Jn - Ambergate - Derby North Jn - Derby South Jn - Sawley Junction - (via north curve) - Trent North Jn - Trent - Leicester London Road - Wigston North Jn - Wigston Central Jn - Blaby - Narborough - Nuneaton Midland Jn - Nuneaton Abbey Street
Notes :
(1) This tour commemorated the virtual end of the once numerous fleet of Midland 0-6-0 tender locomotives. The six coach train visited numerous lines in the heart of the Midland system, where the 0-6-0's were once so common. Such was the rarity now of the 4F's that 43953 had to be brought in from Workington shed to power the train. This machine would in fact prove to be the last Midland 4F in service, retirement coming about three weeks later on November 6th. Whilst prepared to the highest standard for the rail tour it became obvious towards the end that all was not well with 43953, with time being lost and the speed rarely exceeding 30mph. Perhaps the 50 mph streak on the Ambergate to Derby section overstretched the forty-four year veteran.
Source : David Hills, Terry Jackson & Ted Prince (courtesy of Kevin Prince)



Photo Review
(From Terry Jackson/Ted Prince)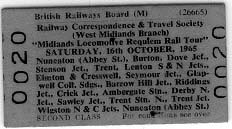 From Stuart Gamble's ticket collection.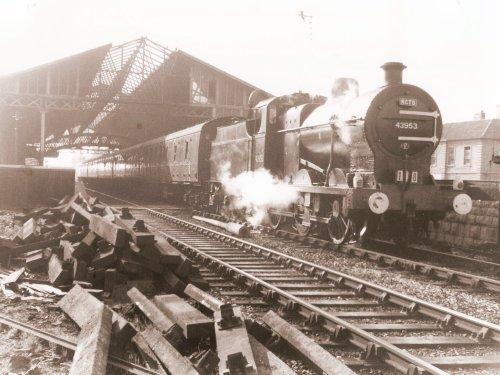 43953 at Mansfield (photo: Don Boydon/The John Debens Collection)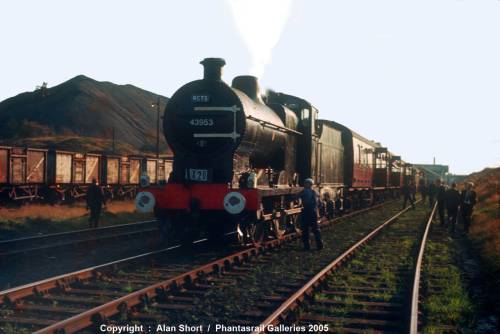 43953 during the tour (photo: Alan Short courtesy of Phantasrail Galleries)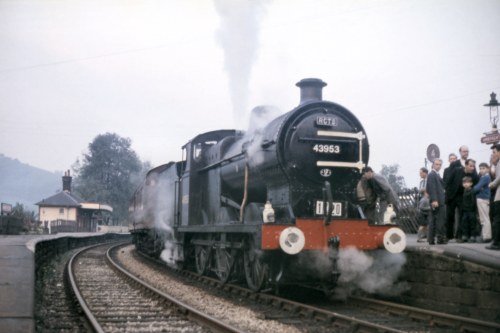 43953 pauses at Ambergate (photo: Mike Morant collection)


Timings (Booked Only)
(From Terry Jackson/Ted Prince)
Location
Booked
Nuneaton Abbey Street
10.45d
Market Bosworth
11/03
Measham
11/18
Moira West Jn
11/26
Gresley
11/32
Leicester Jn
11/38
Burton-on-Trent
11.40a ~ 11.51d
Burton Station South
11.52a ~ 11.53d
[Goods Line]
North Stafford Jn
11/58
[Main Line]
Dove Jn
12.05a ~ 12.20d
Eggington Jn
12/24
Stenson Jn
12/30
Chellaston Jn
12/41
Sheet Stores Jn
13/01
Trent
13/03
Beeston
13.09a ~ 13.11d
Lenton South Jn
13/15
[Goods Line]
Lenton North Jn
13/19
[Main Line]
Radford
13/22
Hucknall Byron
13/32
Kirkby
13/42
Mansfield Town
13w50a ~ 13w58d
Shirebrook West
14.05a ~ 14.10d
Elmton & Creswell
14/23
Seymour Jn
14.52a ~ 15.02d
Glapwell
15.22a ~ 15.32d
Seymour Jn
15.52a ~ 16.02d
Hall Lane Jn
16/11
Barrow Hill
16.18a ~ 16.20d
Tapton Jn
16/27
Chesterfield
16/29
Clay Cross
16/36
Morton Sidings
16/43
Pye Bridge
16/58
Ambergate Station
17.18a ~ 17.33d
Derby North Jn
17/46
Chaddesden South Jn
17/51
Spondon Jn
18/07
Sawley Jn
18/18
Trent
18.23a ~ 18.33d
Loughborough
18/46
Leicester London Road
19w02a ~ 19w07d
Wigston North Jn
19/13
Wigston Central Jn
19/15
Glen Parva Jn
19/17
Narborough
19/23
Hinckley
19/36
Nuneaton Midland Jn
19/42
Nuneaton Abbey Street
19.45a