19th September 1965
Stephenson Locomotive Society (Midland Area)
Restored Locomotives Cavalcade
| | |
| --- | --- |
| Locos Used | 1420, 3442 'The Great Marquess' & 4555 |
Route : at least 1X82
| | |
| --- | --- |
| Loco(s) | Route |
| 3442 | Birmingham Snow Hill - Handsworth Jn - Smethwick Jn - Rowley Regis - Cradley Heath - Stourbridge Junction |
| 3442 | Stourbridge Junction - Kidderminster - Droitwich Spa - Worcester Shrub Hill |
| 1420 + 4555 | Worcester Shrub Hill - Hartlebury - Bewdley - Alveley Sidings |
| 1420 + 4555 | Alveley Sidings - Bewdley - Kidderminster - Stourbridge Junction - Dudley - Wolverhampton LL |
| 1420 + 4555 | Wolverhampton LL - (reverse of outward route) - Kidderminster - Droitwich Spa - Worcester Shrub Hill |
| 3442 | Worcester Shrub Hill - Droitwich Spa - Kidderminster - Stourbridge Junction |
| 3442 | Stourbridge Junction - (reverse of outward route) - Birmingham Snow Hill |
Notes :
(1) Brian Basterfield states the tour name to be 'Restored Locomotives Cavalcade' despite a different name being given on the ticket pictured below and which was repeated on the timing sheet.
(2) Photographic evidence of the train 'on the leg to Bewdley' showed 4555 leading 1420 carrying the headcode 1X82. Was this headcode used throughout?
Sources : various including Ian Clark (SLS) & Tony Saville



Photo Review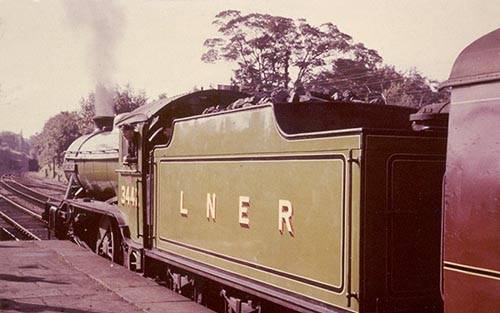 3442 at Stourbridge Junction (photo: Brian Basterfield)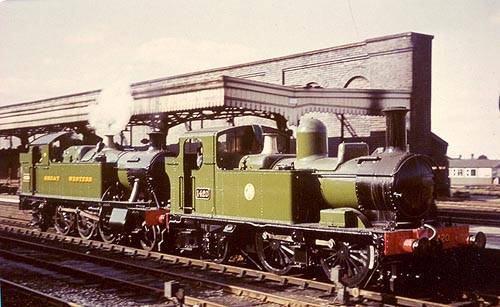 1420 & 4555 at Wolverhampton Low Level station (photo: Brian Basterfield)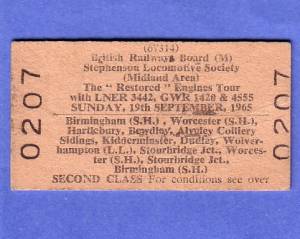 From Andrew Fairholms ticket collection.


Timings (Booked Only)
(from Ian Clark (SLS))
| | | |
| --- | --- | --- |
| Location | Booked (out) | Booked (rtn) |
| Birmingham Snow Hill | 10.30d | 18.43a |
| Stourbridge Junction | 10.55a ~ 11.10d | 18/17 |
| Worcester Shrub Hill | 11L53a ~ 12L30d | 17L10a ~ 17L40d |
| Bewdley | 13.05a ~ 13.20d | - |
| Alveley Colliery Sidings | 13.45a ~ 14.20d | - |
| Kidderminster | 15/08 | 16/48 |
| Stourbridge Junction | 15/18 | 16/37 |
| Dudley | 15/34 | 16/22 |
| Wolverhampton LL | 15.46a | 16.10d |