19th September 1965
R.C.T.S. (West Riding Branch)
The Blythe & Tyne Rail Tour
| | |
| --- | --- |
| Locos Used | 60004 'William Whitelaw', D6769 & 43057 |
| Stock Used | 9 coaches (booked to be 6x TSO, 2x BSO & 1x RB) |
Route : 1Z02 throughout
| | |
| --- | --- |
| Loco | Route |
| 60004 | Leeds City South - Horsforth - Arthington - Weeton - Harrogate - Ripon - Northallerton - Picton - Eaglescliffe |
| D6769 | Eaglescliffe - Oak Tree Jn - Fighting Cocks - Darlington North Road (3) |
| 60004 | Darlington North Road - Shildon - Bishop Auckland - Willington - Brandon - Relly Mill Jn - Durham - (via ECML) - Newcastle |
| 43057 | Newcastle - Manors - St Peter's - Carville - Willington Quay - Percy Main - Newsham - Bedlington - Morpeth - Cramlington - Forest Hall - Benton - South Gosforth - Jesmond - Manors - Newcastle - Scotswood - Blaydon |
| 43057 (4) | Blaydon - Derwenthaugh - Dunston - Bensham - Gateshead - Pelaw |
| 60004 | Pelaw - Washington - Ferryhill - Stillington - Norton West Jn - Norton South Jn - Stockton - Eaglescliffe - Oak Tree Jn - Dinsdale - Geneva Jn - Snipe House Jn - (via ECML) - York - Church Fenton - Micklefield - Leeds City South |
Connecting Service
Route : 1F75 throughout
| | |
| --- | --- |
| DMU | Route |
| booked for 2-car set | Sheffield Victoria - Penistone - Springwood Jn - Huddersfield - Heaton Lodge Jn - Thornhill LNW Jn - Morley Low - Whitehall Jn - Leeds City South |
| booked for 2-car set | Leeds City South - (reverse of outward route) - Sheffield Victoria |
Notes :
(1) Nine coaches made up the train for this tour which catered for a variety of tastes. The use of D6769 was because the A4's were banned from the Stockton & Darlington direct line due to the poor condition of this route.
(2) John Thickitt comments: North of Newcastle Central the tour was advertised for K1 haulage. Outbound (around Percy Main?) more than once the engine struggled for some distance, with stalls or very slow progress, and lots of dark-grey smoke.
(3) For works visit.
(4) Running tender-first.
Sources : David Hills, John A. Thickitt & John Debens



Photo Review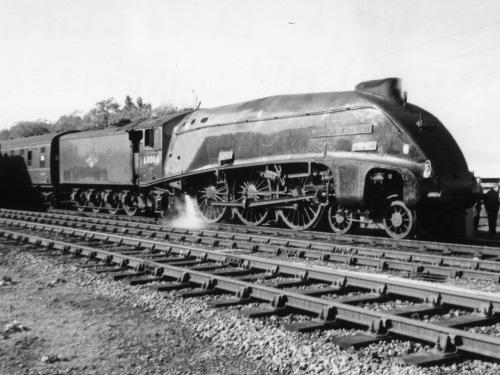 60004 'William Whitelaw' pauses at Eaglescliffe (photo: John A. Thickitt)

60004 approaching Bishop Auckland (photo: Arthur Haymes)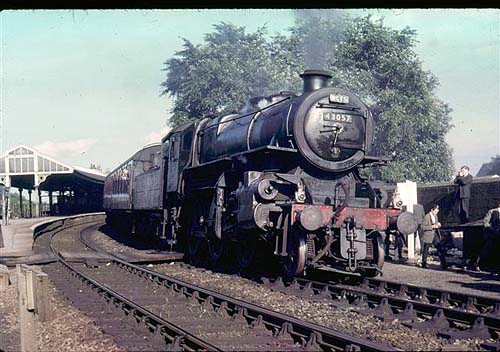 43057 pauses at Morpeth (photo: Alan Sainty Collection)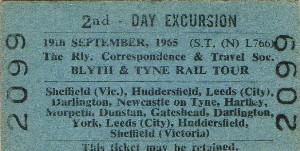 From The John Debens Ticket Collection.


Timings (Booked & Actual)
(From Terry Jackson, John Debens & Peter Whitaker)
| | | | |
| --- | --- | --- | --- |
| M.C | Location | Booked | Actual |
| 0.00 | Leeds City South | 09.22d | 09.26 |
| ? | Leeds City Jn | 09/23 [SL] | ? |
| ? | Wortley Jn | 09/26 | ? |
| 9.23 | Arthington | 09/44 | ? |
| 18.22 | Harrogate | 09/58 | 10/03 |
| 29.59 | Ripon | 10/15 | 10/16 |
| 43.40 | Northallerton | 10/35 | ? |
| 58.14 | Eaglescliffe | 10L55 ~ 11L32 | ? |
| 62.49 | Oak Tree Jn | 11/40 | ? |
| 67/09 | Darlington North Road | 12L05a ~ 13L35d | ? |
| 78.32 | Bishop Auckland | 13w59 ~ 14w04 | ? |
| 82.30 | Willington | 14/12 | ? |
| 89.37 | Durham | 14/28 | ? |
| 103.40 | Newcastle Central | 14L51 ~ 15L01 | ? |
| 104.05 | Manors | 15/03 | ? |
| ? | Riverside Jn | 15/05 | ? |
| 105.77 | St Peters | 15/08 | ? |
| 107.65 | Walker | 15/14 | ? |
| 111.46 | Percy Main No.2 | 15/22 | ? |
| 114.52 | Earsdon Jn | 15/30 | ? |
| 118.58 | Hartley | 15/40 | ? |
| 120.43 | Newsham | 15/46 | ? |
| 123.27 | Bedlington | 15/54 | ? |
| 123.54 | Choppington | 15/58 | ? |
| 128.25 | Morpeth | 16/08 | ? |
| 138.74 | Killingworth | 16/23 | ? |
| 140.04 | Benton North Jn | 16/25 | ? |
| 142.30 | South Gosforth | 16/30 | ? |
| 145.24 | Newcastle Central | 16L36a ~ 16L42d | ? |
| 148.28 | Scotswood | 16/47 | ? |
| 149/27 | Blaydon | 16.51 ~ 17.02 | ? |
| 152.43 | Dunston | 17/11 | ? |
| 154.65 | Gateshead | 17/16 | ? |
| 157.48 | Pelaw | 17L21 ~ 17L31 | ? |
| 162.37 | Washington | 17/38 | ? |
| ? | Penshaw | 17/41 | ? |
| ? | Leamside | 17/50 | ? |
| ? | Shincliffe | 17/59 | ? |
| 178.00 | Ferryhill | 18/07 | ? |
| ? | Sedgefield | 18/13 | ? |
| ? | Norton West | 18/30 | ? |
| ? | Norton South | 18/32 | ? |
| 191.21 | Stockton | 18w35 ~ 18w43 | ? |
| 194.24 | Eaglescliffe | 18/50 | ? |
| ? | Geneva | 19/05 | ? |
| 202.67 | Croft Ground Frame | 19/10 | ? |
| 216.14 | Northallerton | 19/25 | ? |
| 223.73 | Thirsk | 19/33 | ? |
| 246.09 | York | 19.58a ~ 20.00d | ? |
| 256.68 | Church Fenton | 20/15 | ? |
| ? | Micklefield | 20/22 | ? |
| 271.53 | Leeds City South | 20.37a | ? |
Connecting DMU (headcode: 1F75)
M.C
Location
Booked (out)
Booked (rtn)
M.C
0.00
Sheffield Victoria
07.50d
22.13a
43.47
13.00
Penistone
08/14
21/53
30.47
?
Springwood Jn
08/31 [FL]
21/33
?
26.35
Huddersfield
08.33a ~ 08.35d
21.29a ~ 21.31d
17.12
?
Heaton Lodge Jn
08/41
21/23
?
?
Thornhill LNW Jn
08/46
21/18
?
?
Morley Low
08/56
21/09
?
?
Farnley & W.
09/02
21/05
?
?
Whitehall Jn
09/07 [SL]
?
?
?
Leeds City Jn
09/08
?
?
43.47
Leeds City South
09.09a
[09.05a in tour itinerary]
21.00d
0.00


Associated E.C.S. Movements
| | | |
| --- | --- | --- |
| Location | Booked (out) | Booked (rtn) |
| Neville Hill | 08.52d | 21.00a |
| Leeds City South | 09.02a | 20.50d |
Connecting DMU
| | | |
| --- | --- | --- |
| Location | Booked (out) | Booked (rtn) |
| Leeds City South | 09.19d | 20.40a |
| Neville Hill | 09.29a | 20.30d |