5th September 1965
Warwickshire Railway Society
The Hants & Dorset Rail Tour
| | |
| --- | --- |
| Locos Used | D2985, 7029, 34019, 60145 & 73085 |
Route : at least 1X82
| | |
| --- | --- |
| Loco | Route |
| 60145 | Birmingham Moor Street - Solihull - Leamington Spa General - Banbury General |
| 7029 | Banbury General - Oxford - Didcot North Jn - Reading West - Basingstoke |
| 73085 | Basingstoke - Worting Jn - Eastleigh - Loco Works Yard |
| D2985 | Loco Works Yard - Eastleigh |
| 34019 | Eastleigh - Southampton Central - Lymington Central - Bournemouth Central - Poole - Dorchester Jn - Weymouth |
| 7029 | Weymouth - Dorchester West - Yeovil Pen Mill - Castle Cary - Frome - Westbury - Newbury - Reading West - (reverse of outward route) - Banbury |
| 60145 | Banbury - (reverse of outward route) - Birmingham Moor Street |
Notes :
(1) 60145 photographed at Banbury carrying headcode 1X82 - was this used throughout?
Sources : Neville Wellings (on the train throughout), John Clifford, Dennis Lloyd & Steve Armitage



Photo Review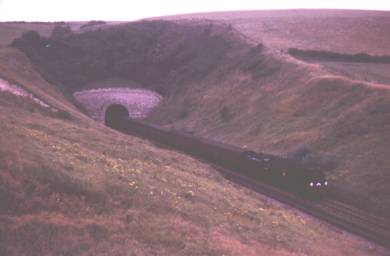 34019 near Weymouth (photo: Terry Dorrity)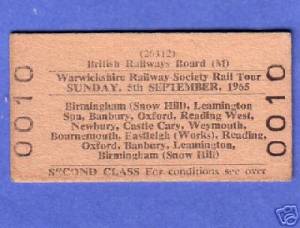 From Andrew Fairholms ticket collection.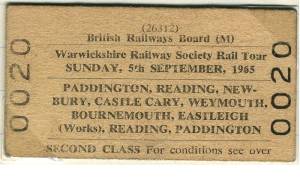 A tour ticket (courtesy: Rob Fraser) - was this
a second tour by WRS run the same day or
were service trains used to join the main tour?
Further details are required.


Timings (Booked & Actual)
(from Neville Wellings & John Debens)
| | | | |
| --- | --- | --- | --- |
| Miles | Location | Booked | Actual |
| 0.00 | Birmingham Moor Street | 09.05d | 09.05 |
| 7.00 | Solihull | 09.16a ~ 09.18d | 09.18 ~ 09.20 |
| 24.00 | Leamington Spa General | 09.36a ~ 09.40d | 09.41 ~ 09.43 |
| 44.00 | Banbury General | 10.08a ~ 10.14d | 10.10 ~ 10.25 |
| ? | Aynho Jn | 10/22 | 10/33 |
| 66.00 | Oxford | 10.43a ~ 10.46d | 11.11 ~ 11.12 |
| 77.00 | Didcot North Jn | 10/57 | 11/28 |
| 94.00 | Reading West | 11.18a ~ 11.20d | 11.55 ~ 11.?? |
| 108.00 | Basingstoke | 11L41a ~ 11L46d | 12.20a ~ 12.30d |
| ? | Worting Jn | 11/51 | 12/36 |
| 134.00 | Eastleigh | 12.25a ~ 12.30d | 13.06 ~ 13.10 |
| ? | Loco Works Yard | 12L30a ~ 14L00d | 13.10 ~ 14.02 |
| ? | Eastleigh | 14L04a ~ 14L14d | 14.14 ~ 14.19 |
| 139.00 | Southampton Central | 14/25 | 14/33 |
| ? | Lymington Jn | 14/43 | ??/?? |
| 168.00 | Bournemouth Central | 15/01 | 15/10 |
| 175.00 | Poole | 15/10 | 15/21 |
| ? | Worget Jn | 15/20 | 15/?? |
| 197.00 | Dorchester Jn | 15/35 | 15/46 |
| 204.00 | Weymouth | 15L43a ~ 16L10d | 15.?? ~ 17.08 |
| 211.00 | Dorchester West | 16/30 | 17/22 |
| 214.60 | Grimstone & Frampton | 16p37a ~ 16p42d | 17.29 ~ 17.35 |
| 231.40 | Yeovil Pen Mill | 17/09 | 18/15 |
| 243.20 | Castle Cary | 17/25 | 18/38 |
| 257.25 | Frome | 17/44 | 18/57 |
| 263.00 | Westbury | 17w52a ~ 17w58d | 19.?5 ~ 19.45 |
| 271.57 | Lavington | 18/10 | 19/58 |
| 291.00 | Bedwyn | 18/31 | 20/20 |
| 305.40 | Newbury | 18/43 | 20/44 |
| 321.35 | Reading West | 19.02a ~ 19.04d | 21.15 ~ 21.20 |
| 338.00 | Didcot North Jn | 19/27 | 21/44 |
| 348.00 | Oxford | 19.40a ~ 19.45d | 22.03 ~ 22.13 |
| ? | Aynho Jn | 20/07 | 22/?? |
| 370.00 | Banbury | 20.13a ~ 20.17d | 22.49 ~ 23.10 |
| 390.00 | Leamington Spa General | 20.40a ~ 20.43d | 23.40 ~ 23.?? |
| 396.00 | Hatton | 20/54 | ??/?? |
| 407.00 | Solihull | 21.08a ~ 21.10d | 00.05 ~ 00.07 |
| 414.00 | Birmingham Moor Street | 21.21a | 00.18 |