11th July 1965
Plymouth Railway Circle
Diesel Rail Tour
| | |
| --- | --- |
| Locos Used | D7011 & 41316 |
| DMU Used | 2-car 'Cross Country' set |
Route : 1X07 throughout
| | |
| --- | --- |
| Traction | Route |
| DMU as listed | Plymouth - Totnes - Newton Abbot - Exeter St Davids |
| DMU as listed | Exeter St Davids - Exeter Central - Honiton - Yeovil Junction - Yeovil Pen Mill |
| DMU as listed | Yeovil Pen Mill - Dorchester Jn - Weymouth (1) |
| DMU as listed | Weymouth - Dorchester Jn - Wareham |
| 41316 (2) | Wareham - Corfe Castle - Swanage |
| 41316 (2) | Swanage - Corfe Castle - Wareham |
| DMU as listed | Wareham - Bournemouth Central (1) - Redbridge - Eastleigh (1) - Romsey - Salisbury - Westbury (1) - Castle Cary - Cogload Jn - Taunton - Exeter St Davids - Newton Abbot (3) |
| D7011 (3) | Newton Abbot - Totnes - Plymouth |
Notes :
(1) For shed visit.
(2) Service trains - the 12.23 Wareham to Swanage and 12.52 return (both of which were strengthened).
(3) DMU failed at Newton Abbot and was dragged by D7011 back to Plymouth.
Sources : Dave Mitchell & John Clifford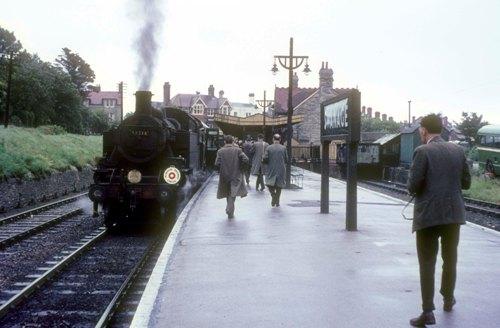 41316 sits at Swanage on the service train which formed part of this trip.
(photo: Bernard Mills)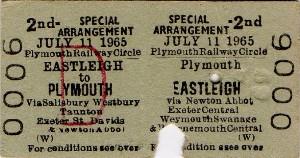 From The John Debens Ticket Collection.


Timings (Booked Only)
(from Mike Hunt, John Clifford & John Debens)
M.C
Location
Booked
0.00
Plymouth
07.00d
31.30
Newton Abbot
07.53a ~ 07.55d
52.05
Exeter St Davids
08.28a ~ 08.32d
52.59
Exeter Central
08/34
69.38
Honiton
08.55a ~ 08.56d
101.50
Yeovil Junction
09/27
103.35
Yeovil Town
09.31a ~ 09.34d
104.01
Yeovil Pen Mill
09.36a ~ 09.40d
124.37
Dorchester West
10/17
124.67
Dorchester Jn
10/19
131.37
Weymouth
10.29a ~ 11.40d
138.07
Dorchester Jn
11/52
152.25
Worgret Jn
12/08
153.32
0.00
Wareham
12.10a ~ 12.23d
6.04
Corfe Castle
12/35
11.03
Swanage
12.45a ~ 12.52d
16.02
Corfe Castle
13/02
22.06
153.32
Wareham
13.13a ~ 13.20d
160.40
Poole
13/30
166.20
Bournemouth Central
13.40a ~ 14.15d
180.42
Lymington Jn
14/35
192.32
Redbridge
14/50
195.03
Southampton Central
?
?
Eastleigh
15.10a ~ 16.03d
208.03
Romsey
16/15
223.38
Tunnel Jn
16/34
224.46
Salisbury
16.37a ~ 16.40d
247.50
Dilton Marsh Halt
17/05
248.77
Westbury
17.09a ~ 17.50d
296.94
Taunton
18.48a ~ 18.50d
327.04
Exeter St Davids
19.29a ~ 19.32d
347.59
Newton Abbot
20.03a ~ 20.07d
379.09
Plymouth
21.02a