3rd July 1965
Locomotive Club of Great Britain (Bedford Branch)
Northamptonshire Branches
| | |
| --- | --- |
| Loco Used | 78028 |
| Stock Used | Brake vans |
Route : 8T05 throughout
| | |
| --- | --- |
| Loco | Route |
| 78028 | Wellingborough - Higham Ferrers |
| 78028 | Higham Ferrers - Wellingborough |
| 78028 | Wellingborough - Wellingborough Midland Jn |
| 78028 | Wellingborough Midland Jn - Irthlingborough |
| 78028 | Irthlingborough - Wellingborough Midland Jn - Northampton Bridge Street Jn |
| 78028 | Northampton Bridge Street Jn - Wellingborough - Kettering - Kettering North Jn |
| 78028 | Kettering North Jn - MP 1½ |
| 78028 | MP 1½ - MP ¾ |
| 78028 | MP ¾ - MP 2 |
| 78028 | MP 2 - Kettering Station Sidings |
| 78028 | Kettering Station Sidings - (1) - Loddington |
| 78028 | Loddington - Kettering North Jn |
| 78028 | Kettering North Jn - Kettering - Twywell |
| 78028 | Twywell - Kettering |
Notes :
(1) The locomotive stalled when it first attempted to get to Loddington and returned to the Kettering area. A second attempt was successful and Loddington was reached without further problems.
Sources : Terry Jackson & Tony Saville



Photo Review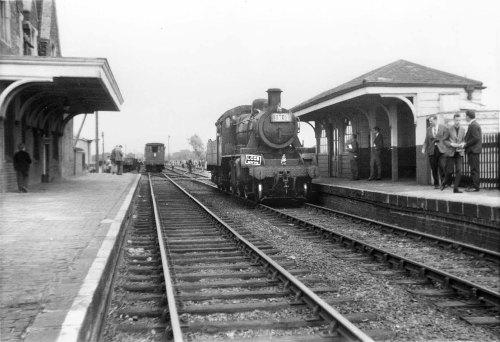 78028 at Irthlingborough (photo: John Evans courtesy of Nick Catford)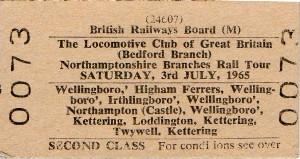 From The John Debens Ticket Collection.


Timings (Booked Only)
(from Terry Jackson)
| | | |
| --- | --- | --- |
| M.C | Location | Booked |
| 0.00 | Wellingborough Midland Road | 11.40d GL |
| 1.32 | Irchester Jn | 11/46 |
| 4.55 | Higham Ferrers | 11.58a ~ 12.18d |
| 7.78 | Irchester Jn | 12/29 |
| 9.24 | Wellingborough Midland Road | 12.35a ~ 12.55d |
| ? | Wellingborough Jn | 12/57 |
| 10.21 | Wellingborough Midland Jn | 13/04 |
| 10.33 | Wellingborough London Road | 13.08a ~ 13.18d |
| 14.67 | Irthlingborough | 13.33a ~ 13.50d |
| 19.21 | Wellingborough London Road | 14/07 |
| 29.56 | Hardingstone Jn | 14/23 |
| 31.23 | Northampton Castle | 14.30a ~ 14.48d |
| 32.70 | Hardingstone Jn | 14/54 |
| 43.25 | Wellingborough London Road | 15/13 |
| 43.37 | Wellingborough Midland Jn | 15/16 |
| ? | Wellingborough Jn | 15.22a ~ 15.31d |
| 44.34 | Wellingborough Midland Road | 15/34 |
| 51.46 | Kettering North | 15.33a |
| 53.00 | Cransley | ? |
| 55.47 | Loddington | ? |
| 59.48 | Kettering North | 17.08a ~ 17.26d |
| 61.53 | Kettering Jn | 17/30 |
| 63.58 | Butlin's Sidings | 17/37 |
| 66.28 | Twywell | 17.48a ~ 18.05d |
| 68.20 | Cranford | 18.12a ~ 18.27d |
| 68.78 | Butlin's Sidings | 18/27 |
| 71.03 | Kettering | 18/35 |
| 72.73 | Kettering | 18.40a SL |