29th May 1965
R.C.T.S. (East Midlands Branch)
East Midlander No. 8 Rail Tour
| | |
| --- | --- |
| Locos Used | D6943 & 4472 'Flying Scotsman' |
| Stock Used | 10 coaches |
Route : 1X68 throughout
| | |
| --- | --- |
| Loco(s) | Route |
| 4472 | Nottingham Midland - Beeston - Trent - Loughborough - Leicester - Market Harborough - Kettering - Wellingborough - Bedford North Jn - Luton - St Albans - Brent No.2 - Dudding Hill Jn - Acton Wells Jn - South Acton - New Kew Jn - Barnes - Clapham Junction (1) |
| 4472 (3) | Clapham Junction - Barnes - Twickenham - Staines - Ascot - Wokingham - Reading - Didcot - Swindon (2) - Stroud - Standish Jn - Gloucester South Jn - Engine Shed Jn - Lansdowne Jn - Cheltenham Spa - Ashchurch - Stoke Works Jn - Bromsgrove - Barnt Breen - Kings Norton - (via Camp Hill line) - Landor Street Jn - Water Orton - Tamworth - Burton-on-Trent - Derby - Chaddesden South Jn - Sawley Jn - Sheet Stores Jn - Trent - Beeston - Nottingham Midland |
Notes :
(1) For visit to the transport museum.
(2) For works visit.
(3) Train banked by D6943 between Bromsgrove & Blackwell (i.e. up The Lickey).
Sources : John Clifford, Kevin Driscoll & John Debens



Photo Review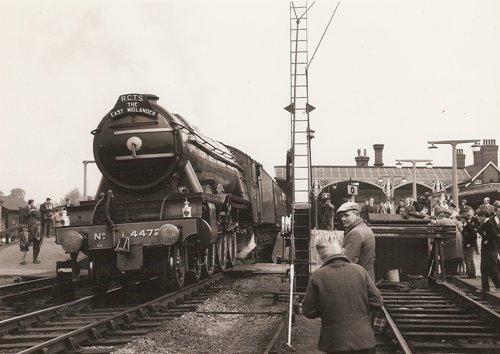 'Flying Scotsman' pauses at Kettering (photo: The John Debens Collection)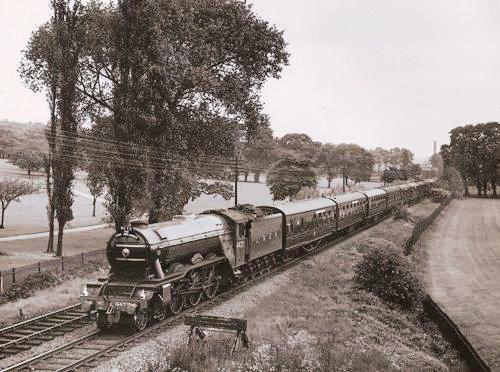 4472 near Dudding Hill (photo: P.J.Russell/The John Debens Collection)

...passing the Challow Down Main Starting signal (photo: Adrian Vaughan)
Adrian Vaughan comments with regards the above photo at Challow: This 'East Midlander' was the very last steam hauled train of any sort to be signalled by the Absolute Block system at Challow because on the afternoon of 30 May Challow and all the boxes east to Didcot were abolished and replaced by Multiple Aspect signalling. My negative (taken, inevitably, in dull light in late afternoon) shows the train under Challow's GWR wooden post signal, Down Main Starting. The Relief line signal post to the right is 'dead' the Relief lines having been taken out of use some weeks previously.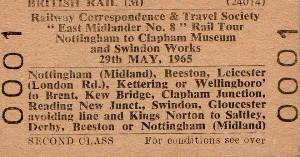 From The John Debens Ticket Collection.


Timings (Booked & Actual)
(from Kevin Driscoll & John Debens)
| | | | |
| --- | --- | --- | --- |
| Miles | Location | Actual | Actual |
| 0.00 | Nottingham Midland | 08.20d | 08.20 |
| 3.30 | Beeston | 08.27a ~ 08.28d | 08.27 ~ 08.28 |
| 6.80 | Trent | 08/34 | 08/35 |
| 15.00 | Loughborough | 08/43 | 08/45 |
| 22.80 | Syston | 08/52 | 08/51 |
| 27.50 | Leicester | 08.59a ~ 09.05d | 08.56 ~ 09.06 |
| 30.70 | Wigston North Jn | 09/11 | 09/12 |
| 36.85 | Kibworth Jn | 09/18 | 09/19 |
| 43.65 | Market Harborough | 09/26 | 09/25 |
| 48.10 | Desborough North | 09/31 | 09/30 |
| 54.60 | Kettering | 09.38a ~ 09.42d | 09.37 ~ 09.41 |
| 61.55 | Wellingborough | 09w51a ~ 10w01d | 09.51 ~ 10.02 |
| 66.85 | MP 59¾ | 10/10 | 10/13 |
| 76.65 | Bedford North Jn | 10/19 | 10/21 |
| 86.40 | Flitwick | 10/30 | 10/30 |
| 96.35 | Luton | 10/40 | 10/40 |
| 106.75 | St Albans | 10/50 | 10/48 |
| 119.65 | Hendon | 11/05 | 10/58 |
| 120.55 | Brent No.2 | 11c11a ~ 11c15d | 11.01 ~ 11.06 |
| 121.60 | Dudding Hill Jn | 11/20 | 11/19 |
| 124.55 | Acton Wells Jn | 11/29 | 11/17 |
| ? | South Acton | 11/34 | 11/20 |
| ? | Kew Bridge | ? | 11.23a ~ 11.30d |
| 130.00 | Barnes | 11/49 | 11/37 |
| 133.15 | Clapham Junction | 11.56a ~ 15.07d | 11.42 ~ 15.07 |
| 136.60 | Barnes | 15/13 | 15/14 |
| ? | Twickenham | 15/23 | 15/23 |
| ? | Feltham | 15/26 | 15/30 |
| 148.30 | Staines | 15/34 | 15/35 |
| ? | Virginia Water | 15/42 | 15/41 |
| 158.30 | Ascot | 15/51 | 15/54 |
| 166.05 | Wokingham | 16/00 | 16/05 |
| ? | Reading New Jn | 16.10a ~ 16.12d | 16.15 ~ 16.17 |
| 172.80 | Reading General | 16/15 | 16/21 |
| 189.95 | Didcot | 16/31 | 16/42 |
| 203.35 | Uffington | 16/43 | 16/54 |
| 214.10 | Swindon | 16.54a ~ 18.40d | 17.06 ~ 18.55 |
| 227.80 | Kemble | 19/00 | 19/14 |
| 239.00 | Stroud | 19/14 | 19/30 |
| 243.55 | Standish Jn | 19/20 | 19/35 |
| 249.85 | Gloucester South Jn | 19c30a ~ 19c38d | 19.45 ~ 19.55 |
| ? | Engine Shed Jn | 19/41 | 19/58 |
| ? | Lansdowne Jn | 19/48 | 20/07 |
| 256.40 | Cheltenham | 19/49 | 20/08 |
| 263.60 | Ashchurch | 19/58 | 20/16 |
| 274.30 | Abbotswood Jn | 20/08 | 20/29 |
| 280.90 | Dunhamstead | 20/14 | 20/36 |
| 285.60 | Stoke Works Jn | 20/19 | 20/40 |
| 287.60 | Bromsgrove | 20.23a ~ 20.28d | 20.43 ~ 20.46 |
| 289.90 | Blackwell | 20/37 | 20/52 |
| 291.35 | Barnt Green | 20/40 | 20/54 |
| 296.30 | Kings Norton | 20/46 | 21/00 |
| ? | Camp Hill | 20/52 | 21/09 |
| 302.30 | Landor Street Jn | 20w57a ~ 21w06d | 21.13 ~ 21.20 |
| 302.90 | Saltley | 21.08a ~ 21.13d | 21.22 ~ 21.25 |
| 308.40 | Water Orton | 21/20 | 21/32 |
| 312.60 | Kingsbury | 21/25 | 21/37 |
| 318.15 | Tamworth | 21/31 | 21/43 |
| 325.75 | Wichnor Jn | 21/39 | 21/49 |
| 331.00 | Burton-on-Trent | 21/45 | 21/56 |
| 337.20 | Stenson Jn | 21/56 | 22/07 |
| 342.00 | Derby | 22.03a ~ 22.10d | 22.15 ~ 22.17 |
| 343.50 | Chaddesden South Jn | 22/15 | 22/22 |
| 350.30 | Sawley Jn | 22/25 | 22/31 |
| 350.90 | Sheet Stores Jn | 22/26 | 22/32 |
| 351.35 | Trent | 22/28 | 22/34 |
| 354.80 | Beeston | 22.33a ~ 22.35d | 22.39 ~ 22.41 |
| 358.15 | Nottingham Midland | 22.42a | 22.48 |