20th March 1965
L.C.G.B.
The Bristol Flyer
| | |
| --- | --- |
| Locos Used | D1661 'North Star' & D1662 'Isambard Kingdom Brunel' |
| Stock Used | BSO+3xSO+RB+4xSO+BSO |
Route : 1Z40 (throughout?)
| | |
| --- | --- |
| Loco | Route |
| D1661 | London Paddington - Ealing Broadway - Slough - Reading General - Didcot - Swindon - Chippenham - Bath Spa - Bristol Temple Meads |
| D1662 | Bristol Temple Meads - Filton Jn - Badminton - Swindon - (reverse of outward route) - London Paddington |
Notes :
(1) This was a train organised in conjunction with the naming ceremonies of D1661 'North Star' (at Paddington) & D1662 'Isambard Kingdom Brunel' (at Bristol in the original Brunel station at Temple Meads). D1661 was named 'North Star' by Rt.Hon.Ray Gunter MP at Paddington. Arrival into Bristol was only 'sort of' as an emergency stop occurred with only 2 coaches in platform. D1662 was named 'Isambard Kingdom Brunel' by the Lord Mayor of Bristol at the start of the return run. The tour brochure carried the following introduction: 'This trip, arranged at the request of Western Region of British Railways, represents a step forward into the entirely new field of diesel-hauled society special trains, and is indeed the first such train to be run by any organisation'.
Sources : John Clifford (on the train throughout), Dave Groves, Graham Stacey
& The Bluebell Railway Museum



Photo Review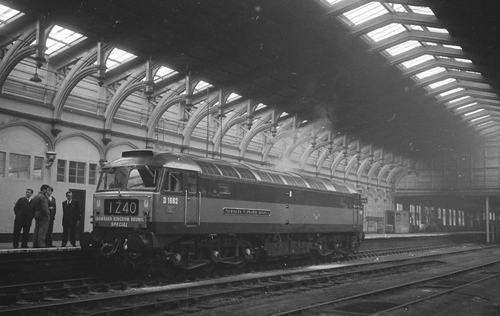 D1662 at Bristol T.M. just after being named (photo: David Pearson)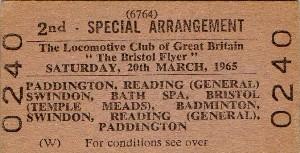 From The John Debens Ticket Collection.


Timings (Booked & Actual)
(from John Clifford)
M.C
Location
Booked
Actual
Booked
Actual
M.C
0.00
Paddington
10.42d
10.41½
17.10a
17.10
117.60
1.20
Westbourne Park
10/46
10/44½
17/05
17/06½
116.40
9.06
Southall
10/53
10/52
16/57
17/00½
108.54
18.36
Slough
10/59½
10/58½
16/48
16/48
99.24
24.19
Maidenhead
11/03½
11/02½
16/44½
16/44
93.41
31.01
Twyford
11/08
11/07
16/40
16/39
86.59
35.78
Reading General
11/12½
11/11
16/36½
16/36
81.62
53.10
Didcot
11/24½
11/23½
16/22½
16/24
64.50
66.43
Uffington
11/35½
11/31
16/13½
16/15½
51.17
77.24
Swindon
11/42½
11/38½
16/04½
16/08½
40.36
82.70
Wootton Bassett
11/46
11/48½
16/00
16/04
34.70
93.76
Chippenham
11/56½
11/56
106.70
Bath Spa
12/06½
12/06½
117.47
North Somerset Jn
12/17½
12/23½
-
Badminton
15/48½
15/52½
17.59
-
Stoke Gifford
15/39½
15/42½
6.04
-
Filton Jn
15/38
15/41
4.64
-
Bristol Stapleton Road
15/34½
15/35½
1.50
118.02
Bristol East
12/19
12/25½
15/32
15/32
0.26
118.28
Bristol Temple Meads
12.22a
12.26½
15.30d
15.29½
0.00