28th November 1964
Warwickshire Railway Society
Carlisle Tour
| | |
| --- | --- |
| Locos Used | 45018, 45647, 46160, 70000 & 70052 |
Route : 1X82 throughout
| | |
| --- | --- |
| Loco(s) | Route |
| 70052 | Birmingham New Street - Crewe - Wigan - Carnforth South (1) |
| 45018 | Carnforth South - Carlisle Kingmoor |
| 46160 | Carlisle Kingmoor - Skipton - Leeds |
| 45647 | Leeds - Huddersfield - Stalybridge - Stockport - Crewe |
| 70000 | Crewe - Birmingham New Street |
Notes :
(1) David Roberts comments: 70052 performed very badly and either at Lancaster or Carnforth it was replaced (or assisted) by a Black 5. Brian Basterfield confirms : 70052 performed poorly from the start with injector problems. We stopped at Brock to pass a message to the signalman (new loco please), and were then looped at Garstang. 70052 came off at Carnforth South and was replaced by Black 5 no 45018, which ran splendidly, with 82 mph at Southwaite.
(2) Visits were made to Kingmoor & Upperby sheds.
(2) Lloyd Roberts comments: I joined/left this train at Crewe. The booked Britannia Pacific (can't remember which one now) failed coming off shed, so replaced at last minute by another Brit Pacific just arrived. From memory, I thought it was 70049, not 70052, but I have no evidence for that. Confirm it was removed and replaced by 45018 between Preston and Tebay (didn't know the line so well in those days!), and reported 82mph downhill to Carlisle - he wanted to get home. Train stopped opposite Upperby yard, and after a few minutes, app half passengers (including me) got down onto line using steps, to walk across to Upperby shed. Rest continued on train to Kingmoor shed. Upperby shed full of condemned Duchess Pacifics - I should have a photo of shed yard from footbridge somewhere. Then first half bussed to Kingmoor. Ran very late due to initial replacement loco failure, so half a dozen of us missed last train Crewe to Derby but the next train to stoke was extended to Derby for us.
Sources : Rob Fraser, David Roberts, Brian Basterfield & Steve Armitage



Photo Review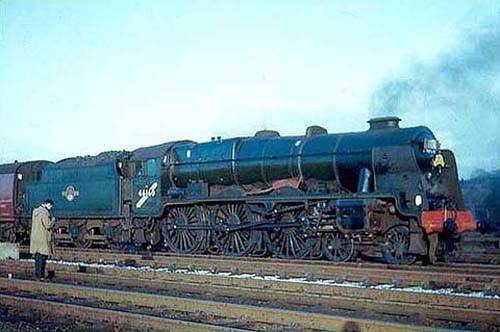 46160 at Kingmoor (photo: Brian Basterfield)
| | | |
| --- | --- | --- |
| | | |
| A tour ticket courtesy of Rob Fraser. | | From The John Debens Ticket Collection. |