11th September 1960
Stephenson Locomotive Society (Midland Area)
Somerset and Dorset 2-8-0 Rail Tour
| | |
| --- | --- |
| Loco Used | 53804 |
| Stock Used | 5 coaches |
Route :
| | |
| --- | --- |
| Loco | Route |
| 53804 | Bath Green Park - Radstock - Evercreech Junction - Templecombe |
| 53804 | Templecombe - (reverse of outward route) - Bath Green Park |
Notes :
(1) 53804 photographed at Evercreech Junction. There was an extra stop at Radstock of 7mins to view the engines.
(2) Half-Day excursion facilities were available from Paddington to Bath. Birmingham Area members were to travel on the 10:35 from New Street staion, booking their own Half-Day tickets (13/6d). Upon arrival at Bristol they then had to re-book to Bath (Cheap-Day fare 2/3d) and travel on the 13:25 to Bath Spa, thence on foot to Green Park station. After the special members were able to travel on the 19:05 Bath Green Park to Mangotsfield, where the 19:45 ex-Bristol was to call additionally at approx. 19:58 - Half Day tickets were however not valid on the 19:42 Mangotsfield to Birmingham and an excess fare would be charged for any members using that service.
Sources : John Clifford & Tony Davies/Ian Clark (both: SLS)



Photo Review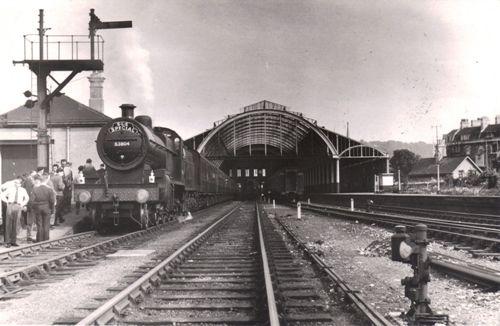 53804 at Bath Green Park.
(photo: W.A. Camwell / © Stephenson Locomotive Society)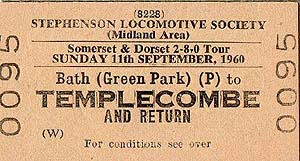 From The John Debens Ticket Collection.


Timings (Booked & Actual)
(from Tony Davies/Ian Clark (both: SLS))
| | | | | | |
| --- | --- | --- | --- | --- | --- |
| Location | Booked | Actual | | Booked | Actual |
| Bath Green Park | 14.40d | 14.40 | | 18.35a | 18.44 |
| Bath Jn | 14/42 | ? | | 18/33 | ? |
| Midford | 14/50 | ? | | 18/25 | ? |
| Radstock North | 15/00 | ? | | 18/17 | ? |
| Masbury Halt | 15/23 | ? | | 18/09 | ? |
| Shepton Mallet Charlton Road | 15/28 | ? | | 17/58 | ? |
| Evercreech Junction | 15w37 ~ 15w45 | 15.47½ ~ ??.?? | | 17w40 ~ 17w45 | ? |
| Templecombe Jn | 16/03 | ? | | 17/22 | ? |
| Templecombe Upper | 16.05a | 16.10 | | 17.20d | 17.23½ |