25th September 1955
Ian Allan (Trains Illustrated Excursion)
High Peak Express
Locos Used
40927, 41077, 41167, 43268, 46100 'Royal Scot', 58850 & 58860
Stock Used
[1] : 11x ex-LMS coaches
[2] : 4x open wagons & 3 brake vans
[3] : 4x open wagons & 3 brake vans
[4] : 5x ex-LMS coaches
Route :
M792 : London St Pancras to Buxton Midland
???? : Middleton Top to Friden
W560 : Friden to Buxton Midland
?M792? : Buxton Midland to London St Pancras
| | | |
| --- | --- | --- |
| Traction | Stock | Route |
| 46100 | [1] | London St Pancras - (via MML) - Trent - Sheet Stores Jn - Derby Midland |
| 40927 + 41077 | [1] | Derby Midland - Ambergate - Whatstandwell (1) - Rowsley - Millers Dale - Buxton Midland |
| bus | - | Whatstandwell - Cromwell Wharf |
| walk | - | Cromwell Wharf - Sheep Pasture - Middleton Top |
| 58860 + 58850 (2) | [2] then [3] | Middleton Top - Hopton Top |
| 58860 + 58850 | [2] + [3] | Hopton Top - Friden |
| 43268 | [4] | Friden - Buxton Midland |
| 40927 + 41167 | [1] | Buxton Midland - (reverse of outward route) - Derby Midland |
| 46100 | [1] | Derby Midland - (reverse of outward route) - London St Pancras |
Notes :
(1) Passengers either alighted at Whatstandwell for the Cromford & High Peak Railway visit else stayed on the train to Buxton.
(2) 58860 & 58850 took half the train from Middleton Top to Hopton Top then returned to pick up the other half. The two halves were then combined for the journey to Friden.
Sources : John Debens, Andrew Fairholm, Paul Harrison & Bruce Nathan



Photo Review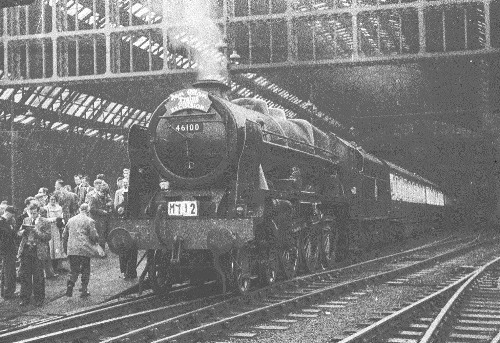 46100 at London St Pancras (photo: Bruce Nathan)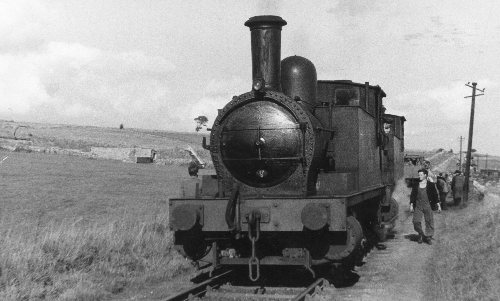 58850 & 58860 at Middleton Top (photo: Bruce Nathan)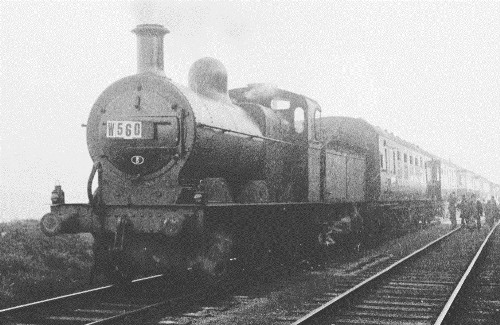 43268 at Friden (photo: Bruce Nathan)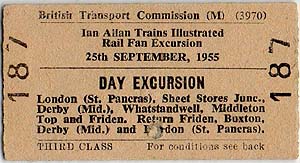 From The John Debens Ticket Collection.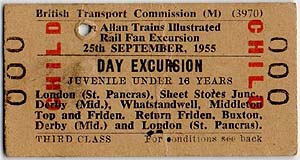 Timings (Booked & Actual)
(from Paul Harrison & Bruce Nathan)
| | | | | | | | |
| --- | --- | --- | --- | --- | --- | --- | --- |
| Miles | Location | Booked | Actual | | Booked | Actual | Miles |
| 0 | St Pancras | 09.40d | 09.39½ | | 20.41a | 21.13 | 165¼ |
| ? | Islip Street Jn | 09/44 | ? [SL] | | ? | ? | ? |
| ? | Carlton Road Jn | 09/47 | ? [GL] | | ? | ? [FL] | ? |
| 4 | West Hampstead | 09/54 | 09/51 | | 20/28 | 20/57½ | 161¼ |
| ? | Welsh Harp Jn | 09/58 | 09/56½ [FL] | | ? | ? | ? |
| 12½ | Elstree | 10/07 | 10/08 | | ? | ? | 152¾ |
| 20 | St Albans City | 10/16 | 10/18½ | | 20/13 | 20/38½ | 145¼ |
| 30¼ | Luton | 10/26 | 10/31 | | 20/03 | 20/28½ | 135 |
| 49¾ | Bedford Midland | 10/43 | 10/47 | | 19/43 | 20/07 | 115½ |
| 56¾ | Sharnbrook Jn | 10/52 | 10/54 [GL] | | 19/36 | 19/59 | 108½ |
| 62½ | Irchester Jn | 11/02 | 11/03 | | 19/24 | 19/48½ [GL] | 102½ |
| 65 | Wellingborough | 11/04 | 11/06 | | 19/22 | 19/44½ [SL] | 100¼ |
| - | Neilsons Sidings | - | - | | 19/19 | 19/37 [GL] | 99 |
| 70¾ | Kettering Jn | 11/22 | 11/14½ | | ? | ? | ? |
| 72 | Kettering | 11/25 | 11/17½ [FL] | | 19/13 | 19/29½ | 93¼ |
| 83 | Market Harborough | 11/38 | 11/31½ | | 19/01 | 19/18 | 82¼ |
| 99 | Leicester | 11/55 | 11/52½ | | 18/42 | 18/59 | 66¼ |
| 114¼ | Loughborough | 12/08 | 12/05½ | | 18/27 | 18/46½ | 55¾ |
| 119¾ | Sheet Stores Jn | 12/15 | 12/15 | | 18/19 | 18/37½ | 45½ |
| 128½ | Derby Midland | 12L30 ~ 12L35 | 12.33 ~ 12.42 | | 18L03 ~ 18L08 | 18.14 ~ 18.23½ | 36¾ |
| 138¾ | Ambergate | 12/50 | 12/58 | | 17/51 | 18/02½ | 26½ |
| 140¾ | Whatstandwell | 12.55a ~ 13.00d | 13.01½ ~ ??.?? | | ? | ? | ? |
| 150 | Rowsley | 13/21 | ? | | 17/39 | 17/42½ | 15¼ |
| 159¾ | Millers Dale | 13/36 | ? | | 17/29 | 17/29½ | 5½ |
| 161 | Buxton Jn | 13/39 | ? | | 17/27 | 17/26½ | 4½ |
| 165¼ | Buxton Midland | 13.46a | ? | | 17.20d | 17.20 | 0 |