3rd June 1950
Stephenson Locomotive Society (Midland Area)
Birmingham Area Rail Tour
| | |
| --- | --- |
| Loco Used | 46757 |
| Stock Used | 2-coach push-pull set |
Route : W730 throughout
| | |
| --- | --- |
| Loco | Route |
| 46757 | Birmingham New Street - Monument Lane - Harborne Jn - Harborne |
| 46757 (1) | Harborne - Harborne Jn - Monument Lane |
| 46757 | Monument Lane - Soho East Jn - Handsworth Jn - Perry Barr Station Jn - Aston Jn - Stechford |
| 46757 (1) | Stechford - Proof House Jn - Birmingham New Street |
Notes :
(1) Loco propelling.
(2) Timings carried a note: "Permission has been granted by the Railway Executive for the journey to Harborne on the distinct understanding that the members do not alight from the train at Harborne station". This was the first passenger train to visit Harborne since 24th November 1934.
Sources : John Clifford, Howard Harrison & Ian Clark (SLS)



Photo Review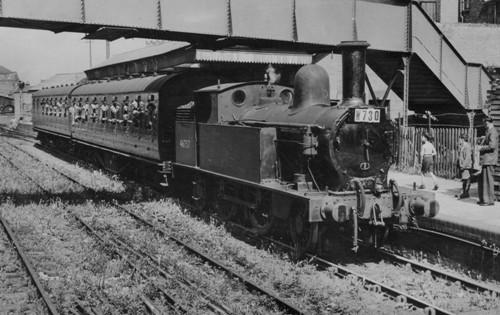 46757 paused at Harborne - taken by a local newspaper, the heads out of all
the windows suggest somewhat that this was a staged shot!
(photo: John Debens Collection/with permission from The Sunday Mercury)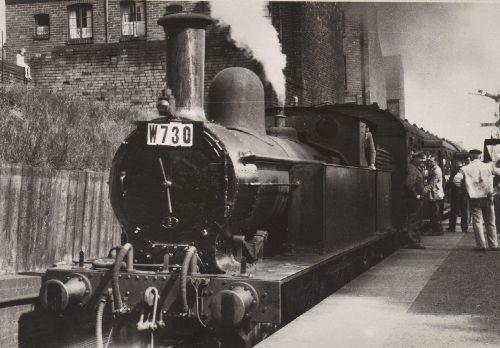 46757 paused to reverse at Monument Lane.
(photo: W.A. Camwell / © Stephenson Locomotive Society)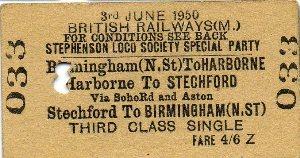 From The John Debens Ticket Collection.


Timings (Booked & Actual)
(from Howard Harrison & Ian Clark(SLS)/Peter Greenough)
| | | |
| --- | --- | --- |
| Location | Booked | Actual |
| Birmingham New Street | 15.10d | 15.10 |
| Monument Lane | 15.15a ~ 15.17d | 15.14½ ~ 15.17 |
| Harborne Jn | 15/20 | ? |
| Harborne | 15.33a ~ 15.35d | 15.28½ ~ 15.37½ |
| Harborne Jn | 15/50 | 15.45 ~ 15.50½ |
| Monument Lane | 15.55a ~ 15.58d | 15.52 ~ 16.02 |
| Soho East Jn | 16/04 | 16/08 |
| Handsworth Jn | 16/10 | 16/12½ |
| Perry Barr Station Jn | 16/13 | 16/14 |
| Aston Jn | 16/18 | ? |
| Stechford | 16.28a ~ 16.40d | 16.27½ ~ 16.50½ |
| Proof House Jn | 16/53 | ? |
| Birmingham New Street | 16.55a | 16.58 |