24th October 2009
Pathfinder Tours
Buffer-Puffer 8.0
| | |
| --- | --- |
| Locos Used | 31190 & 66844 |
| Stock Used | 5350+4927+5009+1863+3110+3107+35469 |
Route :
1Z58 : London Euston to Hornsey
1Z59 : Hornsey to London Liverpool Street
1Z60 : London Liverpool Street to Lea Interchange
1Z61 : Lea Interchange to London Waterloo
1Z62 : London Waterloo to Bromley North
1Z63 : Bromley North to London Bridge
1Z64 : London Bridge to Tonbridge
1Z65 : Tonbridge to London Victoria
1Z66 : London Victoria to Caterham
1Z67 : Caterham to London Victoria
| | |
| --- | --- |
| Loco(s) | Route |
| 31190 (1) | London Euston - Willesden West London Jn - Acton Wells Jn - DBS Acton Yard Reception Lines (Up & Down Loop No.3) |
| 66844 (2) | DBS Acton Yard Reception Lines - Acton Wells Jn - Dudding Hill Jn - West Hampstead Thameslink - Carlton Road Jn - Junction Road Jn - Harringay Curve - Hornsey Down Reversing Siding No.2 |
| 31190 (1) | Hornsey Down Reversing Siding - Ferme Park Flyover - Finsbury Park - Kings Cross Incline - Camden Road - Kilburn Goods Loop |
| 66844 (2) | Kilburn Goods Loop - Camden Road - Reading Lane Jn – London Liverpool Street |
| 31190 (1) | London Liverpool Street - Carpenters Road North Jn - Temple Mills East Jn - (3) - Coppermill Jn - South Tottenham - Gospel Oak - Willesden Junction High Level - Kensington Olympia - West London Jn - London Waterloo |
| 66844 (2) | London Waterloo - Linford Street Flyover - Brixton - Tulse Hill - Streatham Common - Selhurst Depot Arrival Line - Norwood Junction - Crystal Palace - Balham - Clapham Junction - Latchmere Jn |
| 31190 (1) | Latchmere Jn - Longhedge Jn - Factory Jn - Nunhead - Lewisham - Grove Park - Bromley North |
| 66844 (2) | Bromley North - Grove Park – Parks Bridge Jn – North Kent East Jn – London Bridge |
| 31190 (1) | London Bridge - North Kent East Jn - Parks Bridge Jn - New Beckenham Jn - Bromley South - Swanley - Bat & Ball - Tonbridge |
| 66844 (2) | Tonbridge - (4) - Redhill - East Croydon - Norbury - Balham - Clapham Junction - London Victoria |
| 31190 (1) | London Victoria - Brixton - Tulse Hill - (5) West Norwood - Crystal Palace (5) - East Croydon - Purley - Caterham |
| 66844 (2) | Caterham - Purley - East Croydon - Norbury - Balham - Clapham Junction - Pouparts Jn - Battersea Reversible - London Victoria |
Notes :
(1) 66844 on rear.
(2) 31190 on rear.
(3) The planned visit to DBS Lea Interchange did not happen due to construction works taking place. It was noted by passengers that the line was blocked.
(4) The tour was booked to visit Tonbridge Marsh Yard South & Departure Line, but this was refused on the day due to "Railtrack taking out a T4 possession".
(5) Booked route - Tulse Hill - Streatham - Streatham Common - Selhurst - East Croydon.
(6) Matthew Cole comments: Tour was initially intended to run using 2x class 31's… Only one was available at the time, so a class 66/8 was added as a replacement. It was also The tour was originally advertised to run: Finsbury Park - Canonbury West Jn - Dalston Jn - Navarino Road Jn - Reading Lane Jn and thence into London Liverpool Street. Owing to a possession which has taken place between Finsbury Park and Dalston Jn which involved some of the track being lifted and signalling altered or decommissioned, the tour was re-routed to run as shown.
Sources : Alan Sheppard & Matthew Cole (on the train throughout)



Photo Review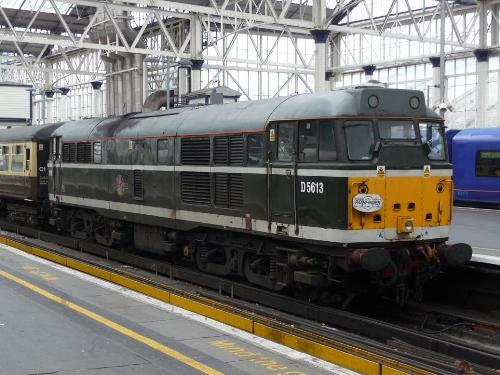 31190 & 66844 at Waterloo station (photos: Alan Sheppard)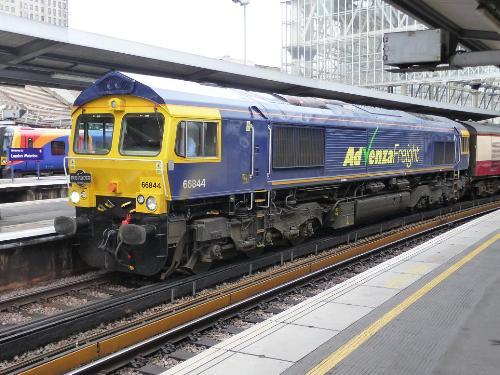 Timings (Booked & Actual)
(from Matthew Cole, Martyn Brailsford, LASERman & Alan Sheppard)
M.C
Location
Booked
Actual
0.00
London Euston
08.13d [P16] [Line E]
08.13 [P16] [E]
?
Camden South Jn
08/16
08/16
?
Camden Jn
08/17 [FL]
08/18
?
Willesden West London Jn
08/21
08/24½
?
Willesden South West Sidings
08/22
08/25
?
Acton Wells Jn
08/24
08/27
7.62
0.00
DBS Acton Traffic Centre
08.29 ~ 08.34
08.46 ~ 08.49
?
Acton Wells Jn
08/39
08/54
?
Acton Canal Wharf
08/41
08/56
?
Dudding Hill Jn
08/47
09/02
?
Cricklewood Curve Jn
08/50 [UHL]
09/05
?
West Hampstead North Jn
08/57 [FL]
09.08 ~ 09.12
6.03
West Hampstead Thameslink
08.58a ~ 09.00d [P3]
09.14 ~ 09.16 [P3]
?
Carlton Road Jn
09/04
09/21
?
Junction Road Jn
09/07
09.24½ ~ 09.30
?
Upper Holloway
09/09
09.34 ~ 09.35
?
Harringay Park Jn
09/13
09/38½
?
Harringay
09/15
09/40
11.17
0.00
Hornsey Down Reversing Siding
09.20 ~ 09.30
09.43 ~ 09.45 [US]
?
Harringay
09/34 [SL]
09/49
?
Finsbury Park
09/36 [P1]
09/50½ [P1] [US]
?
Holloway South Jn
09/38
09/52½
?
Copenhagen Jn
09/41 [NLI]
09/54½
?
Camden Road East Jn
09/47
09/56½
?
Camden Road
09/48
09/57½
?
Camden Jn
09/53 [SL]
10/01½
6.65
0.00
Kilburn Up/Down Goods Loop
09.57 ~ 10.06
10.07 ~ 10.11
?
Camden Jn
10/11
10/15½
?
Camden Road
10/22
10/20
?
Camden Road East Jn
10/23 [Line 2]
10/20½
?
Dalston Jn
10/34
10/25
?
Navarino Jn
10/38
10.27 ~ 10.28
?
Reading Lane Jn
10/40 [S]
10.30½ ~ 10.41 [UF]
?
Bethnal Green
10/44
10.45½ [Up Sub]
9.29
0.00
London Liverpool Street
10.48a ~ 11.05d [P6] [ML]
10p50 ~ 11p06 [P9] [DM]
?
Bethnal Green Jn
11/08
11/09
?
Bow Jn
11/10 [BL]
11/13 [DN Temple Mills]
?
Carpenters Road South Jn
11/12
11/16½
?
Channelsea Jns
11/14
11/19
?
Temple Mills East Jn
11/18
11/22
5.20
Lea Interchange
11.33 ~ 11.41
DIV
?
Ruckhalt Road Jn
-
11/24
?
Temple Mills Loop
DIV
11.28 ~ 11.44
?
Temple Mills West Jn
?
11/44½
?
Coppermill Jn
11/54
11.48½ ~ 11.55
?
Tottenham South Jn
11/56
11/59
?
South Tottenham East Jn
?
12.01 ~ 12.03
?
South Tottenham
12/09
12/04
?
Harringay Park Jn
12/15
12/13
?
Upper Holloway
12/18
12/16
?
Junction Road Jn
12/19
12/17
?
Gospel Oak
12/24
12.20½ ~ 12.23
?
Kensal Green Jn
12/41
12/44
16.70
Willesden Junction High Level
12c42 ~ 12c44
12.45½ [P5]
?
Mitre Bridge Jn
12/52
12/48½
?
North Pole Jn
12/53
12/51
?
Kensington Olympia
12/56 [P3]
12.57 ~ 12.57½ [P3]
?
Latchmere Jn
13/03 [URV]
13/06
?
West London Jn
13/04½ [RVL]
13/07 [WR]
?
Nine Elms Jn
13/07
13/09 [WR]
26.15
0.00
London Waterloo
13.12a ~ 14.11d [P15] [RVL]
13.15 ~ 14.12 [P15] [WR]
?
Nine Elms Jn
14/16
14/16
?
Linford Street Jn
14/19
14/18½
?
Voltaire Road Jn
14/20
14/19½
?
Brixton
14/22
14/20½
?
Herne Hill
14/23 [P3]
14.22½ ~ 14.27 [P3]
?
Tulse Hill
14/26 [P4]
14/31 [P2]
?
Streatham
14/31
14/34
?
Streatham Common
14/34 [SL]
14/36½
?
Selhurst
14/42 [P1]
14.43½ ~ 14.55 [P1]
11.27
Selhurst T&RSMD
14.49 ~ 14.50
14.58 / 15.19½
?
Norwood Junction
14/57 [P1]
15/22 [P1]
?
Bromley Jn
15/01
15/23
?
Crystal Palace
15/04
15/25 [P1]
?
West Norwood
15/10
15/29½ [P1]
?
Streatham Hill
15/13
15/32½ [P1]
?
Balham
15/15 [SL]
15/38 [P2] [US]
?
Clapham Junction
15/20 [P16]
15/44
20.01
0.00
Latchmere No2. Jn
15.22 ~ 15.28
15.47 ~ 15.47½
?
Longhedge Jn
15/31
15/51
?
Factory Jn
15/32 [AL]
15/53
?
Voltaire Road Jn
15/33
15/54
?
Denmark Hill
15/37
15/58½ [P2]
?
Crofton Road Jn
15/38
16/00½
?
Nunhead
15/41
16/03 [P2]
?
Lewisham
15/46 [P2]
16/12 [P2]
?
Courthill Loop Jn South
15/48 [SL]
16/14
?
Hither Green
15/50
16/15½ [P4]
?
Grove Park Jn
?
16.21 ~ 16.26½
?
Grove Park
15/59 [V]
16/28 [P1]
11.70
0.00
Bromley North
16.09a ~ 16.23d
16p34½ ~ 16p40 [P1]
?
Grove Park
16/29 [V] [SL]
16/44 [P1] [UF]
?
Hither Green
16/31
16/47½ [P3] [US]
?
Parks Bridge Jn
16/33
16/50½
?
St Johns
16/34
16/51½ [Line 3]
?
New Cross
16/35 [P.B]
16/53 [P.A]
?
North Kent East Jn
16/35½ [Line 2]
16/56½ [Line 3]
?
Spa Road Jn
16/37
17/00½
8.57
0.00
London Bridge
16.40a ~ 16.47d [P2] [Line 2]
17.02 ~ 17.05 [P4] [Line 4]
?
Spa Road Jn
16/50
17/07½ [DN Relief Line]
?
North Kent East Jn
16/53
17/11 [DF]
?
New Cross
16/54 [FL]
17/12 [DF]
?
Tanners Hill Jn
16/55
17/13
?
Parks Bridge Jn
16/57 [LW]
17/16
?
New Beckenham
17/06½
17/22 [P2]
?
Beckenham Junction
17/08½
17/25 [P3]
?
Shortlands Jn
17/10 [FL]
17/28 [P2]
?
Bickley Jn
17/13
17/31½ [SL]
?
St Mary Cray Jn
17/14
17/32½
?
Swanley
17/19 [P2]
17.38 ~ 17.39½ [P2]
?
Otford Jn
17/29
17.50½ ~ 17.55
?
Sevenoaks
17/33 [P3]
18/00 [P3]
33.63
0.00
Tonbridge
17.44a ~ 17.49d [P1]
18.11 ~ 18.24 [P2]
0.39
Tonbridge West Yard
17.52 ~ 17.54
DIV
?
Godstone
18/09
18/49
?
Redhill
18/24 [UML]
18/56 [Up Redhill]
?
Stoats Nest Jn
18/33 [UF]
19/03 [UF]
?
Purley
18/34 [P1]
19/04½ [P1]
?
East Croydon
18/37 [P1]
19/08½ [P1] [UF]
?
Windmill Bridge Jn
18/38
19/09
?
Selhurst
18/39 [P4]
19/10 [UBF] [P4]
?
Balham
18/44
19/14 [P4] [UBF]
?
Clapham Junction
18/46 [P12]
19/17 [P12] [UBF]
?
Battersea Pier Jn
18/50 [BRV]
19/19½
40.44
0.00
London Victoria
18.52a ~ 18.58d [P19] [FL]
19.28½ ~ 19.38½ [P19]
?
Battersea Pier Jn
19/00½ [SL]
19/42 [Dn BF - Dn At]
?
Battersea Park
19/01 [AL]
19/43 [P1]
?
Factory Jn
19/02½
19/45
?
Voltaire Road Jn
19/03½
19/45½
?
Shepherds Lane Jn
19/04½
19.48 ~ 19.49
?
Brixton
19/05
19/50½
?
Herne Hill
19/07 [P3]
19/53 [P3]
?
Tulse Hill
19/11 [P2]
19/56½ [P4]
?
Streatham
19/14½ [P1]
DIV
?
Streatham Common
19/21 [SL]
DIV
?
Selhurst
19/31 [P1]
DIV
?
West Norwood
DIV
19/59½
?
Crystal Palace
DIV
20/07 [P2]
?
Bromley Jn
DIV
20/10
?
Norwood Junction
DIV
20/12 [P6] [SL]
?
Windmill Bridge Jn
19/32
20/15
?
East Croydon
19/34 [P6]
20/16 [P6] [SL]
?
South Croydon
19/36 [P5]
20/19½ [P5]
?
Purley
19/42 [P6]
20/27 [P6]
?
sig. stop
-
20.43 ~ 20.47½
18.60
0.00
Caterham
19.51a ~ 20.01d
20p49 ~ 20p55½ [P2]
?
Purley
20/12½ [P5] [SL]
21/05 [P5]
?
South Croydon
20/17
21/08½ [P3] [Up Slow]
?
East Croydon
20/21½ [P2] [FL]
21/11 [P2] [Fast Rev]
?
Windmill Bridge Jn
20/22½
21/12½ [Up Vic F]
?
Selhurst
20/23½ [P4]
21/14½ [P4]
?
Balham
20/28½
21/19½ [P4]
?
Clapham Junction
20/31 [P12]
21.23a ~ 21.24d [P12]
?
Pouparts Jn
20/33
21/26
?
Longhedge Jn
20/34 [RVL]
21/28 [Batt Rev]
?
Stewarts Lane Jn
20/35
21/29½ [Up Stew. Ln]
?
Grosvenor Bridge Jn
20/37 [SL]
21/31 [Up Chat. Slow]
18.34
London Victoria
20.39a [P2]
21.34 [P2]