23rd - 24th October 2009
Pathfinder Tours
Buffer-Puffer 7.0
| | |
| --- | --- |
| Locos Used | 31190 & 66844 |
| Stock Used | 5350+4927+5009+1863+3110+3107+35469 |
Route :
1Z31 : London Liverpool Street to Orient Way Sidings
1Z32 : Orient Way Sidings to Colchester Town
1Z33 : Colchester Town to Sudbury
1Z34 : Sudbury to Braintree
1Z35 : Braintree to Southminster
1Z36 : Southminster to Southend Victoria
1Z37 : Southend Victoria to Upminster
1Z38 : Upminster to London Euston
Date
Loco(s)
Route
23/10
31190 (1)
London Liverpool Street - Bethnal Green Jn - Stratford - Temple Mills East Jn - Ruckhalt Road Jn (3) - Temple Mills Loop
23/10
66844 (2)

(3) Temple Mills Loop -

Ruckhalt Road Jn -

Temple Mills East Jn - High Meads Jn - Channelsea North Jn - Stratford - (via GEML) - Colchester - Colchester Town

23/10
31190 (1)

Colchester Town - Colchester - Marks Tey - Sudbury

24/10
66844 (2)
Sudbury - Marks Tey
24/10
31190 (1)
Marks Tey - Witham
24/10
66844 (2)
Witham - Braintree
24/10
31190 (1)
Braintree

- Witham - Chelmsford - Shenfield

24/10
66844 (2)

Shenfield - Wickford - Southminster

24/10
31190 (1)

Southminster - Wickford

24/10
66844 (2)

Wickford - Southend Victoria

24/10
31190 (1)

Southend Victoria - Wickford - Shenfield - (via GEML) - Romford

24/10
66844 (2)

Romford - Upminster

24/10
31190 (1)

Upminster - Romford - (via GEML) (4) - Stratford - Channelsea Jn - Lea Jn - Hackney Wick - Dalston Jn - Highbury and Islington - Camden Road East Jn - Camden Road West Jn - Camden Jn -Primrose Hill - Camden Jn - Kilburn Goods Loop

24/10
66844 (2)

Kilburn Goods Loop - London Euston
Notes :
(1) 66844 on rear.
(2) 31190 on rear.
(3) Matthew Cole comments: The tour was booked to run into Orient Way Siding(s), unfortunately 'Buffer-Puffer 7.0' had problems being signalled into Orient Way Sidings. Pathfinder Tours made various phone calls to no avail. This may have been down to lost paperwork or shortage of staff; this in turn was causing delay to the tour and was reversed in Temple Mills Loop. Alan Sheppard adds: Pathfinder did mention that they were going to see if it was possible to visit while in the area on the following days tour, (next to Lea Interchange), as it turned out, we did neither.
(4) Train stopped at Ilford for a few minutes whilst the route was reset. The train was signalled Up Fast vice Up Avoiding Line.
Source : Matthew Cole (on the train throughout)



Tour Review
(by Matthew Cole)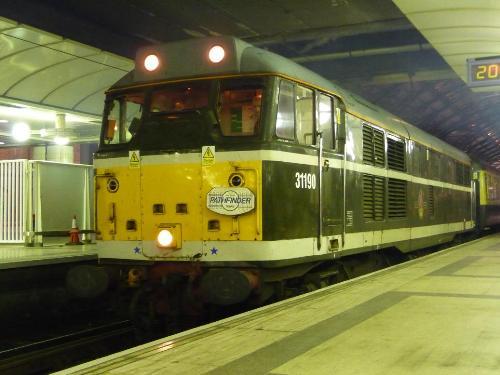 31190 at Liverpool Street, at the start of the tour (photo: Alan Sheppard)
Well, what can I say? What an interesting tour Buffer-Puffer 7.0 was, despite some of the minor problems there was involved. I have to say this is the first time in my entire life; I have spent time traversing on a train overnight, let alone a railtour. Starting at London Liverpool Street, having departed more or less a minute or so late, we headed out onto the GEML to Stratford before running round to the Temple Mills area for reversal at Orient Way Siding(s). It wasn't long before something had to go wrong. We never got to reverse in Orient Way Sidings… Whatever the issue was over that was never discovered, but thoughts were down to be missing paperwork / no available shunter etc… which resulted in the train being reversed on the Temple Mills Loop and of course, the tour obtaining a delay of around 15-20 minutes. Time was however made up on the fast lines to Shenfield with a 7 minute late arrival at Colchester Town… By the time we departed Colchester for the 3rd leg, we were only 1½ minutes down… Although it wasn't long before the delay minutes started building up again and for most of the tour right back into London we were running between 10 and 30 minutes late.
Anyway on another note, we covered all the branch lines from Stratford right up to Colchester/Colchester Town, something, I had done four years earlier when I was working as a railwayman (although I had covered a lot further - all the way to Norwich and Great Yarmouth on local trains). Reversals included Colchester Town as mentioned, Sudbury, Marks Tey, and Southend Victoria. On route back on the GEML from Southend Victoria, various people on board staff were discussing the line Upminster as to whether or not we were likely or not to get the chance to get the line in before the first passenger train service starts. Well we managed to get the chance but only just… by just only about 10-15 minutes to spare. Anyway… back to Stratford via the GEML, then across The NLL to Kilburn Up and Down Goods Loop where we reversed for London Euston where we ended up for breakfast… and before we knew it, we were back on the same train for Buffer-Puffer 8.0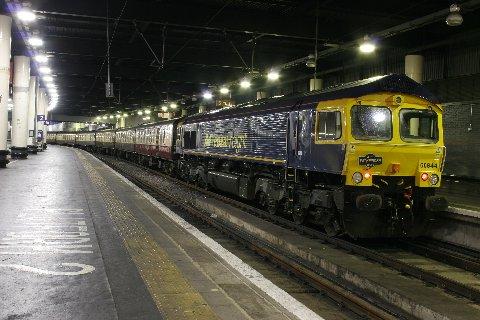 66844 after arrival at London Euston station (photo: Mark Hodgson)
Matthew Cole



Timings (Booked & Actual)
(from Matthew Cole, Martyn Brailsford, LASERman & Alan Sheppard)
M.C

Location

Booked

Actual

0.00

Liverpool Street

20.47d [P9] [ML]

20.47½ [P9]

?

Bethnal Green
20/50
20/51

?

Bow Jn
20/52 [BL]
20/55

½ [DN Temple Mills]

?

Stratford
20/56
20/59 [P12]
?
Temple Mills East Jn
20/58
21/02
?
Ruckhalt Road Jn
21/00
21.04 ~ 21.21
5.70
0.00
Orient Way Siding
21.05 ~ 21.10
DIV
?
Temple Mills Loop
DIV
21.25 ~ 21.31

½

?
Ruckhalt Road Jn
21/15
21/33
?
Temple Mills East Jn
21/17
21/37

½

?
Channelsea Jn
21/21
21/42
2.47
Stratford
21c25a ~ 21c27d [P10A]
21.44 ~ 21.46 [P10A]
?
Forest Gate Jn
21/30
21/49 [DM]
?
Manor Park
21/31 [IL]
21/50 [DN Avoiding]
?
Ilford
21/34 [EL]
21/54

½

?
Gidea Park
21/44
22/04

½ [P2]

?
Shenfield London End Jn
21/56 [ML]
22/09
?
Shenfield
21/57 [P3]
22/10 [P3]
?
Chelmsford
22/07
22/19 [P2 / DM]
?
Witham
22/16 [P3]
22/27

½

?
Marks Tey
22/24
22/35
?
Colchester DGL
22/34
22/41
?
Colchester
22/36 [P1] [DA]
22/42

½ [P1]

?
Colchester East Gate Jn
22/39
22/44 [DN Clacton Avoiding]
52.40
0.00
Colchester Town
22.43a ~ 22.59d
22.52 ~ 23.01

½

?
Colchester East Gate Jn
23/03

½ [CR]

23/05
?
Colchester
23/06

½ [P3]

23/14 [UM / P3]
?
Marks Tey
23/13

½ [P3]

23/24

½ [P3]

19.02
0.00
Sudbury
23.50a ~ 00.01d
00.00 ~ 0.012

½

?
Marks Tey
00/37 [P3]
00/46 [P3]
12.31
0.00
Marks Tey Up Loop
00.39 ~ 00.44
00.48 ~ 00.53
?
Marks Tey
00/46 [P1]
00/55

½ [P1]

?
Witham
00/54
01/06 [P2]
8.70
0.00
Witham [sig L763]
00.56 ~ 01.01
01.07 ~ 07.10
?
Witham
01/03 [P4]
01/12 [P4]
?
White Notley
01/12
01/23

½

4.33
Cressing
01/15
01/27

½

6.32
0.00
Braintree
01.23a ~ 01.33d
01.35 ~ 01.48

½

?
Cressing
01/39
01/55
3.14
White Notley
01.43 ~ 01.44
01/58

½

?
Witham
01/54 [P4]
02/09 [P4 / UM]
14.62
Chelmsford DGL
02.03 ~ 02.04
02.23

½ ~ 02.24½

?
Chelmsford
02/06 [ML]
02/25 [P2]
?
Shenfield Chelmsford Loop
02/30
02/43
24.51
0.00
Shenfield
02.32 ~ 02.37
02.45 ~ 02.50 [P5]
?
Mountnessing Jn
02/40
02/53
?
Wickford
02/48
03/02 [P2]
14.35
South Woodham Ferrers
02.56 ~ 02.57
03/11
?
North Fambridge
03/03
03/19
25.26
0.00
Southminster
03.16a ~ 03.26d
03.35 ~ 03.44
?
North Fambridge
03/38
04/00
16.42
0.00
Wickford
03.50 ~ 03.56 [P3]
04.19

½ ~ 04.22½ [P3]

?
Hockley
04/04
04/30

½

12.39
0.00
Southend Victoria
04.11a ~ 04.20d
04.39

½ ~ 04.46 [P1]

?
Hockley
04/27
04/52
?
Wickford
04/34 [P3]
05/00

½ [P3]

?
Mountnessing Jn
04/42
(05/08)
?
Shenfield
04/45 [P1] [ML]
05.12

½ ~ 05.14 [P1 / UM]

?
Gidea Park
04/52
05/23 [P1]
29.09
0.00
Romford (sig. 5111)
04.54 ~ 05.01 [P2]
05.25

½ ~ 05.28½ [P2]

3.36
0.00
Upminster
05.13a ~ 05.26d [P6]
05.38

½ ~ 05.45 [P6]

?
Romford
05/37 [P2] [ML]
05/55
?
Ilford
05/44 [P1] [IE]
06.03

½ ~ 06.08 [P1 / Up Avoiding]

?
Forest Gate Jn
05/48 [DML]
06/13

½ [Up Electric]

?
Maryland Jn
?
? [UE - DM]
11.63
Stratford
05.51a ~ 05.53d [P10A]
06.19 ~ 06.20 [P10A]
?
Channelsea Jn
05/56
06/22

½

?
Dalston Jn
06/02 [Line 2]
06/31
?
Camden Road East Jn
06/11
06/36

½

?
Camden Road West Jn
06/12
06/37

½

?
Camden Jn
06/16 [SL]
06/41
20.77
0.00
Kilburn U&DGL
06.19 ~ 06.26
06.46 ~ 06.50

½

?
Camden Jn
06/28 [Line B]
06/54½
?
Camden South Jn
06/31

½ [Line A]

06/55

½

3.47
Euston
06.35a [P1]
06.59 [P1]