3rd October 2009
Spitfire Railtours
The Witch Way / Cotton Mill Loop Circuit,
Oldham Loop Circuit & Oldham Loop Diesel Mini-Tour
| | |
| --- | --- |
| Locos Used | 37706 & steam: 45231 'The Sherwood Forester' |
| Stock Used (4) | 99241+4905+99327+3143+99350+99328+1861+5032+99304 |
Route :
1Z29 : Preston to Bolton (or via Bolton to Manchester Victoria)?
?1Z30 : ?Bolton via Oldham Mumps to Manchester Victoria?
1Z31 : Manchester Victoria via Oldham Mumps to Preston
| | | | |
| --- | --- | --- | --- |
| Tour Name(s) | Headcode(s) | Loco | Route |
| Witch Way / Cotton Mill Loop Circuit | 1Z29/?1Z30? | 45231 | Preston - Euxton Jn - Wigan North Western - Golborne Jn - Parkside Jn - Astley - Eccles - Ordsall Lane Jn - Manchester Victoria - Miles Platting - Philips Park West Jn - Ashton Moss North Jn - Stalybridge - Diggle - Huddersfield - Bradley Wood Jn - Greetland Jn - Hebden Bridge - Copy Pit - Gannow Jn - Accrington - Blackburn - Darwen - Bolton - Salford Crescent - Ordsall Lane Jn - Manchester Victoria |
| Oldham Loop Circuit | ?1Z29 or 1Z30? | 45231 | Manchester Victoria - Miles Platting - Thorpes Bridge Jn - Castleton East Jn - Rochdale - Oldham Mumps - Thorpes Bridge Jn - Miles Platting - Manchester Victoria |
| Oldham Loop Diesel Mini Tour | 1Z31 | 37706 | Manchester Victoria - Miles Platting - Thorpes Bridge Jn - Oldham Mumps - Rochdale - Castleton East Jn - Thorpes Bridge Jn - Miles Platting - Manchester Victoria |
| Witch Way | 1Z31 | 37706 | Manchester Victoria - Ordsall Lane Jn - Eccles - Astley - Parkside Jn - Golborne Jn - Wigan North Western - Euxton Jn - Preston |
Notes :
(1) Originally booked for 46115 'Scots Guardsman' but later changed to 45231 due to gauging issues on the Oldham Loop. Three separate ticketing options were available, or one ticket was available to enable travel on all three sections (Witch Way/Cotton Mill Loop Circuit, Oldham Loop Circuit and Oldham Loop Diesel Mini-Tour)
(2) Chris Totty comments: I was only on board for the steam section round the Oldham Loop - Man Victoria - Castleton - Oldham - Man Victoria. Great piece of driving! We left Manchester Victoria on the Down Rochdale Slow line and were due to be overtaken by the 18:21 Manchester Victoria - Leeds before Miles Platting Jn. This train must have left a few minutes late and we were brought almost to a standstill at Miles Platting. The driver kept us crawling along until he got the road and then really let 'The Sherwood Forester' have its head!!
(3) Confirmation of headcodes (and where changed) is required - Chris Totty submitted: 1Z29 when 45231 was hauling, no 1Z30, and 1Z31 when 37706 was in charge.
(4) Confirmation is required of the vehicle order (as uploaded may not be correct).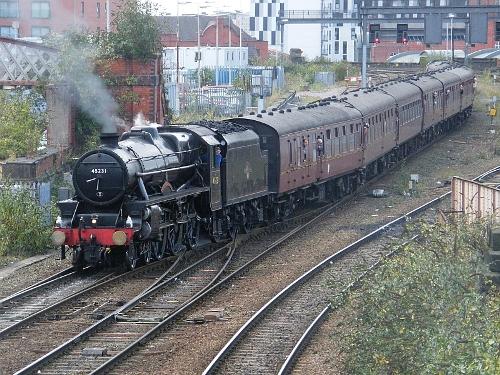 45231 approaches Manchester Victoria (photo: Dan Adkins)
Sources : various including Chris Totty & Dan Adkins



Timings (Booked & Actual)
(from Chris Totty & Dan Adkins)
Location

Booked (out) (actual)

Booked (rtn)

Preston

10.30d

21.41a

Euxton Jn
10/38
21/32
Balshaw Lane
10/42
21/28
Wigan North Western
10.49a ~ 10.51d
21.16a ~ 21.18d
Wigan South Jn
10/53
21/14
Springs Branch Jn
10/54
21/13
Golborne Jn
11/01
21/07
Parkside Jn
11/05
21/04
Astley
11/13
20/58
Eccles
11.21 ~ 11.51
20/52
Ordsall Lane Jn
11/56
20/47
Deal Street
11/59
20/45
Manchester Victoria
12.01a ~ 12.11d
(12.09 ~ 12.20)
20.44d
Miles Platting
12/17
-
Philips Park West Jn
12/19
-
Baguley Fold Jn
12/20
-
Ashton Moss North Jn
12/25
-
Stalybridge
12/30
-
Greenfield
12/37
-
Diggle Jn
12.42 ~ 12.49
-
Marsden
12/56
-
Huddersfield
13/07
-
Bradley Jn
13/12
-
Bradley Wood Jn
13/16
-
Greetland Jn
13/32
-
Milner Royd Jn
13/36
-
Hebden Bridge
13/44
-
Hall Royd Jn
13/52
-
Copy Pit
14/09
-
Gannow Jn
14/20
-
Accrington
14/32
-
Daisyfield Jn
14/42
-
Blackburn
14.44a ~ 16.06d
-
Darwen
16.20 ~ 16.25
-
Bromley Cross
16/46
-
Bolton
16/52
-
Burnden Jn
16/54½
-
Moses Gate
16.57 ~ 17.19
-
Salford Crescent
17/29
-
Ordsall Lane Jn
17/32
-
Deal Street
17/36
-
Manchester Victoria
17.38a ~ 18.20d
20.37a
Miles Platting
18/26
20/32
Thorpes Bridge Jn
18/28
20/31
Vitriol Works
18/32
20/27
Castleton East Jn
18/37
20/23
Rochdale
18/42½
20/20½
Rochdale East Jn
18/44
20/20
Shaw and Crompton
18.52 ~ 18.53
20.08 ~ 20.09
Oldham Mumps
18/59
20/01
Thorpes Bridge Jn
19/10
19/51
Miles Platting
19/11
19/49
Manchester Victoria
19.15a
19.41d