25th September 2009
Compass Tours
Forth & Tay Explorer
| | |
| --- | --- |
| Locos Used | 47812 (as D1916), 47853, 66016 & 66200 |
| Stock Used | Riviera Trains ex-Virgin Trains rake of 1st & standard class |
Route :
1Z44 : Crewe to Aberdeen
1Z45 : Aberdeen to Crewe
| | |
| --- | --- |
| Loco(s) | Route |
| D1916 + 47853 | Crewe - (via WCML) - Carlisle (1) |
| 66016 + D1916 (2) | Carlisle - (via WCML) - Motherwell - Mossend South Jn - Mossend North Jn - Coatbridge Central - Garnqueen North Jn - Greenhill Lower Jn - Carmuirs West Jn (4) Carmuirs North Jn - Larbert - Stirling - Gleneages - Hilton Jn - Perth - (4) Dundee - Arbroath - Montrose - Stonehaven - Aberdeen |
| 66016 (3) | Aberdeen - (reverse of outward route) (4) - Mossend South Jn - Braidhurst Loop |
| 66200 (3) | Braidhurst Loop - Motherwell - (via WCML) - Crewe |
Notes :
(1) 47853 failed at Lancaster and was removed at Carlisle.
(2) D1916 was providing ETS only.
(3) D1916 on rear, providing ETS only.
(4) To regain lost time the tour was re-routed between Carmuirs West Jn and Dundee (was booked via Winchburgh Jn on the outward and Alloa on the return), thus the train did not go over either the Forth or Tay bridges as planned.
Sources : various including John Cowlishaw



Photo Review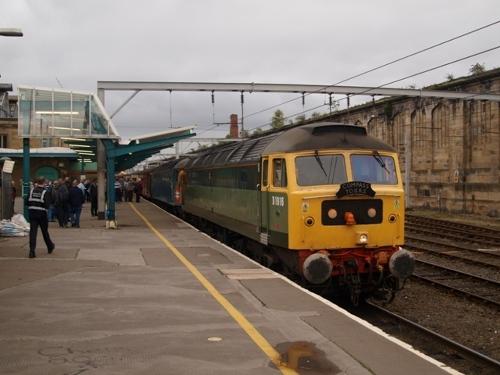 D1916 & 47853 at Carlisle (photo: John Cowlishaw)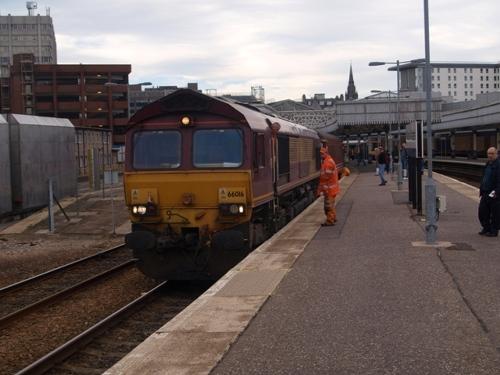 66016 prior to leaving Aberdeen (photo: John Cowlishaw)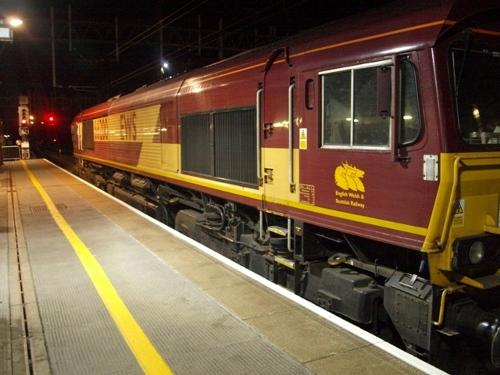 66200 on arrival back at Crewe (photo: John Cowlishaw)


Timings (Booked & Actual)
(from various including John Cowlishaw)
Location
Booked
Actual
Booked
Actual
Crewe
05.18d
(05.26)
00.27a
00.52
Hartford
?
05/39
?
?
Acton Grange Jn
?
05/44
?
?
Warrington Bank Quay
??.??a ~ 05.42d
05.47 ~ 05.48½
23.52a ~ ??.??d
00.24 ~ 00.26½
Wigan North Western
??.??a ~ 05.56d
06.01 ~ 06.04
23.37a ~ ??.??d
00.09 ~ 00.11½
Leyland
?
06/14
?
?
Preston
??.??a ~ 06.14d
06.21 ~ 06.23
23.12a ~ ??.??d
23.50 ~ 23.53
Lancaster
??.??a ~ 06.34d
06.45 ~ 07.23
22.48a ~ ??.??d
23.25 ~ 23.27
Morecambe South Jn
?
07/27
?
?
Hest Bank
?
07/29
?
?
Carnforth South Jn
?
07/35
?
?
Carnforth
?
07.36 ~ 07.52 [loop]
?
23/16½
Oxenholme
??.??a ~ 06.54d
08.10½ ~ 08.12½
22.28a ~ ??.??d
23.02 ~ 23.04
Grayrigg
?
08.27 ~ 08.34 [loop]
?
22/54½
Tebay
?
08/43½
?
22/49½
Shap
?
08/49½
?
?
Shap Summit
?
08/52
?
22/45
Penrith
??.??a ~ 07.29d
09.09½ ~ 09.14
21.59a ~ ??.??d
22.27½ ~ 22.30
Carlisle
07.46a ~ 08.01d
09.58 ~ 10.32d
21.38a ~ ??.??d
22c01½ ~ 22c04½
Lockerbie
??.??a ~ 08.28d
10.57 ~ 11.02
20.53a ~ ??.??d
21.34 ~ 21.36
Beattock
?
11.18½ ~ 11.23 [loop]
?
(21/15)
Beattock Summit
?
11.37 ~ 11.44 [loop]
?
?
Abington
?
11/52½
?
?
Carstairs
?
12/04
?
20/53
Law Jn
?
12/13½
?
?
Motherwell
?
12.24 ~ 12.25
?
20c31½ ~ 20c35
Braidhurst Loop
DIV
20L03 ~ 20L29½
Mossend North Jn
?
?
?
19/52
Whifflet
?
12/34½
?
19/47
Coatbridge Central
?
12/35
?
?
Cumbernauld
?
12/44
?
19/32½
Greenhill Lower Jn
?
12/59
?
19/18
Carmuirs West Jn
?
13/01
?
?
Carmuirs North Jn
DIV
13/02
?
?
Larbert
DIV
13/03½
?
19/13
Stirling
DIV
13c12 ~ 13c14½
?
19.04 ~ ??.??
Alloa
?
DIV
Dunblane
DIV
13/23
DIV
18/57
Blackford
DIV
13/34
DIV
?
Gleneagles
DIV
13/36
DIV
?
Hilton Jn
DIV
13/48
DIV
18/37
Perth
DIV
13/54
DIV
18/28
Winchburgh Jn
?
DIV
Dundee
12.06a ~ ??.??d
14.20 ~ 14.26
??.??a ~ 17.05d
18.01 ~ 18.06
Carnoustie
?
?
?
17/48
Arbroath
?
14/46
?
17/41
Montrose
?
15/01
?
17/26½
Stonehaven
?
15/24
?
?
Aberdeen
13.28a
16.05
15.42d
16.42