4th July 2009
Railway Touring Company
The White Rose
| | |
| --- | --- |
| Locos Used | 57601 & steam: 60019 'Bittern' |
| Stock Used | 99304+3143+3136+99679+99121+99348+99350+1861+4940+4905+99723 |
Route :
1Z54 : Kings Cross to York
1Z55 : York to Kings Cross
| | |
| --- | --- |
| Loco | Route |
| 60019 | London Kings Cross- (via ECML) - Loversall Carr Jn - Decoy South Jn - Down Flyover Line (adjacent to Doncaster RMT) (2) |
| 57601 | Down Flyover Line - Doncaster - (via ECML) - York |
| 57601 | York - (reverse of outward route) - Doncaster (3) |
| 60019 | Doncaster - (via ECML) - Tallington - (via Peterborough Yard, North Up Arrival Line) Peterborough - (via ECML) - London Kings Cross |
Notes :
(1) Originally advertised to be hauled by 60019 'Bittern' from Kings Cross to York and back as far as Peterborough.
(2) Loco change was booked to take place at the RMT platform but was unable to do so as it was blocked by gypsum container wagons.
(3) Booked loco change point was Doncaster RMT but locos were swapped in the station for reason(s) unexplained. As a result the train ran ECML out of Doncaster, not via Doncaster RMT as booked.
Sources : various including Nick Bartlett (on the train throughout) & Gordon Lacy



Photo Review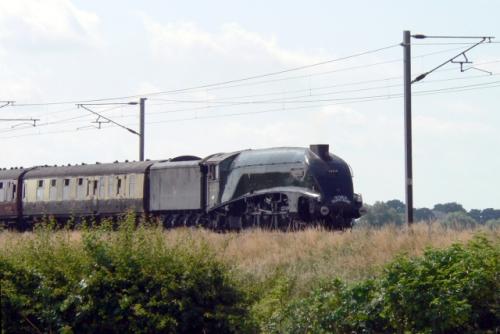 60019 heads away from an unscheduled stop in Claypole Loop on the outward
leg of the journey (photo: Gordon Lacy)

60019 waits to leave Doncaster for Kings Cross (photo: Nick Bartlett)


Timings (Booked & Actual)
(from Nick Bartlett)
Location
Booked
Actual
Booked
Actual
Kings Cross
07.25d [P1]
??.?? [P6] [B] [DF]
21.05a [P1]
? [US] [B] [P6]
Belle Isle
07/28 [DF]
? [DF]
21/03 [UF]
?
Holloway Jn
?
?
?
? [UF] [US]
Finsbury Park
07/30
? [P3]
20/59 [P2]
?
Alexandra Palace
07/34
?
20/56
?
Potters Bar
07/43 [P3]
?
20/48 [P1]
[US] [UF]
Welwyn Garden City
07/50
?
20/31 [P2]
? [P2] [US]
Digswell Jn
?
?
20/25 [US]
?
Woolmer Green Jn
07/53
?
20/23
?
Stevenage
07.57a ~ 07.59d [P3]
? [P3]
20.16a ~ 20.18d [P2]
?
Hitchin
08/04
?
20/11 [UF]
? [US] [UF]
Sandy
08/15
?
19/53 [US]
? [UF] [US]
Huntingdon
08/27
? [DF] [DS]
19/40
?
Connington South Jn
19/32 [UF]
?
Holme LC
08w37 ~ 09w02 [DS]
? [DS]
Peterborough
09.10a ~ 09.14d [P4] [DS]
? [P4] [DS]
19.20a ~ 19.23d [P2]
? [P2] [US]
Helpston Jn
09/23 [DS]
? [DS]
Peterborough West Yard
18.50 ~ 19.17
[Up Arr] ?[ Up Dep]
New England North Jn
18/47 [GL]
?
Tallington
09/29 [DF]
?
18/38
?
Stoke Jn
09/42
?
18/25 [SL]
?
Grantham
09/54 [P2]
?
18/19 [P1]
?
Claypole
10/01 [DF]
??.?? ~ ??.?? [DPL]
18/08
?
Newark Northgate
10/06 [P1]
?
18/02 [P2]
?
Newark Flat Crossing
10/07
?
18/01
?
Carlton
10.14 ~ 10.28 [DPL]
? [DF]
?
?
Retford
10/41
?
17/45
? [UM]
Loversall Carr Jn
10/52 [WSL]
?
17/32
? [UF]
Decoy South Jn
?
?
17/29 [DLF]
DIV
Doncaster RMT
10L56 ~ 11L31
? [Down Flyover line]
16L47 ~ 17L27
DIV
Decoy North Jn
?
?
16/45
DIV
Bridge Jn
?
?
16/42
DIV
Doncaster
11/37 [DF]
? [DF]
16/40 [UF]
? [P1] [UF]
Shaftholme Jn
11/41
?
16/35
?
Temple Hirst Jn
11/49
?
16/26
?
Hambleton North Jn
11/56
?
16/21
?
Colton Jn
12/04
?
16/14
?
York
12.10a [P10]
? [DF] [P10]
16.06d [P10]
? [P10] [UF]