13th June 2009
Mercia Charters Limited
The Resurrection
Locos Used
ex-SNCB: 5120, 5311, 201.010 (5910), 6086 & 7304
ex-SNCF: 63149
Stock Used
42306+49911+41022+42367
Route :
Z18100 : Bruxelles Nord to Couvin
???? : Mariembourg - Treignes - Mariembourg
Z18101 : Couvin to Charleroi
Z18102 : Charleroi to La Louviere
Z18103 : La Louviere to Binche
Z18104 : Binche to Bruxelles Midi
Loco(s)
Route
201.010 (2)
Bruxelles Nord - Bruxelles Midi - Halle - Braine-le-Compte - Manage - Roux - Monceau Formation - Marchienne-au-Pont - Y La Sambre - Jamioulx - Walcourt - Mariembourg (SNCB) (3) - Mariembourg (CFV3V)
6086
Mariembourg (CFV3V) - Olloy/Viroin
5120 (4)
Olloy/Viroin - Treignes
7304
Treignes - Olloy/Viroin
63149 (5)
Olloy/Viroin - Mariembourg (CFV3V)
5311
(6)
Mariembourg (CFV3V) - Mariembourg (SNCB)
201.010
(2)
Mariembourg (SNCB) - Couvin
5311
(6)
Couvin - Mariembourg (SNCB) - Walcourt - Jamioulx - Charleroi Sud
201.010
(2)
Charleroi Sud - Marchienne-au-Pont - Pieton - La Louviere Sud (7)
5311
(6) (8)
La Louviere Sud - Binche
201.010
(2)
Binche - La Louviere Sud - La Louviere Centre - Familleureux - Braine le Comte - Halle - Y Curegem - Brussels Ouest - Y Pannenhuis - Brussels Nord - Brussels Midi
Notes :
(1) Originally advertised to use ex-SNCB 6041 as the main train locomotive however though this was reported ready for service, the necessary certification was not in place to permit mainlien operation. The tour was also advertised to visit the freight branch to Bascoup but this was removed from the route at short notice after an inspection by Infrabel which concluded the line was not fit to take a passenger working.
(2) 5311 on rear.
(3) Train was delayed at Mariembourg (SNCB) due to a failure of the points onto the CFV3V line.
(4) plus 6086, not powering.
(5) plus 7304, not powering.
(6) 201.010 on rear.
(7) For visit to depot containing many ex-SNCB locos, DMU's & stock.
(8) 5311 was struggling badly to provide power and 201.010 provided rear-end assistance most of the way from La Louviere Sud to Binche.
Source : Gary Thornton (on the train throughout)



Photo Review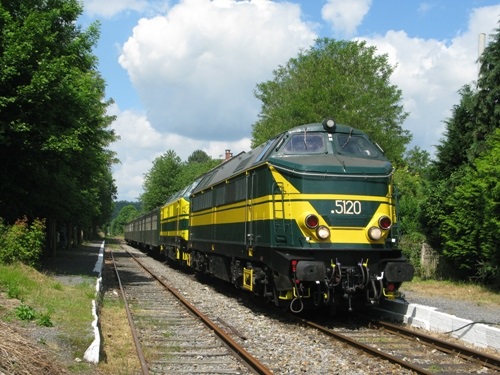 5120+6086 at Olloy-sur-Virion (photo: Nick Bartlett)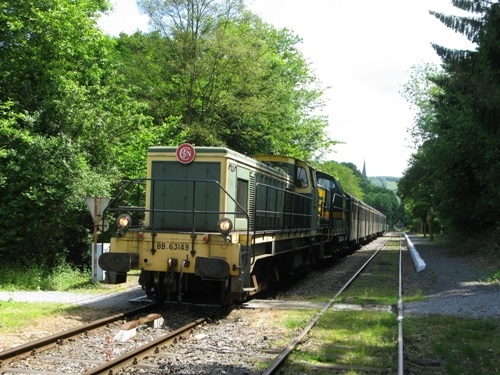 BB.63149+7304 at Olloy-sur-Virion (photo: Nick Bartlett)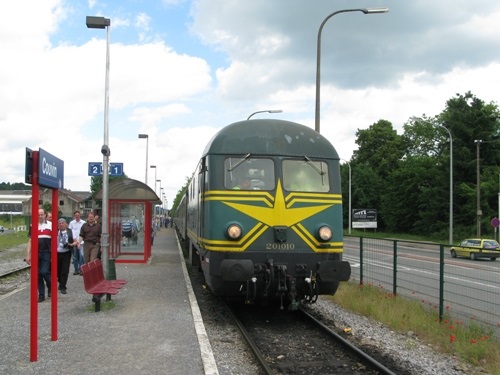 201.010 at Couvin (photo: Nick Bartlett)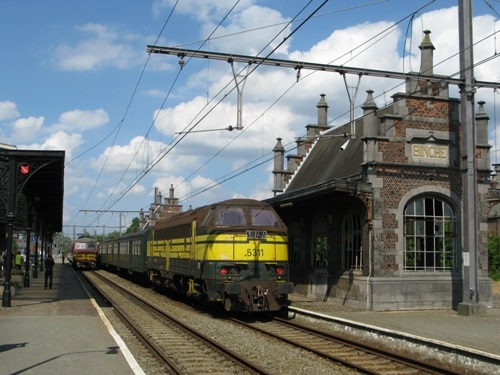 5311 at Binche (photo: Nick Bartlett)


Timings (Booked & Actual)
(from Gary Thornton, Ross Hamilton & Pete Drury)
Km
Location
Booked
Actual
0.0
Bruxelles Nord
07.54d
07.58½ [P4]
3.80
Bruxelles Midi
08.01a ~ 08.06d
08.05½ ~ 08.08 [P5]
5.80
Y. Bruxelles Petite-Ile
08/09
?
12.70
Lot
08/15
08/20
16.60
Halle
08/18
08/21½
19.50
Lembeek
08/21
08/25½
27.10
Hennuyeres-Garage
08/27
?
32.90
Braine-le-Comte
08/31
08/35
38.80
Ecaussinnes
08/36
?
46.75
Manage
08/43
?
59.65
Luttre
08/54
08/56½
67.35
Roux
09/01
09/03
?
Monceau Formation
09/04
09/05½
70.85
Marchienne-au-Pont
09/06
09/18 [P1]
71.45
Y. La Sambre
09/08
09/20½
80.75
Jamioulx
09/18
(09/30½)
87.35
Cour-sur-Heure
09/24
09/37½
93.55
Walcourt
09p29a ~ 09p39d
09/51½
106.95
Philippeville
09/50
10/03
119.35
Mariembourg SNCB
10/01
10.15 ~ 10.51½
119.85
Mariembourg CFV3V
10L06a ~ 10L25d
10.54½ ~ 11.12
125.25
Olloy/Viroin
10L50a ~ 11L00d
11.27½ ~ 11.39½
131.60
0.00
Treignes
11L15a ~ 11L35d
11.55½ ~ 12.17
6.35
Olloy/Viroin
12L00a ~ 12L10d
12.32 ~ 12.40
11.75
Mariembourg CFV3V
12L25a ~ 12L55d
12.54 ~ 13.20
12.25
0.00
Mariembourg SNCB
13.00a ~ 13.06d
13.21½ ~ 13.23½
5.40
0.00
Couvin
13.12a ~ 13.24d
13.32 ~ 13.46½
5.40
Mariembourg
13/30
13/54
17.80
Philippeville
13/41
14/07
31.20
Walcourt
13/52
14/30
37.40
Cour-sur-Heure
13/58
?
44.00
Jamioulx
14/03
14/41
53.10
0.00
Charleroi Sud
14p11a ~ 14p26d
14.51 ~ 14.57 [P1]
3.30
Marchienne-au-Pont
14/29
15/02
12.20
Piéton
14p36a ~ 14p46d
15.11 ~ 15.17½
20.90
0.00
La Louvière-Sud
14.53a ~ 15.57d
15.27 ~ 16.16
9.45
0.00
Binche
16.05a ~ 16.20d
16.26 ~ 16.38 [P2]
9.45
La Louvière-Sud
16/28
16/47
12.10
La Louvière-Centre
16/31
16/51
17.55
Y. Bois-d'Haine
16/37
16/57
24.95
Ecausinnes
16/43
17/03
30.85
Braine-le-Comte
16/50
17/08
36.65
Hennuyeres-Garage
16/55
?
41.65
Tubize
16/59
17/17
47.15
Halle
17/04
17/23
51.05
Lot
17/07
?
58.45
Y. Bruxelles Petite-Ile
17/16
17/37
59.40
Y.Curegem
17/17
?
61.30
Brussels Ouest
17/19
17/40
65.00
Y. Pannenhuis
17/22
17/43
66.40
Y. Pont-de-la-Seine
17/23
17/44
68.10
Brussels Nord
17.26a ~ 17.33d
17.51 ~ 17.55 [P2]
71.90
Brussels Midi
17.41a
18.02 [P8]