30th May 2009
Pathfinder Tours
Severn Coast Expresses
| | |
| --- | --- |
| Locos Used | at least D1661, 67002 & steam: 60163 'Tornado' |
Route :
1Z27 : Bristol Temple Meads to Cardiff Central
1Z28 : Cardiff Central to Gloucester
1Z29 : Gloucester to Minehead
1Z30 : Minehead to Bristol Temple Meads
| | | |
| --- | --- | --- |
| Train | Loco(s) | Route |
| Trip One | ?67002? | Bristol Temple Meads - Stapleton Road - Filton Jn - Bristol Parkway - Westerleigh Jn - Yate - Standish Jn - Gloucester |
| Trip One | ?60163? | Gloucester - Lydney - Severn Tunnel Junction - Newport - Cardiff Central |
| Trip One | ?60163? | Cardiff Central - Newport - Severn Tunnel Junction - Patchway - Filton Jn - Stapleton Road - Bristol Temple Meads |
| Trip One | ?67002? | Bristol Temple Meads - Stapleton Road - Filton Jn - Bristol Parkway - Westerleigh Jn - Yate - Standish Jn - Gloucester |
| Trip Two | ?67002? | Gloucester - Standish Jn - Yate - Westerleigh Jn - Bristol Parkway - Filton Jn - Stapleton Road - Bristol Temple Meads |
| Trip Two | 60163 | Bristol Temple Meads - Worle Jn - Uphill Jn - Bridgwater - Taunton - Bishops Lydeard - Williton - Minehead |
| Trip Two | D1661 (2) | Minehead - Williton - Bishops Lydeard |
| Trip Two | 67002 | Bishops Lydeard - (reverse of outward route) - Bristol Temple Meads |
Notes :
(1) Steven Toogood comments: Before departure from Bristol Temple Meads at 17:08, 70013 'Oliver Cromwell' pulled in with the stock for it's return charter to Poole. for a brief moment, two steam engines stood under the roof at Bristol Temple Meads, facing opposite directions, at the heads of a train, for the first time in years!
(2) Plus 67002 to provide ETS.
Sources : Steven Toogood & Keith Hayward



Photo Review
(all photos: Steven Toogood)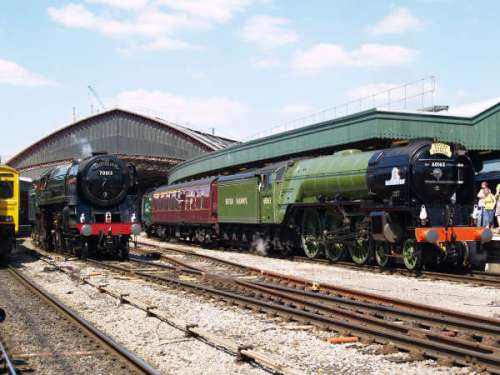 60163 & 70013 together at Bristol Temple Meads station.

'Tornado' departs Temple Meads for Minehead (photo: Nick Bartlett)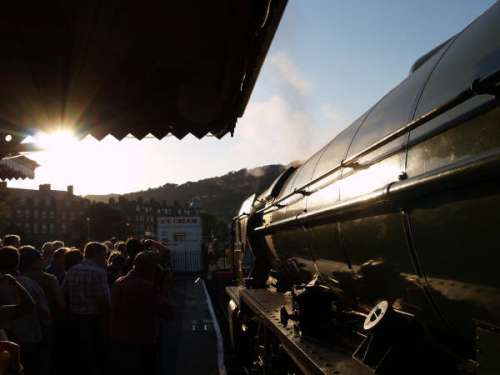 60163 'Tornado' on arrival at Minehead.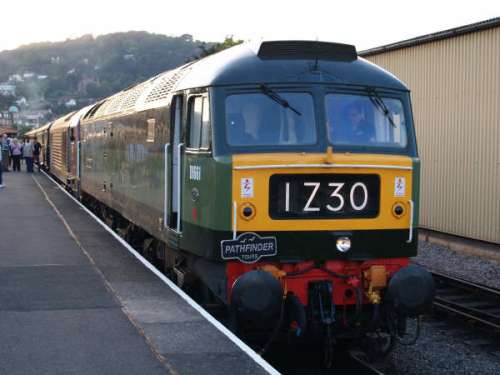 D1661 & 67002 await departure from Minehead on the return working.


Timings (Booked & Actual)
(from Steve Toogood & Keith Hayward)
Trip One
Miles
Location
Booked
0.00
Bristol Temple Meads
06.42d
?
Dr Days Jn
06/45
?
Narroways Hill Jn
06/47
?
Filton Abbey Wood
06/49
5.62
Bristol Parkway
06.53a ~ 06.57d
?
Westerleigh Jn
07/03
?
Yate
07/05
?
Charfield
07/10
26.28
Cam & Dursley
07.17a ~ 07.19d
?
Standish Jn
07/25
?
Gloucester Yard Jn
07/30
?
Horton Road Jn
07/31
39.01
0.00
Gloucester
07L32a ~ 08L02d
?
Awre
08/20
?
Lydney
08/25
?
Chepstow
08/35
?
Severn Tunnel Junction
08/44
?
Maindee East Jn
09/05
?
Newport
09/08
?
Ebbw Jn
09/11
?
Marshfield
09/18
56.26
0.00
Cardiff Central
09.43a ~ 12.41d
?
Marshfield
12/53
?
Ebbw Jn
12/57
?
Newport
13/00
?
Maindee East Jn
13/03
?
Severn Tunnel Junction
13/17
?
Pilning
13/26
?
Patchway
13/31
?
Filton Abbey Wood
13/33
?
Narroways Hill Jn
13/36
?
Dr Days Jn
13/38
38.01
0.00
Bristol Temple Meads
13L40a ~ 14L13d
?
Dr Days Jn
14/15
?
Narroways Hill Jn
14/17
?
Filton Abbey Wood
14/19
5.62
Bristol Parkway
14.22a ~ 14.24d
?
Westerleigh Jn
14/29
?
Yate
14/31
?
Charfield
14/36
26.28
Cam & Dursley
14.43a ~ 14.47d
?
Standish Jn
14/56
?
Gloucester Yard Jn
15/02
?
Horton Road Jn
15/10
39.01
Gloucester
15.12a
Trip Two
| | | |
| --- | --- | --- |
| Miles | Location | Booked |
| 0.00 | Gloucester | 15.34d |
| ? | Horton Road Jn | 15/36 |
| ? | Standish Jn | 15/43 |
| ? | Cam & Dursley | 15.50a ~ 15.53d |
| ? | Charfield | 16/02 |
| ? | Yate | 16/07 |
| ? | Westerleigh Jn | 16/10 |
| ? | Bristol Parkway | 16.15a ~ 16.20d |
| ? | Filton Abbey Wood | 16/24 |
| ? | Narroways Hill Jn | 16/27 |
| ? | Dr Days Jn | 16/30 |
| | | | | | | | |
| --- | --- | --- | --- | --- | --- | --- | --- |
| Miles | Location | Booked | Actual | | Booked | Actual | Miles |
| 0.00 | Bristol Temple Meads | 16L36a ~ 17L08d | ??.?? ~ 17.08 | | 22.57a | 22.54 | 69.45 |
| ? | Bristol West Jn | 17/10 | 17/10 | | 22/55 | 22/52 | ? |
| ? | Bedminster | ? | 17/11 | | ? | 22/48 | ? |
| ? | Parson Street | ? | 17/12 | | 22/53 | 22/47 | ? |
| ? | Nailsea & Backwell | ? | 17/19 | | ? | 22/43 | ? |
| ? | Yatton | ? | 17/22 | | ? | 22/40 | ? |
| ? | Worle | ? | 17/26 | | ? | 22/37 | ? |
| ? | Worle Jn | 17/27 | 17/27 | | 22/40 | 22/37 | ? |
| ? | Uphill Jn | 17/33 | 17/29 | | 22/38 | 22/34 | ? |
| ? | Highbridge & Burnham | ? | 17/34 | | ? | 22/23 | ? |
| ? | Bridgwater | 17/49 | 17/39 | | 22/19 | 22/20 | ? |
| ? | Cogload Jn | 17/57 | 17/45 | | 22/24 | 22/15 | ? |
| ? | Taunton East Jn | 18/02 | ? | | 22/19 | ? | ? |
| 44.66 | Taunton | 18.05a ~ 18.07d | 17.57 ~ 18.03 | | 22.14a ~ 22.16d | 22.02 ~ 22.08 | 24.59 |
| 46.62 | Norton Fitzwarren Jn | 18*13 ~ 18*15 | 18/09 | | 22*05 ~ 22*07 | 21/54 | 22.63 |
| 49.74 | Bishops Lydeard | 18w25 ~ 18w35 | 18.19 ~ 18.37 | | 21L53 ~ 21L55 | 21.35 ~ 21.45 | 19.51 |
| 53.64 | Crowcombe Heathfield | 18x50 ~ 18x58 | 18.55 ~ 18.59 | | 21*41 ~ 21*43 | 21/25 | 15.61 |
| ? | Stogumber | ? | 19/07 | | ? | 21/18 | ? |
| 59.60 | Williton | 19*16 ~ 19*17 | 19x15 | | 21*18 ~ 21*20 | 21/10 | 9.65 |
| ? | Doniford Beach Halt | ? | 19/18 | | ? | 21/06 | ? |
| ? | Watchet | ? | 19/20 | | ? | 21/03 | ? |
| ? | Washford | ? | 19/27 | | ? | 20/57 | ? |
| 66.08 | Blue Anchor | 19*37 ~ 19*38 | 19.34 ~ 19.34 | | 20*50 ~ 20*58 | 20/52 | 3.37 |
| ? | Dunster | ? | 19/39 | | ? | 20/47 | ? |
| 69.45 | Minehead | 19.50a | 19.46a | | 20.40d | 20.41 | 0.00 |