9th May 2009
Network Rail (Bristol & Swindon ICC)
The Cambrian Mountaineer & Aber Dabble Doo
| | |
| --- | --- |
| Locos Used | D444, 37676, 97301 & steam: 8 |
| Stock Used | 4960+4973+4905+4994+99723+99311+99327+5239+5229+5035 |
Route :
1Z50 : Bristol Temple Meads to Aberystwyth
1Z51 : Aberystwyth to Bristol Temple Meads
Tour Name
Loco(s)
Route
Cambrian Mountainer
D444

Bristol Temple Meads - North Somerset Jn - Bath Spa - Bathampton Jn - Thingley Jn - Chippenham - Swindon - Foxhall Jn - Didcot North Jn - Oxford - Aynho Jn - Banbury - Leamington Spa - Kenilworth - Coventry - Birmingham International - Stechford - Aston - Perry Barr North Jn - Bescot Stadium - Darlaston Jn - Portobello Jn - Wolverhampton - Cosford - Wellington - Abbey Foregate Jn - Shrewsbury

Cambrian Mountainer
97301 + 37676 (2)

Shrewsbury - English Bridge Jn - Sutton Bridge Jn - Welshpool - Machynlleth - Dovey Junction - Borth -

Aberystwyth

Aber Dabble Doo
8

Aberystwyth - Devil's Bridge

Aber Dabble Doo
8

Devil's Bridge

-

Aberystwyth

Cambrian Mountainer
D444 (5)

Aberystwyth

- (reverse of outward route) -

English Bridge Jn (4) - Shrewsbury

Cambrian Mountainer
D444 (6)

Shrewsbury - Whitchurch - Crewe

Cambrian Mountainer
37676
?(2)?
Crewe - Madeley - Norton Bridge - Stafford - (4) Wolverhampton - (reverse of outward route) -

Bristol Temple Meads
Notes :
(1) Ran in aid of the 'Railway Children' charity, with Spitfire Railtours acting as booking agent. Carried a "Three Peaks Challenge by Rail" headboard.
(2) D444 on rear.
(3) The VoR round trip was offered as an option.
(4) Booked route on the return in the Shrewsbury area was via English Bridge Jn & Abbey Foregate Jn then the reverse of the outward route, however the failure of 1G55, 15.20 Aberystwyth to Birmingham New Street at Alscotts GF resulted in a lengthy diversion via Crewe, the booked route being regained at Wolverhampton by which time the train was around two hours late.
(5) 97301 + 37676 on rear.
(6) 37676 on rear.
Sources : Andy Spencer (tour organiser), Dan Adkins, Aled Williams & Andy Pullar



Photo Review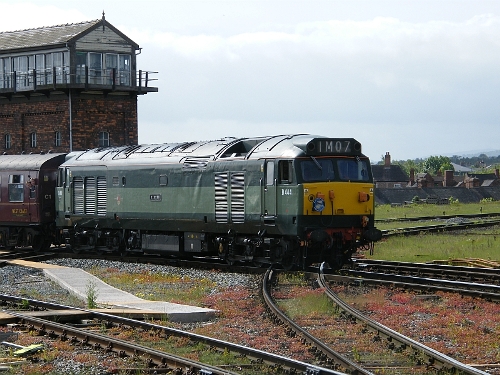 D444 pulls into Shrewsbury (photo: Dan Adkins)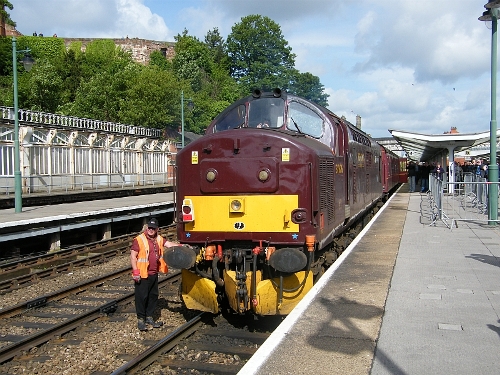 37676 is hooked on, now waiting for 97301 (photo: Dan Adkins)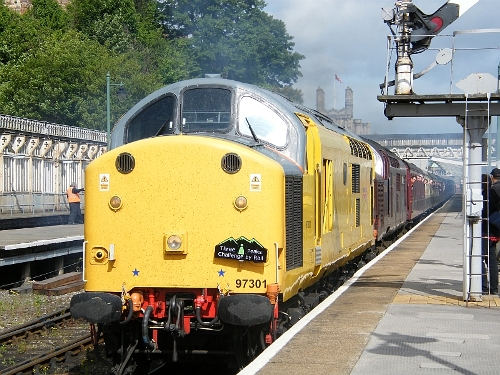 Departing Shrewsbury for Aberystwyth (photos: Dan Adkins)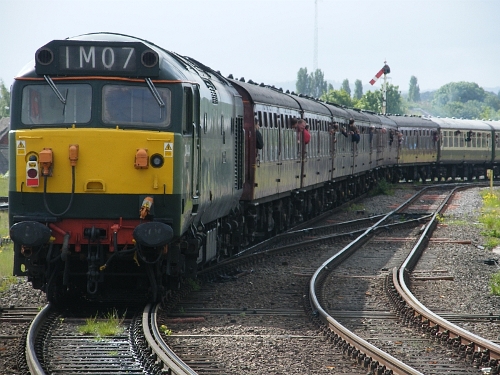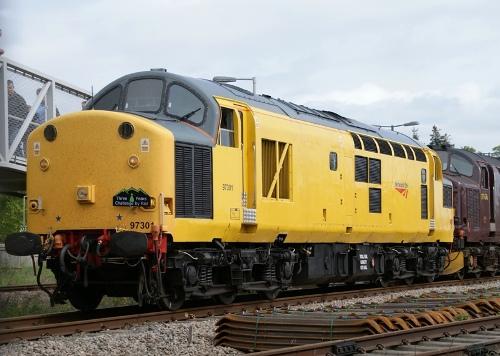 97301 & 37676 wait time at Welshpool (photo: Aled Williams)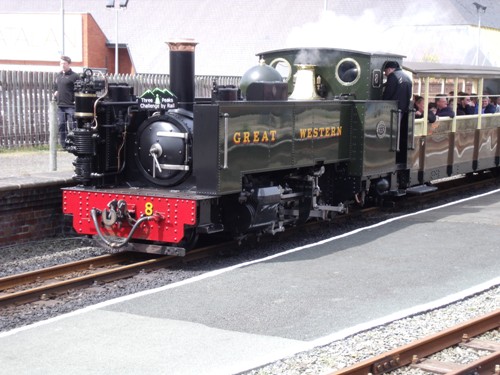 8 waits to leave Aberystwyth with the VoR special (photo: Andy Spencer)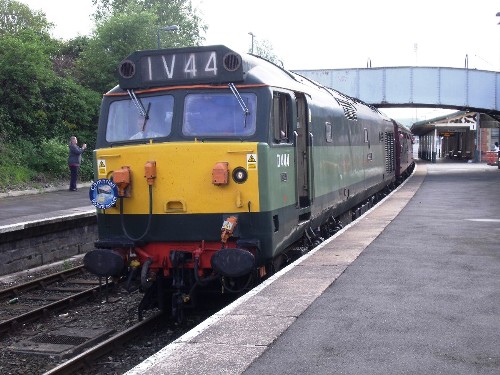 D444 pauses at Newtown on the way back (photo: Andy Spencer)


Timings (Booked & Actual)
(from Dan Adkins & Andy Spencer)
| | | | | | |
| --- | --- | --- | --- | --- | --- |
| Location | Booked | Actual | | Booked | Actual |
| Bristol Temple Meads | 05.26d | 05.26 | | 22.37a | 00.03 |
| Bristol East Jn | 05/27 | ? | | 22/35 | ? |
| North Somerset Jn | 05/28 | 05/28 | | 22/31 | 00/00 |
| Bath Spa | 05.38a ~ 05.41d | 05.39 ~ 05.41 | | 22.19a ~ 22.21d | 23.48 ~ 23.50 |
| Bathampton Jn | 05/45 | 05/46 | | 22/16 | 23/45 |
| Thingley Jn | 05/53 | ? | | 22/08 | ? |
| Chippenham | 05.55a ~ 05.57d | 05.54 ~ 05.57 | | 22.01a ~ 22.04d | 23.34 ~ 23.36 |
| Wootton Bassett Jn | 06/08 | 06/06 | | 21/51 | 23/25 |
| Swindon | 06.14a ~ 06.16d | 06.12 ~ 06.16 | | 21.41a ~ 21.44d | 23.18 ~ 23.19 |
| Uffington | 06/26 | 06/25 | | 21/32 | 23/08 |
| Challow | 06/28 | 06/27 | | 21/30 | 23/06 |
| Wantage Road | 06/31 | ? | | 21/27 | ? |
| Foxhall Jn | 06/36 | ? | | 21/19 | ? |
| Didcot North Jn | 06/38 | 06/39 | | 21/17 | 22/53 |
| Kennington Jn | 06/45 | 06/45 | | 21/10 | 22/47 |
| Oxford | 06.49a ~ 06.51d | 06.50 ~ 06.51 | | 21.04a ~ 21.06d | 22.42 ~ 22.44 |
| Wolvercot Jn | 06/55 | 06/55 | | 20/54½ | 22/38 |
| Heyford | 07/02½ | 07/02 | | 20/45½ | 22/31 |
| Aynho Jn | 07/07 | 07/07 | | 20/39½ | 22/26 |
| Banbury | 07/11 | 07/11 | | 20/34 | 22/18 |
| Fenny Compton | 07/18 | 07/18 | | 20/27 | 22/05 |
| Leamington Spa | 07*29 ~ 07*43 | 07.28 ~ 08.20 | | 20/16 | 21/55 |
| Milverton Jn | 07/45 | 08/22 | | 20/13 | 21/51 |
| Kenilworth | 07/51 | 08/27 | | 20/08½ | 21/47 |
| Gibbet Hill Jn | 07/53 | 08/29 | | 20/06½ | 21/44 |
| Coventry | 08/07 | 08/34 | | 19/53 | 21/40 |
| Birmingham International | 08/22 | 08/49 | | 19/40 | 21/27 |
| Stechford | 08/28½ | 08/54 | | 19/34 | 21/23 |
| Aston | 08/36 | 09/00 | | 19/28 | 21/18 |
| Perry Barr North Jn | 08/40 | 09/03 | | 19/24 | 21/15 |
| Tame Bridge Parkway | 08.43a ~ 08.45d | 09.08 ~ 09.10 | | 19.18a ~ 19.20d | 21.09 ~ 21.11 |
| Bescot Stadium | 08/48 | 09/12 | | 19/15 | 21/07 |
| Darlaston Jn | 08/49 | 09/14 | | 19/14 | 21/06 |
| Portobello Jn | 08/54 | 09/18 | | 19/10 | 21/02 |
| Wolverhampton | 09.05a ~ 09.09d | 09.24 ~ 09.26 | | 19.02a ~ 19.05d | 20.57 ~ 20.58 |
| Wolverhampton North Jn | 09/11 | 09/28 | | 19/00 | 20/55 |
| Oxley SB | 09/12 | ? | | 18/59 | DIV |
| Cosford | 09/27 | 09/35 | | 18/50 | DIV |
| Madeley Jn | 09/39 | 09/41 | | 18/45 | DIV |
| Wellington | 09/45 | 09/46 | | 18/38 | DIV |
| Abbey Foregate Jn | ? | ? | | 18*18 ~ 18*25 | DIV |
| Shrewsbury | 09.59a ~ 10.14d | 10.00 ~ 10.15 | | DIV | ? |
| Sutton Bridge Jn | 10t18 ~ 10t19 | 10.18 ~ 10.20 | | 18t14 ~ 18t15 | 18.12 ~ 18.13 |
| Welshpool | 10t42½ ~ 11t02½ | 10.46 ~ 11.02 | | 17t48 ~ 17t50½ | 17.48 ~ 17.50 |
| Newtown | 11t22 ~ 11t23 | 11.24 ~ 11.26 | | 17t28 ~ 17t29 | 17.30 ~ 17.31 |
| Talerddig | 11t42 ~ 11t43 | 11.51 ~ 11.52 | | 17t09 ~ 17t10 | 17.12 ~ 17.12 |
| Machynlleth | 12t04 ~ 12t05 | 12.10 ~ 12.12 | | 16t46½ ~ 16t48 | 16.48 ~ 16.52 |
| Dovey Junction | 12t11 ~ 12t12 | ? | | 16t39½ ~ 16t40½ | ? |
| Borth | 12t24 ~ 12t25 | ? | | 16t27½ ~ 16t28½ | ? |
| Aberystwyth | 12.38a | 12.46 | | 16.13d | 16.13 |
VoR Special
| | | | |
| --- | --- | --- | --- |
| M.C | Location | Booked (out) | Booked (rtn) |
| 0.00 | Aberystwith | 12.50d | 14.15a |
| 4.57 | Capel Bangor | 13.05 ~ 13.15 | ? |
| 11.70 | Devil's Bridge | 13.45a | 15.20d |