4th May 2009
Past Time Rail
The Royal Wessex
| | |
| --- | --- |
| Locos Used | 47245 & steam: 34067 'Tangmere' |
| Stock Used | 5216+5200+5171+1840+9104+99371+5249+1961+5237+5236+35518 (2) |
Route :
1Z98 : London Waterloo to Swanage
1Z97 : Swanage to London Waterloo
| | |
| --- | --- |
| Loco(s) | Route |
| 47245 | London Waterloo - Clapham Junction - Barnes - Richmond - Twickenham - Staines - Virginia Water - Chertsey - Addlestone Jn - Byfleet & New Haw - Woking - Basingstoke - Winchester - Eastleigh - Southampton Central - Brockenhurst - Bournemouth - Poole - Wareham - Worgret Jn - Corfe Castle - Swanage |
| 34067 (3) | Swanage - (reverse of outward route) - London Waterloo |
Notes :
(1) This was the second of two trips from London to Swanage & back this weekend, the first steam between the main line & Swanage since June 1967. The other trip (The Dorset Coast Express) took place on 02/05/2009 in which 34067 took the train to Swanage with diesel back.
(2) 35518 was only in the consist when 34067 was on the train.
(3) 47245 on rear.
(3) This was the last tour run by Past Time Rail before they ceased trading.
Sources : John Clifford & David Lodwick



Photo Review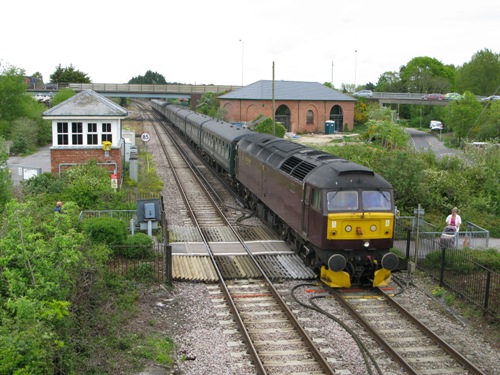 47245 arrives at Wareham with the outward leg (photo: Nick Bartlett)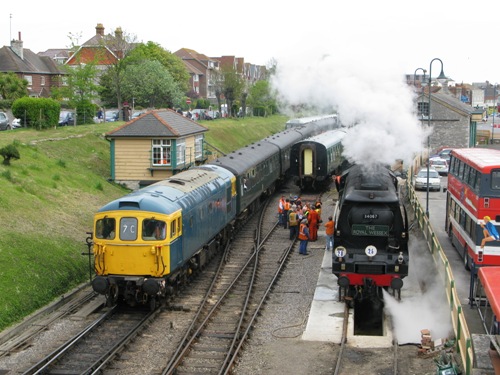 34067 was serviced at Swanage whilst the tour stock was being shunted by
33111 (photo: Nick Bartlett)


Timings (Booked & Actual)
(from John Clifford)
| | | | | | |
| --- | --- | --- | --- | --- | --- |
| Location | Booked | Actual | | Booked | Actual |
| Waterloo | 08.12d | 08.10½ | | 21.05a | 21.04 |
| Nine Elms Jn | 08/17 | 08/16½ | | 21/01 | 20/56 |
| Queens Road (Battersea) | 08/18½ | 08/18 | | 20/59 | 20/55 |
| West London Jn | ? | ? | | 20/58 | 20/54 |
| Clapham Junction | 08/20½ | 08/21 | | 20/56 | 20/53 |
| Barnes | 08/30 | 08/27½ | | 20/46 | 20/45 |
| Richmond | 08/33 | 08/31 | | 20/36 | 20/37 |
| St Margarets | ? | ? | | 20/33 | 20/32½ |
| Twickenham | 08/36 | 08/36 | | 20/31 | 20/29 |
| Twickenham Jn | ? | ? | | 20/30 | 20/28½ |
| Whitton Jn | 08/38 | 08/38½ | | 20/23½ | 20/25 |
| Feltham Jn | 08/39 | 08/39½ | | 20/23 | 20/23½ |
| Feltham | 08/41 | 08/40½ | | 20/21 | 20/20½ |
| Staines | 08/49 | 08/47 | | 20/13 | 20/14½ |
| Virginia Water | 08/58 | 08/58 | | 20/04½ | 20/07 |
| Addlestone Jn | 09/08 | 09/07 | | 19/53 | 19/57 |
| Byfleet & New Haw | 09/10 | 09/09½ | | 19/51 | 19/55 |
| Woking | 09.15a ~ 09.21½d | 09.16 ~ 09.21 | | 19.43a ~ 19.45d | 19.46 ~ 19.48 |
| Woking Jn | 09/46 | 09/44 | | 19/18 | 19/19½ |
| Farnborough | 09/30 | 09/31½ | | 19/35 | 19/35 |
| Basingstoke | 09/42 | 09/42 | | 19/21 | 19/23 |
| Worting Jn | 09/46 | 09/44 | | 19/18 | 19/19½ |
| Winchester | 10/01 | 09/56 | | 19/01 | 18/58½ |
| Shawford Jn | 10/03 | 09/59 | | ? | ? |
| Shawford | ? | ? | | 18/56 | 18/55 |
| Allbrook | ? | ? | | 18/50 | 18/50 |
| Eastleigh | 10/08 | 10/07 | | 18w31 ~ 18w46 | 18.33½ ~ 18.47 |
| St Denys | 10/16 | 10/15 | | 18/25 | 18/26 |
| Northam Jn | 10/18 | 10/16½ | | 18/23 | 18/24½ |
| Southampton Central | 10/20 | 10/19 | | 18.18 ~ 18.20 | 18/21 |
| Redbridge | 10/24 | 10/22 | | 18/05 | 18/09 |
| Brockenhurst | 10/34 | 10/32½ | | 17/51 | 17/57½ |
| Bournemouth | 10/51 | 10/47 | | 17/33 | 17/34 |
| Branksome | 10/57 | 10/52½ | | 17/29 | 17/29 |
| Poole | 11/05 | 10/59 | | 17/21 | 17/21½ |
| Hamworthy Jn | 11/10 | 11/03 | | 17/16 | 17/17 |
| Wareham | 11.17 ~ 11.19 | 11.09 ~ 11.10 | | 17.05 ~ 17.07 | 17.04½ ~ 17.07 |
| Worgret Jn | 11/22 | 11/14 | | 17/01 | 17/00 |
| Furzebrook Sidings | 11.34 ~ 11.40 | 11/23½ | | 16.40 ~ 16.49 | 16/52 |
| Motala GF | 11/44 | 11.27 ~ 11.35 | | 16/37 | 16.36 ~ 16.48 |
| Norden | 11/52 | 11/44 | | 16/29 | 16.28½ ~ 16.30 |
| Corfe Castle | 11/54 | 11/54 | | 16/26 | 16/27 |
| Harmans Cross | 12/00 | 12/00 | | 16/20 | 16/21 |
| Swanage | 12.10a | 12.14 | | 16.10d | 16.10 |