5th April 2009
Railway Touring Company
The Royal Duchy
Postponed from 4th April to 5th April for reason(s) unexplained.
| | |
| --- | --- |
| Locos Used | D1015 'Western Champion' & steam: 5029 'Nunney Castle' & 70013 'Oliver Cromwell' |
| Stock Used | (2) +35469+3068+3069+1691+3097+3120+3149+3119+1863+5009+5350 |
Route :
1Z52 : London Paddington to Par
1Z53 : Par to London Paddington
| | |
| --- | --- |
| Loco(s) | Route |
| D1015 | London Paddington - Slough - Twyford - Reading - Didcot Parkway - Swindon - Wootton Bassett Jn - Chippenham - Thingley East Jn - Bradford South Jn - Westbury |
| 5029 + 70013 | Westbury - (via Frome avoiding line) - Castle Cary - Coglaod Jn - Tiverton Junction - Exeter St Davids - Dawlish - Newton Abbot (3) |
| D1015 + 70013 | Newton Abbot - Totnes - Plymouth - St Germans - Liskeard - Par |
| D1015 | Par - (reverse of outward route) - Westbury - Bedwyn - Newbury - Southcote Jn - Reading - (reverse of outward route) - London Paddington |
Notes :
(1) Originally advertised to run on Saturday 4th April to Penzance, various changes were made and the tour ended up running on Sunday 5th April, to Par.
(2) plus 17019 in formation when 70013 was hauling the train or 35461 when 5029 was hauling the train.
(3) 5029 was failed at Newton Abbot with a hot axlebox. D1015 had run light engine to Plymouth for fuel and travelled back to Newton Abbot to pilot 70013. The train arrived at Par some two hours late.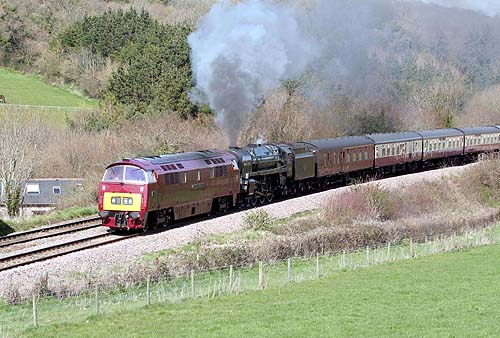 D1015 caught on camera at Dainton with 70013 (photo: Roger Geach)
Sources : Roger Geach & John Clifford



Tour Review
(by Andrew Pullar)
The tour was originally advertised as travelling from London to Penzance on the Saturday. It was realised that engineering work west of St. Austell scheduled for that weekend would prevent the tour from reaching Penzance. The organiser requested NR to allow the train to run steam hauled from Westbury to Newquay and back to Par as an alternative top and tailed by 5029 and 70013 between Par and Newquay. NR agreed but only if the train was to run on the Sunday for which the Newquay branch would be especially opened.
Having noted this change on the Steam website and having checked with RyTC I booked a seat on the basis that steam was running to Newquay. I had to pay out for the full dining option as no other seats were available. At the time of my booking the revised itinerary was D1015 from London to Westbury via Melksham, double headed steam from Westbury (via the Frome avoiding line and a water stop in the down loop at the site of Tiverton Junction station [which necessitated a run on the down main past the loop and then setting back]) to Par then top and tail steam from Par to Newquay and back for an unspecified diesel back to London.
Unfortunately no check on the suitability of the Castle to run to Newquay was made before advertising that resort as the destination and once gauging issues were identified Newquay was quietly dropped and the train subsequently advertised as destined for Par. To compensate [some] for dropping Newquay as the destination the steam were then going to be attached at Didcot and the Western would replace the unspecified diesel as far as Bristol on the return to be replaced by a class 47 for the section back to London. This didn't work out either as engineering work at Didcot on the relief lines that weekend would have prevented the steam locos from leaving the Didcot Railway Centre. The route via Bristol was also affected by engineering work so the return leg ended up as D1015 hauled from Par back to London via the B&H.
Two off train excursions were available for passengers that had pre-booked both requiring leaving the train at Bodmin Parkway. One was a ride to Bodmin General and back steam hauled and the other was a short break in Fowey by road coach. I was not made aware of them until I was on the train so could not partake of either if I had wanted too. The excursion to Fowey was changed on the day to the Georgian seaside village of Charlestown at the behest of the coach operator who cited issues over parking in Fowey. As it transpired this was academic after Nunney Castle was failed at Newton Abbot with a hot box on the tender. The delay whilst D1015 replaced 5029 meant the road coach option was cancelled. The steam option to Bodmin General did operate however with 6412 and three coaches.
For me this wasn't a good advertisement for mainline steam not because of the on the day failure (I have now added a Castle to the one King, one Manor, two A4s, one WC and a BB failure on the mainline and having to be rescued twice by D1015 in the process. Other diesels scooped being three 37s, two 47s, a shed and a skip) but because of the change to the advertised destination weeks in advance for which I had booked and paid out a premium fare to reach by steam. An apology of some sort once Newquay had been dropped and the offer of a refund or transfer to another tour would have been appreciated. Instead I felt like I had been mugged and it is certainly making me think twice before I book again on steam tours where I am not confident the destination will be reached as advertised.
On the day the failure of Nunney Castle did bring a lifting of my mood somewhat it has to be admitted. A hydraulic piloting a steam loco over the Devon banks like in films of the late 50s early 60s (though not a Western it must be said) I have seen made up for not getting to Newquay at least partly. Use of D1015 rather than a 47 or shed or skip also made things better than they might otherwise have been for me on the other legs of the tour. I even scored some new track for steam when the train ran past Tiverton Junction on the down main before setting back into the loop.
Andrew Pullar



Timings (Booked & Actual)
(from John Clifford)
Location
Booked
Actual
Booked
Actual
Paddington
07.35d
?
22.45a
22.40
Ladbroke Grove
07/38
?
22/40
22/32
Acton West
07/41
?
22/33
22/30
West Ealing
?
?
22/36
22/28½
Southall
07/45
?
22/31
22/25
Airport Jn
07/47
?
22/29
22/18
Slough
07.53a ~ 07.56d
?
22.07a ~ 22.13d
22.08 ~ 22.10
Maidenhead
08/01
?
21/55
22/00½
Twyford
08/07
?
21/43
21/56
Reading
08.14a ~ 08.17d
08.16 ~ 08.18½
21.26a ~ 21.30d
21.48 ~ 21.50
Reading West Jn
08/20
08/21
Didcot Parkway
08.35a ~ 08.38d
08.36½ ~ 08.39
Wantage Road
08/46
08/47
Challow
08/49
08/50
Uffington
08/51
08/52
Swindon
09.01a ~ 09.04d
09.01 ~ 09.04
Wootton Bassett Jn
09/10
09/11
Chippenham
09/18
09/18½
Thingley East Jn
09/19
09/20
Thingley Jn
09/19½
09/22
Bradford South Jn
09/29
09/33½
Southcote Jn
21/22
21/44
Newbury
21.05a ~ 21.07d
21.28½ ~ 21.29½
Hungerford Loop
20.46 ~ 20.56
DIV
Bedwyn
20/40
21/16
Woodborough
20/29
21/06½
Heywood Road Jn
20/16
20/53½
Westbury
09.37a ~ 10.37d
09.41½ ~ 10.38
20.11a ~ 20.13d
20.48½ ~ 20.50½
Fairwood Jn
10/40
10/41
20/08
20/45
Clink Road Jn
10/43
10/45
20/05
20/42
Blatchbridge Jn
10/45
10/47
20/03
20/40½
Witham
10/48
10/51
19/59
20/38
Castle Cary
10/56
10/58
19/51
20/31
Somerton
11/06
11/07
19/44
20/23½
Athelney
11/15
11/14
19/38
20/17½
Cogload Jn
11/18
11.19 ~ 11.23
19/35
20/15
Taunton
11.25 ~ 11.27
11.31½ ~ 11.33½
19.37 ~ 19.39
20.08½ ~ 20.10
Norton Fitzwarren
11/30
11/37
19/25
20/05½
Whiteball
11/40
11/46½
19/19
19/59½
Tiverton Parkway
11/43
11/49
19/15
19/57
Tiverton Junction
11w45 ~ 12w23
12.00 ~ 12.22½
Cowley Bridge Jn
12/36
12/36
19/00½
19/44½
Exeter St Davids
12.39 ~ 12.42
12.40 ~ 12.45
18.56 ~ 18.58
19.40½ ~ 19.42
Dawlish Warren
12/55
12/56½
18/46
19/31
Dawlish
12/57
12/58
18/44
19/29
Teignmouth
13/00
13/01
18/41
19/26
Newton Abbot
13/05
13.07 ~ 14.56
18/35½
19/21½
Newton Abbot West
13/07
14/58
18/35
19/21
Dainton
13/13
15/05
18/31
19/17
Totnes
13/20
15.13 ~ 15.15
18/25
19/11½
Aish Emergency Crossover
13/32
15/26
18/18
19/04
Ivybridge
13/38
15/30
18/13
19/00
Hemerdon
13/45
15/35
18/08
18/55
Lipson Jn
13/52
15/39½
18/00
18/48½
Plymouth
13w55 ~ 14w27
15.44 ~ 16.05
17.53 ~ 17.57
18/45½
St Budeaux Jn
14/33
16/11½
17/48
18/40
Saltash
14/37
16/16
17/43
18.34 ~ 18.36
St Germans
14/44
16/22½
17/35
18/24½
Liskeard
14/55
16/33
17/25
18/15½
St Pinnock Viaduct East
15/01
16/38
17/19
18/10½
Largin
15/02
16/39
17/18
18/09½
Bodmin Parkway
15.08a ~ 15.11d
16.45 ~ 16.48
17.10a ~ 17.12d
18.00½ ~ 18.03
Lostwithiel
15/17
16/53
17/06
17/55
Par
15.25a
17.03½
17.00d
17.47½