3rd April 2009
Charters Helvetica
The Lotschberg Quarryman
Locos Used
BLS: 235.205, 486.504 & 843.503
SBB: 11514
Stock Used
50 63 18 33 801-5 + 50 63 18 33 808-0 + 50 63 18 33 811-4
Route.
34051 : Interlaken Ost to Bonigen Works
34053 : Bonigen Works to Kanderstag
34064 : Kanderstag to Thun Docks
34075 : Thun Docks to Spiez Depot
34086 : Spiez Depot to Interlaken Ost
| | |
| --- | --- |
| Loco(s) | Route |
| 843.503 (1) | Interlaken Ost [P5] – (via Track 324) - Bonigen Works [Track 11] (3) |
| 235.205 (2) | Boningen Works - Via Track 324 - Interlaken Ost [Track 6, Through Line] - Interlaken West [P2] - Spiez Yard [Track 572] |
| 843.503 (1) | Spiez Yard – Frutigen Yard [Track 4] - Kanderstag Yard [Track 5] |
| 235.205 (2) | Kanderstag Yard - Parliamentary Siding 15 |
| 843.503 (1) | Parliamentary Siding - Kanderstag Yard [Via Tracks 5, 4 & 53] - Auto Siding C36 |
| 235.205 (2) | Auto Siding - Kanderstag Yard [Via Tracks 55 & 5] - Blausee Mitholz - Blausee Military Siding |
| 843.503 (1) | Military Siding - Blausee Mitholz |
| 235.205 (2) | Blausee Mitholz - Blausee Quarry [Track 7] |
| 843.503 (1) | Blausee Quarry - Blausee Mitholz [Track 21] |
| 235.205 (2) | Blausee Mitholz - Hondrich Exchange Sidings - Old 'Main Line' Tunnel (4) |
| 11514 (5) | Old Tunnel - Hondrich Exchange Sidings - (6) - Hondrich Sud |
| 11514 (5) | Hondrich Sud - Spiez Yard [Track 574] (7) |
| 235.205 | Spiez Yard - Thun Yard [Tracks 240 & 147] |
| 235.205 (8) | Thun Yard - Track 216 - Via South End Ladder - Track 747 - Thun Headshunt [Track 765] |
| 235.205 | Thun Headshunt - Docks Headshunt |
| 235.205 (8) | Docks Headshunt - Docks Sidings [Right Hand of the 4 Tracks] |
| 235.205 | Docks Sidings - Docks Headshunt |
| 235.205 (8) | Docks Headshunt - Thun Headshunt (Track 765) (9) |
| 235.205 | Thun Headshunt - Thun [P5] - Thun Yard [Track 148] |
| 235.205 (8) | Thun Yard - Track 240 |
| 486.504 (1) | Thun Yard - [Tracks 249 & 269] - Spiez [P4] (10) |
| 486.504 | Spiez - Interlaken West [P2] - Interlaken Ost [P7] |
Notes :
(1) 235.205 on rear.
(2) 843.503 on rear.
(3) BLS personel quoted this as Line 11, although the signage above stated Line 1.
(4) End of Line given as 0.46km beyond Innertkirchen station. Although the train actually entered the tunnel section which was judged to be a further 4 chains of track.
(5) Only coach 50 85 28-05 314-5 was used for the run beyond Innertkirchen.
(4) To a point about 6 chains inside the tunnel, which prior to 1987 was the original Main Line into Spiez.
(5) 843.503 was deemed a failure and 235.205 was unable to propel the train back out of the tunnel. The local shunter (ex-DB 266.355) which was to have been used to shunt release the train on the quarry branch couldn't work either, so the SBB electric was commandeered instead, complete with freight train in tow!!!
(6) The booked route into the quarry itself was now not possible due to the lack of diesel traction.
(7) 11514 plus its freight train and the failed 843503 were detached here.
(8) Loco propelling.
(9) Thun Post Siding was unable to be traversed due to being occupied by postal wagons.
(10) Spiez Depot visit cancelled due to late running.
(11) Stuart Clarke has provided the tour mileages which can be downloaded here (Word document).
Source : Stuart Smith (on the train throughout)



Tour Review
(by Stuart Smith)
So after a quick change of stock at Interlaken Ost (both in gauge and operating company), we were ready for todays part 2.
How could we top this mornings excellent jaunt? Well how about a Class 235 (the version fitted with a crane)!!!
In what was certainly a haulage scratch for everyone, we set off behind BLS diesel loco 843.503 towards Bonigen works. Two years ago we had previously done this line, but only got as far as the depot gates (being a Sunday), but this time there were no such problems and we used track 11, right to the edge of the traverser. Noted here were mostly coaches being repaired, although 4 withdrawn shunters were also stabled. Changing ends, we had our first 'crane' haulage as 235.205 took us back through Interlaken and along the shores of the Thuner See to Spiez.
From Spiez we took the Lotcshberg Line through to Kanderstag, running though the yard at Frutigen to gain some extra 'non passenger' track. At Kanderstag Yard we reversed into the Parliamentary Siding (Track 15). This siding is used for 'cabinet members' to access tunnels inside the mountains in cases of national emergency. To note here was that the photo stops beyond Spiez were completely different from those earlier in the day due to the amount of snow still laying on the ground from the winter. Another reversal took us into one of the sidings used for stabling car transporter stock between duties, where some nice shots in the snowy conditions were on offer. Back on board we ran via track 55 (one of the three specific tracks for loading cars) before retracing our steps towards Blaussee Mitholz. On the first of Alan's Swiss charters in 2005 (operated in conjunction with Mercia Charters) we had been offered the bonus track of Blaussee Quarry during the pathing stop. On this occasion, not only did we cover the other siding at the quarry, but also became the first passenger train to use the adjacent Military Siding too.
From here it was a gentle downhill roll to Hondrich-Sud where we took the left hand curve on to the Quarry Branch. And that is where the fun began...
Passing through the exchange sidings the ex-DR shunter, number 266.355, was noted stabled on a freight train. (It was hoped that this would assist with some haulage whilst on the branch). First we did a quick track bash through the tunnel section which once formed part of the 'old' Brig - Spiez mainline and is retained for storage use only. But upon reversal, it seemed that the 843 had failed, and due to the curvature and slipperyness inside the tunnel, our other loco was unable propel us out. Being inside the tunnel we were unable to see what was occurring outside, but I believe we were all certain that the 266 would assist from here!
How wrong we were. Unknown to most on the train, SBB Ae 6/6 11514 had duly arrived to pick up the freight wagons and it was deemed acceptable to allow it to assist us - complete with its own train in tow. So with the electric loco sandwiched between its freight and our stranded charter train, it hauled us back out to the mainline, and then pushed the entire consist up to Spiez Yard. Once detached, we were able to continue to Thun Yard, where we reversed to take in the Docks Branch. Although we had done this line before, like at the other locations today, we traversed a different track to keep the 'BLS' participants happy. After the docks branch we were due to cover the Postal sidings here, but unfortunately they were occupied by postal wagons and thus our way was blocked. So after a short wait (although we were still passed by 5 different trains) we shunted back over to the main yard and awaited our loco change. It wasn't to long before 'newy' 486.504 appeared for the run back to Interlaken Ost.
The new electric swiftly hauled our three coaches back via Spiez to conclude a very memorable day of touring.
11 haulages so far (10 winners for me).
Stuart Smith



Photo Review
(all photos: Stuart Smith)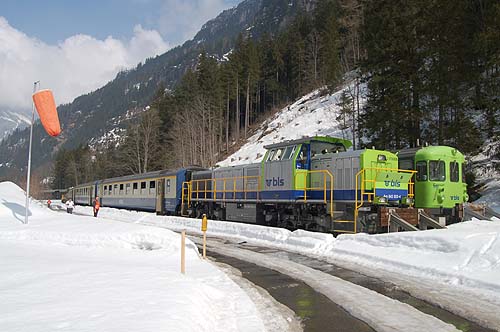 843.503 in the snow at Kanderstag Auto Terminal.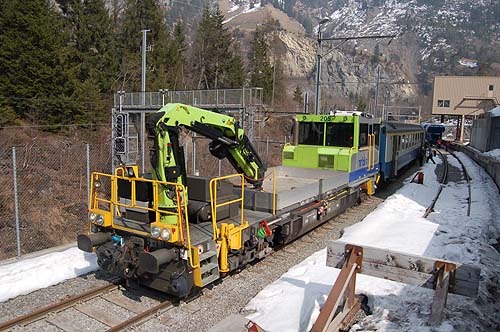 235.205 on Track 7 at Blausee Quarry.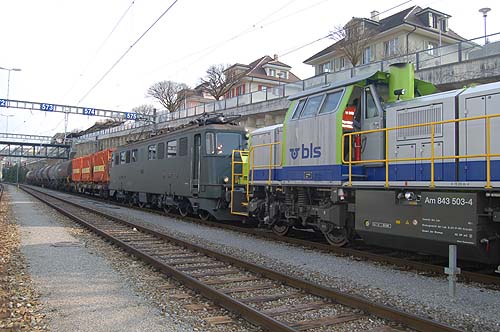 SBB Ae 6/6 11514 at Spiez Yard after assisting us from Hondrich-Sud.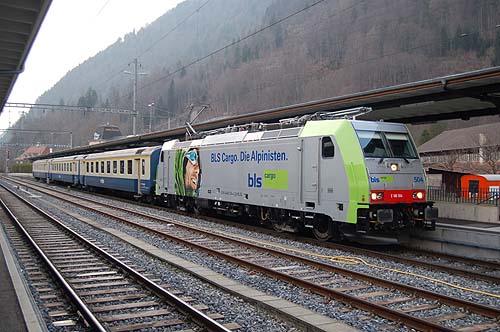 BLS Cargo 586.504 on arrival back at Interlaken Ost.