14th March 2009
Railway Touring Company
The Golden Arrow
| | |
| --- | --- |
| Locos Used | 47245 & steam: 70013 'Oliver Cromwell' |
| Stock Used | 17019+99127+99371+1961+99350+99348+99128+5222+5216+99304 |
Route.
1Z82 : London Waterloo to Folkestone Harbour
1Z83 : Folkestone Harbour to Folkestone Harbour
1Z84 : Folkestone Harbour to Canterbury West
1Z85 : Canterbury West to London Waterloo
| | |
| --- | --- |
| Loco(s) | Route |
| 70013 (1) | London Waterloo - Vauxhall - Nine Elms Jn - Linford Street Jn - Voltaire Road Jn - Brixton - Herne Hill - Beckenham Junction - Shortlands Jn - Bickley Jn - Petts Wood Jn - Orpington - Sevenoaks - Tonbridge - Headcorn - Ashford International - Folkestone Central - Folkestone East Train Roads |
| 47245 (2) | Folkestone East Train Roads - Folkestone Harbour |
| 70013 (1) | Folkestone Harbour - Folkestone East Train Roads |
| 47245 (2) | Folkestone East Train Roads - Folkestone Harbour |
| 70013 (1) | Folkestone Harbour - Folkestone East Train Roads |
| 47245 (2) | Folkestone East Train Roads - Folkestone Harbour |
| 70013 (1) | Folkestone Harbour - Folkestone East Train Roads |
| 47245 (2) | Folkestone East Train Roads - Ashford International |
| 70013 (1) | Ashford International - Wye - Canterbury West - Minster East Jn - Ramsgate - Margate - Sittingbourne - Rochester Bridge Jn - Sole Street - Swanley - St Mary Cray Jn - Bickley Jn - (reverse of outward route) - London Waterloo |
Notes :
(1) 47245 on rear.
(2) 70013 on rear.
(3) Two round trips were made from Folkestone Harbour to Folkestone East Train Roads for photographic purposes, giving the opportunity for locals to travel on the train (as this was billed as the last passenger service into Folkstone Harbour with the branch due to close on 15/03/2009).
(4) Train was originally advertised to start from/terminate at London Victoria but was diverted to start from/terminate at London Waterloo. Original advertised routing was as follows: - London Victoria - East Croydon - Redhill - Edenbridge - Tonbridge, then as above to Folkestone
Sources : Gordon Jakes, Charles Baldwin & Matthew Cole



Tour Review
(by Gordon Jakes)
This train was described as the last train to Folkestone Harbour and we were advised that the line from Folkestone East to the Harbour was to formally close on 15th March i.e. the day after this special train. A group called "The Remembrance Line Association" has been formed with the objective of reopening the line to the Harbour together with all the necessary infrastructure. It is to be hoped that they are successful!
There was tremendous lineside support for The Golden Arrow with photographers located throughout at bridges and other lineside vantage points. The arrival of 70013 at Folkestone Harbour was also greeted by large crowds. This made it very difficult to find clear lines of sight for the subsequent run-pasts particularly for those of us who had arrived on the train. It is unusual for the travelling enthusiast to be provided with an opportunity to photograph his/her train in motion. This was the case at Folkestone and the two additional journeys up the incline from Folkestone Harbour to Folkestone East were well photographed. Oliver Cromwell produced spectacular performances on each ascent with smoke and steam aplenty.
Operationally the Golden Arrow was a real success with no significant problems encountered anywhere – even the vacuum brake problems experienced by 47245 which caused a special stop at Penge East, (09:01 ~ 09:15), on the outward journey was rectified and the consequent late running was soon caught up. It has to be said that the lack of the need to couple / uncouple locomotives and to run round trains contributed greatly to the success of the day. Shunt moves were not the long drawn out affairs that is so often the case. The water stops were professionally undertaken and were concluded within the allotted times.
Oliver Cromwell acquitted herself exceptionally well throughout the day and was a real credit to her crew and to the many and varied enthusiasts who have brought her back to life.
Gordon Jakes



Photo Review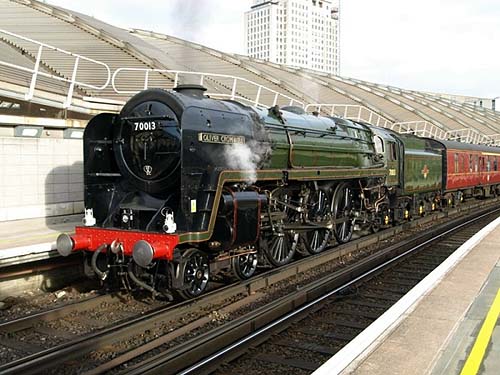 70013 waits to leave Waterloo in the morning (photo: Gordon Jakes)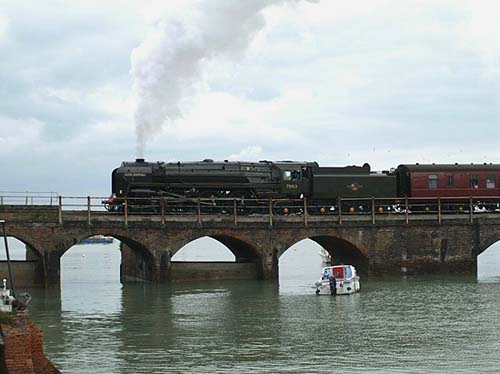 Second run-past at Folkestone Harbour (photo: Gordon Jakes)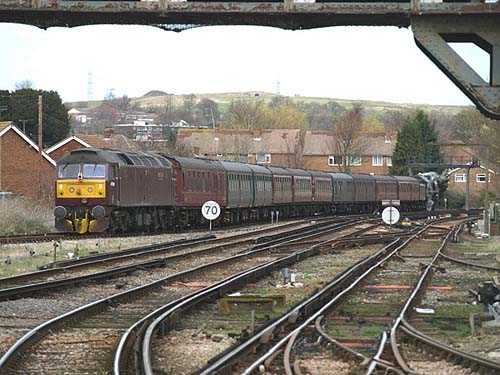 47245 on the rear at Canterbury West (photo: Gordon Jakes)


Timings (Booked & Actual)
(from Gordon Jakes, Matthew Cole & John Clifford)
M.C

Location
Booked
Actual

0.00

London Waterloo
08.40d [P19] [RVL]
08.42

1.74

Nine Elms Jn
08/44
08/48

2.46

Linford Street Jn
08/45
08/49

3.00

Voltaire Road Jn
08/47
08/50

4.11

Brixton
08/49
08/52

4.73

Herne Hill
08/49 [P3]
08/52

9.50

Beckenham Junction
08/56
09/18

10.54

Shortlands Jn
08/59 [FL]
09/19˝

13.35

Bickley Jn
09/07 [DF]
09/23˝

14.26

Petts Wood Jn
09/11 [FL]
09/25

15.67

Orpington
09/13 [P3]
09/27

24.11

Sevenoaks
09/23 [P3]
09/36˝

31.44

Tonbridge
09/34 [DM]
09/43˝

36.69

Paddock Wood
09/42 [DM]
09/48˝

47.19

Headcorn
09w54 ~ 10w06 [P2]
09.59 ~ 10.12˝

58.14

Ashford International
10/22 [DML]
10/26˝

68.40

Saltwood Jn
10/34
10/38

71.75

Folkestone Central
10/40
10/43˝

73.01

Folkestone East
10/46
10/47˝

73.10

Folkestone East No.3 Train Road
10.49 ~ 10.59
10.50 ~ 11.03˝

74.09
0.00

Folkestone Harbour
11.05a ~ 11.25d
11.09 ~ 11.25

0.79
0.00

Folkestone East No.3 Train Road
11.30 ~ 11.39
11.32 ~ 11.40

0.79
0.00

Folkestone Harbour
11.45a ~ 12.00d
11.46 ~ 12.01

0.79
0.00

Folkestone East No.3 Train Road
12.05 ~ 12.14
12.07 ~ 12.15

0.79
0.00

Folkestone Harbour
12.20a ~ 13.09d
12.21 ~ 13.09˝

0.79

Folkestone East No.3 Train Road
13.14 ~ 13.22
13.16˝ ~ 13.22

1.08

Folkestone East
13/25
13.23

2.14

Folkestone Central
13/30
13.25˝

5.49

Saltwood Jn
13/38
13/30

?

Ashford East Jn
13/52 [SL]
?

15.75
0.00

Ashford International
14.01a ~ 14.11d [P1]
13.46 ~ 14.09˝ [P2]

4.20

Wye
14/20
14/17

14.15
0.00

Canterbury West
14.31a ~ 16.05d [P2]
14.30 ~ 16.09

11.37

Minster
16/24
16/24

11.70

Minster East Jn
16/25
16/24˝

15.40

Ramsgate
16/32
16/29˝

20.72

Margate
16/42 [P3]
16/38˝

32.03

Herne Bay
16/55
16/55

35.55

Whitstable
17w02 ~ 17w17
17.00 ~ 17.20

42.54

Faversham
17/27 [P2]
17/31

50.02

Sittingbourne
17/38 [P1]
17/39˝

50.43

Eastern Jn
17/40
17/40

58.66

Gillingham
17/48 [P2]
17/48˝

61.00

Rochester
17/53 [P2]
17/53

61.60

Rochester Bridge Jn
17/55
17/54

67.60

Sole Street
18/07
18/04˝

72.11

Fawkham Jn
18/13
18/09

77.30

Swanley
18/19 [P1]
18/16˝

81.44

St Mary Cray Jn
18/24 [FL]
18/22˝

82.21

Bickley Jn
18/26
18/23

85.04

Shortlands Jn
18/35
18/35

86.08

Beckenham Junction
18/37
18/38

90.65

Herne Hill
18/43˝ [P2]
18/43˝

91.47

Brixton
18/44˝
18/44˝

92.59

Voltaire Road Jn
18/46˝
18/46˝
93.12
Linford Street Jn
18/47˝
18/47˝

93.64

Nine Elms Jn
18/50 [RVL]
18/49

95.58

London Waterloo
18.55a [P19]
18.56