8th February 2009
Pathfinder Tours
The Forth McFreighter
| | |
| --- | --- |
| Locos Used | 66039 & 66201 |
| Stock Used | 5350+4902+5040+4927+5009+1863+3107+3140+3112+3122+3098+17105 |
Route:
1Z47 : Edinburgh Waverley to Leith Docks
1Z48 : Leith Docks to Edinburgh Waverley
1Z49 : Edinburgh Waverley to Grangemouth
1Z50 : Grangemouth to Edinburgh Waverley
| | |
| --- | --- |
| Loco(s) | Route |
| 66201 (1) | Edinburgh Waverley - Abbeyhill Jn - Powderhall Branch Jn - Portobello Jn |
| 66039 (2) | Portobello Jn - Powderhall Branch Jn - Powderhall |
| 66201 (1) | Powderhall - Powderhall Branch Jn - Portobello Jn - Monktonhall Jn - Prestonpans - Drem - North Berwick |
| 66039 (2) | North Berwick - (reverse of outward route) - Monktonhall Jn - Millerhill East Jn - Millerhill West Jn - Millerhill Yard (Siding F6) |
| 66201 (1) | Millerhill Yard - Millerhill West Jn - Millerhill South Jn - Monktonhall |
| 66039 (2) | Monktonhall - Millerhill South Jn - Millerhill East Jn |
| 66201 (1) | Millerhill East Jn - Millerhill West Jn - Millerhill Yard (Siding F6) - Niddrie South Jn - Niddrie North Jn - Portobello Jn - Seafield L.C. (3) |
| 66039 (2) | Seafield L.C. - Portobello Jn - Niddrie North Jn |
| 66201 (1) | Niddrie North Jn - Portobello Jn - Edinburgh Waverley - Haymarket East Jn (4) - Haymarket West Jn - Newbridge Jn - Winchburgh Jn - Polmont Jn - Falkirk High - Greenhill Upper Jn - Croy - Cadder Yard DPL |
| 66039 (2) | Cadder Yard DPL - (reverse of outward route) - Greenhill Upper Jn - (Up 'E&G' Sig. GJ.347) (5) |
| 66201 (1) | Greenhill Upper Jn, Cross 'Up' to 'Down' - (Dn 'E&G', Bridge UB79A, Skipperton Burn, Sig. GJ.1338) |
| 66039 (2) | Greenhill Upper Jn, Cross 'Down' to 'Up' - (4) Greenhill Lower Jn - Carmuirs East Jn - Falkirk Grahamston - Grangemouth Jn - Fouldubs Jn - Grangemouth Docks Branch Gate |
| 66201 (1) | Grangemouth Docks Branch - (reverse of outward route) - Carmuirs East Jn - Larbert Jn - Stirling - Alloa - Kincardine - Longannet SB - Elbowend Jn - Charlestown Jn - Dunfermline Town - Dunfermline Queen Margaret - Townhill DGL No.1 |
| 66039 (2) | Townhill DGL - (reverse of outward route) - Charlestown Jn - Rosyth - Inverkeithing - Forth Bridge - Dalmeny Jn - Haymarket West Jn - Haymarket East Jn - Edinburgh Waverley |
Notes :
(1) 66039 on rear.
(2) 66201 on rear.
(3) Train reversed at Seafield L.C. as both DBS & NR could not determine who owns Leith South Yard. Quail shows the boundary as being at the next L.C. which is where the tour was timed to.
(4) Original booked route was: Haymarket East Jn - Slateford Jn - Midcalder Jn - Shotts - Holytown Jn - Mossend East Jn - Mossend North Jn - Mossend Down Reception - Mossend Down Arrival line - Coatbridge Central - Cumbernauld - Greenhill Lower Jn. Due to an emergency possession near Whifflet Jn, the tour was re-routed & re-timed, (shown in brackets), to Cadder Yard & then to Greenhill Lower Jn to fall into it's original path.
(5) Misrouted onto Falkirk High route. Reversed back over junction via the trailing x-over there, to reverse again back over the same x-over & onto correct route - the 'Down Branch'.
Source : Alan Sheppard



Photo Review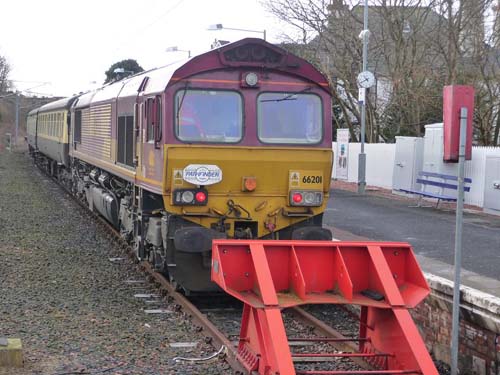 66201 at North Berwick (photo: Alan Sheppard)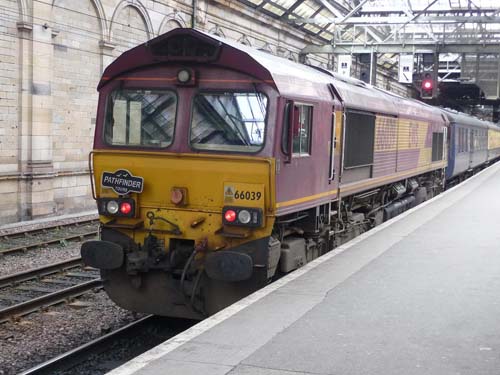 66039 at Edinburgh Waverley (photo: Alan Sheppard)


Timings (Booked & Actual)
(from various including Alan Sheppard & 45137)
Decimal miles were provided by 'Pogo', using a Garmin GPS.
M.C

Location
Booked
Actual
Decimal
miles

0.00

Edinburgh Waverley
09.14d [P11]
09.23
0.00

?

Abbeyhill Jn
09/16
09/25
?

?

Craigentinny Jn
09/18
09/27½
?

3.39

Portobello Jn
09.21 ~ 09.26
09/28½
?

?

Monktonhall Jn
DIV
09.32 ~ 09.35
6.21
0.00

0.00

Portobello Jn
09.21 ~ 09.26
09/39½
?

1.23

Craigentinny Jn
09.30 ~ 09.31
09/43½
?

3.47
0.00

Powderhall Refuse Siding
09.43 ~ 09.48
09.48 ~ 09.50½
5.40
0.00

2.24

Craigentinny Jn
10.06 ~ 10.07
09.55 ~ 10.05
?

?

Portobello Jn
10/11
10/06½
?

?

Monktonhall Jn
10/14
10/11
?

?

Prestonpans
10/17
10/14
?

?

Drem
10/24
10/25
?

22.37
0.00

North Berwick
10.31a ~ 10.45d
10.33 ~ 10.44
21.68
0.00

?

Drem
10/52
10/54
?

?

Prestonpans
10/58½
11/02
?

?

Monktonhall Jn
11/05
11/08
?

16.69
0.00

Millerhill Sorting Sidings
11.15 ~ 11.20
11.27 ~ 11.36½
18.22
0.00

1.16
0.00

Monktonhall Colliery Branch
11.38 ~ 11.48
11.47 ~ 11.50½
0.84
0.00

0.69
0.00

Millerhill East Jn
12.06 ~ 12.11
11.56 ~ 12.01
0.80
0.00

0.26

Millerhill Sorting Sidings
12.16 ~ 12.18
12/03
?

?

Niddrie South Jn
12/26
12/10
?

?

Portobello Jn
12/30
12/13
?

?

Seafield LC
?
12.22 ~
4.80

?

Leith South
12.44 ~ 12.46
DIV
-

5.42
0.00

Leith Docks SF
12.56 ~ 13.10
DIV
-

?

Leith South
13.20 ~ 13.22
DIV
-

?

Seafield LC
12.44 ~ 12.46
~ 12.43
0.00

3.16

Portobello Jn
13.43 ~ 14.00
12*52 ~ 13*25
?

?

Niddrie North Jn
?
13.29 ~ 13.53½
2.49
0.00

0.00

Portobello Jn
13.43 ~ 14.00
13/55
?

?

Craigentinny Jn
14/03
13/58½
?

?

Abbeyhill Jn
14/04 [SL]
14.00½ ~ 14.02½
?

3.30

Edinburgh Waverley
14.06a ~ 14.45d [P11] [Line W]
14.07 ~ 14.45
3.86
0.00

?

Princes Street Gardens
14/46 [DS]
14/46
?

?

Haymarket
14/48 [P4]
14/47½
?

?

Slateford Jn
14/50
DIV
?

?

Midcalder Jn
15/00
DIV
?

?

Benhar Jn
15/25
DIV
?

?

Shotts
15/28
DIV
?

?

Holytown Jn
15/41
DIV
?

?

Mossend East Jn
15/42
DIV
?

?

Mossend North Jn
15/43
DIV
?

35.35

Mossend Down Reception
15*46 ~ 15*52
DIV
?

?

Whifflet South Jn
16/01
DIV
?

?

Coatbridge Central
16/03
DIV
?

?

Gartsherrie South Jn
16/04
DIV
?

?

Garnqueen North Jn
16/06
DIV
?

?

Cumbernauld
16/11
DIV
?

?

Haymarket West Jn
DIV (14/49)
14/49
?

?

Newbridge Jn
DIV (14/56)
14/56
?

?

Winchburgh Jn
DIV (15/01)
14/59
?

?

Linlithgow
DIV (15/06)
15/03½
?

?

Polmont Jn
DIV (15/12)
15/08
?

?

Falkirk High
DIV (15/15)
15/10½
?

?

Greenhill Upper Jn
DIV (15/19)
15/14½
?

?

Croy
DIV (15/24)
15/19½
?

?

Lenzie
DIV (15/29)
15/24
?

?

Cadder Yard DPL (Sig.CG.210)
DIV (15.33 ~ 15.54)
15.35½ ~ 15.54
42.5
0.00

?

Lenzie
DIV (15/58)
15/57
?

?

Croy
DIV (16/07)
16/02
?

?

Greenhill Upper Jn
DIV (16/14)
Up E&G 16.10 ~ 16.17½
Dn E&G 16.21 ~ 16.26½
12.6
0.00

?

set-back point
-
-
0.54
0.00

?

Greenhill Lower Jn
16/18
16/29
?

?

Carmuirs West Jn
16/21
16/32½
?

?

Carmuirs East Jn
16/23
16/34
?

?

Grangemouth Jn
16/30
16/41
?

?

Fouldubs Jn
16/34
16/46
?

57.60
0.00

Grangemouth FPA Boundary
16.44 ~ 16.55
16.53 ~ 16.57½
8.49
0.00

?

Fouldubs Jn
17/05
17/05
?

?

Grangemouth Jn
17/11
17/11
?

?

Carmuirs East Jn
17/17
17/17
?

?

Larbert Jn
17/22
17/20½
?

14.03

Stirling
17*35a ~ 17*37d [P6]
17.39 ~ 17.40
?

?

Causewayhead Jn
17/40
17/42
?

?

Cambus Loop
17/46½
17/47
?

?

Alloa
17/50
17/50
?

?

Alloa Loop
17/52
17/51
?

?

Longannet SB
18/05
18.13 ~ 18.17½
?

?

Charlestown Jn
18/32
18/49
?

?

Dunfermline
18/33
18/50
?

40.05
0.00

Townhill Down Goods Loops
18.37 ~ 18.47
18.57 ~ 19.00
39.9
0.00

?

Dunfermline
18/51
19/05½
?

?

Inverkeithing
18/56
19/11
?

?

Dalmeny Jn
19/04
19/17½
?

?

Haymarket West Jn
19/14½ [UN]
19/23½
?

?

Haymarket
19/16 [P1] [UN]
19/25½
?

?

Princes Street Gardens
19/18 [Line Z]
19/27½
?

19.05

Edinburgh Waverley
19.20a [P19]
19.30
19.7