11th January 2003
Pathfinder Tours
The MOD & Docker
| | |
| --- | --- |
| Locos Used | 56051 & 56072 |
| Stock Used | 6310+3122+3112+3140+3098+21272+1863+5009+4927+5040+5275 |
Route :
1Z56 : Doncaster to Bristol Temple Meads
1Z57 : Bristol Temple Meads to Doncaster
| | |
| --- | --- |
| Loco(s) | Route |
| 56051 + 56072 | Doncaster - Mexborough - Swinton - Holmes Jn - Sheffield - Dore Station Jn - Chesterfield - Alfreton - Toton Centre - Loughborough - Leicester - Hinckley - Nuneaton - Water Orton - Landor Street Jn - Proof House Jn - Birmingham New Street |
| 56072 (1) | Birmingham New Street - Proof House Jn - Bordesley Jn - King's Norton - Bromsgrove - Stoke Works Jn - (via direct route) - Abbotswood Jn - Ashchurch War Department GF |
| 56051 (2) | Ashchurch War Department GF - Ashchurch MoD Sidings - car loading ramp (end of line) |
| 56072 (1) | car loading ramp - internal ground frame |
| 56051 (2) | internal ground frame - side loading branch (end of line) |
| 56072 (1) | side loading branch - Ashchurch MoD Sidings - Ashchurch War Department GF - Cheltenham Spa - Yate - Westerleigh Jn - Bristol Parkway - Stapleton Road - Bristol Temple Meads - Parson Street - Ashton Jn - Portbury Dock Stop Board - Portbury Auto Terminal (3) |
| 56051 (2) | Portbury Auto Terminal - Portbury Dock Stop Board |
| 56072 (1) | Portbury Dock Stop Board - Portbury Coal Terminal |
| 56051 + 56072 | Portbury Coal Terminal - Portbury Dock Stop Board - Ashton Jn - Bristol Temple Meads - (reverse of outward route) - Cheltenham Spa - Ashchurch - Abbotswood Jn - Worcester Shrub Hill - Droitwich Spa - Kidderminster - Stourbridge Junction - Galton Jn - Soho South Jn - Birmingham New Street - (reverse of outward route) - Doncaster |
Notes:
(1) 56051 on rear.
(2) 56072 on rear.
(3) Train took right hand siding, previous tours have used the left side track.
Sources : Gary Thornton, 'Selby', Solomon Riley & Howard Parker (joined/left the train at Leicester)



Tour review 1
(by Ian Loveday a.k.a. Selby)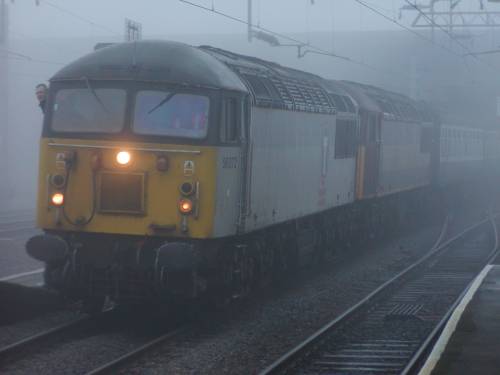 56072 leads 56051 into a rather foggy Nuneaton (photo: Gary Thornton)
Some more photos of the tour, taken by Steve Bates (the driver from Birmingham).
Weather: A bright, sunny, cold winter's day.
Locos used: 56051 + 56072 The locos worked as a pair between Doncaster and Brum N St and between Portbury Coal Terminal and Doncaster. Between Brum N St and Portbury Coal Terminal the engines worked in T'n'T mode with 56051 on the north end and 56072 on the south end. Therefore during the day more mileage was had behind 56072.
Track: The tour covered all available track at MoD Ashchurch. The train ran as booked down to the car loading ramp at the end of the main branch, then as a bonus the train went back to the ground frame within the site and reversed again and then went to the end of the side loading branch. On both branches the train was practically 'kissing' the buffer stops!
At Portbury the train covered both the Automotive and Coal branches, running to the same places as previous tours down those branches.
The down goods at Bristol PW was covered as booked, then as another bonus the up goods at PW was covered on the return. The down through line at Bristol TM was taken as booked.
Time keeping: The tour ran to time throughout (I was on it from Brum N St to Worcester Shrub Hill)
Verdict: An excellent tour. Full marks to Pathfinder. A few months ago I wrote to Chris at Pathfinder to enquire what track was expected to be covered at Ashchurch on this tour, and he replied saying that Pathfinder always endeavour to cover as much as possible - well he was every bit as good as his word. Pathfinder got all the paperwork in order and it looks like good organisation by themselves and the other parties involved paid dividends on the day. A note of thanks must go to the MoD. They all seem really pleased to see us and there was even a display of the armed vehicles used at Ashchurch, i.e. Tanks, armed cars, trucks etc.
All the track covered and a pair a grids thrashing the way home at sun set - superb.
"Selby" (Ian Loveday)



Tour review 2
(by Daniel Bound)
The second week of the year and already the second railtour. What is going on?
Has my soon to be wife gone out of her mind or is she losing it?
Or is there soon to be an imposed ban?
Hmmm, better get them in while I can!
The day started early, too early. I was originally going to drive to Nuneaton and pick up the tour there, but when the timings arrived a not too late departure from Birmingham New Street meant I booked on virgin for a nice day out. Let someone else do the driving! So there I was at Croydon at 5:30 on a Saturday morning. PRAR was also there but his train, the 5tooearly, had ran through ECS due to no guard! He joined me on the 5:45 to Kings Cross. We decided to bail early at Farringdon to catch the circle line around to Euston. We bailed, but the circle line was closed! The train had already pulled out, so we caught a bus to Euston. Not a good start!
86233, in electric blue, was awaiting me on the 07:00 to Wolverhampton. We departed on time and were soon whizzing our way out of the capital and into the countryside of Northampton. Engineering work meant getting to Milton Keynes was slow, but after that we soon made up time and we pulled into New Street on time, a little before 9 o'clock. Breakfast was procured.
Early gen in the week had again proved correct when at 9:30, 56072 in scruffy transrail livery led 56051 in EW&S livery into platform 9. 56072 then ran around to power our train south with 56051 remaining on the now rear of the train. It was to be a hard day for 072, as it was now to work all but 2 miles of the tour!
We departed 9 minutes late and made our way around by St Andrews junction onto the Birmingham avoider. This was a real stagger, and we weren't able to open up until we rejoined the main line at Kings Norton. The glide down lickey bank was followed by an easy run out to Ashchurch, our first deviation off the main line. We stopped at Ashchurch war dept. ground frame and soon reversed off the main line into the reception sidings. After another short wait we then continued, past the railtrack boundary and into the MOD base. All manner of items were lined up for our pleasure! Including tanks, trucks and an army motorbike amongst a host of others. We continued along the former Evesham main line, passing the line towards the loco depot until we came to halt at the loading ramp. We passed 56023 and a sorry looking 56080, both on a separate piece of track. Just the cabs now remain on 56080, the rest of the loco sadly gone. This had only taken us 13 minutes, and we started to reverse again towards the entrance. We thought we were going to have a long fester awaiting our path towards Bristol, but we stopped just after the internal groundframe, and to everyone's surprise we headed back on the other internal branch towards the side loading bay! We were able to get good pictures of 37901, MOD shunter 253 'River Eden' and 01506, looking resplendent in DLO purple livery. After reaching the end of this second branch we now reversed again and headed out of the base. A few voyagers later and we headed towards Bristol, 56072 again thrashing away at the front.
The bright winter sun shone as we made steady progress, but soon we were approaching Bristol, and as planned we we diverted into Bristol Parkway down goods loop. 66200 was in the opposite loop on an MGR. With nothing having overtaken us we departed on time and headed for Bristol Temple Meads station. 66009, 67004, 67026, 67013 and 47739 we sitting on Bardon Hill depot as we then took the down through line, for another fester while we changed drivers. This having been done we continued until Ashton junction where we branched off onto the 10 mile Portishead line. Passing under the highly impressive Clifton suspension bridge we soon reached the new Portbury dock lines. After a brief pause at the stop board we then entered what can only be described as car world. The whole dock area is awash with new cars of every description and colour, Mercedes, Suzuki and Ford to name but three. With the coal terminal pass to our left we continued first to the automotive terminal reaching the end of the siding nearest the Bristol channel. We then reversed and reversed again to gain access to the coal terminal, which was completed to the end. Here the now knackered 56072 was run around to double head the train home. We arrived at Bristol as the light began to fade, with enough time to get some food before on time we set off North. At Bristol Parkway we took the up goods loop, this time running straight through! The run home was largely uneventful, save to comment on the slack timings given for the 30 miles between Worcester and Birmingham. We all know it doesn't take an hour and 10 minutes! It didn't and we arrived back 20 minutes early. The green light was given and at 9:04 the grids thrashed their way out of New Street and into the darkness.
My journey back to London was quite enjoyable as well, with 90029 taken to Coventry where I met with my friend, then 90038 all the way back to Euston arriving just after eleven. The tube and a fast Vep saw me arrive at home moments after turning into a pumpkin.
So, what of this grid fest? Absolutely fantastic. All lines covered, with extra ones in the Mod base. Great haulage and on time or early all the way through. Many thanks must go to Pathfinder and the MOD for organising an excellent day out, we could not have asked for more.
Daniel Bound



Timings (Booked & actual)
(courtesy of Pathfinder Tours , Daniel Bound & Howard Parker)
M.C
Location
Booked
Actual
Booked
Actual
M.C
0.00
Doncaster
06.02d
?
22.36a
?
227.03
2.01
Hexthorpe Jn
06/06
?
22/31
?
225.02
7.06
Mexborough
06/14
?
22/26
?
219.77
8.20
Swinton
06/18
?
22/24
?
218.63
10.31
Aldwarke Jn
06/20
?
22/22
?
216.52
13.48
Holmes Jn
06/25
?
22/19
?
213.35
15.39
Wincobank Jn
06/30
?
22/14
?
211.44
18.51
Sheffield
06.37a ~ 06.44d
?
22.05a ~ 22.11d
?
208.32
22.41
Dore Station Jn
06/52
?
21/59
?
204.42
35.01
Clay Cross South Jn
07/09
?
21/42
?
192.02
41.04
Alfreton
07/15
?
21/36
?
185.79
43.22
Pye Bridge Jn
07/17
?
21/34
?
183.61
47.22
Langley Mill
07/21
?
21/29
?
179.61
52.02
Trowell Jn
07/26
?
21/25
?
175.01
55.27
Toton Centre
07c30a ~ 07c32d
?
21c18a ~ 21c20d
?
171.56
57.22
Trent
07/35
?
21/15
?
169.61
57.75
Trent Jn
07/36
?
21/13
?
169.08
65.45
Loughborough
07.53a ~ 07.55d
?
21.00a ~ 21.02d
?
161.38
73.13
Syston South Jn
08/04
?
20/52
?
153.70
78.04
Leicester
08.11a ~ 08.20d
??.?? ~ 08.21
20.36a ~ 20.40d
20.03 ~ ??.??
148.79
81.20
Wigston North Jn
08/28
?
20/32
?
145.63
92.51
Hinckley
08/44
?
20/15
19/44
134.32
96.70
Nuneaton
08.50a ~ 08.53d
09.01 ~ 09.04
19.58a ~ 20.05d
19.36 ~ 19.39
130.13
107.34
Whitacre Jn
09/07
09/17
19/36
?
119.49
110.19
Water Orton
09/13
09/20
19/32
19/18
116.64
116.25
Landor Street Jn
09/19
09/26
19/24
?
110.58
117.16
Proof House Jn
09/23
09/27
19/23
?
109.67
117.70
0.00
Birmingham New Street
09L26a ~ 09L44d
09.31 ~ 09.53
19.13a ~ 19.21d
18.56 ~ 19.04
109.13
0.54
Proof House Jn
09/46
09/56
1.51
St Andrews Jn
09/49
09/59
1.77
Bordesley Jn
09/50
10/01
7.12
King's Norton
09/56
10/12
9.45
Longbridge
10/00
10/16
12.20
Barnt Green
10/03
10/19
15.63
Bromsgrove
10/06
10/22
17.76
Stoke Works Jn
10/09
10/25
Soho South Jn
19/06
18/43
107.12
Galton Jn
19/02
18/40
105.34
Rowley Regis
18/50
18/35
102.28
Stourbridge Junction
18/37
18/22
97.10
Kidderminster
18/23
18/14
90.31
Hartlebury
18/06
18/11
86.57
Droitwich Spa
18/00
18/05
80.75
Tunnel Jn
17/54
18/00
75.63
Worcester Shrub Hill
17.48a ~ 17.51d
17.47 ~ 17.54
75.16
Norton Jn
17/41
17/40
72.11
29.13
Abbotswood Jn
10/17
10/34
17/40
17/39
71.29
39.69
Ashchurch
10/28
10/42
17/31
17/29
60.53
40.14
0.00
Ashchurch War Dept GF
10*30a ~ 10*36d
10.44 ~ 10.47
(1.00)
0.00
Ashchurch MoD Sidings
10.41a ~ 11.44d
11.03 ~ 11.24
1.00
Ashchurch War Dept GF
11*49a ~ 11*55d
11/51
7.77
Cheltenham Spa
12*06a ~ 12*09d
12/02
17*21a ~ 17*23d
17.21 ~ 17.23
53.31
13.40
Barnwood Jn
12/16
12/09
17/13
17/11
47.68
14.27
Gloucester Yard Jn
12/18
12/13
17/10
17/08
47.01
20.37
Standish Jn
12/23
12/19
17/06
17/02
40.71
33.62
Charfield
12/34
12/30
16/53
16/52
27.46
40.23
Yate
12/40
12/36
16/47
16/47
21.05
41.75
Westerleigh Jn
12/43
12/39
16/44
16/44
19.33
46.45
Bristol Parkway (Goods Line)
12*50a ~ 13*05d
12.48 ~ 13.04
16/38
16/38
14.63
47.64
Filton Jn
13/11
13/08
16/35
16/35
13.44
50.64
Stapleton Road
13/18
13/11
16/31
16/31
10.44
51.61
Dr Days Jn
13/19
13/13
16/30
16/30
9.47
52.27
Bristol Temple Meads
13c27a ~ 13c30d
13.16 ~ 13.30
16c13a ~ 16c28d
16.05 ~ 16.28
9.01
54.16
Parson Street
13/35
13/35
16/10
15/57
7.12
55.19
Ashton Jn
13*38a ~ 13*48d
13.38 ~ 13.43
15*57a ~ 16*07d
15.51 ~ 15.57
6.09
60.78
Portbury Stop Board
14*02a ~ 14*12d
13.59 ~ 13.59
15*33a ~ 15*43d
15.28 ~ 15.33
0.30
(61.67)
0.00
Portbury Auto Terminal
14.22a ~ 14.32d
14.17 ~ 14.23
(0.69)
0.00
Portbury Stop Board
14.42a ~ 14.42d
14.43 ~ 14.46
(0.30)
Portbury Coal Terminal
15.02a
14.54
15.23d
15.20
0.00