14th December 2002
Pathfinder Tours
The Merry Widow
| | |
| --- | --- |
| Locos Used | 37712, 37798, 56056, 60051, 66241 & 92025 |
| Stock Used | 4902+5029+4963+5040+4927+5009+1863+21272+3098+3140+3112+3122+6310 |
Route:
1Z27 : Gloucester to Leeds
1Z28 : Leeds to Gloucester
| | |
| --- | --- |
| Loco(s) | Route |
| 56056 | Gloucester - Cheltenham Spa - Worcester Shrub Hill - Droitwich Spa - Bromsgrove - Barnt Green - Selly Oak - Birmingham New Street |
| 92025 (1) | Birmingham New Street - Proof House Jn - Aston - Perry Barr North Jn - Bescot Stadium - Portobello Jn - Bushbury Jn - Stafford - Norton Bridge - Basford hall Jn - Crewe Sorting Sidings North |
| 37712 + 37798 | Crewe Sorting Sidings North - Salop Goods Jn - Crewe Sydney Bridge - Sandbach - Wilmslow - Heald Green - Slade Green Jn - Manchester Piccadilly - Manchester Oxford Road - Deansgate - Salford Cresent - Moses Gate - Bolton - Darwen - Blackburn - Gannow Jn - Copy Pit - Hebden Bridge - Brighouse - Dewsbury - Leeds |
| 66241 (2) | Leeds - engine Shed Jn - Methley Jn - Altofts jn - Wakefield Kirkgate - Horbury Jn - Barnsley - Meadowhall - Sheffield |
| 60051 (2) | Sheffield - Dore Station Jn - Chesterfield - Clay Cross South Jn - Ambergate Jn - Derby Up Goods - Spondon - Sheet Stores Jn - Trent - Toton Jn - Toton Centre |
| 37712 + 37798 | Toton Centre - Toton Jn - Trent - Sheet Stores Jn - Stenson Jn - Burton-on-Trent - Wichnor Jn - Tamworth - Kingsbury Jn - Water Orton - Landor Street Jn - Birmingham New Street - Selly Oak - Barnt Green - Stoke Works Jn - (direct) - Abbotswood Jn - Cheltenham Spa - Gloucester |
Notes:
(1) plus 56056 dead-in-tow.
(2) 37712 + 37798 on rear, providing some assistance in places!
Sources : Gary Thornton & Mike Tetlow



Tour Review
(by Gary Thornton, including all photos)
Hard to believe another year has basically gone and time has come round once again for the annual Pathfinder Christmas "spinner"! This is one of the tours I basically book on regardless of where it's going or what the traction is - it's just a damn good day out and a chance to catch up with loads of friends and acquaintances.
Stuart arrived at my place at about 6.30am, complete with a good quantity of mince pies....but no cream! A diversion in Coventry to a Safeway garage saw us fail to get any cream but we did collect another colleague, Andy, who we'd arranged to collect there. We had plenty of time to get to Barnt Green, and a good job too....we rolled off the M42 only to find the back road to Barnt Green closed for roadworks! A (very) lengthy diversion through the suburbs of Birmingham ensued, not made any easier by the absence of diversion signs at at least one vital left turn! We commented that this could catch out some if they were leaving their arrival to the last minute...
By departure time the car bark at Barnt Green station looked full - to get the first loco for haulage this was the last joining point. 56056 rolled in a few minutes late and the throng joined and we were away. With seats in the middle of the leading coach we were "in the action" from the very start :-)
56056 (a winner for me) was a very loud and claggy engine....today was looking like it was going to be very enjoyable. En-route to Birmingham it was commented that one of our number was not yet on board - he had planned a Cheltenham Spa or Barnt Green join but is "famous" for his last minute arrivals...perhaps he'd fallen victim to the roadworks...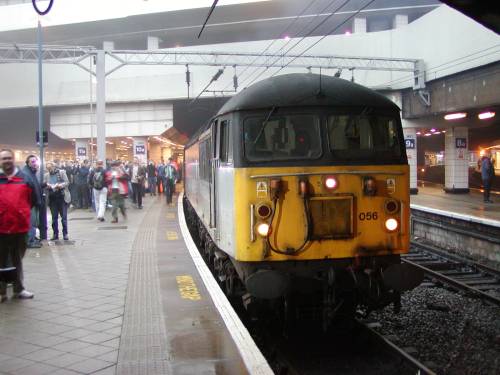 56056 & 92025, both at Birmingham New Street.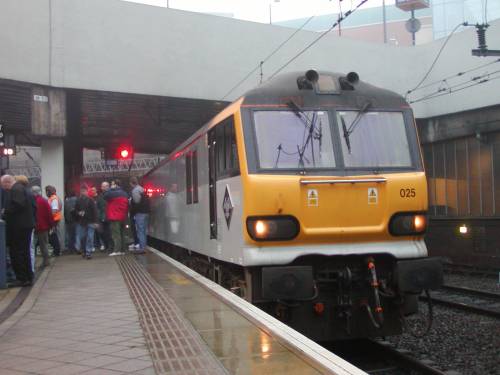 At New Street 92025 was waiting for us and this was attached on top of 56056 which was then shut down. For the New Street joiners who'd got on as soon as the train arrived there was a chance to "claim" 56056 as it moved the train about a coach-length down the platform a few minutes after arrival. Once the "hairdryer" was attached the grid as shut down (it had been asked if someone was available to work it in tandem with 92025 but this did not happen).
Still no sign of Tony but at Stafford there he was stood on the platform waiting to get on. Yes, you've guessed right - he came off the M42 with about 10 minutes to spare for the 5 minutes drive remaining to Barnt Green only to find the "road closed" signs. He'd have called me to check on the trains progress (being a few minutes late he'd probably have made it despite the diversion) except...he'd left his mobile phone at home! Oops!!
92025 took us to Crewe - we diverted into Basford Hall Yard and "lost" our locos at Sorting Sidings North to 37712 & 37798. As we continued our way via the "independent lines" which pass almost literally under Crewe station we soon realised we had at least one sick loco up front - with each acceleration there were clouds of very dense black exhaust which didn't smell anything like they had come from a diesel engine. A look out confirmed the lead loco, 37712, was the offender. The more learned amongst the leading coach declared that it was likely caused by a blown or seized turbocharger. We enjoyed the 37's all the way to Leeds - travelling via Wilmslow, Manchester, Bolton, Blackburn, Copy Pit and Dewsbury. At various stages the clag being emitted by tractor 712 was in danger of causing the introduction of "fog working" on the railway! At various stages as we rounded curves flames could also clearly be seen coming out of the exhaust ports of 712! As the journey went on the volume of black smoke billowing down the train was also increasing somewhat!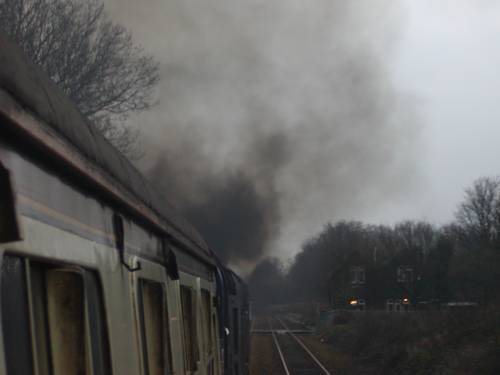 37712 polluting the atmosphere somewhere north of Bolton.
(Note: I do not normally condone, or take, such "window hanging" photos but
have shown this one to give an impression of the amount of clag being chucked
out by 37712. The train was almost stationary at the time the picture was
taken as it was just pulling away from a signal-stop.)
On arriving at Leeds we were met by another colleague, complete with a box of steaming hot pasties and pies - how's that for service (thanks Iain!). I chose to spend the hours or so break in Leeds finding a few of my required-for-sight class 333's, which seemed to be quite a successful session. 16.15 and we departed in the direction from which we arrived, 66241 on the front and the tractors appended to the rear, still ticking over. For one of our number a beer was called for as 66241 was also the last EWS "shed" he required for sight....but as he was only 14 he couldn't have a beer so we all had one on his behalf instead!
Although not booked to stop, we festered a few minutes at Horbury Junction. Not sure why this was but, on leaving, we felt a few tell-tale jolts and opening the window confirmed we had the 37's at the back now assisting us along....maybe there was a problem with the shed up front? At least as the 37's were behind us we could enjoy the thrash without the pollution from 37712 smothering us!
On pulling into Sheffield, where we lost the shed in favour of 60051 I commented that one of our number, Simon, hadn't been seen since leaving Leeds. I'd assumed he was in the bar but it transpires he had gone off to get another hot pie then managed to get lost and missed the train as a result. Simon was lucky, we were booked off Sheffield at 17.57 but were held to wait the arrival of a late running Vermin Voyager...one of which's passengers was Simon! he got off to a large round of applause from our coach. He declared it was a good "shed" avoidance move (though I'm not sure I would class a journey in a Voyager as preferable to scoring a loco for haulage, even if it is only a 66).
With 60051 in charge (60mph speed limit) and us being about half an hour late we now fell foul of crap regulating and soon we found ourselves approaching Derby and nearly an hour behind schedule. The sound of "all-line bibles" being hurriedly read filled the coach...
We think the driver in the 37's as also wanting to get home as we crawled past Etches Park on departing from Derby the tractors suddenly burst into life again to give a help to the "brick".
Some time was caught back at Toton where we left 60051 behind and set off southwards with the 37's. 37712 was clagging even worse than in the morning and our coach was soon filled with cloying black smoke! An entertaining ride all the way home was still however enjoyed, 37712 was not only clagging extremely but also flaming just as well, easily visible now it was dark. By Barnt Green the train was back to only about quarter of an hour late. With an engineering possession due to start immediately after our passing it was amusing to arrive to find the car park clogged up with a large truck unloading tractors (agricultural variety) and loads of other equipment lined up ready to start the nights work.
Verdict: A damn good day out - I scored five of the six locos for haulage (just 37798 being "dud") and enjoyed every minute of the 56 and 37 haulage. Roll on the next "spinner"...
Gary Thornton



Timings (Booked & Actual)
(from Gary Thornton/Rob Fraser)
M.C
Location
Booked
Actual
0.00
Gloucester
07.12d
07.12
0.77
Barnwood Jn
07/15
07/15
6.40
Cheltenham Spa
07.23a ~ 07.25d
07.23 ~ 07.27
13.51
Ashchurch
07/33
07/34
24.38
Abbotswood Jn
07/42
07/42
25.20
Norton Jn
07/43
??/??
28.25
Worcester Shrub Hill
07/49
07/51
28.72
Tunnel Jn
07/52
??/??
34.04
Droitwich Spa
07*58 ~ 08*06
08.02 ~ 08.11
38.19
Stoke Works Jn
08/12
08/16
40.32
Bromsgrove
08/14
08/19
43.75
Barnt Green
08.20a ~ 08.22d
08.29 ~ 08.32
46.50
Longbridge
08/28
08/35
49.03
King's Norton
08/33
08/39
51.17
Selly Oak
08/37
08/43
54.48
0.00
Birmingham New Street
08L46a ~ 09L01d
08.58 ~ 09.17
0.56
Proof House Jn
09/04
09/19
2.56
Aston
09/08
09/25
4.78
Perry Barr North Jn
09/13
??/??
9.35
Bescot Stadium
09/18
09/40
10.53
Darlaston Jn
09/19
09/41
13.52
Portobello Jn
09/24
??/??
16.20
Bushbury Jn
09/28
09/48
29.77
Stafford
09.44a ~ 09.46d
10.02 ~ ??.??
35.26
Norton Bridge
09/55
10/10
46.28
Madeley
10/04
10/19
52.50
Basford Hall Jn
10/13
10/26
54.34
0.00
Crewe Sorting Sidings North
10L20a ~ 10L40d
10.31 ~ 10.57
0.30
Crewe Salop Goods Jn
10/45
11/01
1.42
Crewe Sydney Bridge
10/49
11.08 ~ 11.10
5.16
Sandbach
11/02
11/16
17.67
Alderley Edge
11/14
??/??
19.31
Wilmslow
11/16
11/36
22.56
Heald Green
11/34
11/45
28.63
Slade Green Jn
11/40
11.48 ~ 11.50
30.30
Ardwick Jn
11/42
??/??
31.08
Manchester Piccadilly
11/45
11/56
31.51
Manchester Oxford Road
11/48
11/57
32.00
Deansgate
11/50
11/58
32.10
Castlefield Jn
11/51
12/00
32.51
Ordsall Lane Jn
11/52
12/01
33.33
Salford Cresent
11/54
12/03
40.60
Moses Gate
12/03
12/12
41.58
Burnden Jn
12*06 ~ 12*35
12.15 ~ 12.36
42.24
Bolton
12/38
12/40
45.21
Bromley Cross
12/46
12.47 ~ 12.52
52.01
Darwen
13/08
13.09 ~ 13.16
56.13
Blackburn
13*17 ~ 13*40
13.25 ~ 13.41
56.60
Daisyfield Jn
13/42
13/44
61.39
Accrington
13/48
13/55
66.54
Gannow Jn
13/56
14/03
71.73
Copy Pit
14/04
(14/09)
76.25
Hall Royd Jn
14/14
14/21
80.20
Hebden Bridge
14/21
??/??
85.66
Milner Royd Jn
14/26
(14/33)
87.41
Greetland Jn
14/28
14/34
92.23
Bradley Wood Jn
14/35
14/39
94.13
Heaton Lodge East Jn
14/37
14/41
95.66
Mirfield East Jn
14/40
14/43
98.02
Dewsbury
14/44
14/45
102.47
Morley
14/50
14/50
106.45
Whitehall Jn
14/58
14/55
106.70
Leeds West Jn
14/59
14/56
107.13
0.00
Leeds
15L01a ~ 16L15d
14.59 ~ 16.17
0.23
Leeds West Jn
16/17
16/19
0.61
Engine Shed Jn
16/18
16/20
8.44
Methley Jn
16/27
??/??
10.01
Altofts Jn
16/31
??/??
13.74
Wakefield Kirkgate
16/46
16/43
16.18
Horbury Jn
16/52
16.48 ~ 16.56
25.04
Barnsley
17/06
17/10
35.21
Ecclesfild West S.B.
17/17
??/??
37.73
Wincobank Jn
17/23
17/32
40.48
Nunnery Main Line Jn
17/29
17/38
41.05
0.00
Sheffield
17L31a ~ 17L57d
17.40 ~ 18.18
3.70
Dore Station Jn
18/03
(18/26)
11.61
Tapton Jn
18/14
18/39
12.20
Chesterfield
18/15
18/40
16.09
Clay Cross North Jn
18/21
??.?? ~ 19.01
16.30
Clay Cross South Jn
18/22
19/02
26.38
Ambergate Jn
18/30
19/14
35.13
St Mary's Jn
18/41
19/30
36.31
Derby Up Goods
18*45 ~ 18*50
19.33 ~ 19.34
39.01
Spondon
18/55
19/40
45.10
Sheet Stores Jn
19/01
19/50
45.53
Trent
19/04
19/52
47.10
Toton Jn
19/06
19/55
47.48
0.00
Toton Centre
19L09 ~ 19L34
19.58 ~ 20.10
0.38
Toton Jn
19/39
20/12
1.75
Trent
19*43 ~ 19*48
20/15
2.38
Sheet Stores Jn
19/50
20/17
14.72
Stenson Jn
20/11
20/36
15.36
North Stafford Jn
20/12
20/37
21.09
Burton-upon-Trent
20.18a ~ 20.20d
20.44 ~ 20.45
26.52
Wichnor Jn
20/26
(20/51)
34.00
Tamworth
20/32
20/58
39.61
Kingsbury Jn
20/39
21/03
43.56
Water Orton
20/44
21/06
49.62
Landor Street Jn
20/51
21/11
50.53
Proof House Jn
20/56
21/14
51.27
Birmingham New Street
20.59a ~ 21.04d
21.18 ~ 21.21
54.58
Selly Oak
21/12
21.28
56.72
King's Norton
21/16
21/31
59.25
Longbridge
21/19
21/34
62.00
Barnt Green
21.23a ~ 21.27d
21.38 ~ ??.??
65.43
Bromsgrove
21/32
21/44
67.56
Stoke Works Jn
21/34
21/46
78.73
Abbotswood Jn
21/45
21/54
89.60
Ashchurch
21/56
22/09
96.71
Cheltenham Spa
22.05a ~ 22.09d
22.16 ~ 22.19
102.34
Barnwood Jn
22/17
22/26
103.31
Gloucester
22.20a
22.29